If you're planning a road trip around New Zealand's South Island, you're in for a treat. It's seriously one of the most spectacular places on earth, with majestic mountains, sparkling clear lakes, and natural beauty around every turn. However, if you're looking to stop and stretch your legs for a few days, consider basing yourself in Queenstown. This charming little city is set on the beautiful Lake Wakatipu, has killer food, great nightlife, and packs a big punch for a little place. If you're lucky enough to be heading to the South Island, here's the best Queenstown activities that shouldn't be missed during your stay – plus some handy travel tips, such as where to eat and where to stay, to help you plan your trip.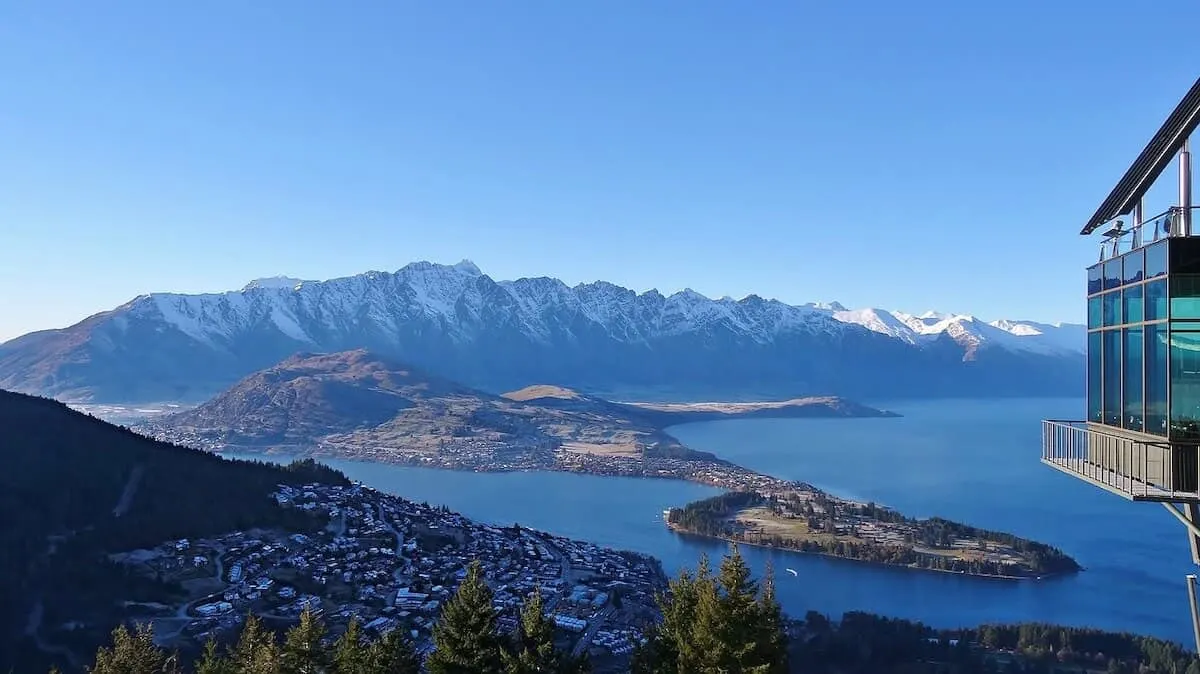 Disclaimer: Almost all posts on this site contain Affiliate links. This means that if you click on any of the links in this post about the best Queenstown Activities (and make a purchase) I may receive a small commission at absolutely no cost to you. Each post is carefully crafted to (hopefully!) answer all your questions and recommendations are made where we believe they will improve your trip and help with your planning. As such we thank you in advance should you decide to click, buy or book. Read my full Disclosure here.
This is a Guest Post By Katie Dundas from The Accidental Australian.
Queenstown Travel Tips: What to Know Before You Go
Where to stay in Queenstown
There are loads of accommodation options in Queenstown to suit every budget. One of my top recommendations for budget travelers is the Base Backpackers Queenstown. This brand new hostel is right in the centre of town has a great rooftop cafe and bar, serving cheap food and drinks and the share rooms are pod style- meaning you have your own private space, complete with light, USB points, and power outlets. I spent a few nights here and found it very quiet at night but the rooftop was a great way to meet other travellers.
For a splurge, check out the QT Queenstown– their gorgeous lakefront hotel rooms, with floor-to-ceiling glass windows, give you Instagram-worthy views. The Dairy Private Hotel, a restored former dairy, now converted into a boutique hotel, is also a great choice. It's located near the gondola and it's a charming and luxurious little place.
Where to eat in Queenstown
We've got to start with the obvious: when you're walking around town and you see a huge line of people wrapped around a building, you've found Fergburger. This hamburger shop is the talk of the town when it comes to food in Queenstown. Yes, the burgers are delicious and they are worth the wait, if for no other reason than to say you tried them and to see what all the fuss is about. There's not much seating, so on a nice day consider picking up your burger and taking it over to the lakefront for a waterfront lunch. Be warned- they are gigantic burgers and one is often enough to share for two people.
However, after you've given it a go, definitely try some of the other fantastic dining options in Queenstown. The town has so much more to offer than just burgers, so definitely explore some of Queenstown's other options.
Muskets and Moonshine is a fabulous American style bar and restaurant offering an upscale American inspired menu and great whiskey and cocktails. Go for the rump steak, seafood gumbo, or a bourbon on the rocks. It's one of my favourites in town.
We can't even begin to go through all of them but some other top contenders include the Botswana Butchery, Vudu Cafe, Ivy & Lola's, or try one of the many waterfront establishments. You may pay a bit more for the location but the pleasure of dining on fresh New Zealand mussels, sipping a nice glass of wine, and watching the sunset over the lake can't be beat.
Incredible Queenstown Activities
Take a Cruise on Lake Wakatipu on the TSS Earnslaw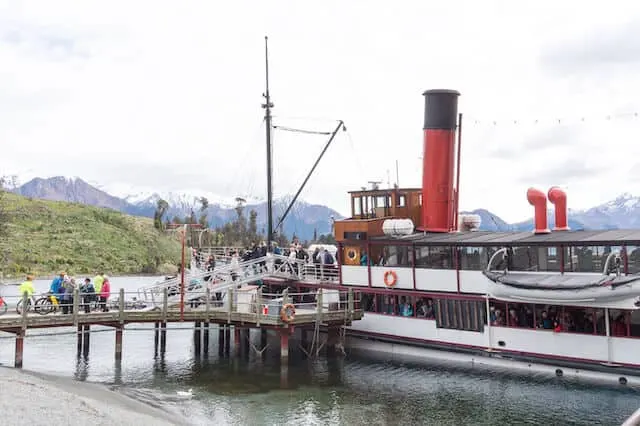 There are lots of ways to explore Lake Wakatipu, from slow heritage steamboats to the fast-paced Shotover jets that fly around the bends and curves of the lake. For a slower-paced adventure, consider a cruise on the TSS Earnslaw, a gorgeous steamship that's nearly the same age as the Titanic.
It was originally built to transport livestock and people to the high country sheep stations of the region, but it's now a fun sightseeing cruise- complete with a pianist providing entertainment on every cruise and you can even walk through the steam room itself, a fascinating (but humid!) endeavor.
Although you can just sail around lake and take in the experience, it's worth booking a ticket on the Earnslaw that includes time at Walter Peak, a working sheep station not far from Queenstown. It's a great example of a New Zealand station and the views are spectacular.
Hop Aboard the Million Dollar Cruise
Another option is the Queenstown 'Million Dollar Cruise', a smaller boat that cruises around Queenstown waterfront suburbs- hence the name the Million Dollar Cruise- property doesn't come cheap around here.
The ship's captain provides running commentary that's sarcastic, funny, but also informative. It's a fun way to pass a few hours.
Ride the Shotover Jet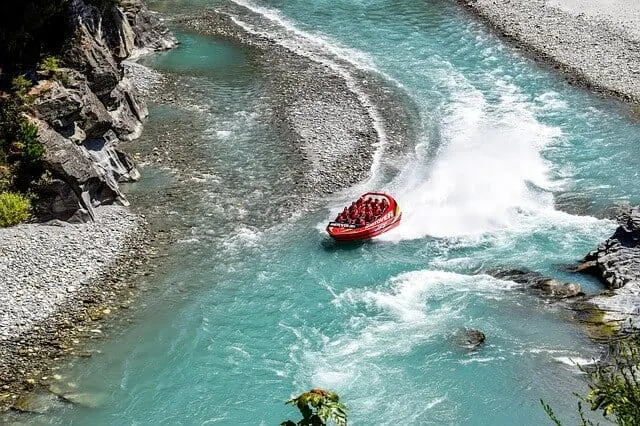 The most hair-raising cruise would have to be the Shotover Jet rides – these sleek speed boats fly around at quick speeds, constantly dipping around corners and bends of the curvy lake. They provide a massive adrenaline rush and are a lot of fun- but be prepared to get wet!
Discover your kind of adrenaline rush: Bungy, Gorge Swing, Sydive + Parasailing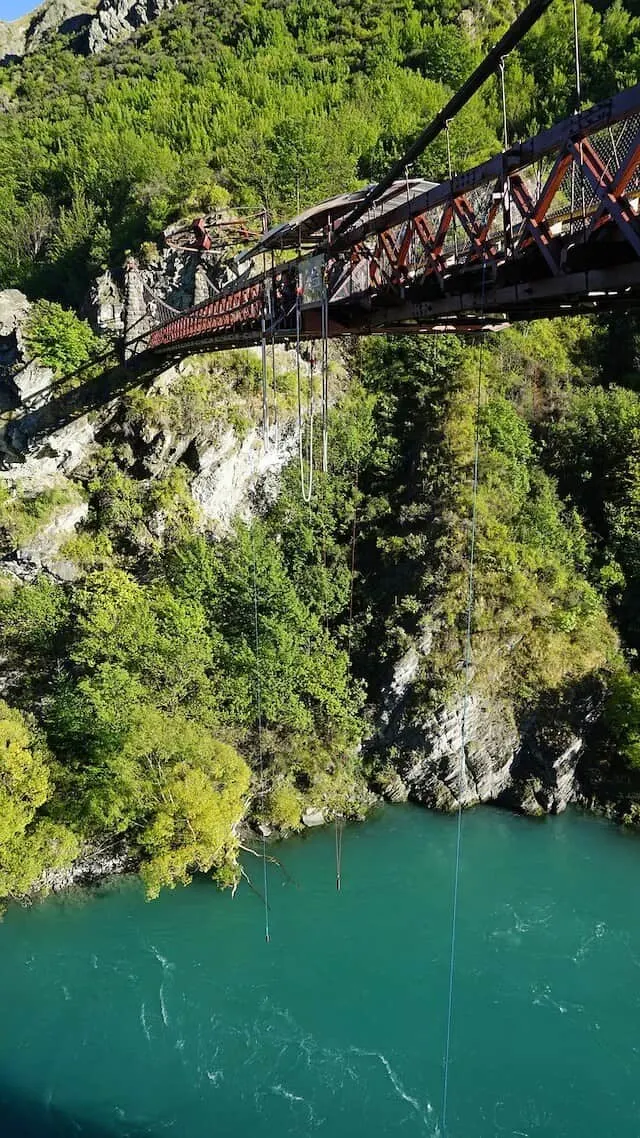 Bungy jumping was literally invented in Queenstown so it's no surprise that the city is the adrenaline capital of the world- bungy jumping, giant swings, parasailing- you can find it all in town.
The original bungy jump, at 43m, Kawarau Bridge Bungy, may not be the highest in the world, but it's one of the best. Jumping out over the incredible mountains and blue water of Queenstown is unlike anywhere else. Still not sure if it's for you? Read what to expect when you Bungy Jump in Queenstown.
Go Whitewater Rafting & Ride the waves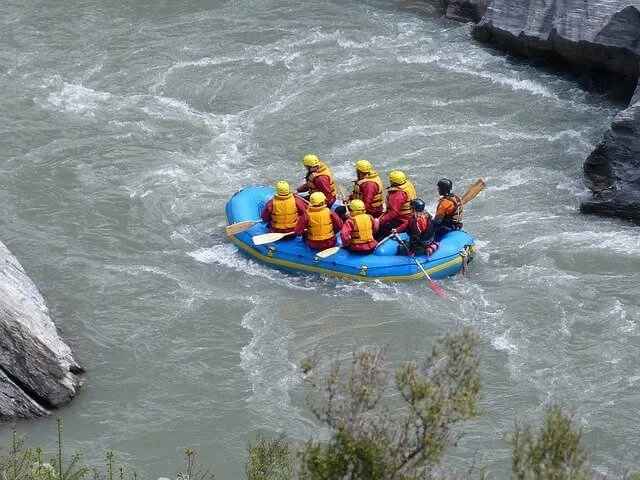 What could be better than paddling your way down white water rapids in one of the most beautiful parts of the world. Lifejackets and hard hats at the ready (because there is a high chance of you ending up flipping the boat and dunking yourself in the waves!). And just remember – this is not a spectator sport and you will have to paddle! But it is totally worth it!
Hit the slopes
The mountains around Queenstown are called the Remarkables for a reason- seriously, I've never seen anything quite like them. They are equally impressive in summer and winter but if you're there during the winter months you're in luck- the ski season is one of the best times to be in Queenstown. The town is only a short drive away from some of the best mountains on the South Island.
Coronet Peak, The Remarkables, and Cardrona are all incredible ski resorts for beginners through to advanced. Even if you've never strapped on a pair of boots before, don't worry -there are great ski schools at all of the resorts and there are runs to suit all abilities. The ski town atmosphere certainly continues in town after the resorts shut down and a cold beer or a hot chocolate by the lake is the perfect way to wind down after a full day of powder.
If you are there in the summer months, the mountains can still be enjoyed by heading out on one of the region's many hiking trails, or tramping, as the Kiwis call it. From short walks to multi-day hikes, there are tons of great walks to be discovered around Queenstown. Some easy day walks include Queenstown Hill, Moke Lake Loop, and Bob's Cove.
Soar up Bob's Peak on the Skyline Gondola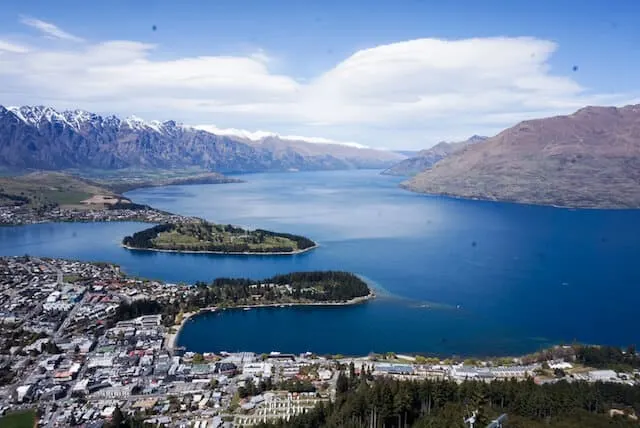 Hop aboard the Skyline Gondola to sail over and up the mountains to the summit of Bob's Peak. At the top of the mountain you're find lots happening, including a bar and restaurant, perfect for just taking in views of the scenery.
For something a little more adventurous, try out the Skyline Luge. Channel your inner race car driver and tear down the mountain in your own luge car. While there's no ice, the luge track is still seriously fun for both kids and adults and full instruction is given before you set out.
There are also lots of mountain biking tracks on the mountains and the gondola is equipped with mountain bike hooks so you can easily take your bike up to the top before flying down again.
Visit the wineries
The Otago region, where Queenstown, has a rich and fertile soil that is perfect for grapes. The vineyards in the area are some of New Zealand's best and can easily be sampled in an afternoon. There are quite a few bus tours that will take you around the wineries but for something different, consider exploring the area on bicycle.
Some of the best wineries in the area include Chad Farm, Gibbston Valley, and Peregrine Wines. Book your wine tour here.
Soak in the Open Air Onsen
You know how I love Onsen right?! Well, you can even enjoy these magnificent natural hot springs, set on the mountainside and overlooking the valley, just a short drive from the center of Queenstown. There are multiple packages available including the romantic package where they provide champagne and fill the space with candles as the sun sets(!) and with retractable roofs, you can bathe under the sky/stars. It is a truly magical experience.
Places to explore nearby Queenstown
If you have extra time there are few other great places to explore just outside Queenstown, perfect for including in a South Island road trip.
Milford Sound
Technically, Milford Sound is easier to reach from the town of Te Anau, but if you have limited time, there are lots of day trips to both Milford and Doubtful Sound that go from Queenstown.
It makes for a long day trip there and back, but no trip to the South Island would be complete without a visit to one or both. Milford Sound is one of the best things to see on the South Island- it's a spectacular fjord, with waterfalls running down the mountains, mysterious and moody lighting and constantly changing conditions. It's best explored on a boat cruise and most day trips will include transportation to and from Queenstown along with a several hour cruise around the sound, complete with food and commentary.
Wanaka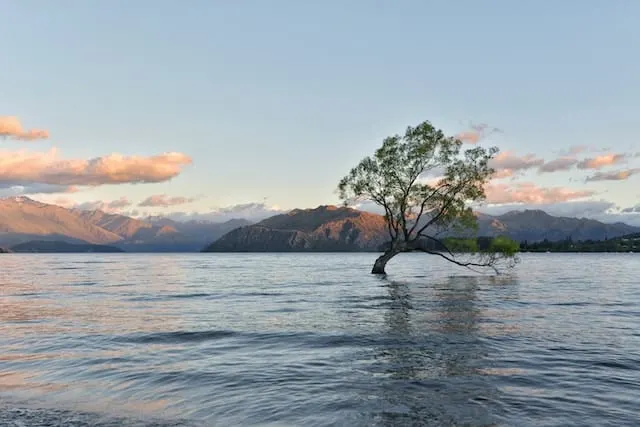 You've probably heard of the Instagram famous Wanaka tree, which seemingly sits in the middle of the lake, but there is much more to see and do in town. Amazing shops, cafes and lots of great walks make it another perfect place to spend a few days.
And that's a wrap, folks! I hope this post has shown you Queenstown's Best Activities to get you excited about your trip – and a whole heap of Queenstown travel tips and South Island Inspiration to help you to decide where to go. And seriously – there is no shame if you want to do everything on this list & more!!
And if you liked this post, please pin, tweet, flip or share on Facebook – we would very much appreciate it! Hit the P in the Sharebar on the Left for pinnable images!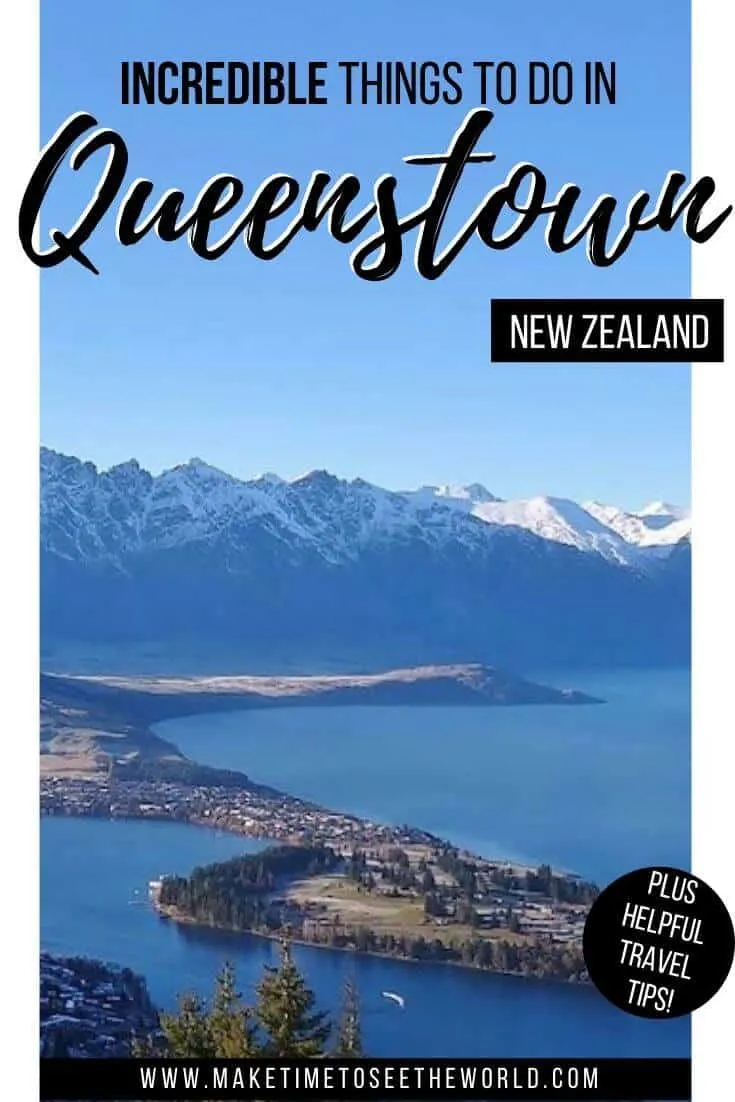 READY TO EXPLORE MORE OF OCEANIA? YOU MIGHT BE INTERESTED IN THESE RECENT POSTS, RELATED ARTICLES, DESTINATION GUIDES & POPULAR POSTS:
Hi There! Thanks for reading my travel guide to The Best Queenstown Activities (+ Travel Guide) for a Short Break! I just wanted to let you know that this post contains affiliate links, which means if you purchase something after clicking a link, I may get a small commission – which is at absolutely no cost to you. If you enjoyed this article and are going to be searching for some of the things I mention anyway, I would love it if you could click through from the links above & thank you in advance! Read my full Disclosure here.
And thank you for reading the MakeTimeToSeeTheWorld travel blog.