The Ultimate Road Trip Packing List: Packed full of road trip essentials to keep the car (and you!) safe, comfortable & entertained on your next road trip.
Click through for tips for personal comfort, safety and car maintenance plus road trip necessities and accessories to make your road trip the best that it can be.
It's almost Road Trip time, and you've started to think about what exactly you need to pack to keep your show on the road.
Whether you are doing a cross-country road trip and driving Coast to Coast road trip across the USA, (or around Las Vegas or Wisconsin!) or road tripping South Africa's incredible Garden Route (our favorite road trip!), or just taking a few days to explore your own back yard – we've put together the Ultimate Road Trip Packing List to guide you through the various road trip essentials.
We've also included a heap of road trip tips that will keep the car – and you – running smoothly throughout the trip.
(It's perfect for packing light on a USA road trip or anywhere else in the world and based on my personal experience after taking some epic road trips!)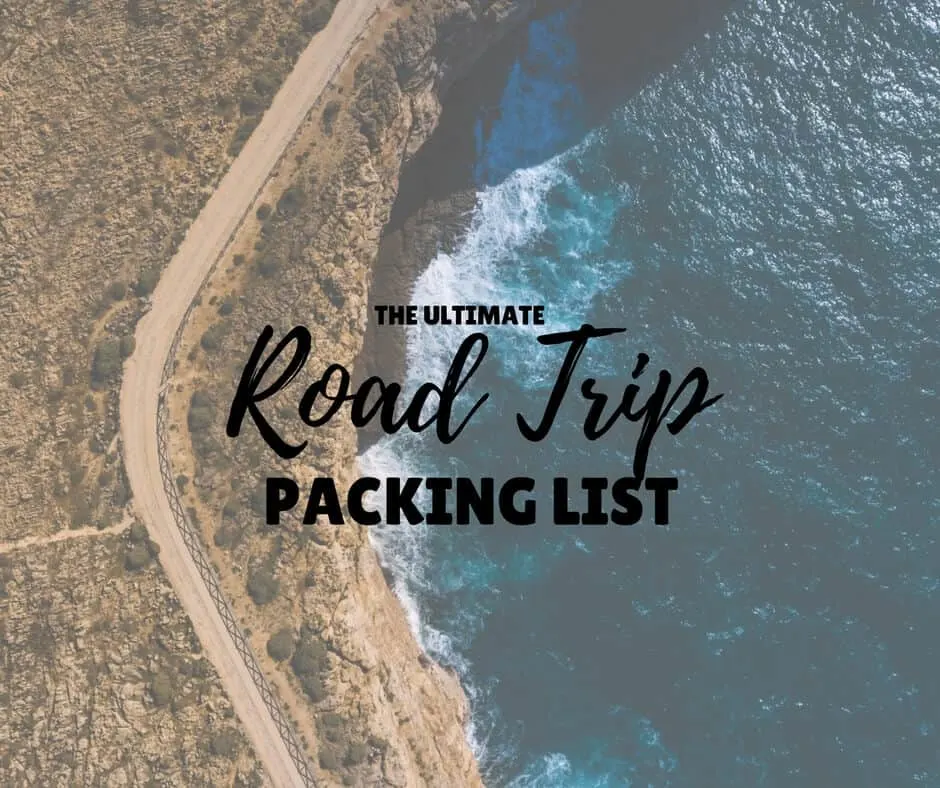 Disclaimer: This very helpful Road Trip packing list full of Road Trip Essentials contains affiliate links as an amazon associate, which means that should you click any of the links and make a purchase I may get a small commission at absolutely no cost to you. If you are thinking about buying some road trip essentials – which if you are here I presume you are – please consider using the links below. And you can read the legal stuff about it all in my Disclosure.
The Ultimate Road Trip Packing List – All the Road Trip Essentials You Could Ever Need!

The Ultimate Road Trip Packing List: Keep Your Car on the Road with these Road Trip Essentials
License and registration
Obvious. Do NOT leave home without them. They are the ultimate road trip essentials!
A copy of your car insurance policy and the relevant contact numbers
Hopefully, you won't need to use your insurance, but keep a copy in the car just in case.
Your car's manual
Because you never know what light might refuse to turn off when you're out of wifi range!
Spare tire
– and check the one you have is in good condition before you set off.
Roadside Emergency Kit
In case of a flat tire (or other emergency situation) this car emergency kit contains Battery Booster Cables, 2 Light Sticks, Reflective Vest, an Emergency Rain Poncho, Warning triangle, whistle, Tire Pressure Gauge, Window Breaker etc. This all-in-one kit has you covered for any possible eventuality (except an actual battery to jump-start your vehicle with, but we got that covered below).
HALO Jump Starter & Power Bank
This handheld box is the ultimate road trip accessory. Not only can you jumpstart any car (or camper/truck/boat(!) – any vehicle really) as it comes with a built-in battery and jumper cables, but it also doubles as a power outlet (regular plug and USB) to charge your laptop and up to 3 other devices, and has a torch for good measure – among other handy bits!
If you are traveling in remote areas and are unlikely to see many vehicles (who could help with a jumpstart) – a portable battery is a must.
.
Little Road Trip Accessories That Can Make a Big Difference
Paper maps/Maps.Me App
Paper Maps – because there isn't cell service everywhere (if there was you could easily rely on Google Maps).
Maps.me is a free app allows you to download detailed maps which can be used offline and without cell service and acts as GPS. It helped us drive across South Africa and I tell everyone I know about it!
Spare money
Because cash is still king in some places – and in particular for parking meters and road tolls!
A notebook or travel journal, pen, and pencil
For either jotting down your thoughts or leaving a note of the car you accidentally 'bumped'.
First aid kit
Basic supplies such a band-aids, bandages, antiseptic and safety pins can be invaluable when the closest town is 100km away!
Flashlight
In case the car battery dies in the dead of the night. Buy two. It means you'll have a spare.
Bug Spray
Because bugs in the car are not fun and essential on a summer road trip.
Large Water Bottles
If you get stranded, staying hydrated is crucial. Keep a couple of large bottles in the car in case of emergencies. And on warm days on a summer road trip.
Toilet Roll
Don't get caught short in an un-stocked rest stop!
Duct Tape
Almost everything can be fixed with a bit of duct tape, right?!
.
And if traveling in winter/road tripping to cold locations
Snow Shovel
Ice Scraper
Umbrella
To be honest. Having one of these in the car – regardless of destination – can only be a good thing! And especially this one that collapses inside out specifically to keep your car dry after use and has a looped handle which rests on your arm to keep your hands free! It also comes in a variety of double layer designs and colors to suit your mood (mine is red on the top with navy blue and white spots inside) It's Perfect for both a summer road trip, a family road trip and for adding some colour to wintery shots!
Stay connected & Entertained on your Road Trip
Phone charger with USB cord
A portable charger / car charger is essential. Even when you are not going on a road trip!
Bluetooth/Wireless hands free kit for your mobile phone
It is illegal to operate a mobile whilst driving in some parts of the world. Play it safe and use a hands-free kit to keep you focused on the road.
Phone Mount / Car Mount
Use a phone mount to secure your phone to the window or the dash to use Google Maps hands-free. (It also satisfies many international laws and so is one of the truly essential road trip travel accessories!)
An epic road trip playlist or road trip podcasts
Think rock and roll classics and sing-a-longs and belt out your favorites at the top of your voice! A playlist full of epic road trip songs is one of my top musthave essentials for a long car ride and you can even throw in some audio books or road trip related podcasts for a bit of variety!
Your favorite camera + USB chargers
My go-to travel camera is the Panasonic Lumix Fz70. It should be yours too – click the link to find out why! (and if you want to know which are the best cameras for travel + the best drones for travel)
Instant Camera
Instant Cameras are so much fun and can capture some unusual and quirky shots along the road
Portable Wifi
For those that don't have great roaming plans/options in the destination you are in, a portable wifi device is a great travel gadget and one that is a necessity if you need to stay connected to the outside world.

A good book or two
Depending on how long your journey is. But not good for those who are susceptible to car sickness.
Road Trip Games and/or Road Trip Activities
Travel games are perfect for family road trips to keep the kids entertained when there is a lot of time in the car!

Portable Power bank with USB ports
To keep multiple devices charged on the go where the in-car USB ports are in use.
Road Trip Packing List – The Comfort Kit
Sunglasses
Driver or Passenger, nobody likes to squint when they're in the car.
Blanket
For cosying up during a daytime nap, using as a picnic blanket or for extra warmth should you get stranded somewhere after the sun goes down. Warm people = Happy people. And if you're planning on sleeping in the car, sleeping bags wouldn't go amiss!
Travel Pillow
On the basis of the above. Comfortable people = Happy people

Travel Mug
Great for hot and cold drinks, and with a seal-able lid, with a travel mug there is less chance of an unnecessary spillage.
Reusable Water Bottle
Sealable vessels stop spillages! And re-using your water bottle is better fro the environment.
UV Window Shade
Driving down the highway with the sun on one side
Extra Jumper/Wrap
Back on the warm and comfortable thing again, but I do hate being cold. And an extra layer doesn't take up that much room.
Hand sanitizer
Because not everything you touch will be all that hygienic. Keep those germs outta the car.
Painkiller/Anti-Inflammatory Medication
Being in the car with a headache and/or muscle strain/injury is neither fun nor comfortable.
Reusable Shopping Bag
For popping to the shop whilst on the road – avoid using unnecessary plastic bags and pack a reusable one. They fold up small and can be thrown in your handbag after your road trip for everyday use.

Mints
There's nothing like fresh minty breath for a quick pick me up.

Travel Towels
In case your motel doesn't provide them, to dry you from the unexpected downpour that you got caught in. The possibilities are endless.

Flip Flops
The perfect slip on shoe.
Day pack
For the times you want to go on a spontaneous walk/hike and need day bags to store your water bottle/sunscreen/extra jumper etc.
Rain Jacket
In case it is throwing it down at gas stations or rest-stops when you need to get out of the car.
.
Road Trip Packing List – Your Personal Care Kit
Toiletry Bag
A wash bag is essential to put all the below items in and keep everything close to hand in the same place.

Sun Screen
The sun beating through the glass all day can make for some interesting tan lines if you're not careful.. helllooo truckers arm!
Body Wipes
Wet wipes or Baby wipes are essentially a shower in a pack. For emergencies, or a quick re-fresh.
Lip balm
Cracked lips are never fun. Pop one in the glove box and one in your bag so you don't get caught out.
Mini hairbrush
The wind in your hair may feel incredible – but the bird nest it creates is not fun to deal with! The Tangle Teezer is great because it comes with it's own case so you're not going to end up with stands of hair running loose in your bag after use.
Hair ties/Grips
For the day you don't want to deal with the windswept look.
The Three Ts: Toiletries, Toothbrush & ToothPaste
Tissues
.
Helpful/Miscellaneous Road Trip Items
These will entirely depend on where you're headed and for how long: you may need all, or none of them! Don't forget your personal item and use the following packing checklist for your cross country road trip packing list to help you save money and plan the perfect road trip!
Plastic/Garbage Bags
Because you don't want you car to resemble a trash can. Plastic bags (or garbage bags) are also good to keep wet clothes away from dry ones if you get caught in the rain.
Road Trip Snacks
Snacks are always good. If you're prone to being hangry (that's angry when you're hungry) it may be best for all parties to keep a stock of energy bars or granola bars in the car for emergencies. Snacks are true car essentials and the perfect road trip food!
Car Cooler
This would be a must for me, as I have a little Coca-Cola addiction and I like my cans cold. But a cooler could also be used store other drinks, juice boxes, sandwiches and food stuffs that don't do so well in hot weather.
Tweezers / Swiss Army Knife
A multi-tool can be helpful in any number of situations.
Car Organizer
To keep the car – and everything in this list – organized. Car trunk organizers, storage containers or even a large tote bag can also help you save space by having everything neat and tidy when you hit the road.
.
So there you have it! The Ultimate Road Trip Packing List: Packed full of road trip essentials to pack to keep the car (and you!) safe, comfortable & entertained on your next road trip.
And if you liked this post, please tweet, pin and share – I'd really appreciate it!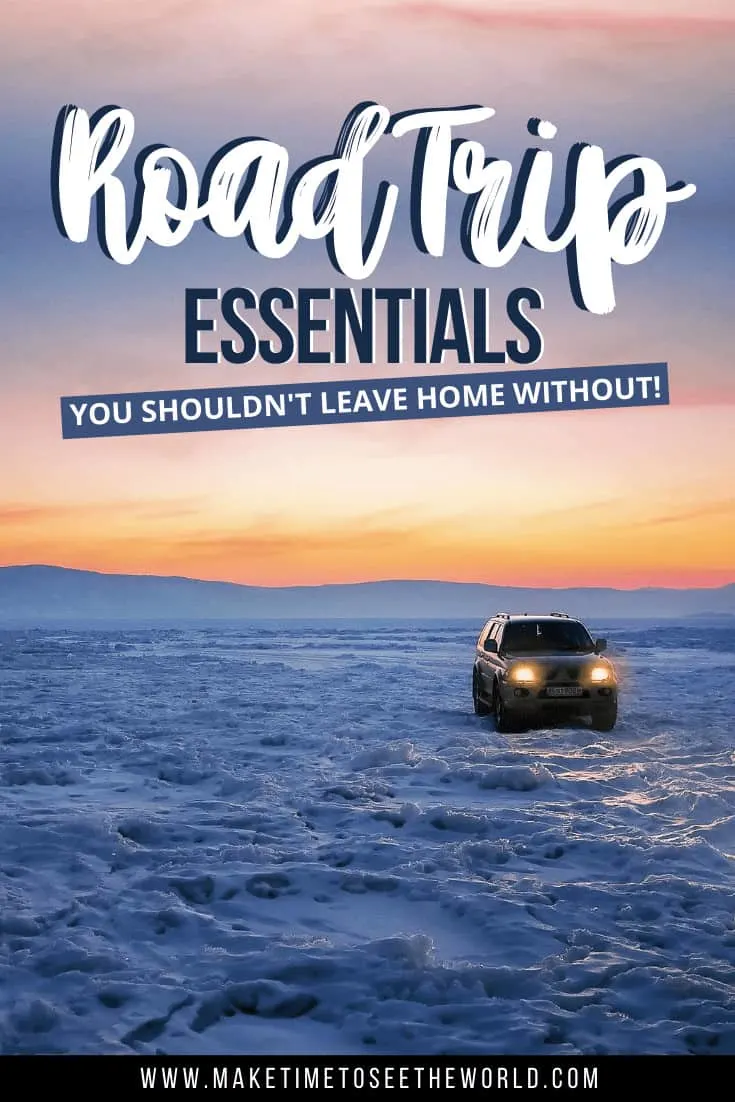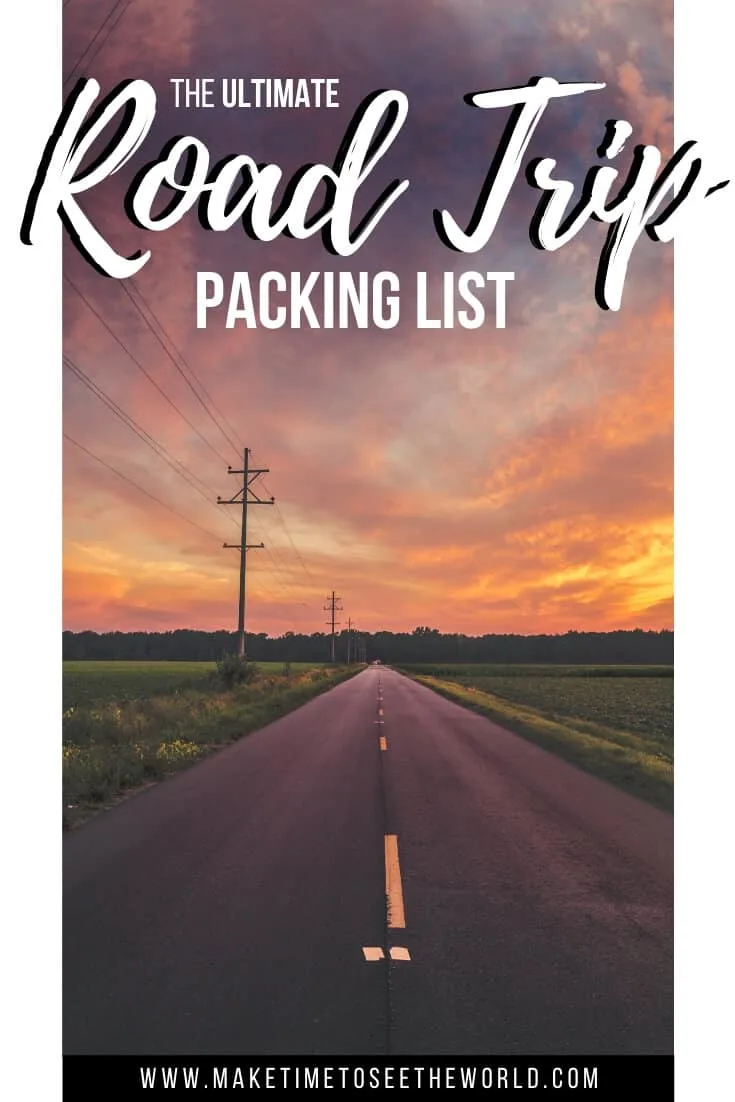 And if you liked this packing guide, take a look at the other packing lists, travel resources and travel guides in this series:
Hi There! Thanks for reading my Ultimate Road Trip Packing List Essentials – Packed to the brim with Road Trip Musthaves Essentials, traveltested road trip items (and includes a free printable checklist and road trip checklist). I just wanted to let you know that this post contains affiliate links, which means if you purchase something after clicking a link, I may get a small commission – which is at absolutely no cost to you. If you enjoyed this article and are going to be searching for some of the things I mention anyway, I would love it if you could click through from the links above & thank you in advance! Read my full Disclosure here.
And Thanks for reading the MakeTimeToSeeTheWorld travel blog which is packed full of useful travel blog posts.