Let us help you plan the perfect Europe Road Trip! From the North to the South and through the middle, these are the BEST Road Trips in Europe and include something for everyone such as beaches, cities, national parks, museums, hidden gems & more!
If you are a fan of road trips and overlanding, then you'll probably want to give Europe a chance. Packed with many gorgeous routes, breathtaking landscapes, and stunning architecture, Europe has a lot to offer. Therefore, when planning your next Euro-trip, make sure that you add the following routes to your bucket list: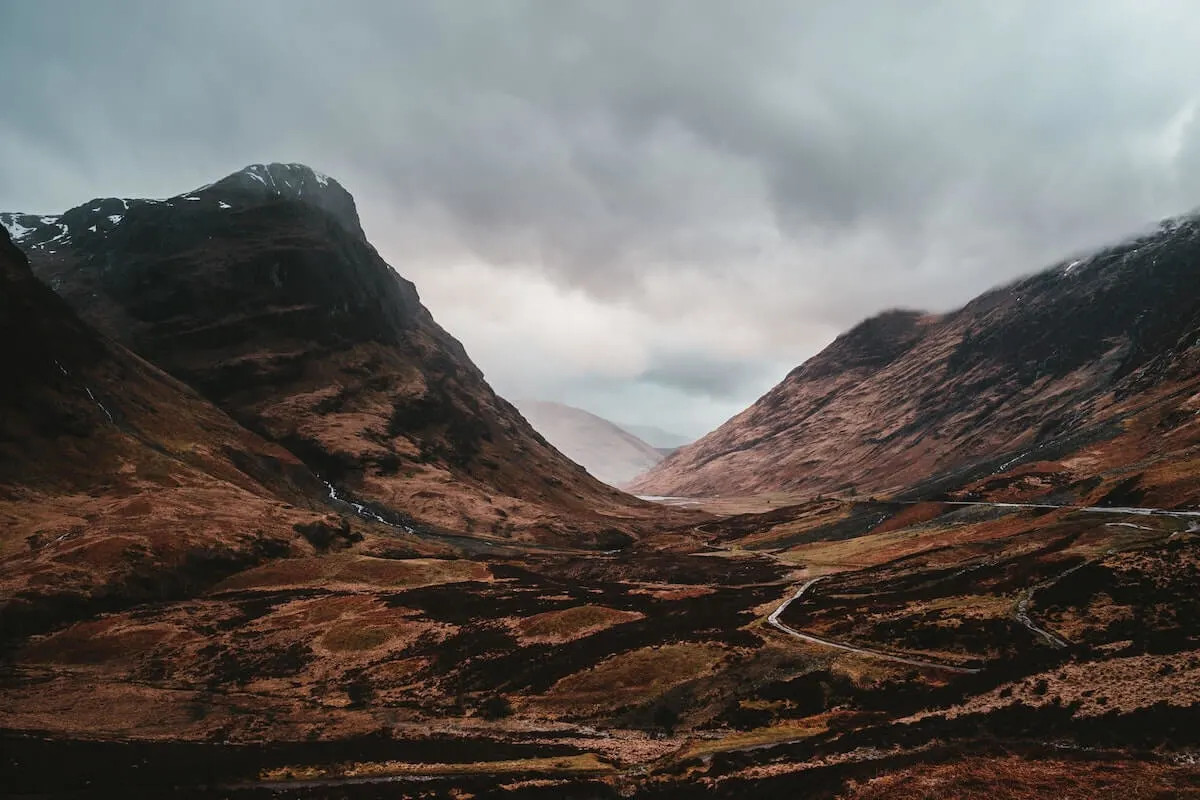 Disclaimer: Almost all posts on this site contain affiliate links, and this one featuring the 5 Best Road Trips in Europe is no different. This means that if you click on any of the links in this post (and make a purchase) I may receive a small commission at absolutely no cost to you. Each post is carefully crafted to (hopefully!) answer all your questions and recommendations are made where we believe they will improve your trip and help with your planning. As such we thank you in advance should you decide to click & buy. Read my full Disclosure here.
Scotland: The North Coast 500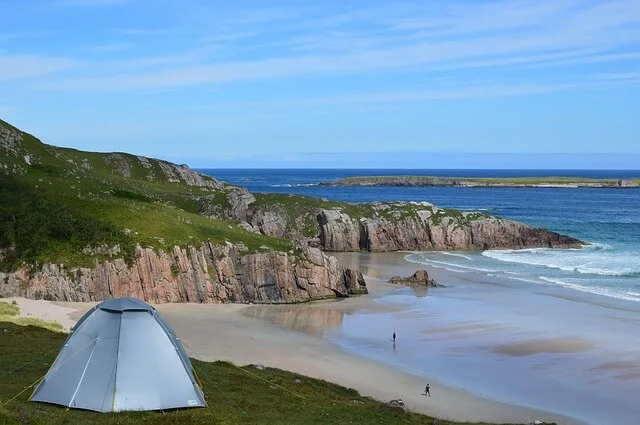 Scotland is packed with all types of beauty, and the North Coast 500 takes you through a wide category of them. If you are a fan of camping on the beach, then you'll certainly love taking your road trip through here. There's nothing better than waking up to the sounds of the sea, knowing you can go swimming from the moment you start your day.
Taking you through a little over 500 miles of adventure, the route starts and ends in Inverness, going through a loop of beaches, castles, and wildlife. You might want to take 5-7 days to soak up all these Scottish beauties.
En-route from Inverness, you can take it north to John O'Groats, and then go through Durness where you can see the coastal beauties. Ullapool and Torridon Hills are on the way, showing you all the beauties of the Northern Highlands. Some peaks there go as high as 3000 feet and feature some of the oldest rocks that the world has. A few of the rocks there are as old as 3 billion years!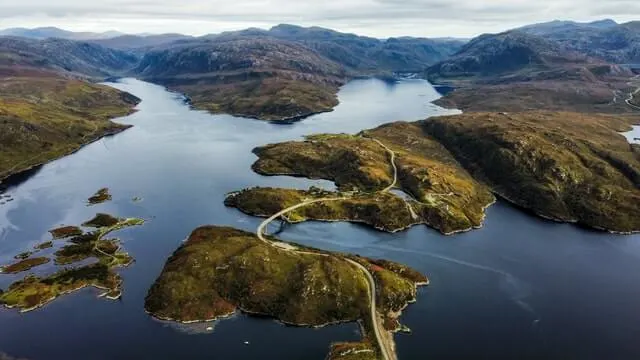 Aside from that, this route allows you to see all the popular Scottish attractions. There are lots of castles on the way here, and you will want to stop at Ardvreck and Dunrobin. The Smoo Cave is also around and is a great spot to go to on a hot summer day – mainly because the interior is so cool.
Plus, by going on this route, you have all the chances of spotting the most popular wildlife in Scotland: red deer, red squirrels, golden eagles, seals, and otters. If you are driving along the coast, you also have all the chances of seeing whales, puffins, or even dolphins.
Ireland: Wild Atlantic Way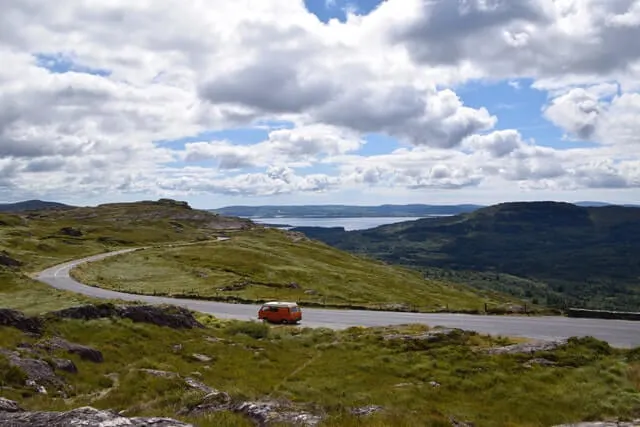 If you are planning to pass through Ireland, then you might want to consider taking the Wild Atlantic Way. Starting in Dublin and circling back, the Wild Atlantic Way takes you through 1,118 miles of pure beauty. You may want to take around 10-14 days to complete the whole route – even more if you want to really take your time and enjoy it.
There are many highlights while going on this route. You have the wildlife, the coast – and not to mention seafood almost everywhere. The Wild West Coast of Ireland is a personal favorite of anyone passing through, the route starting from Glenveagh National Park and Donegal in the North and taking you to Dingle Peninsula and Ring of Kerry in the South.
The route itself is clad with many things for you to see. You have manor houses and castles that you can visit, and you also have harbor towns to pass through. The local Irish folk is also welcoming, especially if you decide to make a stop at their famous Irish pubs. Make sure to take the day off from driving if you decide on that, though.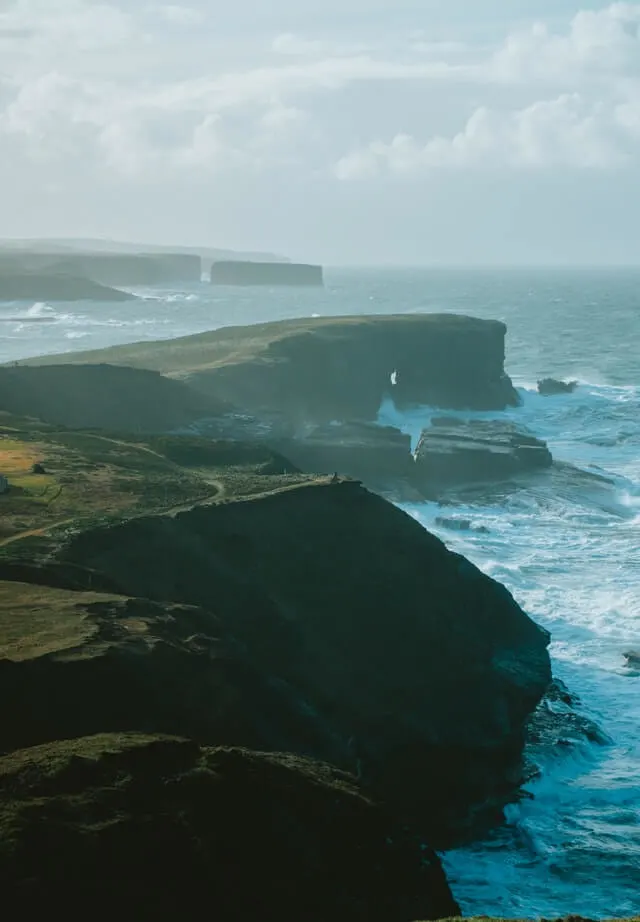 Once you continue the route on the Irish coast, you have even more beauties to see. The cliffs of Moher are incredible, as well as the Aran and Achill. They give you great swimming opportunities in the blue sea and magnificent coast views. Plus, the area is packed with castles and manors, the most popular being the cliffside Kilvadnet castle, which dates back to the 15th century. It is most certainly a beautiful sight to see.
Norway: The Fjord Route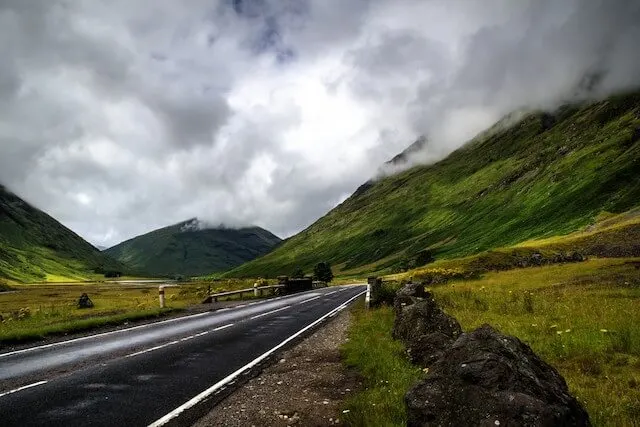 If you want to see some stunning mountain landscapes, there's no better place than Norway to do that – and the Fjord route should be your main plan.
What's most beautiful about this route is that it takes you through miles of blissful isolation, where all you will see is nature all around. The roads can be rather tough so make sure you install a good set of all-terrain tires.
You have many breathtaking sights to see here. From forested mountains to crashing waterfalls and glassy waters, it's the perfect route for overlanders. It will also take you through a couple of cultural towns and quaint villages, such as Alesund and Balestrand.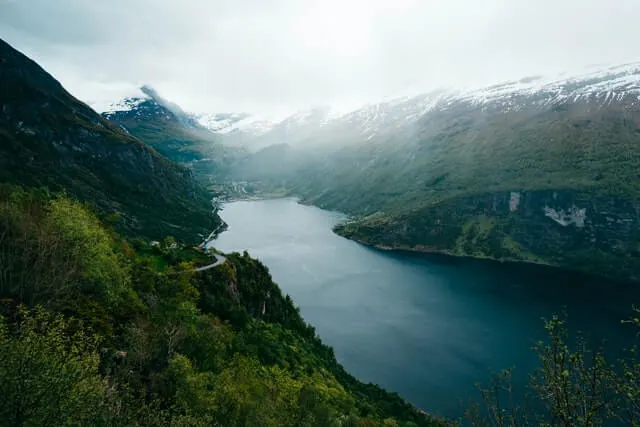 The road starts in Bergen – a beautiful city in itself. You will pass through several attractions as well, such as the Jotunheimen National Park and the very beautiful Geirangerfjord. You have numerous coastal waters en-route as well, along with a variety of fjords and lakes. If you drive deep enough into the mountains, then you'll be able to see the snow-dusted peaks as well.
The Fjord route takes about 10 days to finish, depending on how long you make your stops. Some people recommend you take two full weeks so that you can enjoy everything that Norway has to offer. There are many camping sites there as well, so you may be able to connect with Mother Nature.
Greece: The Godly Beaches of Greece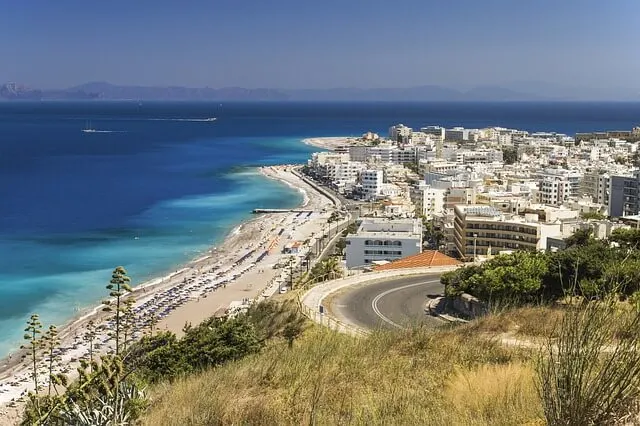 The best thing about Greece is that it is clad with countless beaches – so, if you are traveling during summer, you might want to arrange a trip to Greece.
Greece's "godly beaches" are connected by ancient highways, which makes them easy to reach.
The route here starts in Athens, and you will drive south through the coastal road. There, you will pass through the Athenian Riviera, and then go through Sounion as you get to the top of the Attic peninsula.
Bear in mind that this route will also take you through a couple of mystic mountains, so you will want to prepare your car beforehand. That being said, you may easily reach the Temple of Poseidon, where you will be able to watch a very lovely sunset.
From that point, keep driving north, and you will reach the Kórinthos fortress. Enjoy the sights there, and the road will take you to Mycenae city. If you are into history, this will prove a great stopping spot for the day. It is the home to most Homeric heroes, which makes it quite a cultural spot.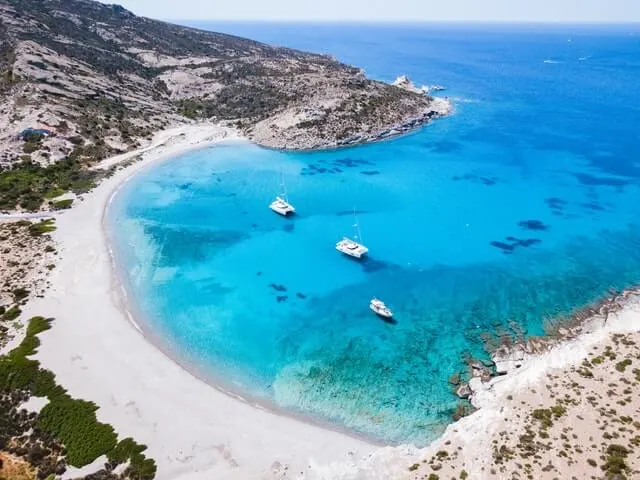 If you want the trip to be on the more luxurious side, Náfplio has a lot to offer. Beautiful white sandy beaches are everywhere, allowing you to take a full day under the sun. If that is not up to your alley, then you may take your trip to Mystra, with its unforgiving yet stunning landscapes. Driving towards Delphi, you have all sorts of mystic ruins on the road as well.
The route should take you about 5-10 days if you want to fully enjoy it, but if you do not have that time on your hands, you may also complete it in a long weekend. With that in mind, if you are a sun worshiper that is a fan of ruins and Homer works, then you will want to check this route out.
Once you are done overlanding there, you may take it up north and continue your overlanding in Slovenia or other similar countries. Euro trips do not stop in just one country.
Iceland: The Ring Road (+ Our pick as one of the BEST Road Trips in Europe)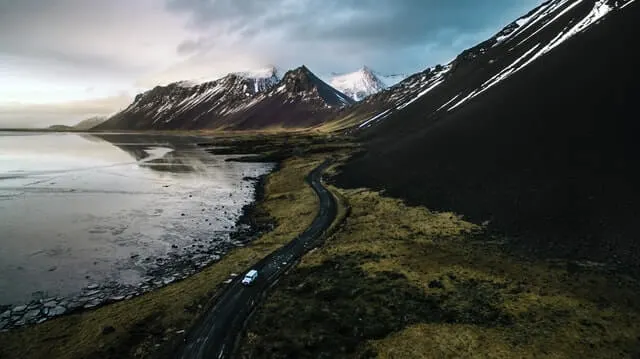 Iceland has a route that encircles the whole land of the country. Sure, you can get from one point of Iceland to the other in two days at most if you drive right through, but you may not be able to see everything that Iceland has to offer. Choose Route 1 instead, also referred to as the "Ring Road," which will take you all around Iceland.
This route covers almost 830 miles, and it's packed with everything from glaciers to waterfalls and geothermal pools. To fully enjoy the sights, you should take around 10 days to finish this route (6 days if you are in a hurry; 14 days if you want to take your time).
The route begins in Reykjavik, where you start with the Golden Circle. You have the Þingvellir National Park, the Gullfoss waterfall, and the Geysir geothermal pool. If you continue east from there, you have other stunning sights to go through. There are plenty of waterfalls for you to relax around, along with glacier lagoons that will take your breath away.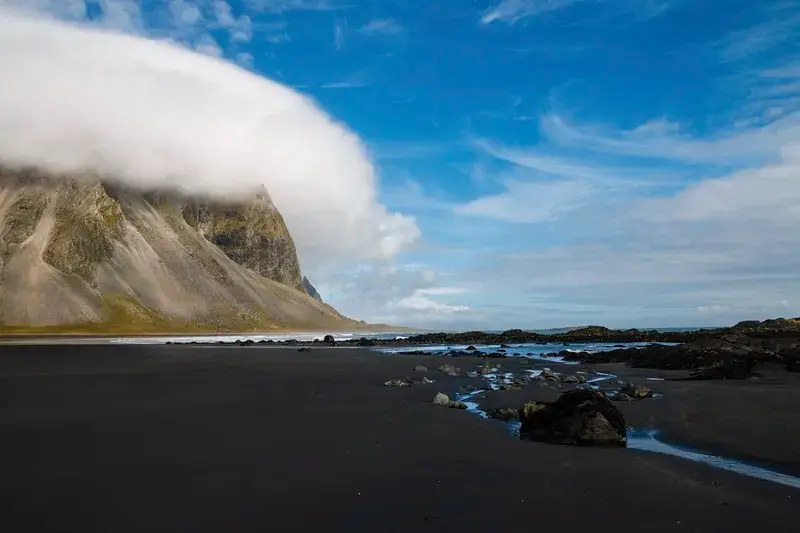 Around there, you will also come across black-sand beaches, which are very common in Iceland. It's certainly something you do not see quite often. Stop by Lake Mývatn, and you can see what a volcano looks like, along with its craters. Mývatn also has a couple of nature baths that you will enjoy.
The route will take you through North Iceland as well, where you can see the Peninsula of Trolls and the Waterfall of Goods. The places are so beautiful that most visitors describe them as simply magical. By taking this route, you will see more of Iceland than any other route would offer.
The Bottom Line when it comes to the Best Road Trips in Europe
Europe is a wonder in itself, and each country has its own beauty and stunning landscapes. However, these are the routes that seem to be the most popular for overlanders all over the world. So, make sure you include them on your list if you plan a trip to the old European continent.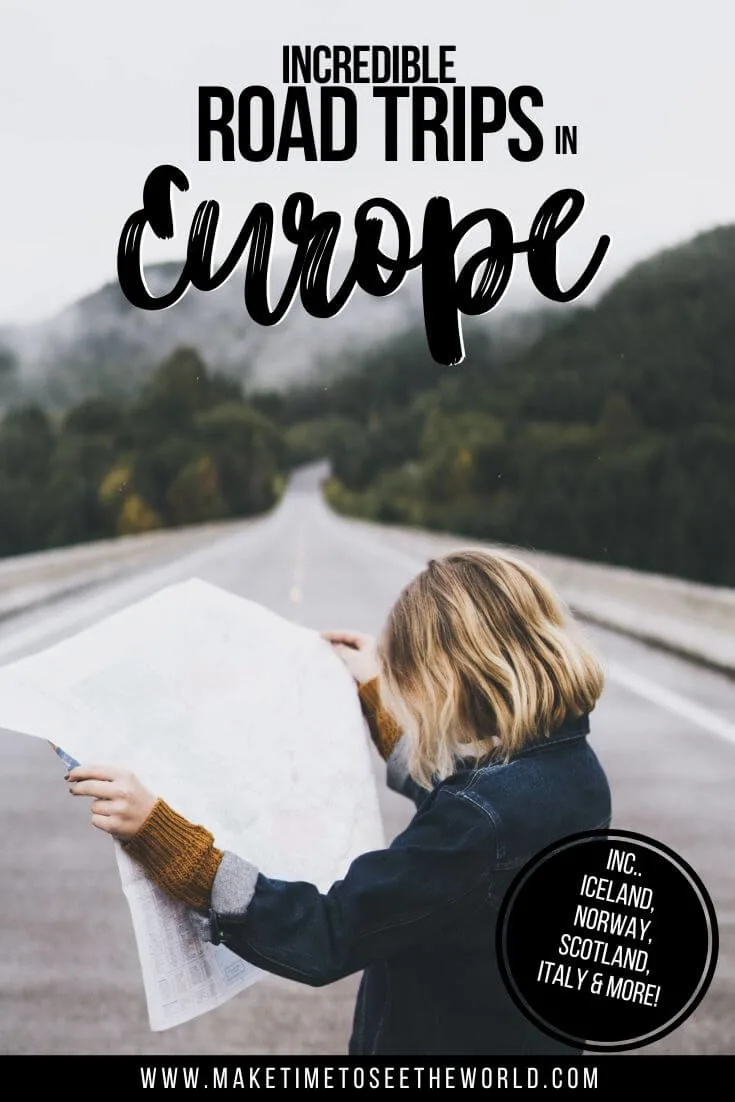 And if you liked our guide to the best road trips in Europe, take a look at the other recent posts, packing tips, travel accessories, travel resources, travel guides, ultimate guides and packing lists in this series:
Hi There! Thanks for reading my travel tips for the Best Road Trips in Europe: 5 Incredible Europe Road Trip Routes! I just wanted to let you know that this post may contain affiliate links, which means if you purchase something after clicking a link, I may get a small commission – which is at absolutely no cost to you. If you enjoyed this article and are going to be searching for some of the things I mention anyway, I would love it if you could click through from the links above & thank you in advance! Read my full disclosure here. And thank you for reading the MakeTimeToSeeTheWorld travel blog.