Let us help you get out & explore some of the most beautiful places in the state with our guide to 10 incredible National Parks in Queensland.
With over 1000 National Parks in Queensland Australia to visit, you're sure to find what you're looking for. Each one has something that makes it special, and you will be amazed at what you can discover. Below are 10 stunning national parks in Queensland that you need to visit. Most of them will be off-grid and best enjoyed with a four-wheel drive, and others will have some creature comforts. There will be at least one that takes your fancy and entice you to book your next Queensland vacation.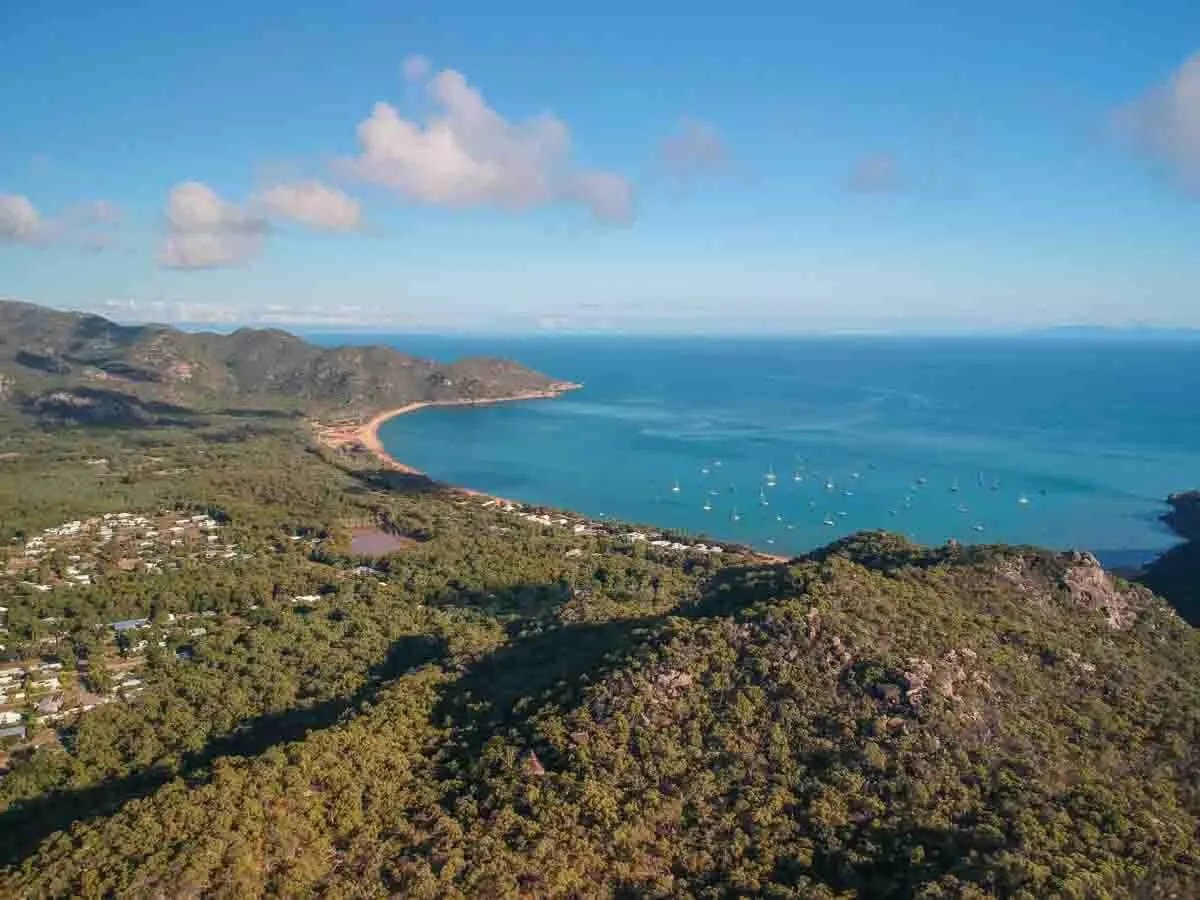 Disclaimer: Almost all posts on this site contain affiliate links, and this guide to 10 Incredible National Parks in Queensland (By a Local) is no different. This means that if you click on any of the links in this post (and make a purchase) I may receive a small commission at absolutely no cost to you. Each post is carefully crafted to (hopefully!) answer all your questions and recommendations are made where we believe they will improve your trip and help with your planning. As such we thank you in advance should you decide to click & buy. Read my full Disclosure here.
Map of the Top Queensland National Parks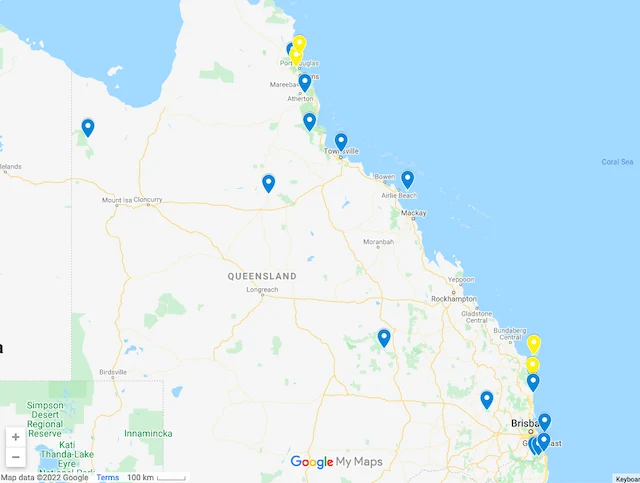 Click the map of the 'Best National Parks in Queensland' to open in Google Maps, get directions etc.
10 STUNNING National Parks in Queensland you MUST Visit (By a Local!)
Lamington National Park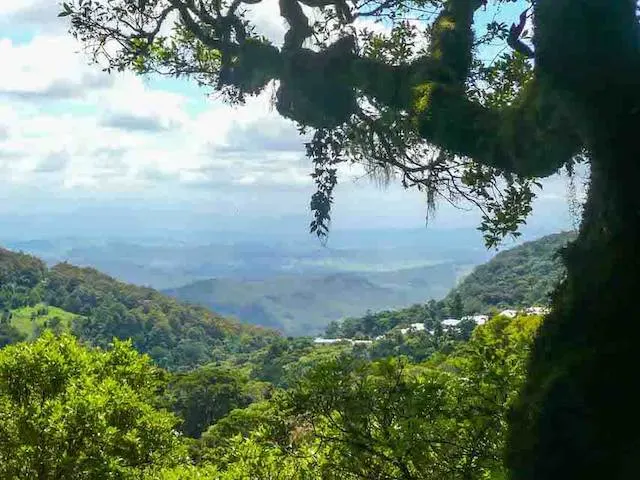 Set forth on an adventure and explore the rainforest, waterfalls, and hikes available to you in the Lamington National Park. It's only an hour away from the East coast and an easy Gold Coast or Brisbane Day trip.
In recognition of its high biodiversity, it was world heritage listed in 1994. Consequently, providing homes for frogs, mammals, all kinds of birds, and even reptiles. It's a part of the Gondwana Rainforest, winds through layers of an ancient lava flow, and is home to the rare Alberts Lyrebird.
There are over 160 kilometres of walking trails ranging from 1 kilometre to 21 kilometres. Moran Falls is certainly a favourite among the locals and can be busy at peak times. However, you have over 20 other hikes available to choose from between the Binna Burra and the Green Mountains.
Take the scenic trip up the winding roads to O'Reilly's Rainforest Retreat. This is where you will find a restaurant, accommodation, and the famous treetop walk. It's only a short walk through a canopy of trees covered in vines. It's made up of nine suspension bridges, with some 15 metres above the ground.
Climb up even higher on a secure ladder and take in the exhilarating views from the observation deck. Even better, as this is all a free experience and one of your "must-do" national parks in Queensland!
Stradbroke Island (Naree Budjong Djara National Park)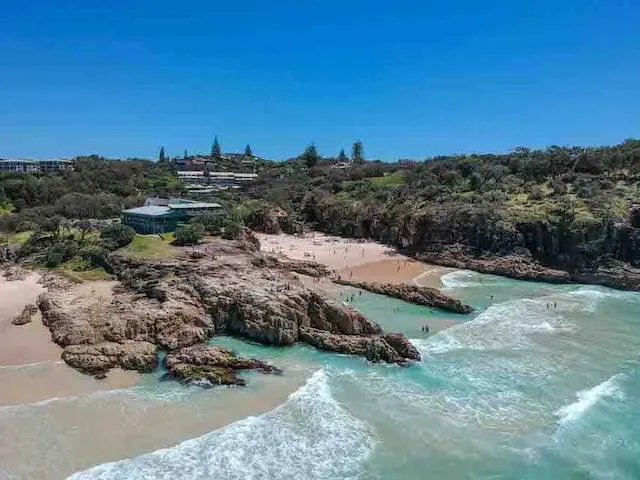 Did you know that North Stradbroke Island (Minjerribah) is listed as a National Park? The Quandamooka people are the original owners and list it as the Naree Bujong Dajara National Park, meaning "My Mother Earth". It covers over fifty percent of the Island and is only a short 40-minute ferry ride from the city of Brisbane.

Unlike other Islands, North Stradbroke has been built up as a small, country community with a permanent population of over 2000 people. These provide the tourists with plenty of facilities and creature comforts, including groceries, many restaurants/café's, assorted accommodation styles, and local arts and craft stores.

Accessing the National Park area will be by Four-Wheel Drive along many different sandy tracks. It's here you will find secluded freshwater lakes, mangroves, forests, and woodlands. Additionally, be on the lookout for animals that call it home, like the Cooloola Frog, the Black neck Stork, or a swift parrot.

Rich in indigenous history, tons of wildlife to discover, some of the best beaches in this area, and delectable local food to try out.
There will be something for everyone to enjoy whether you're travelling solo, as a couple, with family or a group of friends.
SpringBrook National Park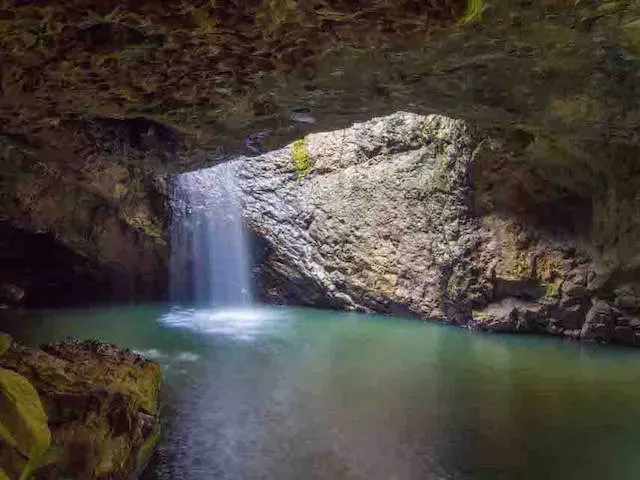 Imagine going back in time and exploring areas that once had lava following across the valley floor. Consequently, the remnants of this are what you'll see in the Springbrook National Park on a Gold Coast Day trip. It's contained within the Gold Coast Hinterland, the Gondwana Rainforests, and UNESCO World Heritage-listed along with Lamington National park.
The effects of the surrounding prehistoric volcanos have created incredible waterfalls, picturesque structures, and plenty of different hiking trails to discover it all. Whether you're a beginner or expert hiker, there is sure to be something for everyone.
The hiking trails range from 300 metres to 54 kilometres with bush camping options. You can visit amazing waterfalls like Natural Bridge and Purling Brooke Falls. Or alternatively, during the summer season and at night, you could be lucky to witness the elusive Glow Worms attracting food to their web-like strings.
You will only need a standard two-wheel drive vehicle in accessing this National Park in Queensland. However, the roads are winding through the forest, you do need to take care and drive to the conditions.
Great Sandy National Park
K'Gari (Fraser Island)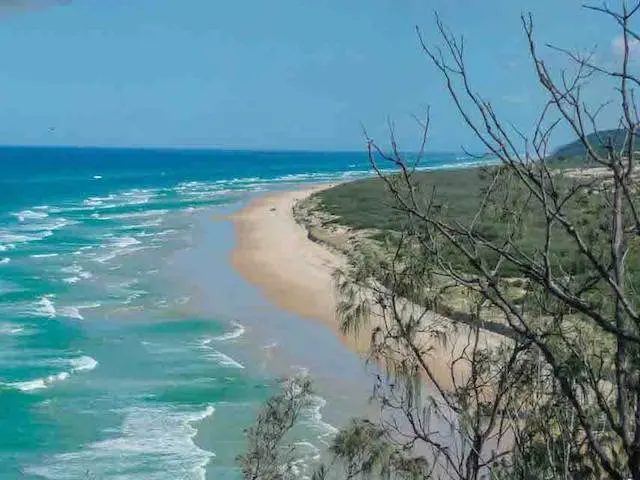 K'Gari or Fraser Island is known worldwide and receives over 380,000 tourists each year. It covers 1600 kilometres square in size, 123 kilometres in length, and 22 kilometres at its widest point. You can access the Island by barge from either Hervey Bay or Rainbow Beach and it's the worlds largest sand island.
It's part of the Great Sandy National park, along with Rainbow Beach, which covers an area over 2000 square kilometres in size. Access to the Island is by four-wheel drive only, but you can purchase tours and transfers to the two different accommodation resorts.
Accommodation in the National Park consists mostly of beach camping, some caravan parks, and two major resorts. However, there are numerous beach houses and private rentals available for those wanting fixed options.
When it comes to sites to see, there is no short supply on Fraser Island. While beach swimming is not common, you will find plenty of people soaking up the sun and swimming in the Champagne Rock pools, Lake Wabby or Eli Creek. Visit unique sites and learn about the SS Maheno Shipwreck history and the Pinnacle Rock formations. Additionally, driving the sandy tracks inland through the tallest forest in the world, that grows on sand.
In the end, ensure that Lake McKenzie is on your list of places to visit. You'll be amazed at the beauty of this freshwater lake and enjoy swimming and lazing around.
Rainbow Beach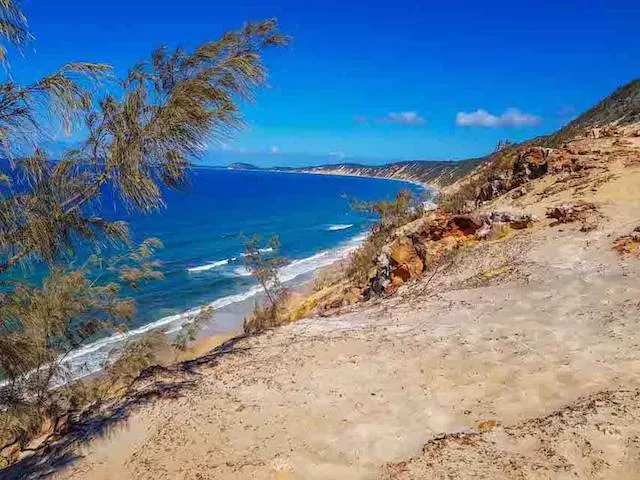 Rainbow Beach is located about 3 hours north of Brisbane and a part of the Great Sandy National Park. Most will visit for their gateway to K'Gari or Fraser Island, but Rainbow Beach has its own draw cards as well. Why is it called the Great Sandy National Park? Well, most of the areas to explore are surfaced by white sand!

The town itself has a population of 1200 people, and the main areas can be accessed by a standard two-wheel drive vehicle. However, beach driving and exploring the National Park is popular, therefore between that and Fraser Island, it's handy to have a Four-wheel drive.

One site you can't miss is the lovely Poona Lake and freshwater swimming in the tannin-stained waters. This means that the surrounding Tea Trees have stained the water a slight brown colour, the same as Brown Lake on North Stradbroke Island. The return hike will take about 1.5 hours, and certain sections will have you walking uphill. The extra energy burn is worth it after you reach the lake and jump in!

Apart from that, you have stunning Carlo Sand blow, which is a 15-hectare sand mass. This is great for sand Boarding and is often used for hand gliding or parachuting.
Carnarvon Gorge National Park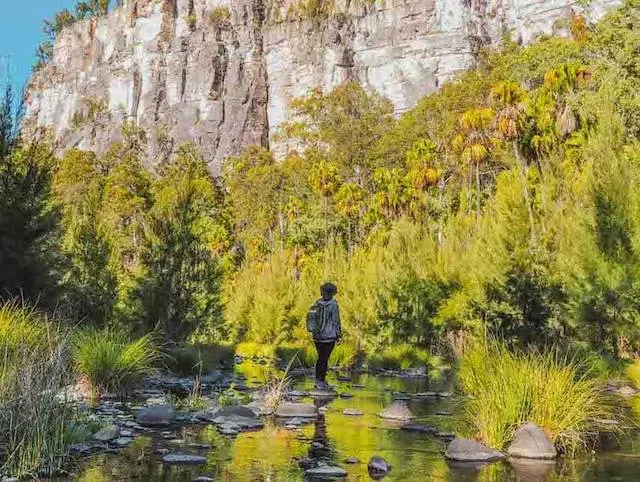 If you're into Hiking, then a visit to Carnarvon National Park is going to be a "must-do" on your list. It's located about 9 hours North West of Brisbane in central Queensland, and generally, people will stay for a few days to a week.
There is one main hike to complete in the National Park, down the gorge itself. This is over 20 kilometres to return but does have some alternate tracks to specific sites that increase the time and length. The hike overfall is remotely easy and very little elevation, so can be completed by a moderate hiker.
Sites throughout the journey include The Amphitheatre, The Cathedral, Boolimba Bluff, Moss Garden, Wards Canyon, and the amazing Boowinda Gorge. Taking the extra steps to see these sites are well worth it and should be allocated to your day's activities.
While this entire hike can be completed in one day, it makes sense to average over two or three days. As you follow the gorge in, the track crosses the river bed several times and therefore means your feet could get wet or requires rock hopping. Walking poles are always a good option, and ankle covering hiking boots are recommended.
Apart from the Carnarvon Gorge main hike, there are several smaller ones, and these can be accessed from the same starting point. Mickey Creek and Warrumbah Gorge are just beautiful, and the Rockpools can be used for swimming in the summer months.
The winter season in Australia is from April to October and the best time to visit Carnarvon Gorge. This ensures the rainfall and water levels are at their lowest and make the creek crossings more manageable.
Noosa National Park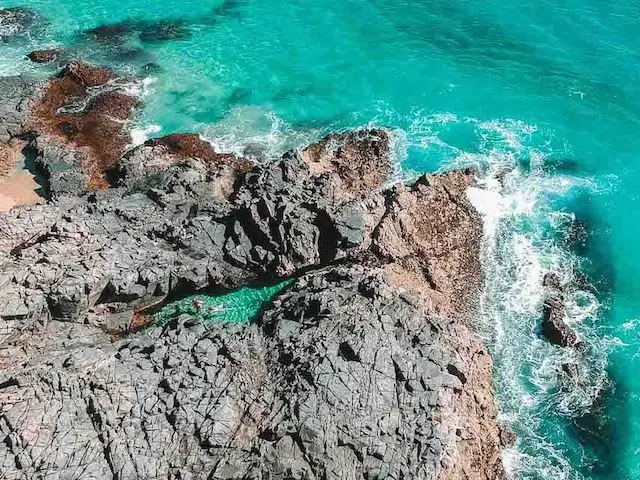 The Noosa National Park is over 2000 hectares and located on the northern side of the Sunshine Coast. It is on it outskirts of major urban development and very convenient for locals and visitors to Noosa Heads. Hastings street is where you'll find most of the restaurants, cafes, and accommodation, and the start of the National Park is only a 30-minute walk away.
There is one main hike that follows the coastline from Noosa Main Beach to Sunshine Beach. It's 5.4 kilometres one way, but not a loop track, and you'll need to return on the same track or work out other arrangements.
Along the way, you will see plenty of amazing and secluded beaches like Alexandria Bay, visit the famous Fairy Rock Pools, and don't forget to scan the trees for wild Koalas. The views across the headland are incredibly scenic and make for an enjoyable, active day out.
These are some of the best swimming spots in the area, so make sure you take advantage of that and jump into the clear ocean waters.
Whitsundays Island National Park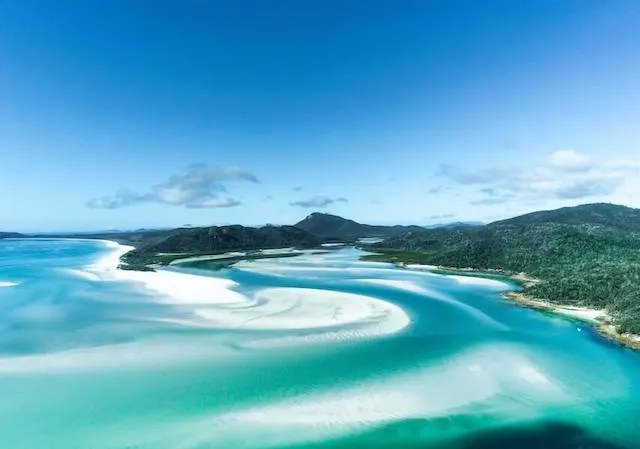 This is one for the bucket list and should be at the top of your list when visiting National Parks in Queensland. There are 74 Islands in the Whitsunday network, which stretches over 280 square kilometres off the coast of Airlie Beach. It's known for its magnificent beauty, white silica sand beaches, and beautiful crystal blue waters.
It's smack bang in the middle of the Great Barrier Reef, and over 500 thousand tourists will visit each year. These either purchase day trips from Airlie Beach, or fly direct into places like Hamilton Island. Furthermore, shuttle boat services regularly depart and circle the popular Islands, while organised tours or private boats will have you exploring other areas.
Highlights to the area include the sublime views from Hill Inlet or pursuing the fine white sandy shores of Whitehaven Beach. Delving into the underwater life, you have plenty of snorkelling with creatures like mantas rays, plenty of fish and turtles, or diving into the many different reef systems.
Take in a different view from the air and witness the famous Heart Island and the artistic coral reef bommies formed over the area. This is a site not to miss, with numerous natural attractions and things to do.
Porcupine Gorge National Park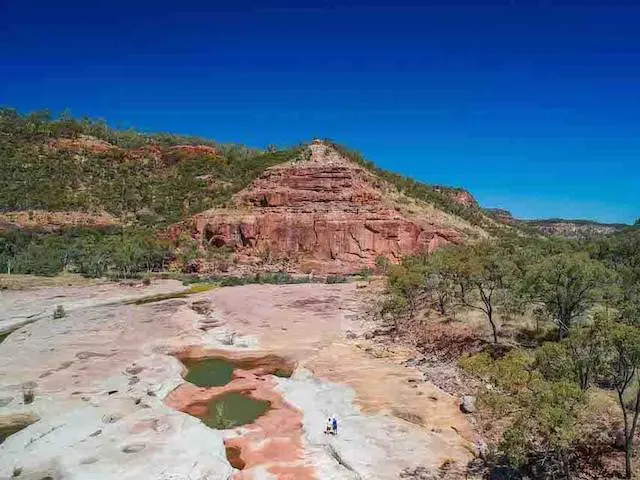 The Porcupine Gorge is a brilliant way to explore outback Queensland and is often referred to as little Grand Canyon. The Park is 54 square kilometres in size and contains hikes into the canyon and views of a large pyramid rock formation.

The canyon itself is about 25 kilometres long and surrounded by sandstone cliffs that have been eroded and carved away over time. Exploring the canyon comes in two parts, with the first as an overall view of the canyon and another hiking down onto the river bed.

The entire area is dry, desolate, and has limited trees for shading and therefore, best in the early morning or late afternoon. Either way, you should carry plenty of water, snacks, a hat, and sunscreen for your visit.

The Lookout point has a short 5-minute walk along a formed path to a fenced, commentated platform. The views are unimaginable and give you access to a small section of Porcupine Gorge.
The hike into the canyon starts at the bush camping area. You can walk down an uneven rocky pathway into the gorge and eventually come out onto the river bed. From here, you will bear witness to the fascinating Sandstone Rock Pyramid, also formed by eroded waters. The gorge floor contains several holes and indentations that hold the river waters and are often suitable for swimming.

The Gorge can only be accessed in the Dry season, but the wet season does bring an amazing view to the lookout point with the raging waters.
Magnetic Island National Park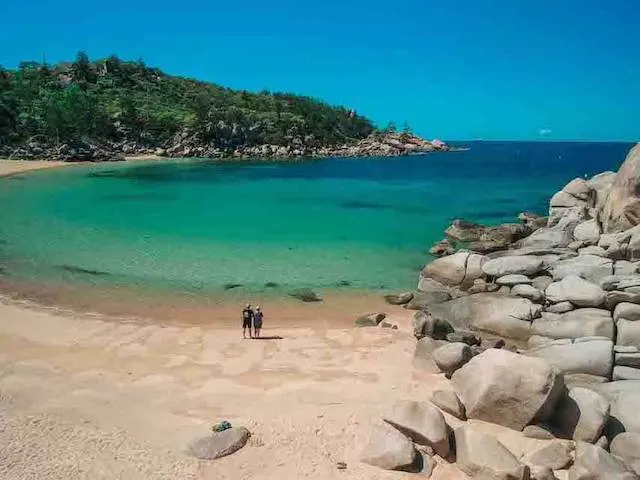 The beautiful Magnetic Island is located in North Queensland, just off the coast from Townsville. The Ferry barge to get there takes about 30 minutes and runs about 10 times every day. You can get most of the highlights seen in a day trip, but best enjoyed over a couple of nights to a week.
The Island is around 52 square kilometres in size and has over 2000 permanent residents. There are several different communities all over the island and therefore, plenty of different options for the 200 thousand tourists who visit each year.
You can start exploring the many different beaches like Alma Bay, Arthur Bay, Radical Beach, or Horseshow Bay. The ones on the east side are brilliant for sunrises and perfect for that Romanic weekend away. On the other hand, you can search for snorkelling spots, get your adrenaline rush in hiring a Jetski, visit the many café's, or just laze your days away by hanging out on the beach.
Unique attractions have you completing the Forts Walk, which displays remnants of the World War 11 base, that protected the coastline. This is also a great hike to spot wild koalas in the forest, so keep an eye out for them.
If you're after more wild animals, then the allied Rock Wallabies are on the hunt for food around Geoffrey's Bay. Every afternoon you will find them jumping all over the massive boulders that surround Magnetic Island.
And that's a wrap. We hope our ultimate guide to the best National parks in Queensland has been super helpful in planning your trip to the Sunshine State.
And if you enjoyed this Queensland travel guide, or know someone planning their QLD vacation that could use our travel advice and top tips for visiting all the national parks (and more!), please be sure to share this article with them on social media: Facebook, Twitter, Flipboard or grab a pin below for Pinterest.
Sharing is caring and we thank you in advance!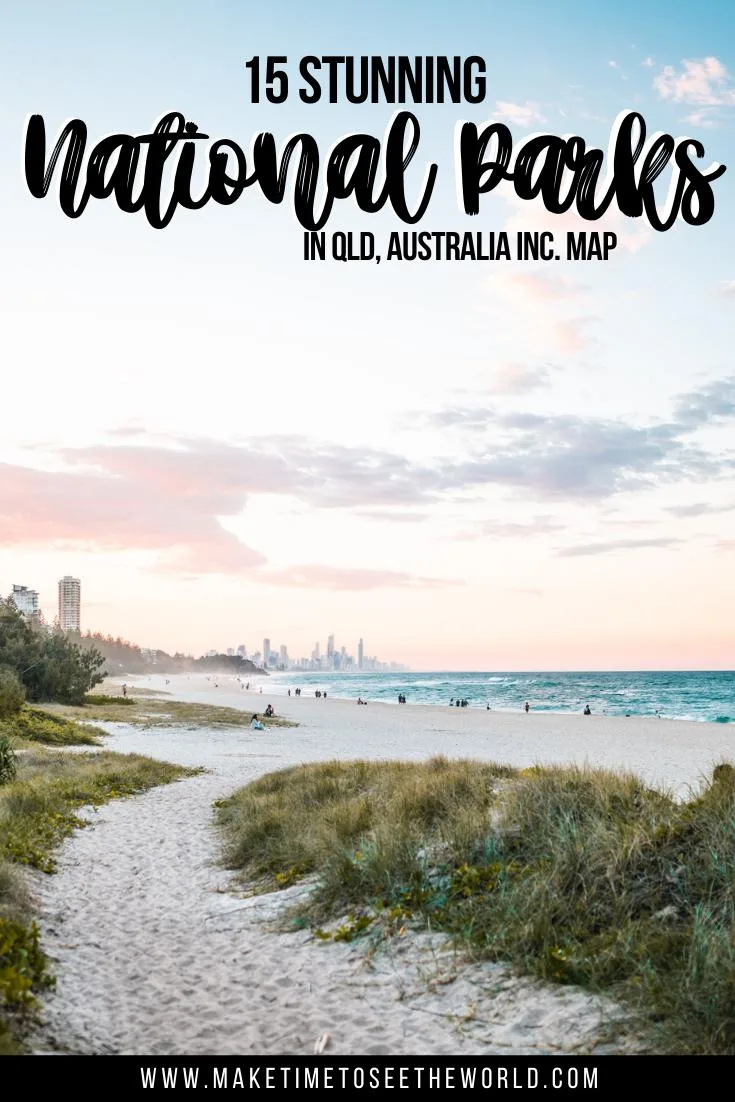 READY FOR MORE OCEANIA TRAVEL INSPIRATION? YOU MIGHT BE INTERESTED IN THESE TRAVEL TIPS, TRAVEL HACKS, TRAVEL ARTICLES, TRAVEL DESTINATIONS GUIDES, TRAVELER RESOURCES AND RELATED POSTS ABOUT OTHER BEAUTIFUL CITIES IN AUSTRALASIA TO HELP YOU EXPLORE AND TRAVEL THE WORLD:

Hi There! Thanks for reading our guide to Beautiful National Parks in Queensland. I just wanted to let you know that this post contains affiliate links, which means if you purchase something after clicking a link, I may get a small commission – which is at absolutely no cost to you. If you enjoyed this article and are going to be searching for some of the things I mention anyway, I would love it if you could click through from the links above & thank you in advance! Read my full Disclosure here.
And a huge Thank You for reading the MakeTimeToSeeTheWorld travel blog.