Sometimes in life, all we need is a chilled out, break by the sea. If we could write a list of our favorite beaches around the world, it would be pretty long (although we gave it a try with our top beaches in Sri Lanka post!), so instead, if you're planning a sun, sea & sand adventure in the near future have a scroll through our ultimate beach quotes to get you feeling inspired.
Whether you prefer to laze around on the tropical sandy beaches of the Caribbean or get active on some of Australia's epic surfing beaches, we have a beach quote, beach saying or beach caption for you!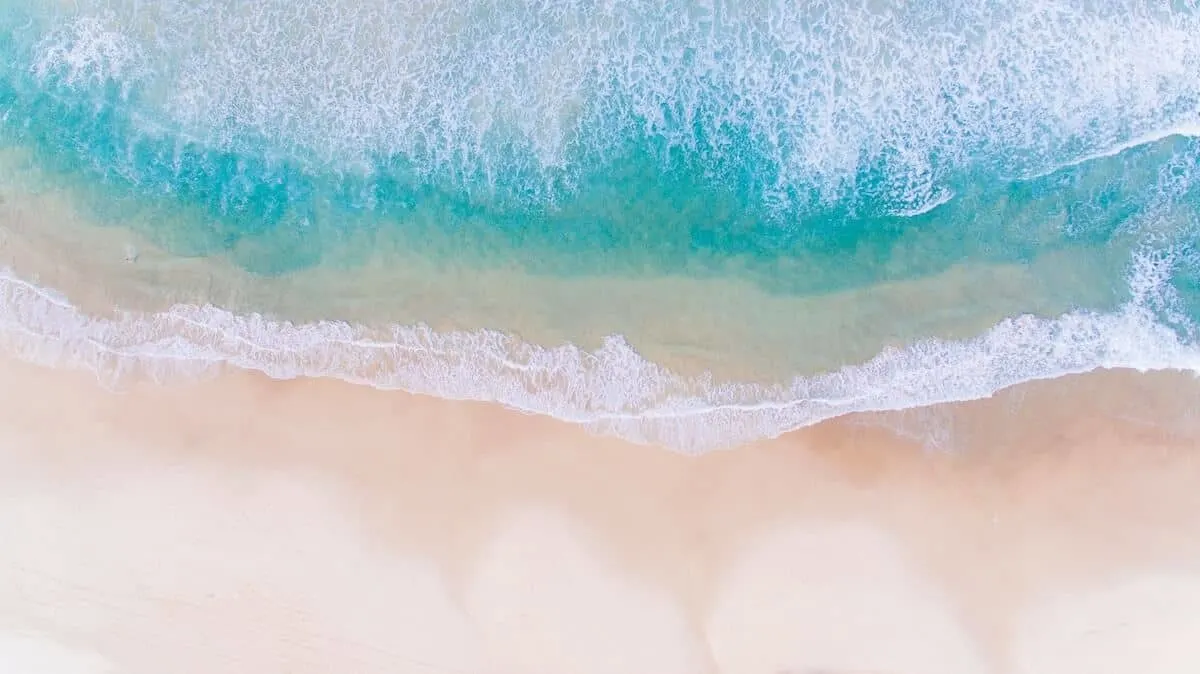 Disclaimer: Almost all posts on this site contain Affiliate links, and this one about the 57 most Beautiful Beach Quotes of all time is no different. This means that if you click on any of the links in this post (and make a purchase) I may receive a small commission at absolutely no cost to you. Each post is carefully crafted to (hopefully!) answer all your questions and recommendations are made where we believe they will improve your trip and help with your planning. As such we thank you in advance should you decide to click & buy. Read my full Disclosure here.
57 Beautiful Beach Quotes to Get You Excited for Summer!
1. "Happiness is a day at the beach!" – Unknown (Don't you just think this is the perfect beach quote?! Short, to the point & such wise words)
2. "At the beach, life is different. Time doesn't move hour to hour but mood to moment. We live by the currents, plan by the tides and follow the sun." – Sandy Gingras (I agree Sandy Grinras, beach life is different when you live by the currents plan and not your own allowing you to let go of things you can't control. It's one of the simple treasures life holds when we find joy in nature and live in bliss – and is why this (IMO) is one of the best beach quotes).

3. "The ocean stirs the heart, inspires the imagination and brings eternal joy to the soul." – Robert Wyland (a lover of the sea and famous for his sea life murals, this is one of the short beach quotes inspired by a day at the beach.)
4. "Life's a beach, and I'm just playing in the sand" – Unknown (There are a lot of beach vacation quotes with unknown authors in this list. If you know who said life's a beach? – please let me know)
Short Beach Quotes
5. "To go out with the setting sun on an empty beach is to truly embrace your solitude." – Jeanne Moreau
6. "Time wasted at the beach is time well spent." – Unknown (but it is the best way to spend the day!)
7. "Live in the sunshine, swim the sea, drink the wild air." – Ralph Waldo Emerson
(this is such a great caption for beach days!)

8. "I could never stay long enough on the shore; the tang of the untainted, fresh, and free sea air was like a cool, quieting thought." – Helen Keller
Cute Beach Quotes for those times with your Besties
Spending time with your friends at the beach can leave you with some of the best memories. In this section we have cute quotes, inspirational beach quotes, inspiring beach sayings, general life quotes, a beach vibes quote and even funny beach quotes!
9. "Our memories of the ocean will linger on, long after our footprints in the sand are gone." – Unknown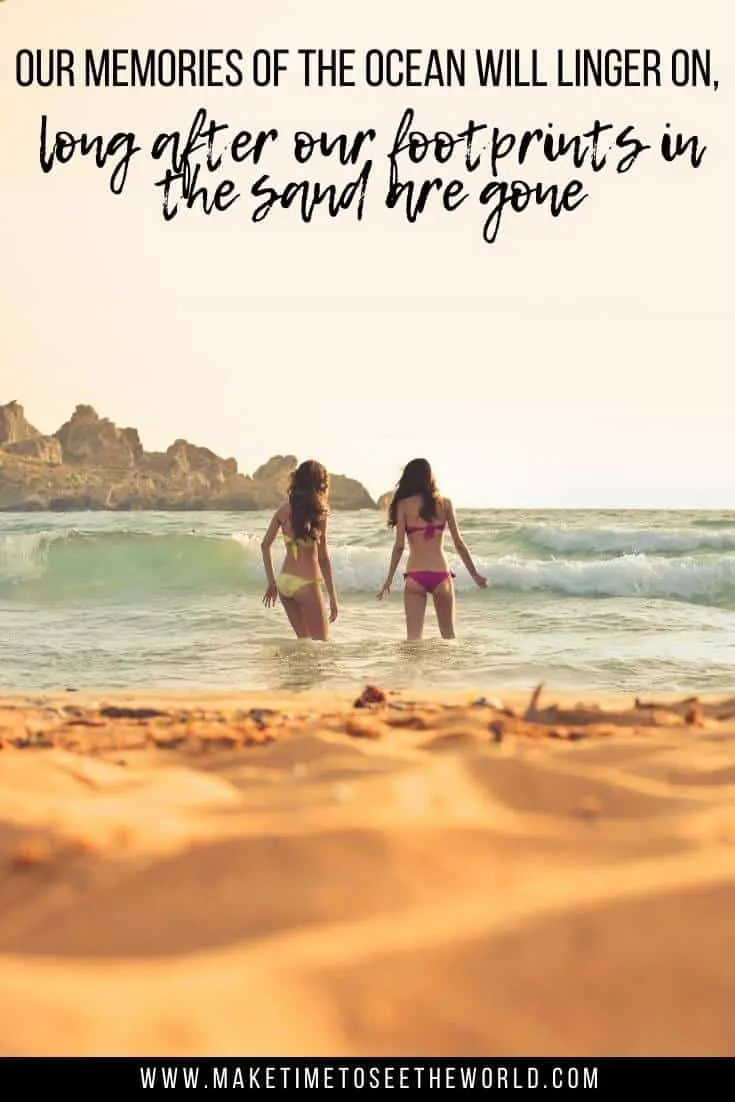 10. "Wherever you go, bring your own sunshine" – Unknown
11. "It doesn't matter where you go in life, as long as you go to the beach" – Unknown
12. "If you need me, call me on my shell." – Unknown (but it's such a funny beach quote – sums up real good vibes!)
13. "Sand on, stress off." – Unknown Author (just stick me under a palm tree and I'm one happy lady!)
14. "B.E.A.C.H.: Best Escape Anyone Can Have" – Unknown (I love the beach and this is one of my favorite funny beach quotes!)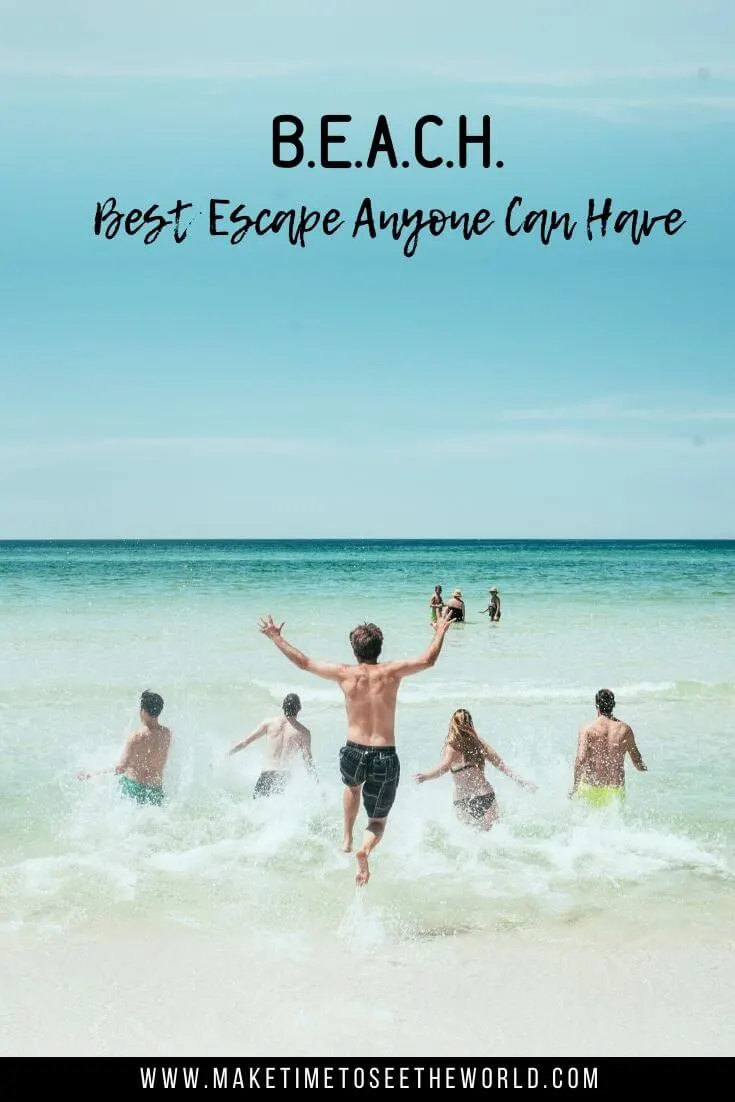 Inspirational Quotes to Inspire Your Next Beach Day
15. "I read and walked for miles at night along the beach, writing bad blank verse and searching endlessly for someone wonderful who would step out of the darkness and change my life. It never crossed my mind that that person could be me." – Anna Quindlen
16. "Like seashells we are beautiful and unique each with a story to tell" – Unknown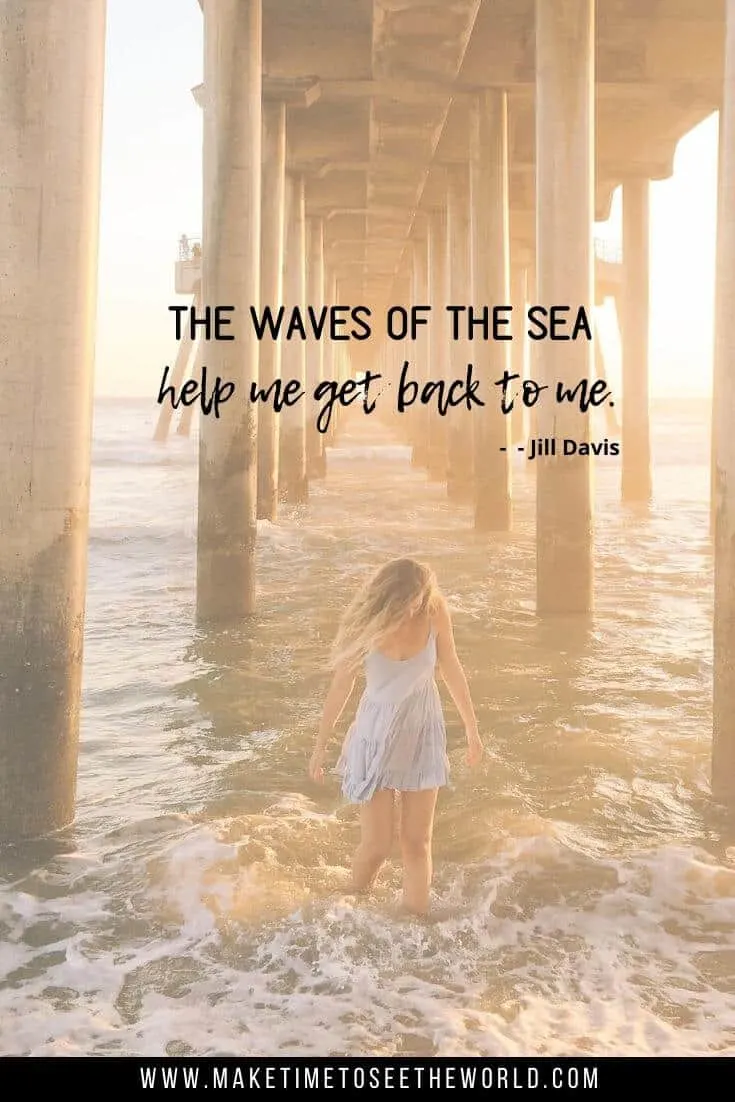 17. "The waves of the sea help me get back to me." – Jill Davis
(That salt water is always healing for anyone who needs a little TLC, and this sea quote is often my 'quote of the day')
18. "To myself I am only a child playing on the beach, while vast oceans of truth lie undiscovered before me" – Isaac Newton
19. "I followed my heart, and it led me to the beach." – Unknown
Beach Captions that Sum up those amazing Summer Vibes
20. "I'll have a side of beach with my morning coffee" – Unknown (But isn't it the perfect way to start your day ?!)
21. "I honestly think the beach is the only place children actually entertain themselves." – Donna McLavy (How many parents agree with this? – and children entertianing themselves could border on being a perfect day at the beach, right?!)
22. "Every day should be a beach day." – Unknown.. but #lifegoals (it's my favorite quote about the beach!)
23. "The calming movement of the sea along with the restless ocean breeze gently caresses me creating a soothing trance which lulls me to a place of peace." – M. L. Borges, By The Sea
24. "Don't grow up too quickly, lest you forget how much you love the beach." – Michelle Held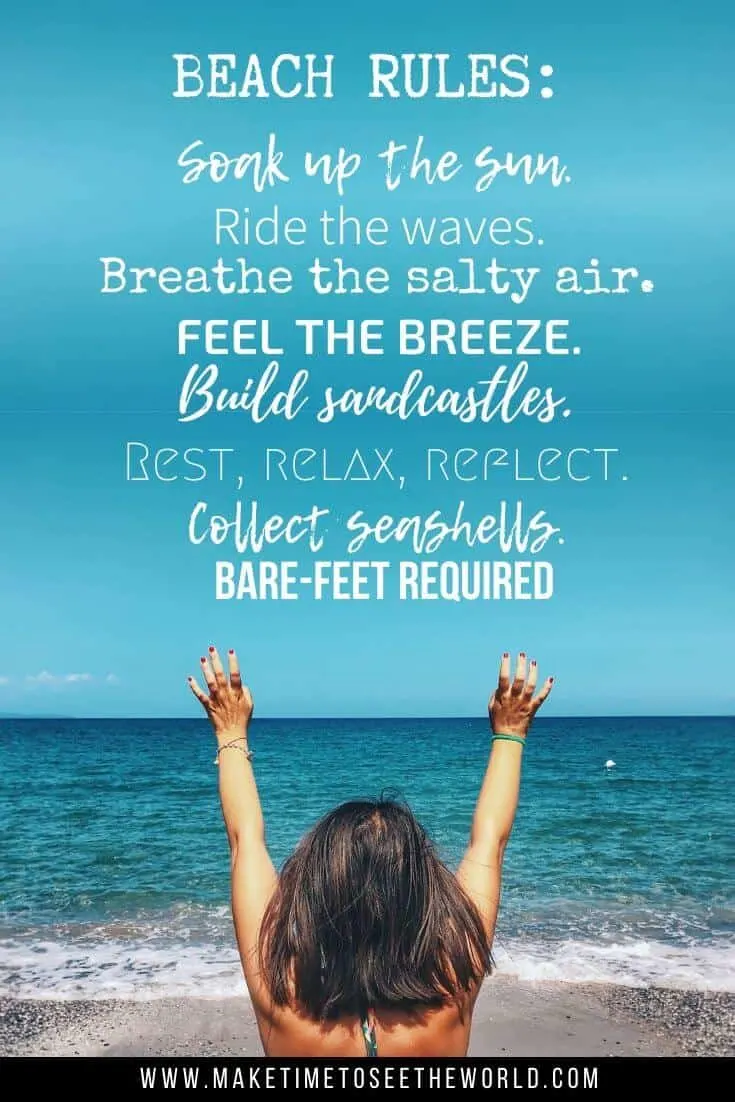 25. "Beach Rules: Soak up the sun. Ride the waves. Breathe the salty air. Feel the breeze. Build sandcastles. Rest, relax, reflect. Collect seashells. Bare-feet required." – Unknown (but I think these are rules we can stick to! And I would love to be on a permanent beach vacation, to learn to surf and ride the waves and build sandcastles because the ocean makes me feel alive!)

26. "What I want in a good beach read is sunshine, drama, easy-reading and transportation to another world and other people's problems." – Jane Green (Who else loves a good book to read on the beach? And if you want to know what are other beach essentials are, be sure to swim on over to our Ultimate Beach Packing List)
27. "Hark now hear the sailors cry, Smell the seas and feel the sky, let your soul and spirit fly." – Van Morrison (so not quite technically a beach quotes, but I bet you're singing along!)
28. "The Ocean is everything I want to be. Beautiful, Mysterious, Wild & Free" – Unknown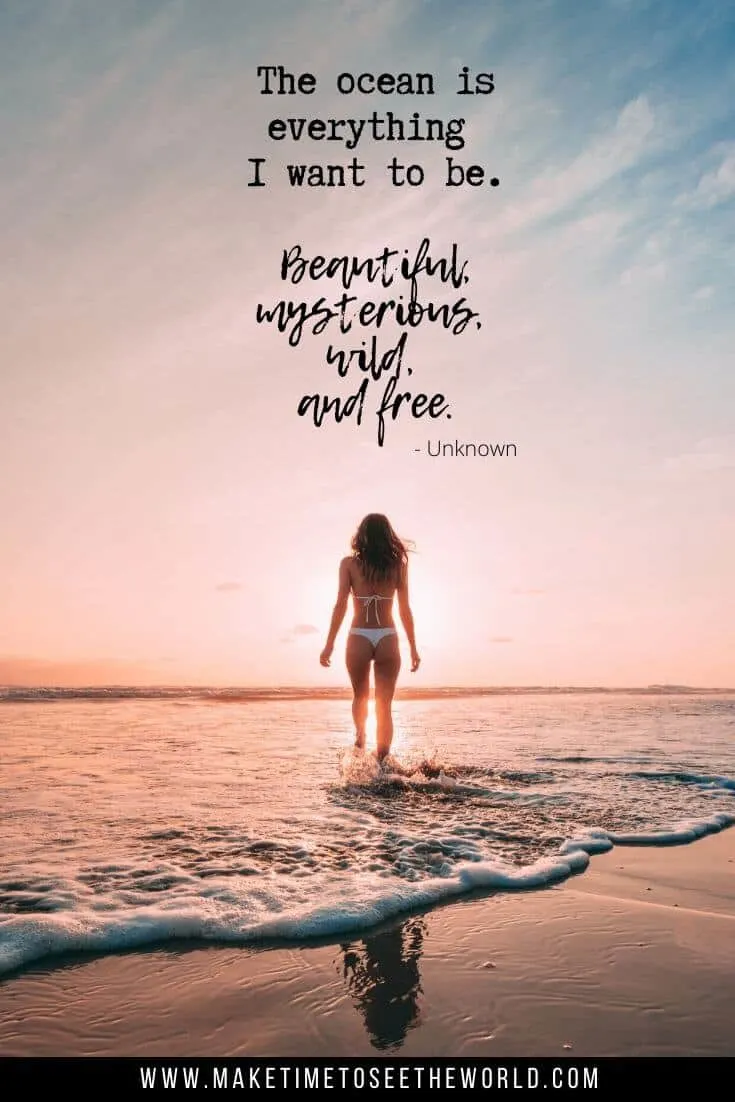 Waves Quotes to get you out among the breakers
29. "In one drop of water are found all the secrets of all the oceans." – Kahlil Gibran
30. "No words can express, The depth of her contentment, As she walks along the beach. As the waves lap against the shores, They create the rhythm of her life. Balmy breeze kiss, Her sun-bronzed skin, And she wonders… Could there ever be a greater destiny, Than to be born with a love, For the treasures of the sea? Here, she is home" – Suzy Toronto
31. "You never really know what's coming. A small wave, or maybe a big one. All you can really do is hope that when it comes, you can surf over it, instead of drown in its monstrosity." – Alysha Speer
32. "Every time I stand before a beautiful beach, its waves seem to whisper to me: If you choose the simple things and find joy in nature's simple treasures, life and living need not be so hard." – Psyche Roxas-Mendoza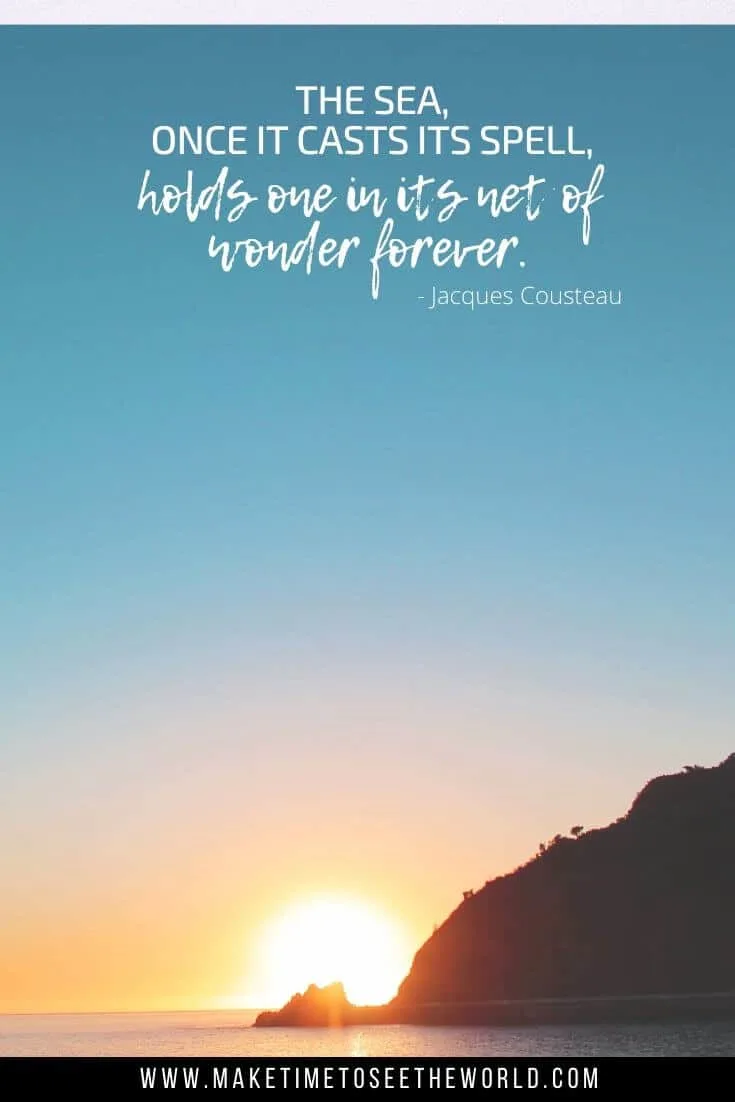 33. "The sea, once it casts its spell, holds one in its net of wonder forever." – Jacques Cousteau (We are well and truly under the spell cast by the sea, how about you?)
34. "Waves tossed themselves against the shore, dragging grit and sand between their nails as they were slowly pulled back out to sea." – Holly Black
35. "You are not a drop in the ocean. You are the entire ocean in a drop." – Rumi
Beach Quotes for Instagram
If you are wondering what are good captions for the beach for Instagram, then you are in the right spot because we've got some incredible beach quotes that are just crying out for the Gram!
36. "I followed my heart and it led me to the beach" – Unknown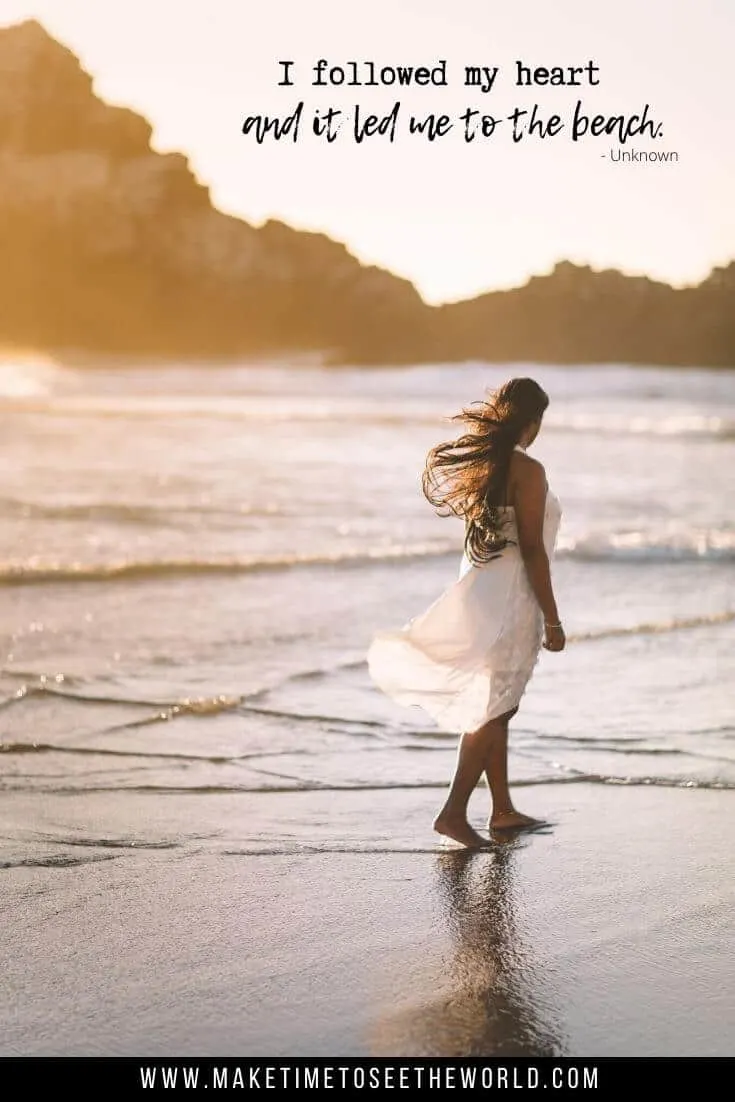 37. "Every day should be a beach day." – Unknown
38. "An ocean breeze puts a mind at ease" – Unknown (If anyone knows who said an ocean breeze puts a mind at ease? please let me know – I have been unable to find author information online)

39. "Sky above, sand below, peace within." – Unknown
40. "A walk on the beach soothes the soul" – Uknown
41. "If there's heaven for me, I'm sure it has a beach attached to it." – Jimmy Buffett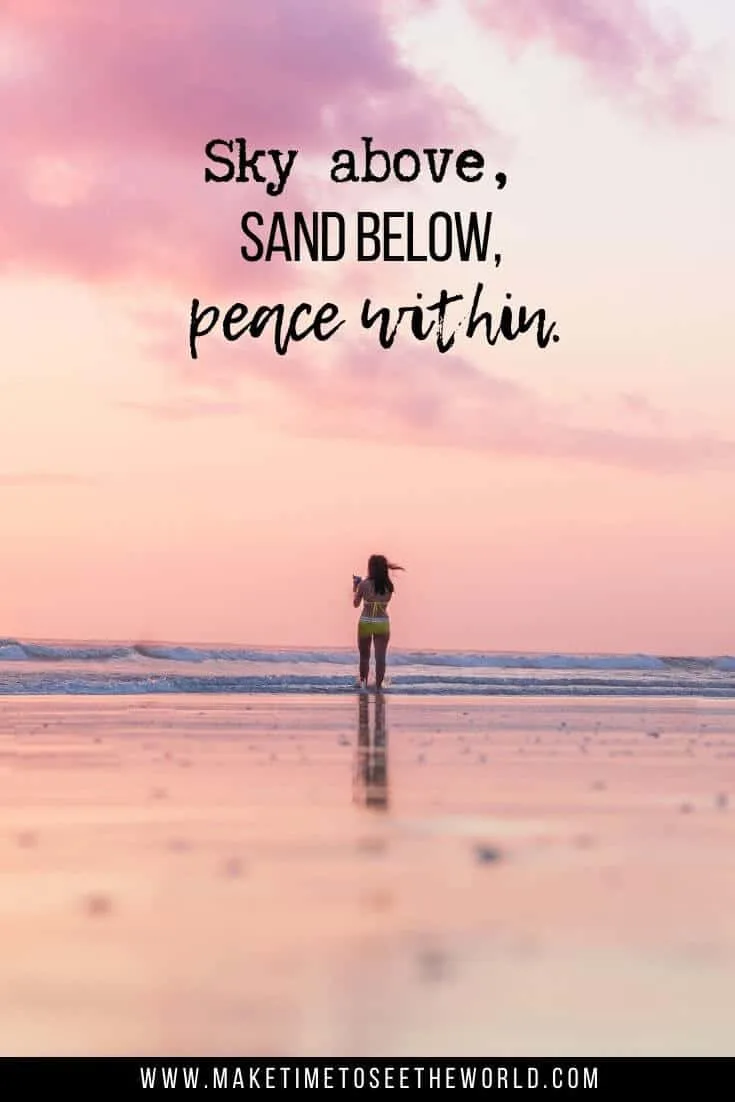 Ocean Quotes & Sea Quotes to Spark Your Wanderlust
42. "For her the ocean was more than a dream, it was a place she needed to visit to find herself. And when she returned to the city, you could see the sun in her eyes, the wind in her hair, and taste the infinite salt in her lips." – Jose Chavez
43. "She loves the serene brutality of the ocean, loves the electric power she felt with each breath of wet, briny air." – Holly Black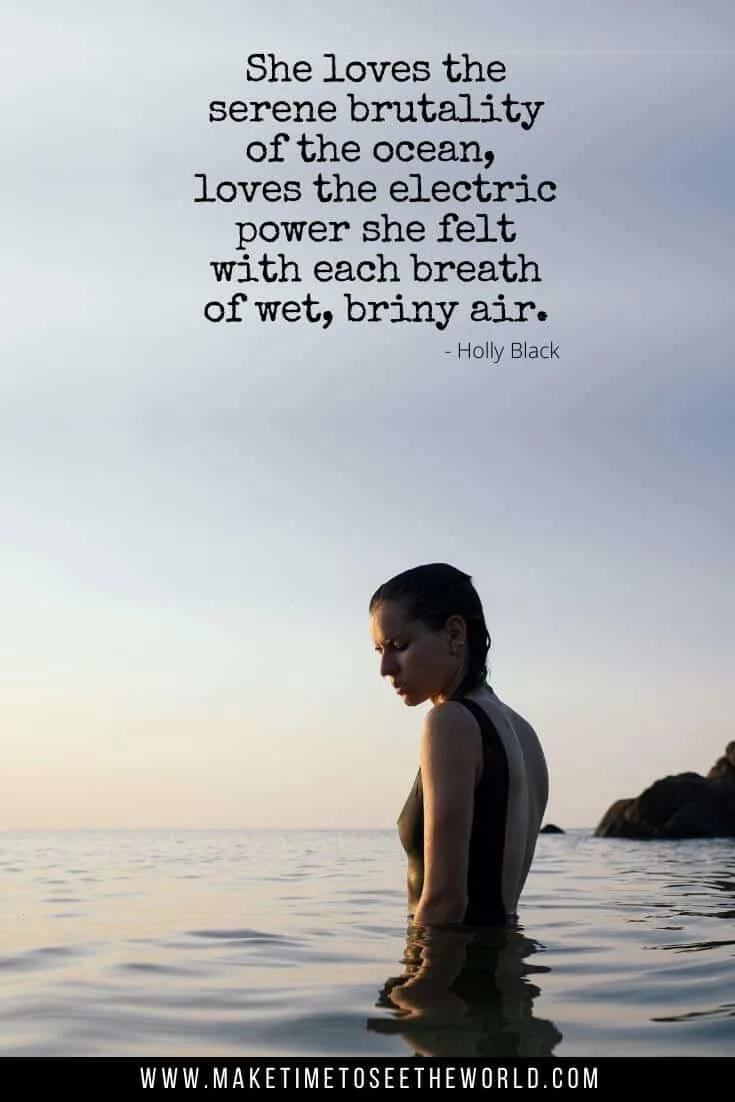 44. "After a visit to the beach, it's hard to believe that we live in a material world." – Pam Shaw
45. "Every time I slip into the ocean, it's like going home." – Sylvia Earle
RELATED –
Looking for more water based quotes? Head on over to our dedicated post for the
Best Ocean Quotes
on the Planet!
Beach Instagram Captions to Get You Salty
46. "I want to run the beach's length, because it never ends." – Deborah Ager (something we've all done at one point in our lives)
47. "There's no place like home except for the beach" – Unknown
48. "I look my best when I'm totally free, on holiday, walking on the beach." – Rosamund Pike
49. "The ocean made me salty." – Unknown
This is one of the perfect beach day quotes and would make a great beach caption for Instagram.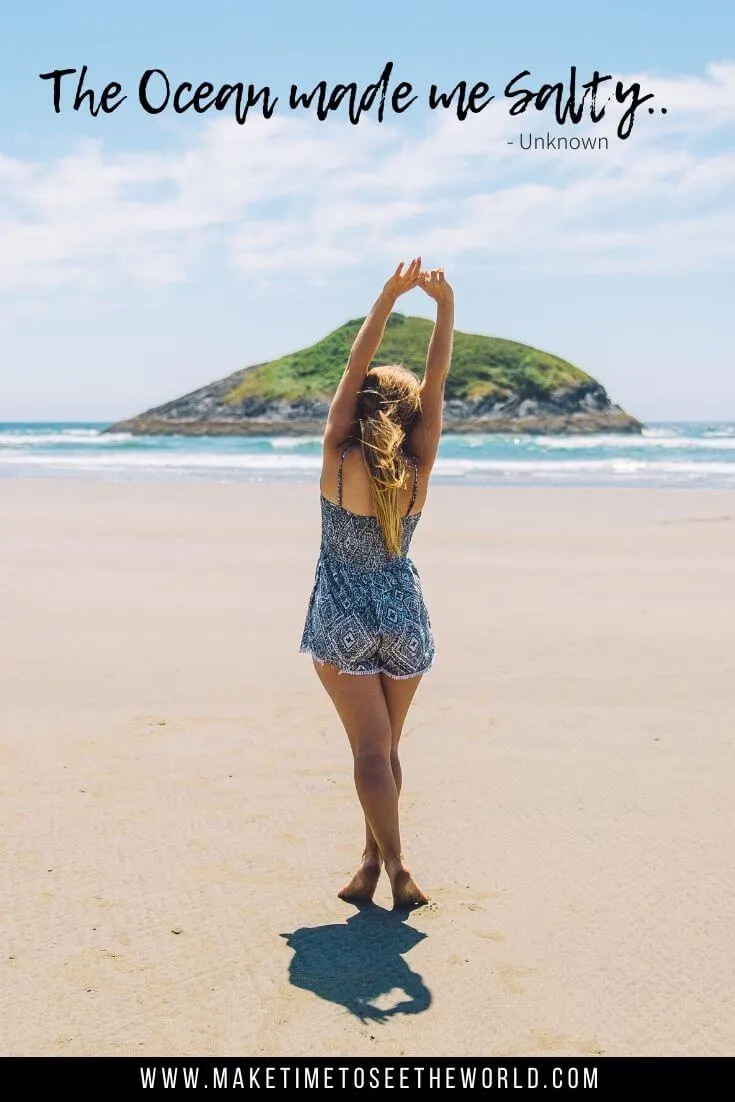 Sun Kissed Quotes for those Amazing Summer Days
50. "Dance with the waves, move with the sea. Let the rhythm of the water set your soul free." – Christy Ann Martine
51. " Lets go somewhere the sun kisses the ocean" – Unknown
52. "Sunset is still my favorite color and rainbow is second." – Mattie Stepanek
53. " Friends, sun, sand and sea, that sounds like summer to me" – Unknown
54. "In every outthrust headland, in every curving beach, in every grain of sand there is the story of the earth." – Rachel Carson (although I do dislike when every grain of sands get everywhere, if you know what I mean?!)

55. "It's almost impossible to watch a sunset and not dream" – Bernard Williams
56. "Because there's nothing more beautiful than the way the ocean refuses to stop kissing the shoreline, no matter how many times it's sent away." – Sarah Kay
57. " Girls just wanna have sun" – Unknown – but very much a play on words from the famous Cindi Lauper song: Girls just wanna have fun.
This is one of my favorite quotes about the beach!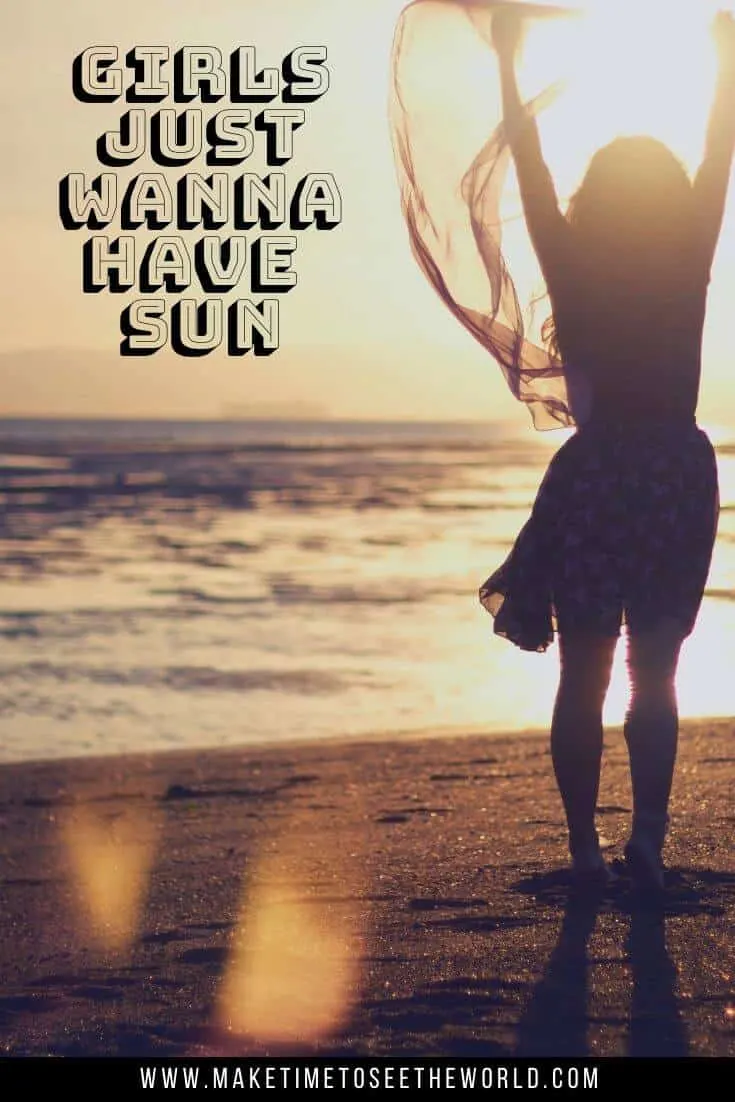 Pretty inspiring, huh? We are just in love with these dreamy beach quotes and we hope you've enjoyed them too. Who knows, maybe one has helped you decide that the beach is is next place on your list of travel adventures to head to or perhaps you are going to have one of these quotes framed on your wall to keep you feeling motivated throughout the year, even when your beach break is in the distant future.
We want to know, which of these beach captions or beach sayings is your all-time fave and where in the world is your No.1 beach? Tell us in the comments below.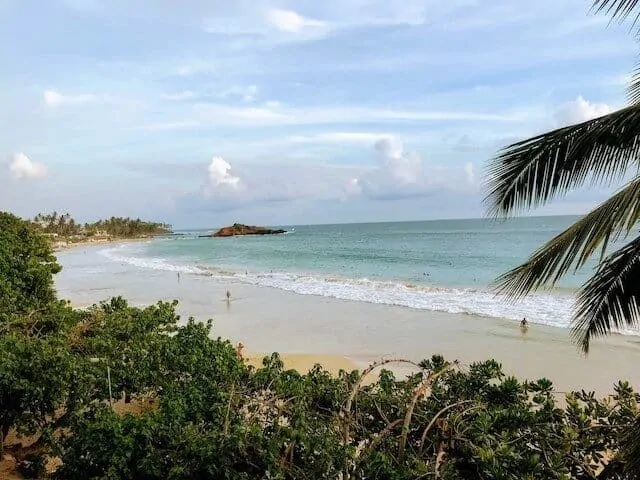 And if you liked these beach qoutes, beach life quotes and travel gear list, take a look at the other recent posts, packing tips, travel accessories, travel resources, travel guides, ultimate guides and packing lists in this series:
Hi There! Thanks for reading my travel tips for the Best Beach Quotes about travel to Inspire you to get out, enjoy and protect our Amazing Planet! I just wanted to let you know that this post may contain affiliate links, which means if you purchase something after clicking a link, I may get a small commission – which is at absolutely no cost to you. If you enjoyed this article and are going to be searching for some of the things I mention anyway, I would love it if you could click through from the links above & thank you in advance! Read my full Disclosure here. And thank you for reading the MakeTimeToSeeTheWorld travel blog.