best place to eat Seminyak top restaurants

Welcome to my foodie tour of Seminyak, Bali, your guide to the best places to eat in Bali's trendy tourist hub. From fine-dining restaurants to superfood focused cafes with a great burger joint thrown in, there is something for every taste and budget. Just be sure to make your holiday long enough that you can try them all!! As I like to try the local fare wherever we go, my recommendations have a very heavy Asian focus, but there are a few notable exceptions which have western-inspired menus which I have included at the end of this post. Come join me and I can guarantee you'll be planning you next Bali holiday about where you are going to eat!  best place to eat seminyak top restaurants
FINE DINING
best place to eat seminyak top restaurants
If you would like a slice of the fine dining lifestyle at half the price, Seminyak is the place to be. Exciting, innovative chefs combine old and new Indonesian-Asian flavours to create absolutely mind-blowing dishes.
Lilin

  (at Potato Head club)

best place to eat seminyak

We made a booking a Lilin after looking at the menu for Potato Head Beach Club and thinking it was just too Aussie – we wanted an Indonesian restaurant where the flavours of Asia were celebrated – and we were not disappointed.

Set back from the party atmosphere of the beach club, you are seated either on long tables down the middle or a shorter table facing the pool/beach – perfect for watching the sunset.

Entrées are 195k ($19.50AUD) for a selection of 4 from a list of 20 – tapas style – and include golden prawn balls, beef randang, fish or prawn carpaccio, fried catfish with sambal, baby squid, red snapper and vegetarian options. The prawn balls and beef randang are house favourites and it is easy to see why – both are beautiful (as was the fried catfish!)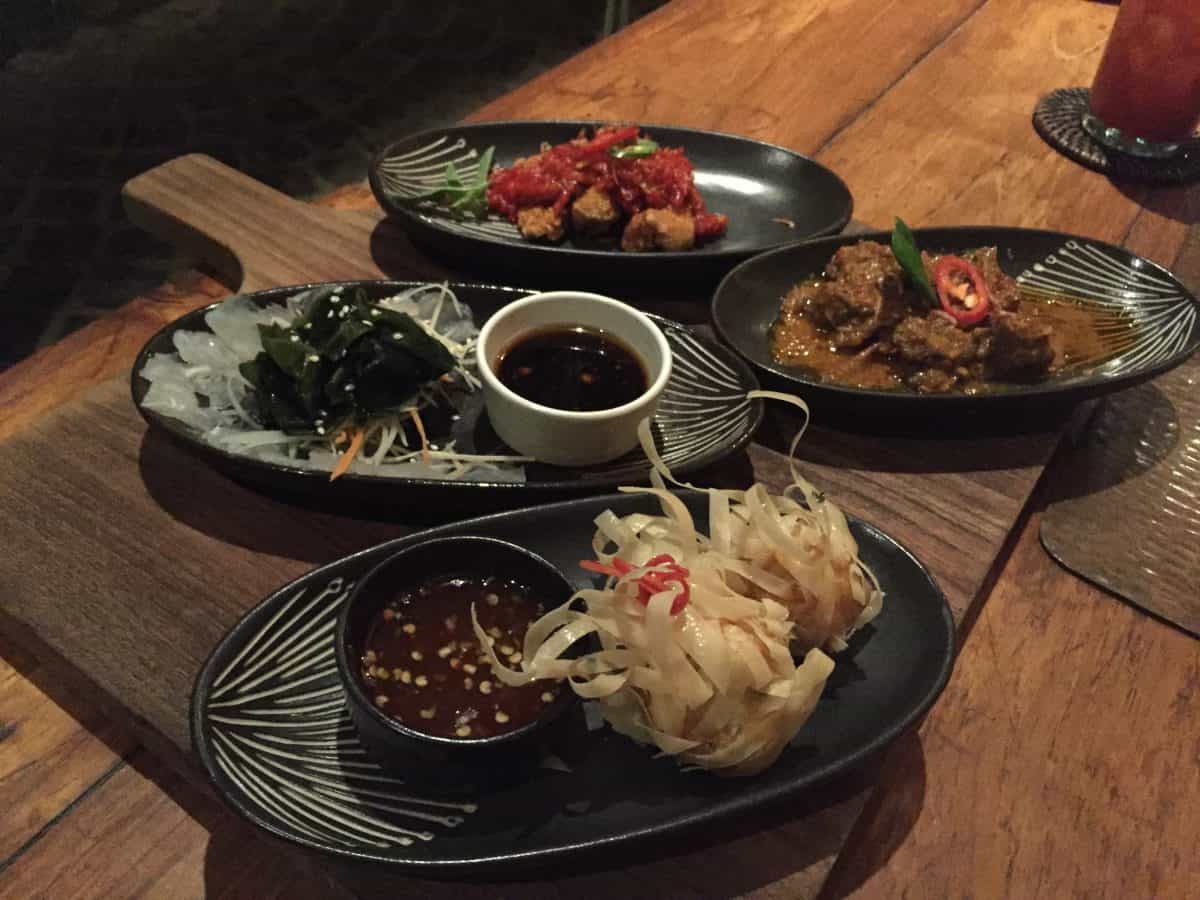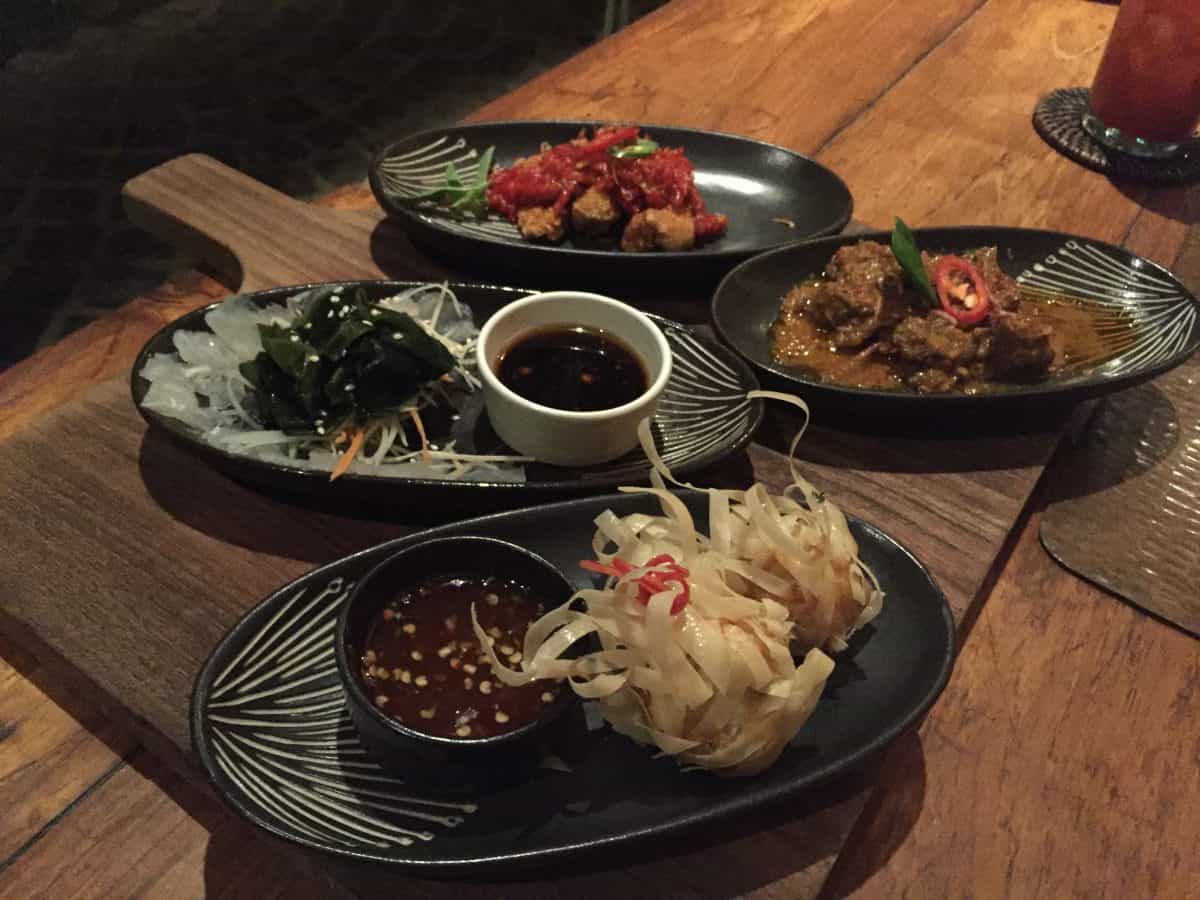 Mains can be chosen from a range of live seafood options available on the day (between 250-400k/$20-40AUD each) or from a smaller section of main dishes such as pork belly sate and Sumatran smoked fish in yellow curry (110-170k/$11-17AUD). We had the latter two dishes with a side of rice and they were just fantastic – a good sized serve and so so tasty.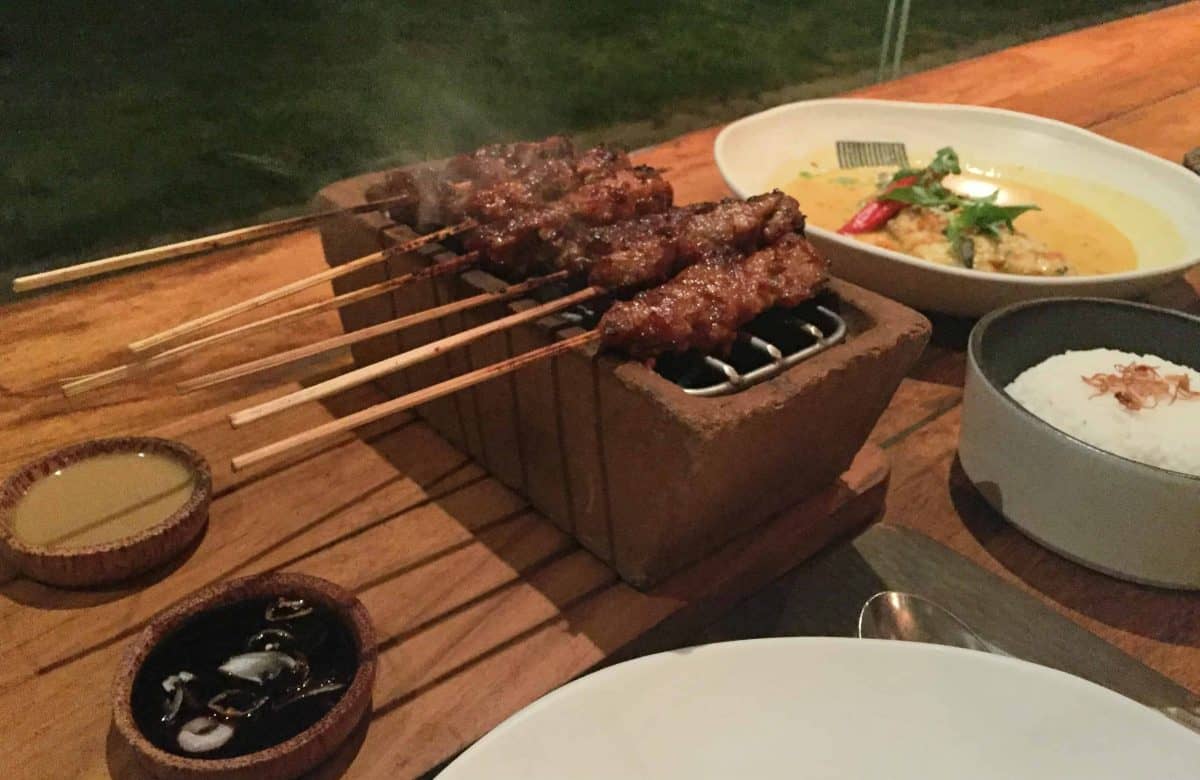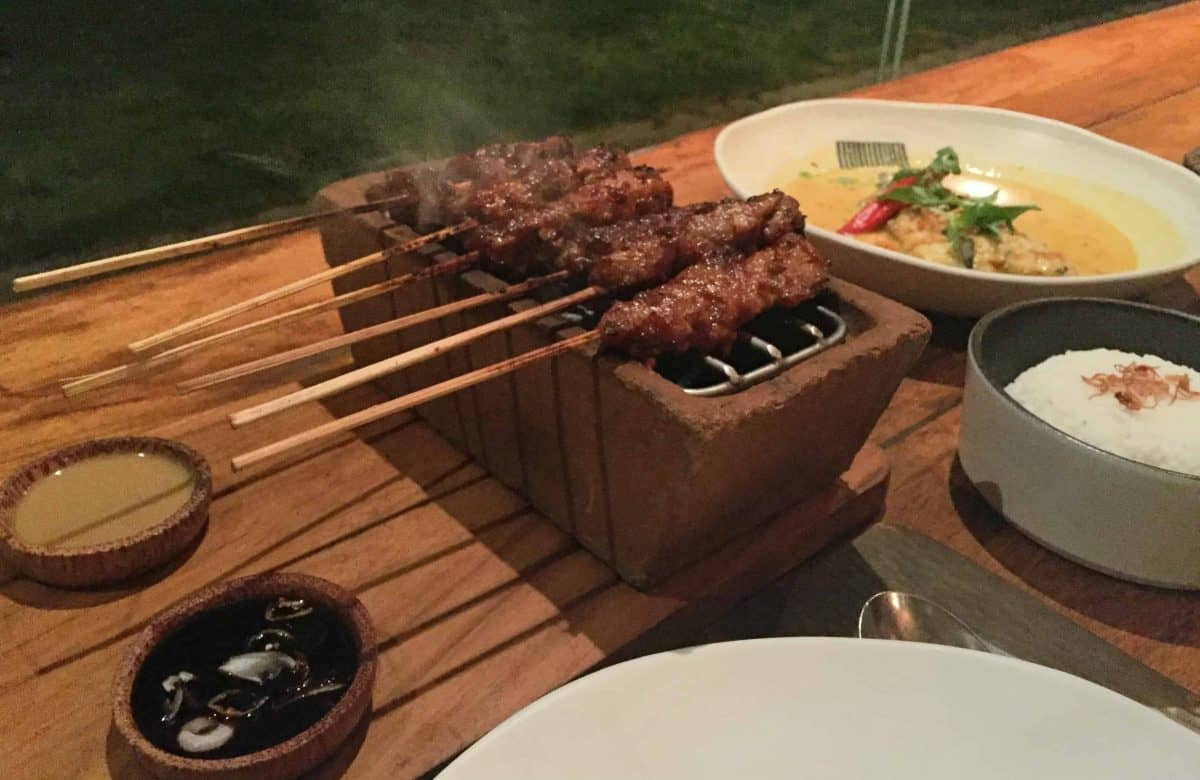 Drinks were on the pricier side, but that was to be expected in the surrounds – mocktails 55k (try the rocket juice – very refreshing), cocktails 135-150k and small beer 55k.
All prices are subject to a 17% tax and service charge added to your total bill.
The staff were great, knowledgeable about the food and attentive – although it took quite a while for our second round of drinks.
***Lilin has now been closed, but i've heard it's replacement Kaum is just as good!***
Bambu
best place to eat seminyak top restaurants
This restaurant is visually stunning – as you arrive you are led across polished concrete stepping stones, lit by candlelight, which appear to flat above the clear waters of a fish filled pond. The dining areas are situated over another body of water, again reached by stepping stones under a converted pavilion, the second dining area just to the side of the water – all making for a very tranquil environment. The photographs simply do not do it justice!
The staff are wonderful: friendly, attentive, knowledgeable about the menu and confident in making recommendations. The pull your chair out – and are miraculously there to push you back under after a visit to the bathroom, despite how busy them seem; place napkins on your lap and serve your accompaniments to your main meal. They really make the find dining experience what it is at Bambu.
The menu is smaller than the other top restaurants in Seminyak, and although has a great selection for vegetarians (which is not always the case elsewhere) I was not overwhelmed by the choices – 8 entrees (between 65-120k/$6.50-$12AUD each), 8 mains (between 115-180k/$11.50-$18AUD each) and 4 sides (25-40k/$2.50-$4AUD each) plus three specials on the night we ate.
We ordered the Yellow Fin Tuna Cerviche and Soft Shell Crab entrees and Coral Trout (amazing presentation – fish baked inside hollowed out bamboo served on a banana leaf) and Thousand Spice Pork Ribs with a side of fragrant rice.
We were unsure as to the level of spice to order so requested medium all round – and were provided with samples of all three levels (mild, medium and hot) for us to add to our meals as we pleased.
All the dishes were lovely, but I was not blown away – the cocktails however were great – my strawberry daquari (95k) was the best/largest I had in Bali.
Highly recommend for a fine-dining evening out in Seminyak – ask your hotel/villa to make a booking for you a few days in advance and get a table at a time that suits you – they can get busy!
Mamasan
best place to eat seminyak top restaurants
What a cool place!
Low light, dark wood and metal trim tables and a large mural on the back wall make for a great first impression as you walk through the heavy wooden double doors.
The staff are professional, attentive and so polished – you could easily believe you were in a 5* restaurant anywhere in the Western world.
The menu is huge and so varied – entrees include sugarcane prawns, steamed snapper buns, peeking duck and pork belly (ranging between 65-100k/$6.50-$10AUD)
For mains you can choose from 4 sections – salads, curries & braises, stir fry and crispy – with every style of meat and fish (and vegetables) imaginable cooked what felt like hundreds of ways. The choice is incredible and ranged between 120-190k/$12-$19AUD per plate. (All prices are subject to a tax & service charge of 17% added to your total bill).
We initially picked three entrées and two mains but our server advised us that two and two would be enough – and he was right, each of the entrées and both the mains were of ample size and we left feeling full!
In the end we had the sugarcane prawns and peeking duck entrées and the Sichuan beef short rib and the crispy full fish with a side a jasmine rice for mains.
The prawn and crispy full fish courses were 'DIY' rice paper roll dishes and were served with rice paper, lettuce, mint, basil, cucumber and carrot with dipping sauces alongside a bowl of water. It made for a fiddly meal and may not be for everyone, but the prawn and fish were delicious in their own right if you didn't feel like putting the rolls together.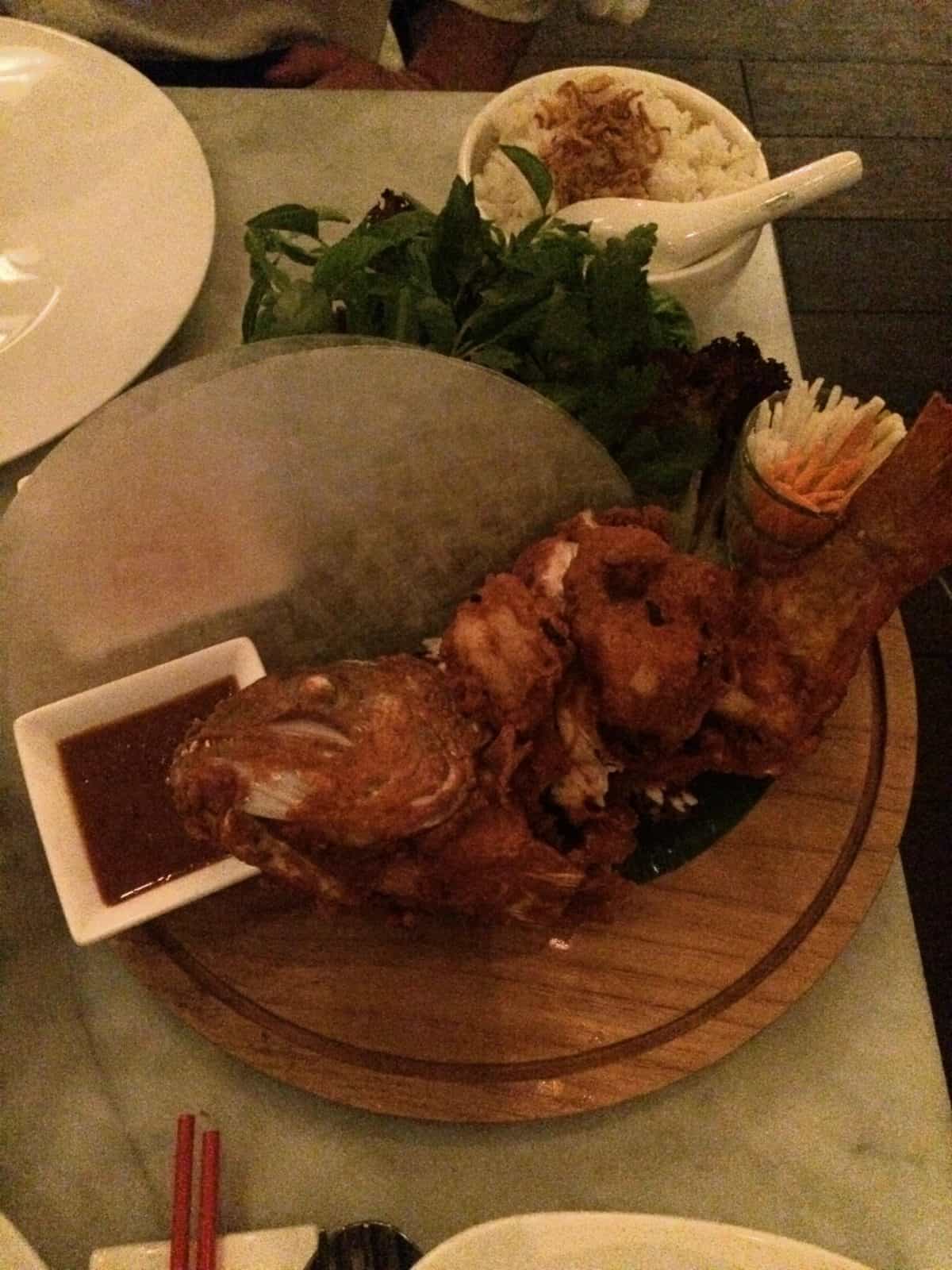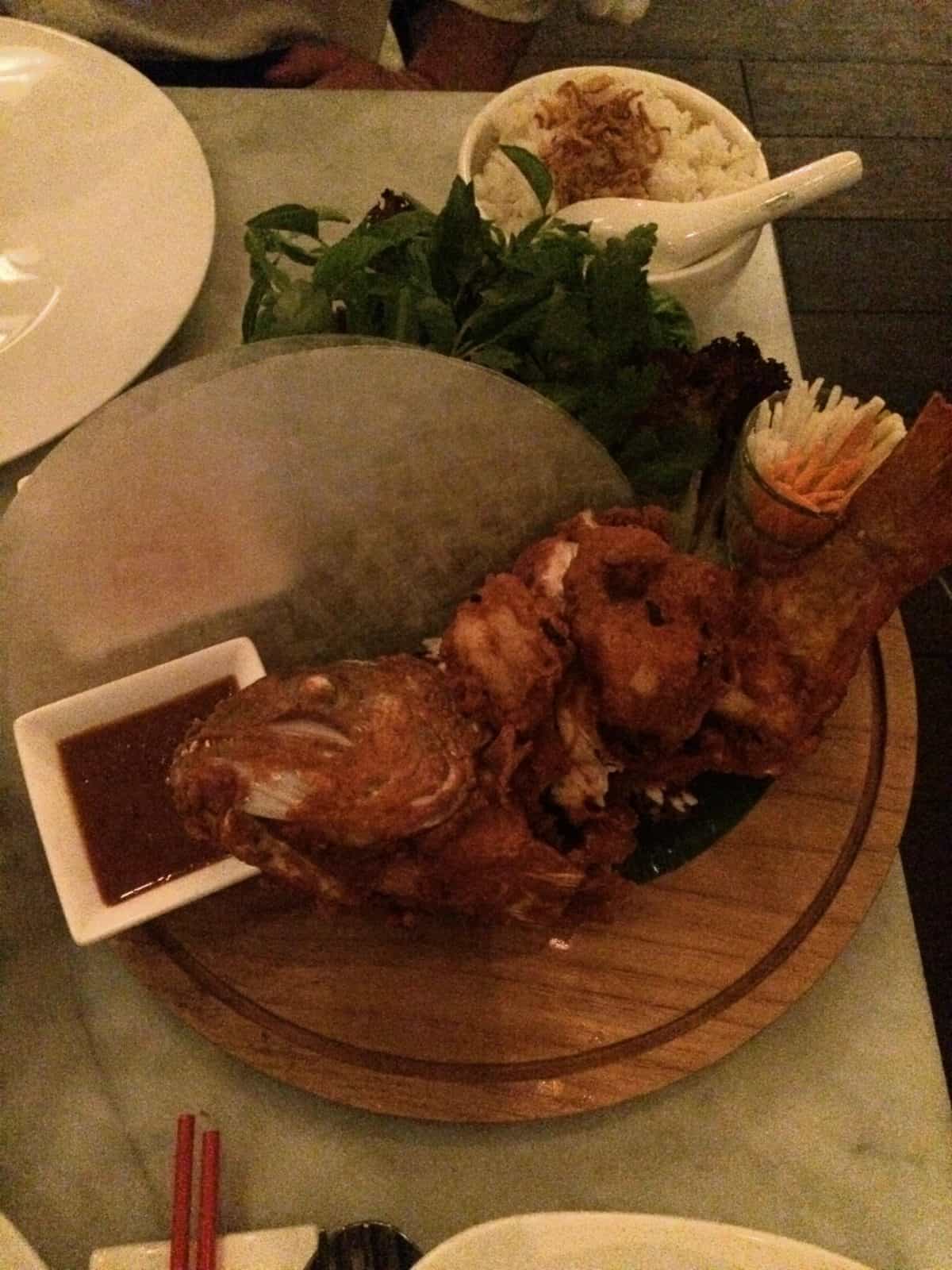 Drinks wise, small Bintang came in at 42k, wine by the glass around 130k and cocktails mostly 110k.
I had the Candyfloss Cocktail which I can honestly say is the best cocktail I have every had – housemade candy floss served tall in a martini glass with the liquid served on the side – pour it in and the candy floss dissolves into the sweet sugary deliciousness. Amazing! (And had half the restaurant watching!)
Overall an amazing meal in beautiful surroundings, the only downside for me was our table for two felt a little small and cramped when we had two dishes and drinks in front of us – but other than that, just wonderful. Book here.
Kilo
where to east seminyak top restaurants
After eating in some of the top restaurants in Seminyak (Mamasan, Lilin, Bambu etc), we had walked passed Kilo on a few occasions and decided to try it on our penultimate night – and we were not disappointed. Where to eat Seminyak Top Restaurants
We walked in without a reservation and were seated at the bar, where the staff we personable and happy to talk us through the (varied and very interesting) menu and recommend their favorites.
We tried the Wasabi Tuna Tartare (100k/$10AUD), Snapper Cerviche (120k/$12AUD), Crispy Soft Shell Crab (125k/$12.50AUD) and Black & White Prawn Ravioli (100k/$10AUD) – and each dish was absolutely to die for – however, more chips with the tuna tartare would have been more than appreciated!
Wine is around 120-130k/$12-13AUD per glass, cocktails 80-150k/$8-15AUD, beer 35k/$3.50AUD for small bintang & soda 25k/$2.50AUD.
All prices are subject to 17% tax and service charge added to your total bill.
The food is interesting and different to anything else you will find in Seminyak and most importantly – so so tasty – a range of flavour combinations you wouldn't expect together and executed to perfection.
The surrounds are that of of 5* restaurant, a beautiful courtyard that almost looks like an art gallery from the outside and inside its polished concrete and clean crisp surrounds with a 'well' as the sink in the bathroom. Stunning food in a stunning location.
A real contender with the big boys in Seminyak and well worth a visit! Book here.
Mid-Range dining & a Burger Joint
If you're looking for a change from the fine dining selections in Seminyak, you will be spoilt for choice with great family owned restaurants, funky cafes and the best burger joint in town!
Bo & Bun is centrally located in on Jl. Raya Seminyak, the main road through Seminyak that takes you to Seminyak Square.
It's tag line is 'Asian Eatery' and its menu is exactly that. Heavily influenced by Vietnamese dishes and flavours, there are elements of Thai and Korean thrown in for good measure.
Their website does not claim to be authentic but instead inspired by the flavours of Asia – and they do not disappoint.
We had the Crunch and Slurp Noodles – homemade egg noodles with minced chicken and pork crackling in a Thai green curry sauce served with mint, coriander and a squeeze of lime – which was just beautiful, so fresh and very tasty. A great combination of flavours;
and the 18 Hour Pork Belly Bites Vietnamese Salad – glass noodles with pickled carrots, lettuce, cucumber, bean sprouts, coriander and Thai basil will some tender melt-in-the-mouth pork belly and a fantastically seasoned dipping sauce. Absolutely lovely. All the ingredients were separate within the bowl and our only criticism would be it could have been served in a larger bowl to help toss/mix everything together – but that's just how we like our salads!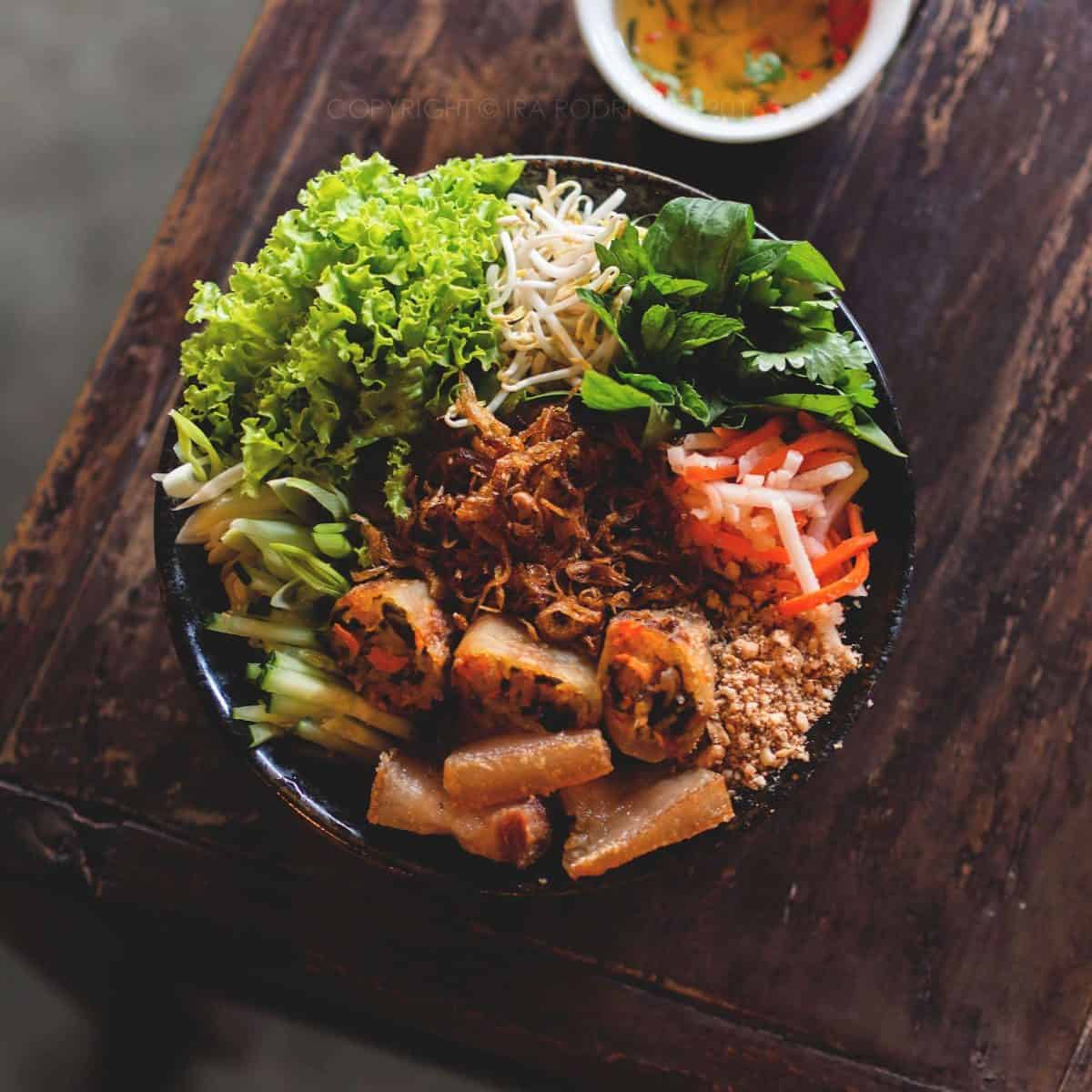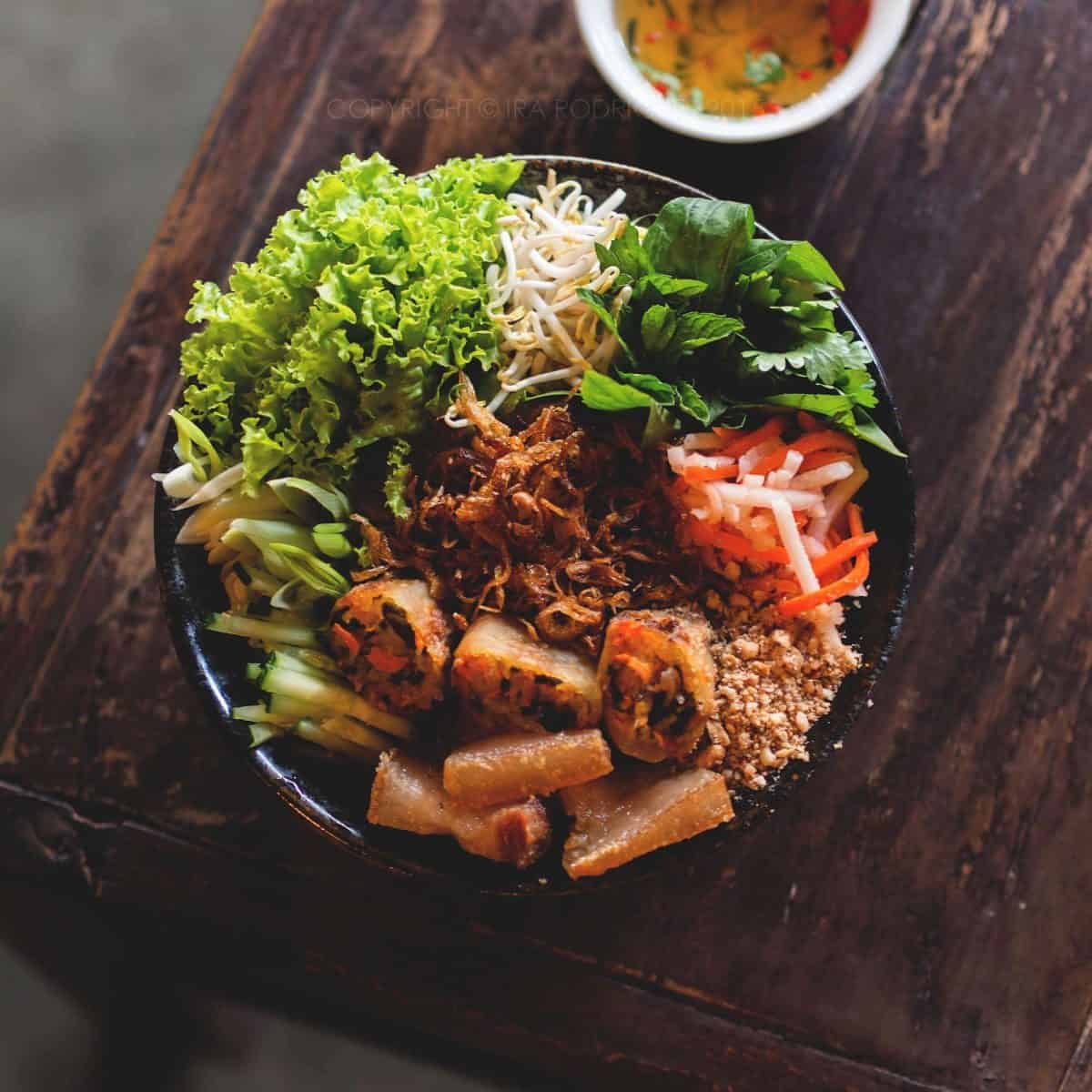 The decor was what you would expect from a trendy Melbourne restaurant and has a nice atmosphere. The staff are friendly and attentive (as with most of Bali) but it really does add something to the experience.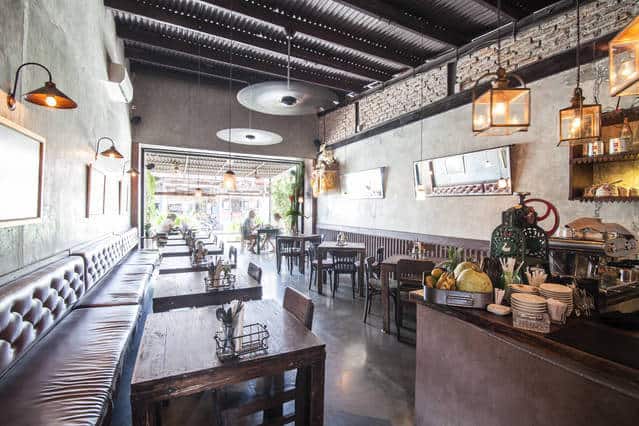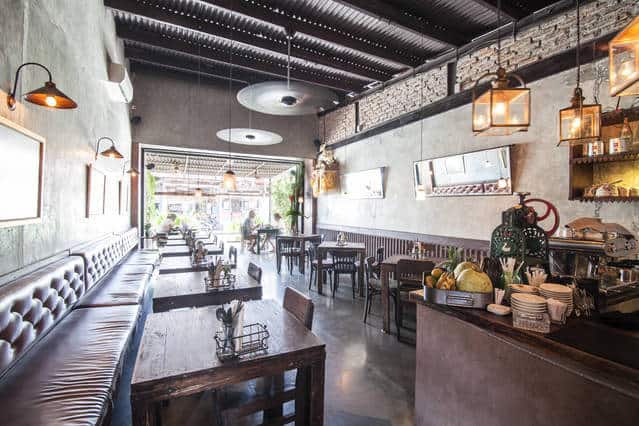 The price was around the same as all the other western owned/operated restaurants in the area – between 55k-90k/$5-$9AUD for main dishes (local restaurants – Warungs – are usually around the 35k-50k/$3.50-$5AUD for Asian food) but you pay for the decor/experience as well as the food.We really enjoyed our meal here and would definitely recommend it – and if like me you are not a beer drinker and fancy something different to water/soda – definitely give the Virgin strawberry mojito a try – it was just divine!!
Wacko Burger
best place to eat seminyak top restaurants
We stumbled across this place as it was only a few doors up from our hotel – and otherwise may have been a little off the beaten track to find. Approximately 15 minutes walk from Seminyak Square along Jl. Dupradi is a modern, trendy looking burger bar with high ceilings, dark wood and metal interior complete with vintage metal signs for decoration, which backs onto a rice paddy – a very unique combination which creates a tranquil atmosphere.
The staff are friendly, attentive and so so polite, the western standard for wait staff is obviously the aim and they achieve it with ease.
We had the Cheesy Bacon Burger and the Aussie Burger – both with beef (although you could choose from beef/chicken/vegetarian or fish) and the meat was cooked perfectly – juicy and tender. The bun was sesame coated white bread (but could be swapped for a gluten free bun) and tasted great – not too 'bready' or too sweet as can sometime be the case when in another country – and the accompaniments (bacon cheese lettuce tomato onion rings etc) were just right.
I'm not a big fan of too much sauce on my burgers decided to ask for the house sauce on the side – this wasn't a problem and I just used it as dipping sauce for my chips!
They do have an option to add extras to any standard burger or you can create your own from anything on their menu – just ask for the build your own burger menu and they bring you a form to fill out – be warned you could definitely get carried away ticking boxes and end up with an absolute beast of a burger!Served on a wooden board the burgers looked impressive as they made their way from the kitchen to the table – onion rings certainly add height! – and there was definite food envy as you watched other people get their burgers before you!
Prices started at 42k/$4AUD for a basic burger and the more accompaniments you had the higher the cost. (Eg. Cheesy bacon 74k/$7.50AUD, Aussie burger 88k/$9AUD). As with most places in Bali the food was subject to a government and service tax (10% and 5% respectively) which is applied on top of the listed prices and always worth checking if it's included on not before you sit down.
Overall, a lovely restaurant and definitely one of the best burgers in Bali!
After walking past the place on an almost daily basis we decided to grab a quick bite before our overnight flight home on our last day and wished we'd stopped in sooner!
Great staff, excellent selection of western and Asian meals and the cheapest drinks (beer/cocktails/soda) we had seen anywhere in Seminyak.
We shared 2 Balinese Mahi Mahi dishes – one with Balinese sauce and one with sweet chill sauce and each with rice and salad and they were just lovely.
Make the effort to drop by – and don't be deterred if it looks quiet/empty (as we were) the food and service are some of the best in the area. Where to eat seminyak top restaurants
Superfood Cafe
Shelter & Nalu bowls

where to eat seminyak top restaurants



We headed here for lunch on the recommendation of a friend. Located down a small side street of the main road through Seminyak, the Shelter and Nalu Bowl signs can be seen from the road.
Shelter is located on the first floor and overlooks a soccer field, it's decor is very surf shack crossed with tropical oasis with greenery hanging from the ceiling and walls and being on the first floor provides for a very welcome breeze.

This photo of Shelter Bali is courtesy of TripAdvisor
It has a very extensive menu covering breakfast items such as quinoa porridge, raw/muesli, smashed avo and multiple egg options – both set menu and build your own.
Lunch options include sandwiches, salads and burgers and all food items are between 40k/$4AUD and 75k/$7.50AUD. (All prices are subject to a 15% tax and service charge added to your final bill.)
You are also able to order a smoothie bowl from Nalu Bowl downstairs packed with healthy acai, fruits, granola etc for around 60-65k/$6AUD each.
We ordered the Birdi and BLAT sandwiches – both of which were tasty, but the BLAT was a little on the 'snack' size rather than a main meal.
There are also a range of juices/smoothies and freshly ground coffee – my partner had a double shot latte which he enjoyed, but said it wasn't the best coffee he'd had in Bali (there are a few coffee hot spots around) and I had the All Star juice extract – orange, apple, carrot, strawberry, celery & ginger – which was lovely but had just a little bit too much ginger at the end.
I got the overwhelming feeling that Shelter was trying (and succeeding) at being a trendy Australian cafe catering to the health conscious smoothie loving coffee aficionados – but at a fraction of the price.
I enjoyed my sandwich and juice but probably wouldn't return to Shelter due to the wealth of dining options in and around Seminyak – but if you are part of superfood crowd of just want a healthy bite to eat when in Seminyak, Shelter is the place to go.
MAKE IT A FOODIE DAY!
where to eat seminyak top restaurants
Sundara @ Four Seasons, Jimbaran Bay
We have friends who go to Bali regularly and had told us their visits to Sundara were always a highlight – and so we had to give it a try.
Having looked on their website, they have a few specials/promos outside of the normal restaurant fare, and we decided to book a daybed and pretend we were rich for the day (Four Seasons Jimbaran who own/operate Sundara charge approx $900-$1400 AUD per night!)
For 980,000 IDR (approx $100 AUD) you get a day bed (you must arrive by 10am) in front of their 57m crystal clear infinity pool which itself overlooks Jimbaran Bay, unlimited bottled water, fruit platter, sunglasses cleaning service (my sunglasses have never been so clean!!) unlimited fluffy white beach towels – which are changed mid-way through the day whilst you are in the pool! and every hour a member of staff walks round with some form of treat – be it a frozen fruity icy-pole type treat, popcorn or sampler from the restaurant; and at the end of the day there are beautiful showers complete with shampoo/conditioners/shower gel available to use to freshen up if you are planning on heading straight out rather than return to your accommodation.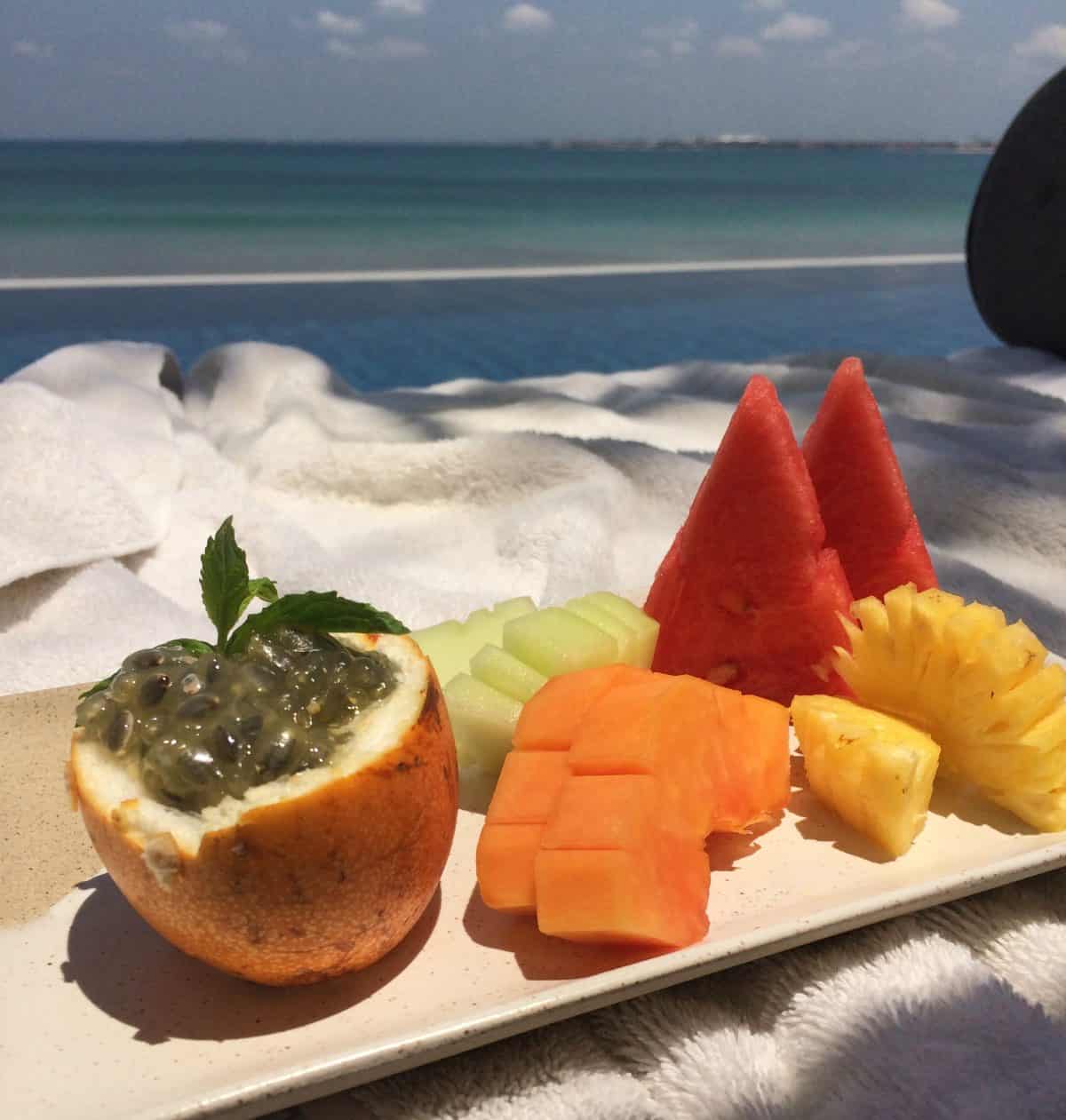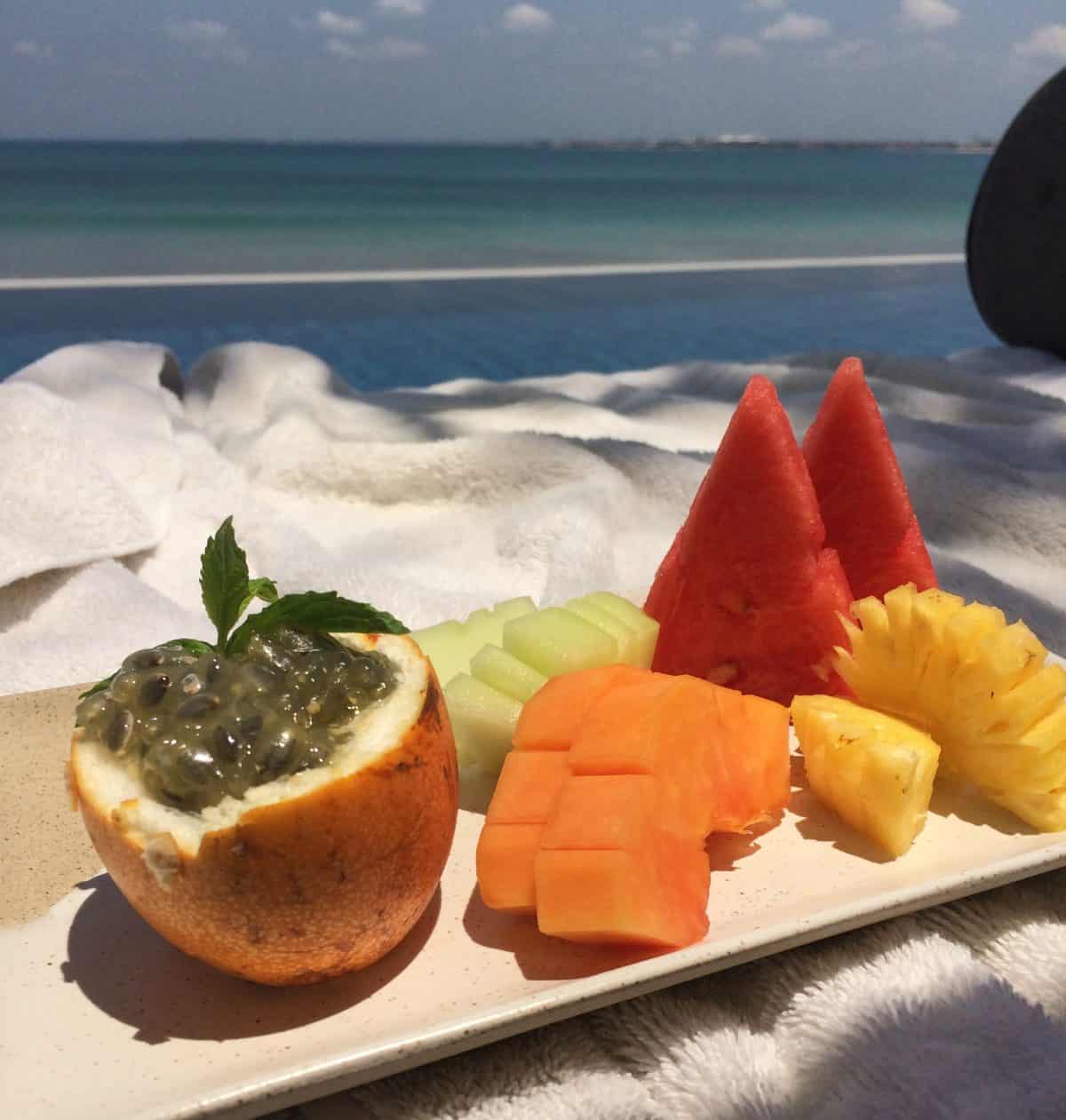 Included in your 980,000k fee is 600,000k ($60AUD) worth of credit for the bar and restaurant. Menus are on your day bed on arrival and drinks service starts immediately, and food service at 11am. As the food is at the top end of the market and drinks are on the expensive side, it is easy to get through your credit – and we did so with the Salt and Pepper Crunch (soft shell crab, baby prawn, squid, tobiko mayo – 100k/$10AUD – YUM), Jimbaran Prawns (180k/$18AUD – they are huge and quite fiddly to get the meat out but very tasty) Red Fruits Mojito (150k/$15AUD – expensive (for Bali) but very very nice) and an ice cold Beer (70k/$7AUD).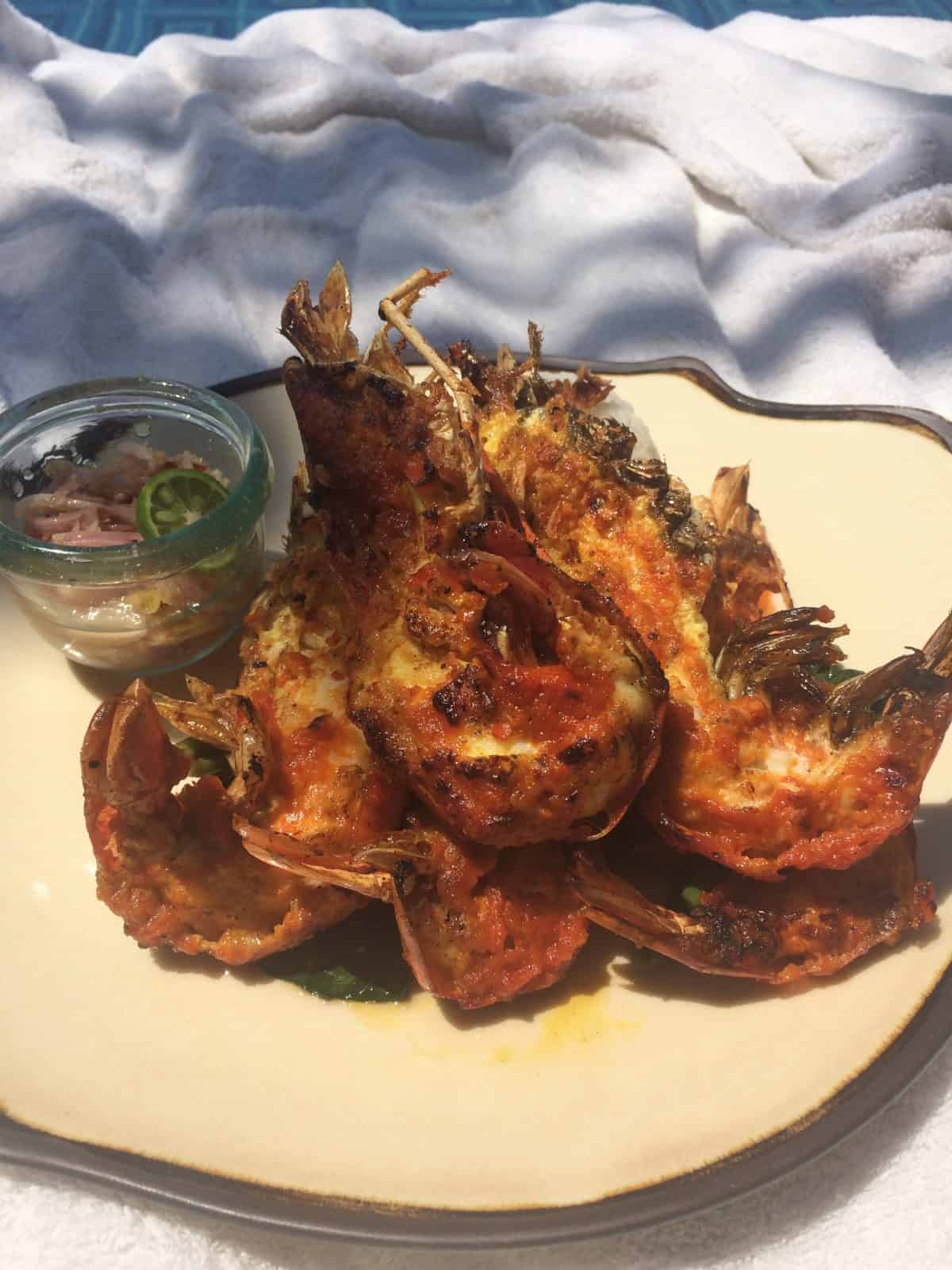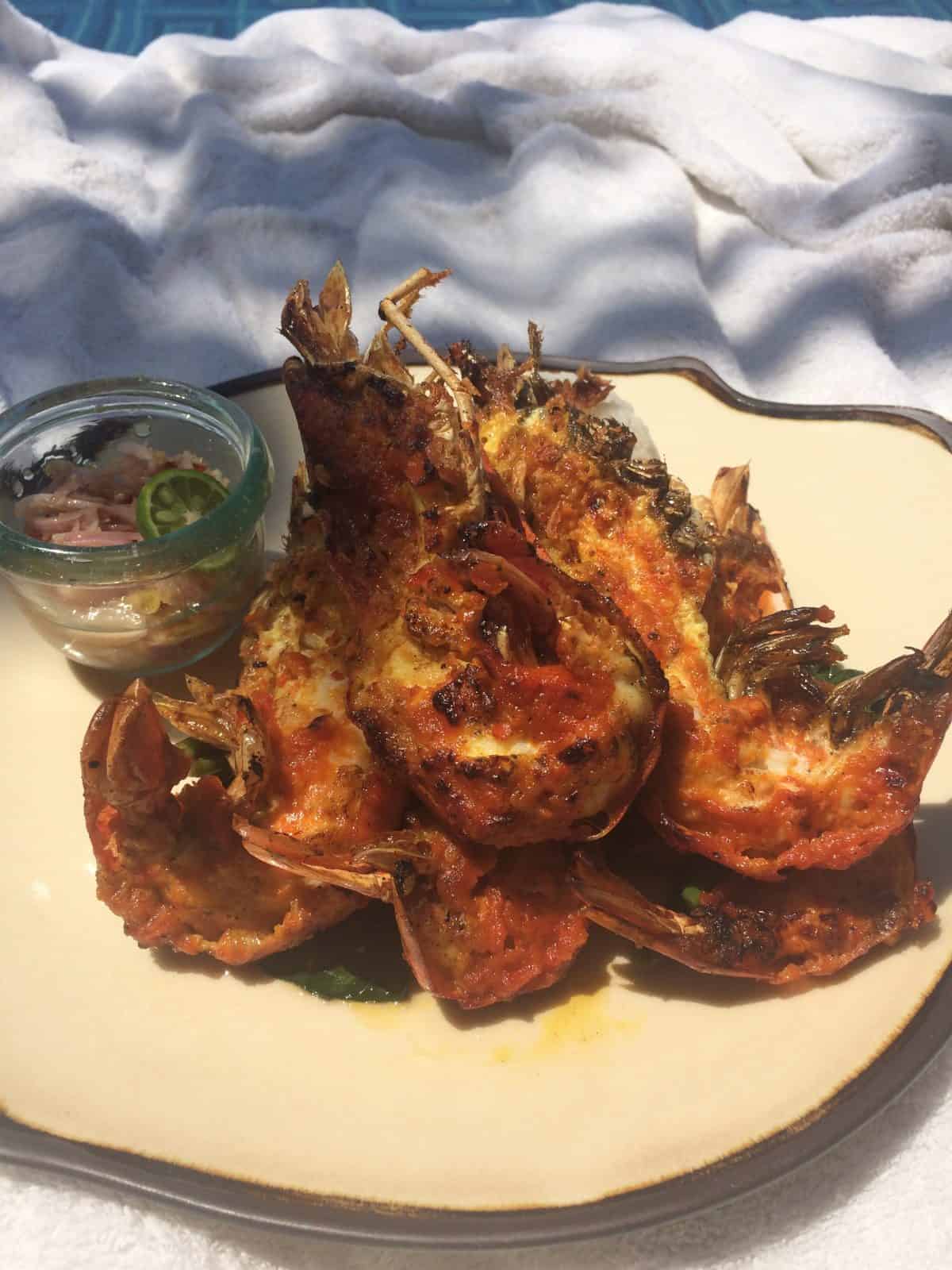 You could order from your daybed or chose to eat in the restaurant, but we quite enjoyed being served on our bed, and it is no problem to take a dip in the infinity pool whilst enjoying your cocktails – Bliss!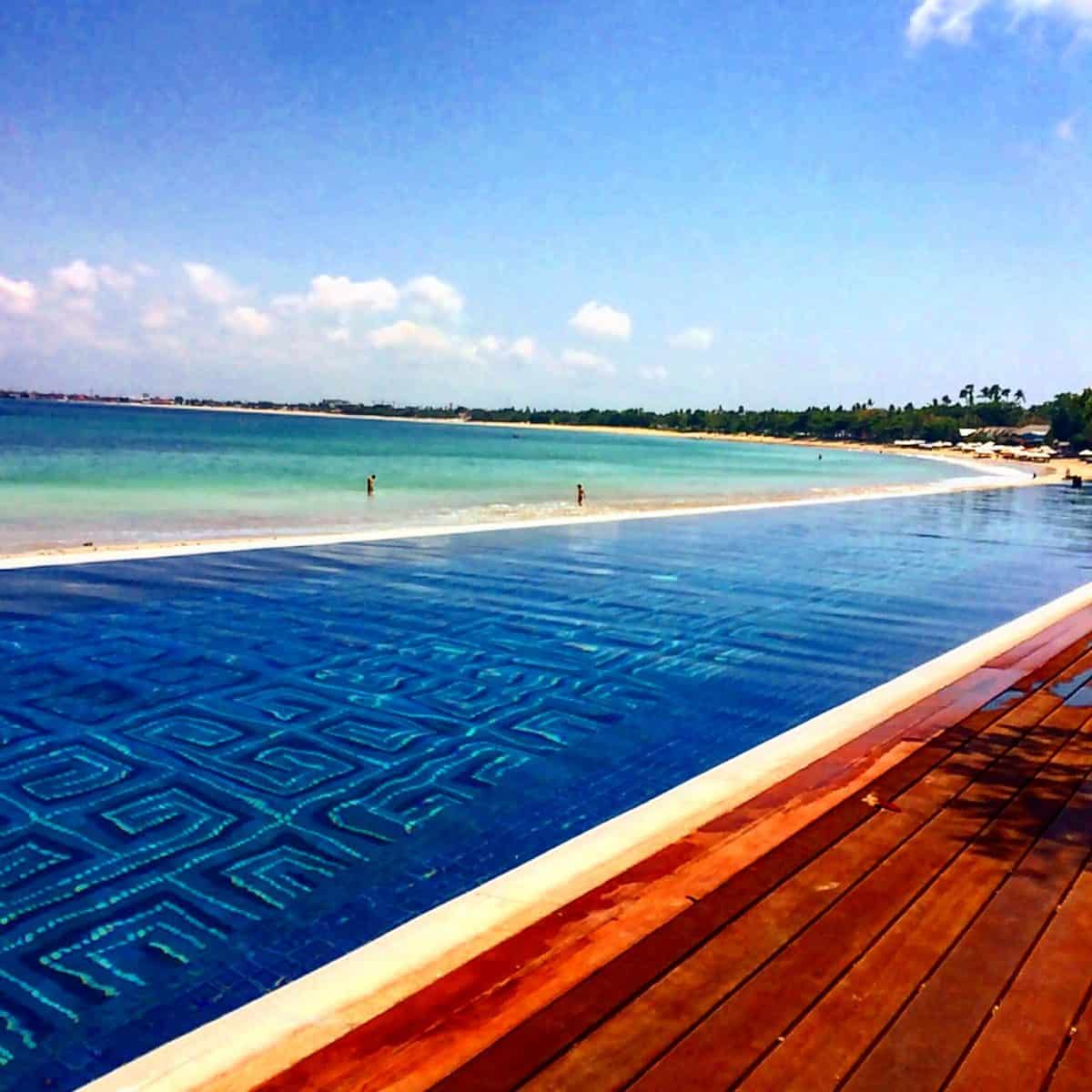 We had decided to stay until sunset (around 6pm) and throughout the day had another two rounds of drinks plus the Balinese Mixed Satay (chicken, seafood, beef, pickle, spicy peanut sauce – 135k).We had each course to share and it was nice to graze throughout the day. We had picked another dish to try but felt full enough that it would have just been for the sake of ordering it and decided against it.As 6pm rolled around – we had definitely outlasted other guests on the day (or you could say we were getting our monies worth!) and we didn't feel we were annoying the staff/overstaying our welcome – but we were disappointed to realise that there is no sunset over the water at Jimbaran Bay, as the sun sets on the other side of the rocky outcrop. There were some pretty colours, but just not as spectacular as I had been expecting.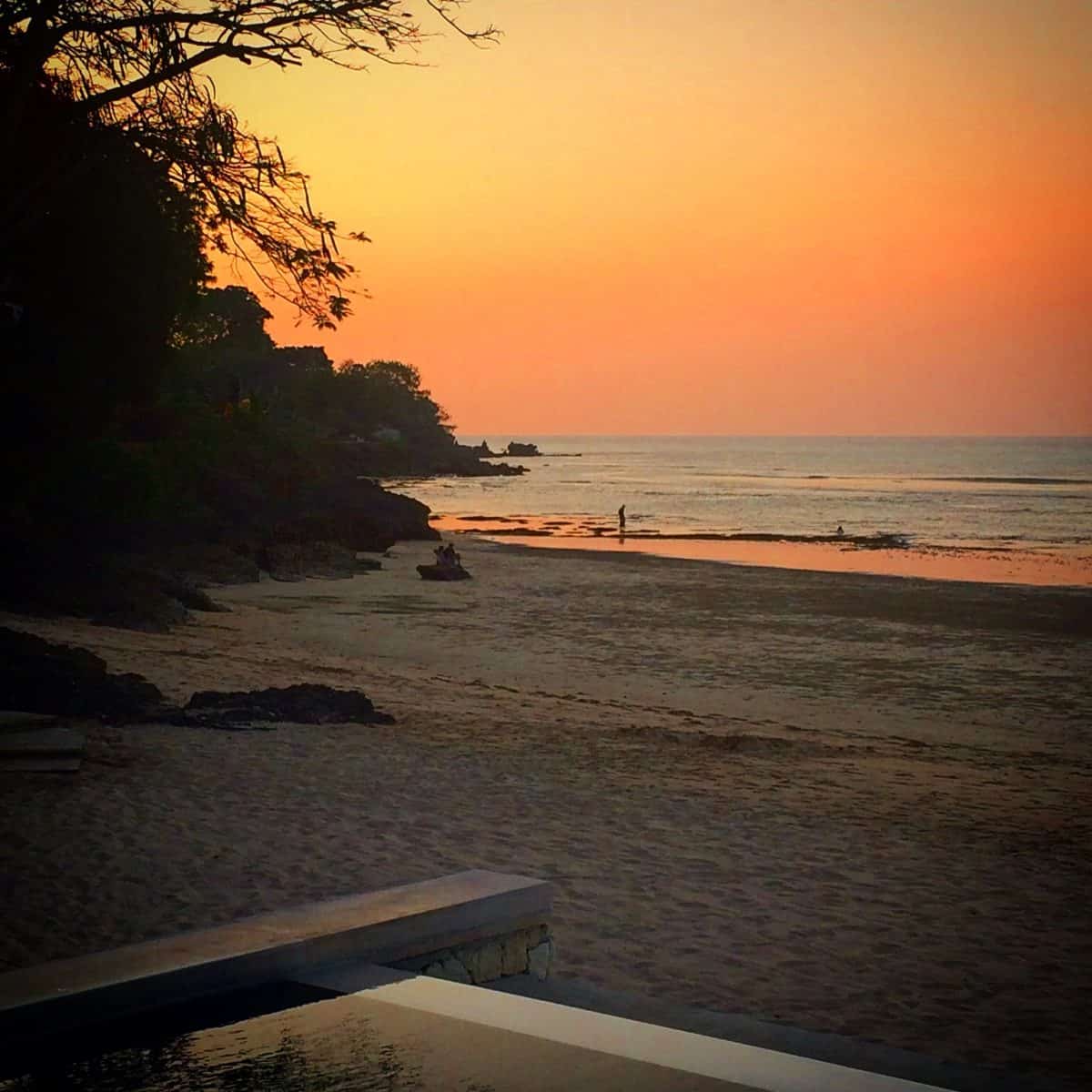 For the foodies out there, Sundara also do a Sunday Brunch between 11.30am – 4pm where there is practically unlimited food (check out the menu on their website) and drink brought to your table throughout the day on a range of packages: food only is 380,000k per person and you can add drinks packages to suit your needs – soft drinks +120k pp, beer & cocktails +495pp or wine & bubbles +750k pp.
If we ever went back to Bali we would definitely give the Sunday Brunch a try!An amazing day all round – and an experience a little different to the usual 'sitting around the pool'. Nothing is too much trouble for the staff, they are friendly, always there (yet discrete) and so accommodating. Make a day of it and feel like royalty!
.
.
The best of the rest
where to eat seminyak top restaurants
Fine Dining – Ku De Ta & Mejekawi (French-European inspired gastronomy); Sardine (great seafood restaurant)
Cafes – Kreol Kitchen, Sea Circus & Sisterfields
Superfood & Vegan – Earth Cafe & Divine Foods Cafe
Thanks for reading & I hope you have enjoyed my Foodie Tour of Seminyak!
Happy Travels 🙂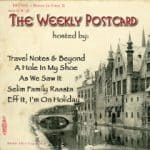 Save