Some of the most stunning parts of Oz, both natural and cultural, these are 15 UNESCO World Heritage Sites in Australia that you just can't miss!
Out of the 1100 UNESCO World Heritage Sites around the globe, Australia is very lucky with 20 incredible locations. Whether natural or man-made wonders, these destinations range from prehistoric rainforests to iconic buildings and cultural sites. If you find yourself in the land down under, ensure you check out one (or all!) of these must-see Australian World Heritage Sites.

UNESCO's World Heritage Sites are some of the most fantastic places on earth. However, these locations must possess exceptional value and global significance or be important to humanity as a whole. With such strict guidelines, you can be sure that any World Heritage Site is worth visiting.
So let's take a look at 15 options for World Heritage sites in Australia and start planning your next vacation.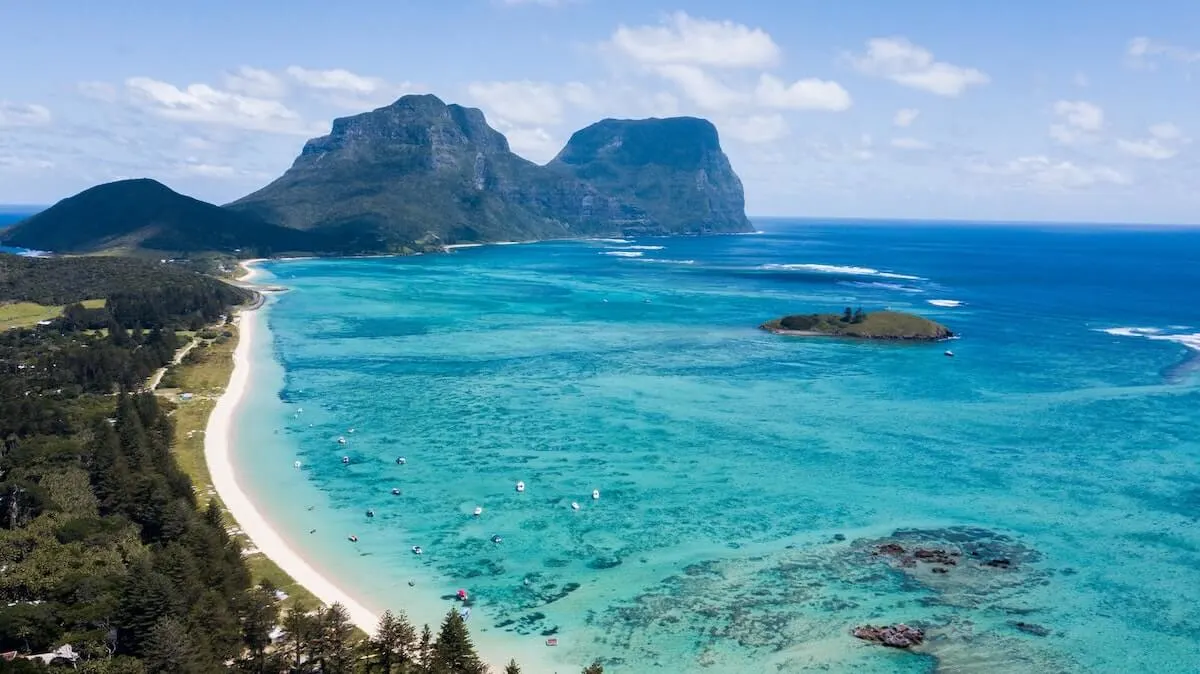 Disclaimer: Almost all posts on this site contain affiliate links, and this guide to 15 UNESCO World Heritage Sites in Australia You Can't Miss is no different. This means that if you click on any of the links in this post (and make a purchase) I may receive a small commission at absolutely no cost to you. Each post is carefully crafted to (hopefully!) answer all your questions and recommendations are made where we believe they will improve your trip and help with your planning. As such we thank you in advance should you decide to click & buy. Read my full Disclosure here.
This post is a short version of 20 UNESCO World Heritage Sites in Australia (inc. Map) and is reproduced with permission.
Uluru / Kata Tjuta National Park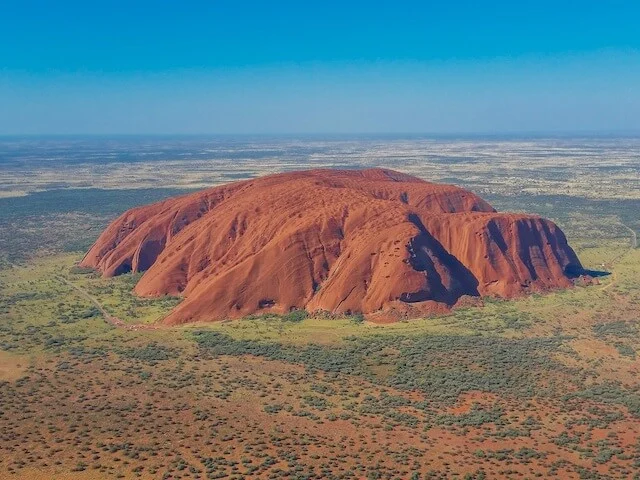 The beautiful red sandstone rock called Uluru, or Ayers Rock as it is more commonly known, is one of the most famous landmarks in Australia. It stands 348 metres (1142 feet) above ground level and was listed as a World Heritage site in 1987 for its natural values and in 1994 for its cultural significance.

The base of the rock is approximately 10 kilometres in circumference and will take 3 to 4 hours to walk around. There are many viewpoints for small waterholes and getting up close to the rock. In addition, there is a road that circles the perimeter of the rock, with allocated stopping points for early morning and afternoon viewings.

To get the most out of your visit to Uluru-Kata Tjuta National Park, and plan to spend a minimum of 3 days exploring. In addition to seeing Uluru and Kata Tjuta (another noteworthy rock formation), you can also enjoy a 30,000 solar light bulb art display. Furthermore, the park offers several different hiking opportunities and helicopter flights. Plus, all the necessary facilities and accommodations are available in Yulara – a nearby purpose-built tourist town.


The Great Barrier Reef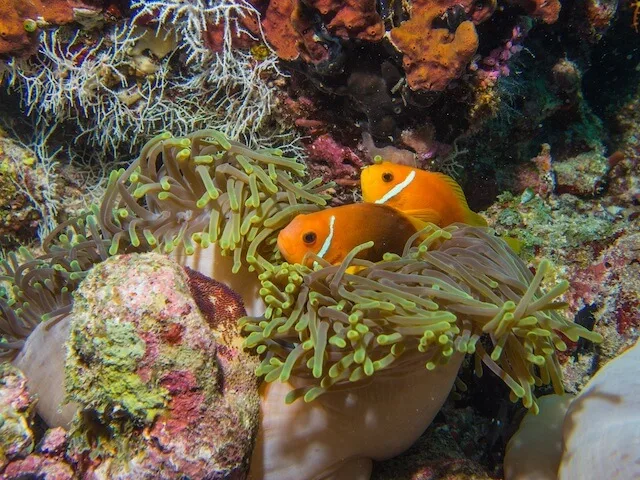 In 1981, the Great Barrier Reef in Australia was named a World Heritage Site and one of the natural Seven Wonders of the World. As the most extensive reef system, it covers 2300 kilometres from Bundaberg and stretches along the Queensland coast. Additionally, there are 3000 reef systems, 300 coral cays, 150 mangroves, as well as 600 continental islands that can be seen here.

Thousands of tourists each year will road trip from Brisbane to Airlie Beach (or alternatively to Cairns), to see this wondrous area. You can take day trips and tours from any of the coastal towns like Agnes Water, Bundaberg, and Port Douglas – Along with Cairns & Airlie Beach. Alternatively, you can stay at one of the resort islands in the Whitsunday network, like Hamilton Island, which is incredibly popular with couples.

The Great Barrier Reef is a stunning location with plenty to see and do, and this is your chance to experience this incredible ecosystem. You have some of the best sites to snorkel in Queensland, amazing diving locations, or stunning white sandy beaches. Also keep your eyes peeled for whales migrating through, turtles, manta rays, reef sharks, or any of the thousands of fish species that call this place home.
Wet Tropics of Queensland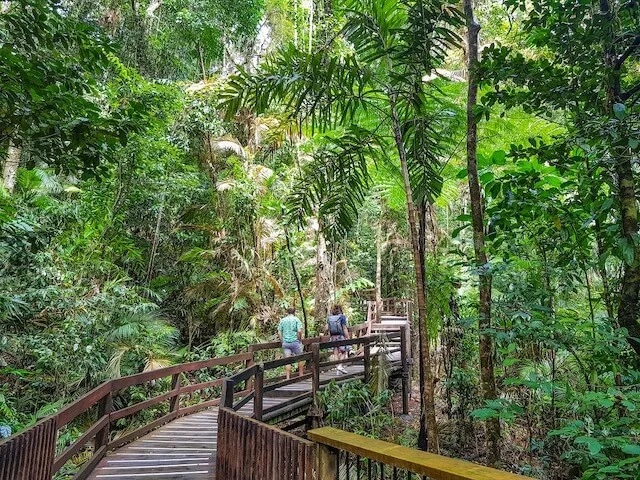 The Wet tropics of Queensland is a large (455 km) area along Australia's northeast coast consisting of tropical rainforests. This dense growth and atmosphere provide abundant plants, marsupials, birds, rare animals, and endangered plant species.

You can access this World Heritage site from cities like Cairns, Port Douglas, and as far south as Townsville. One of the more famous locations is the Daintree National Park, which is one of the oldest rainforests in the world. There are over 20 other National Parks included in the Wet tropics like, Wooroonooran National Park, Kuranda National Park, and Baron Gorge National Park.

Many features make the Wet Tropics unique, including its high rainfall, diverse terrain, and steep environmental gradients. In addition to its abundance of flora and fauna, the Wet Tropics are also recognised for its stunning scenery, natural beauty, and majestic landscapes.
Ningaloo Coast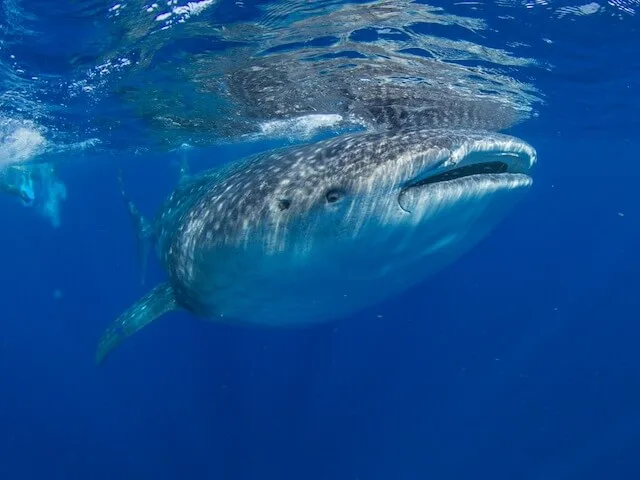 If you find yourself in Western Australia, be sure to visit Ningaloo Coast, as it was even given World Heritage status back in 2011. The stunning blue reef is something that must be seen to truly believe and appreciate. It's an immensely beautiful site that'll stay with you long after your trip has ended.

If you're looking for a place rich in marine life and diversity, you'll find it here. Whale sharks migrate to these waters from May to August each year for the coral spawning event. This gives you a chance to snorkel with these magnificent creatures and is a definite bucket list item in Australia.

The Cape Range is home to rocky shores, sandy beaches, estuaries, and mangroves. In addition, the range includes the extensive Karst System of caves and watercourses.
Sydney Opera House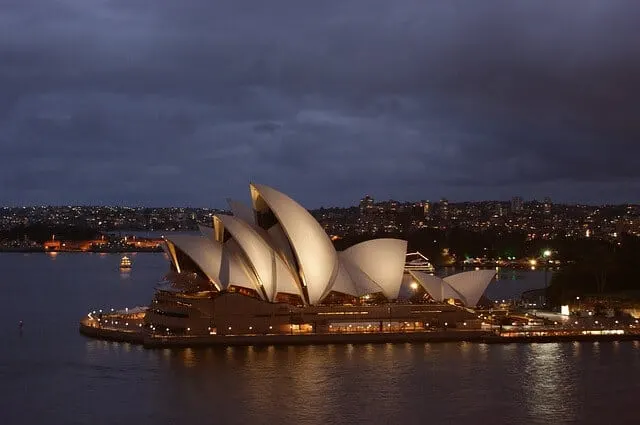 If you're planning a trip to Sydney, Australia, take the chance to see the world-famous Sydney Opera House, which was listed in 2007. Constructed on Bennelong Point in Sydney Harbour, this UNESCO World Heritage site is one of Australia's most known landmarks. You can tour the building or enjoy its views from different vantage points around Sydney Harbour.

Designed with recognisable white sail-shaped shells, the Opera House is one of the most photographed buildings in the world. The roof holds events, stage shows, and of course, Opera inside the Amphitheatre. There were over 10 thousand men used for its construction, which cost 102 million dollars in total.

Whether you're up close or afar, almost all tourists who visit Sydney each year will lay their eyes on the Opera House. For the absolute best views, join the Sydney Harbour Bridge Climb experience and take in all this marvel has to offer from above. Alternatively, you can visit during The Vivid festival in June and see it lit up in an interactive light display.
Fraser Island (K'gari)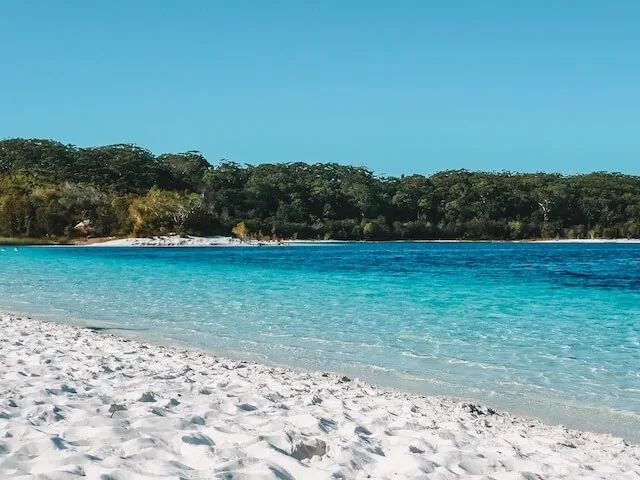 Although there are various sand islands globally, four of the most extensive ones sit off the coast of Queensland in Australia. Out of these, Fraser Island is the largest, measuring over 1600 square kilometres in size. Furthermore, gaining UNESCO World Heritage status in 1992. What makes Fraser Island extraordinary is that it houses several natural sites not found elsewhere and a rainforest growing exclusively in the sand.

You can access Fraser Island in various ways, such as a single day, an overnight tour, or driving your own four-wheel-drive vehicle. You can easily book organised day tours from Rainbow Beach and Hervey Bay or an overnight excursion from Brisbane. If you want to bring your own car, barge transfers will take you over from Inskip Point near Rainbow Beach or River Heads south of Hervey Bay.

Island camping is quite popular on Fraser Island, with over 300 thousand visitors each year. Fraser has many swimming spots to enjoy like Eli Creek, Lake Wabby, and the Champagne rock pools. Lake McKenzie is absolutely gorgeous and not to be missed with its white sandy shores and crystal blue waters. You can also admire the Pinnacles rock formation, learn about the history of the SS Maheno Shipwreck, or trek through the evergreen trees in the rainforest.
Willandra Lake Region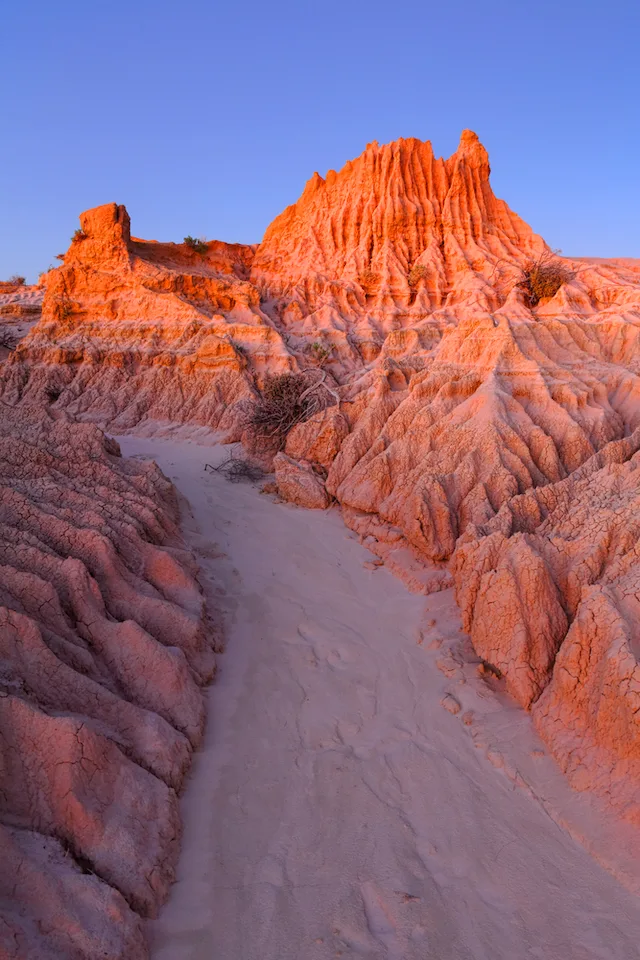 The Willandra Lake Region contains fossil remains in a series of lakes and sand formations. These relate to the Pleistocene era, along with archaeological signs of human activity dating back from 45–60,000 years ago. It is a unique landmark in studying human evolution and progression on the Australian continent. Along with several well-preserved specimens of giant marsupials have also been found here.

It's located in the semi-arid zone in southwest New South Wales, close to Mildura, on the east side of Australia. As it stopped functioning as a lake ecosystem approximately 18,500 years ago, Willandra Lakes offers excellent conditions for documenting life in the Pleistocene age. This was the period when humans evolved into their present form.

There is a wealth of archaeological evidence on this island, including hearths, stone tools, and shell middens. This shows a remarkable adaptation to changing environments between humans and the local resources. In addition, several well-preserved fossils of giant marsupials have been found here.
Tasmanian Wilderness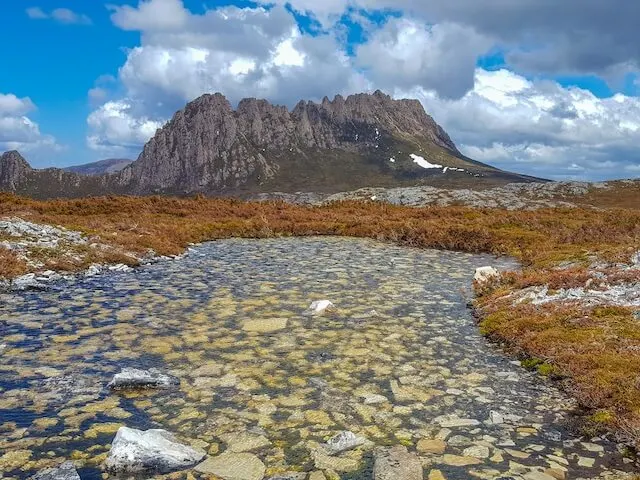 The Tasmanian Wilderness is located off the coast of mainland Australia. It is a World Heritage Site that meets 7 out of 10 points needed to be heritage listed. In fact, it shares this amount with only one other site in China.

The Tasmanian Wilderness preserves 1.5 million hectares of land, accounting for nearly a fourth of Tasmania's total size. As the world's largest temperate wilderness area, it has been home to aboriginal people for over 35 thousand years. The Tasmanian Wilderness consists of six National Parks: Cradle Mountain-Lake St Clair National Park, Franklin-Gordon Wild Rivers National Park, Mount Field National Park, Southwest National Park, Hartz Mountains National Park, and Mole Creek Karst National Park.

If you come to Tasmania, you will see many beautiful things like Cradle Mountain and the local wildlife. You can even take a helicopter ride to get a closer look at Cradle Mountain. However, if you're feeling really adventurous, try hiking the overland trek! It's 60 kilometres long and takes about 6-7 days to finish, but it's an amazing way to experience the Tasmanian Wilderness.
Purnululu National Park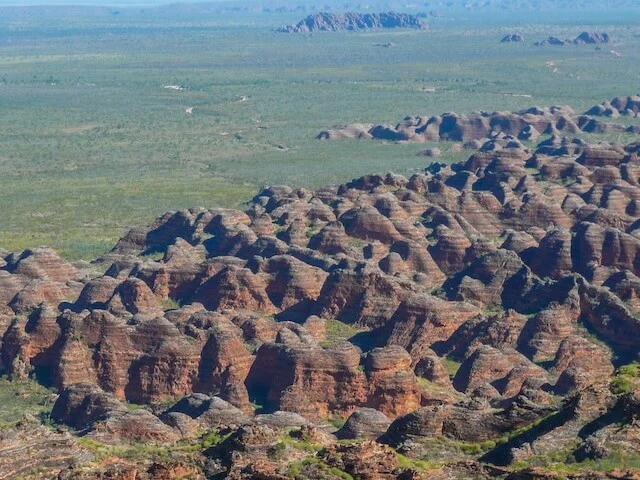 The Purnululu National Park, located in northern Western Australia, is a highlight for many outback tourists. The park sees over 50 thousand visitors each year and has much to offer in terms of different sites, hikes, and waterholes. The Bungle Bungles are giant beehive-looking rock formations stretching over 450 kilometres and are definitely a highlight not to be missed.

These domes were formed by active faults and erosion depositing different materials over the area more than 300 million years ago. In 2003, it was declared a World Heritage site in Australia and can only be accessed by four-wheel drive. However, you can take short hikes and walks in and around the domes and other places like the Cathedral Caves Amphitheatre.

Due to the blistering summer heat, the reduced tourist season extends only from March to October. However, that doesn't stop visitors from flocking to see Purnululu National Park. And why not? With camping and fixed accommodation options inside the park boundaries, it's easy to spend a few days enjoying all that nature has on display. Just remember to book early, as accommodation is limited!
The Greater Blue Mountains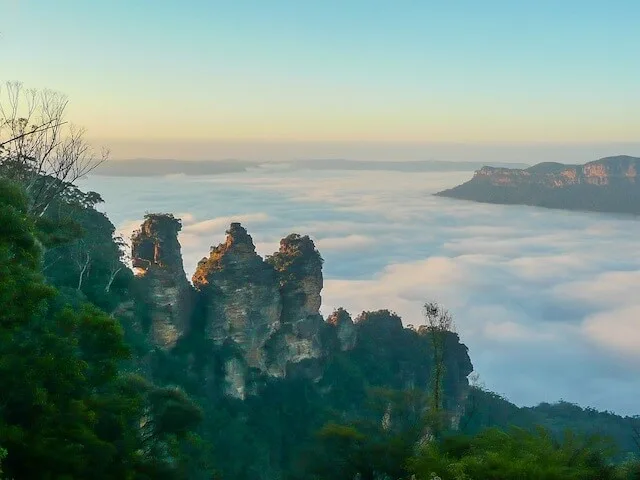 The Greater Blue Mountains area is home to over 1 million hectares of sandstone plateaus, gorges, caves, slot canyons, and significant rock formations. It also encompasses the Wollemi National Park, Yengo National Park, Nattai National Park, and the Kanangra-Boyd National Park. All of these were entered as World Heritage Sites in 2003.

Although it's only a short 2.5-hour drive from Sydney, you'll feel miles away breathing in the crisp mountain air and staying in heritage hotels. You can also shop for locally sourced produce or arts and crafts in the small town of Katoomba.

One of the best things about staying in Katoomba is seeing the 3 Sisters rock formation from a suspended cableway or riding the steepest train. There are also many different walking tracks and hikes where you can reconnect with nature. Additionally, Jenolan Caves are known worldwide, and spending a day admiring stalactites and stalagmites is an unforgettable experience.
Gondwana Rainforest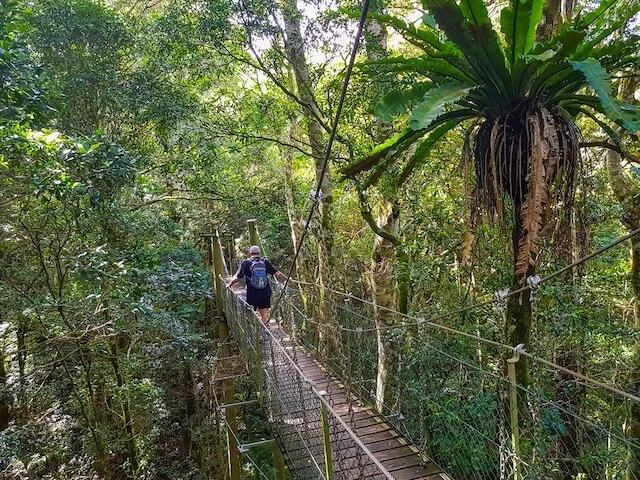 The Gondwana Rainforest is a protected area that covers more than 366 hectares. It extends into Queensland and New South Wales, with 59 hectares located in Queensland and the rest in New South Wales.

The Gondwana rainforest was first given World Heritage status in 1986 for the section located in New South Wales. Again, it was later extended to include Queensland as well, in 1994. In addition, several National Parks make up the Gondwana rainforest, such as Lamington National Park, Springbrook National Park, and Barrington Tops National Park.

This area was once home to volcanoes, which have left behind a stunning mountain range and impressive waterfalls. Consequently, these natural wonders are home to more than 200 rare plants and animal species.

Mount Warning (Wollumbin) is the remnant of a central magma area and is now an extinct volcano. It's one of the best examples of erosion calderas in the world, where a volcano will erupt and collapse, forming a significant depression.

There are 2 million people who annually visit the Gondwana rainforest for reasons such as hiking, swimming in waterfalls, admiring the unique wildlife, and desiring to reconnect with nature.
Kakadu National Park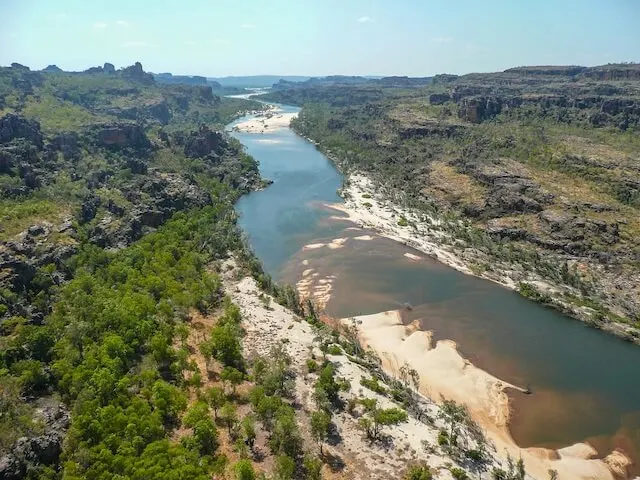 Kakadu National Park is one of the biggest National Parks in Australia, spanning nearly 20 thousand square kilometres. It's home to ancient culture and Aboriginal rock Art dating back 65 million years, making it one of the oldest living cultures on earth.

The park is jointly managed by Parks Australia and the Bininj Mungguy people, the traditional owners of Kakadu. It's a place of rich ecological and biological diversity and home to many rare and endemic plants and animals, and more than half of it is Aboriginal land.

This Northern Territory rainforest receives over 1.5 metres of rainfall every summer (December to February). This makes many areas inaccessible, and most of the National Park is covered in floodwaters. But, impressively, this is also where you'll find more than 10 thousand crocodiles!
Shark Bay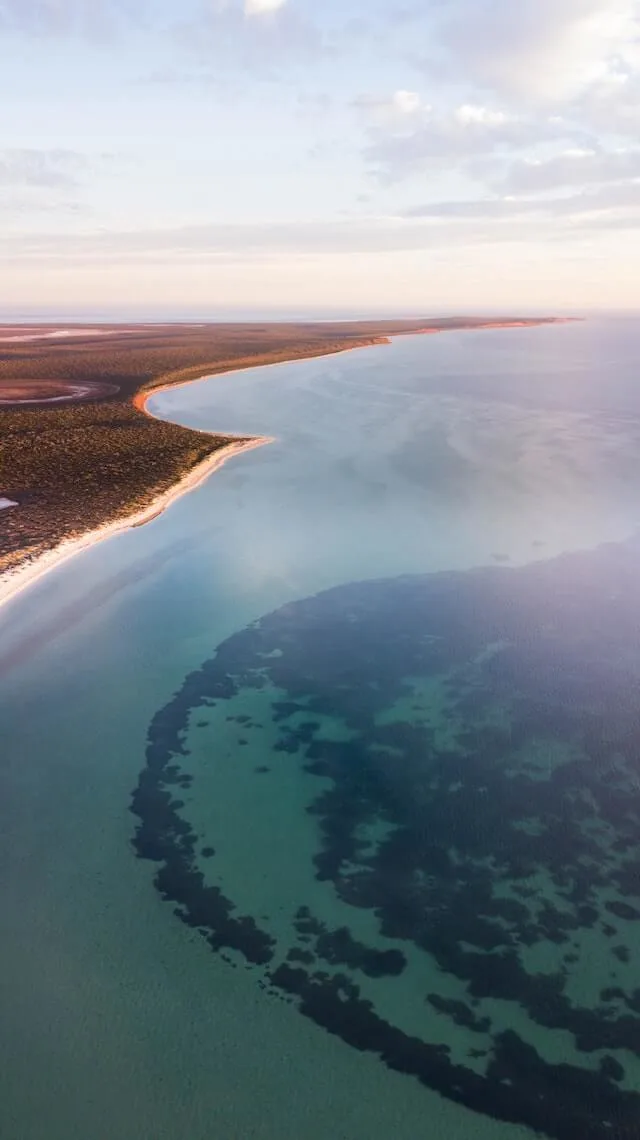 The beautiful Shark Bay in Australia is home to three unique natural phenomena. The largest and richest seagrass beds in the world (4,800 km2), a large population of dugongs ("sea cows"), and stromatolites (colonies of algae that form hard, dome-shaped deposits).

It's located on the Indian Ocean, along the Western Australian coast. It is home to a wealth of exceptional natural features. The stromatolites are one of the oldest life forms on earth and are said to make the Shark Bay area unique. It's incredibly popular for scuba divers for the rich marine life, dolphins visit Monkey Mia, and the population of dugongs.
Australian Convict Sites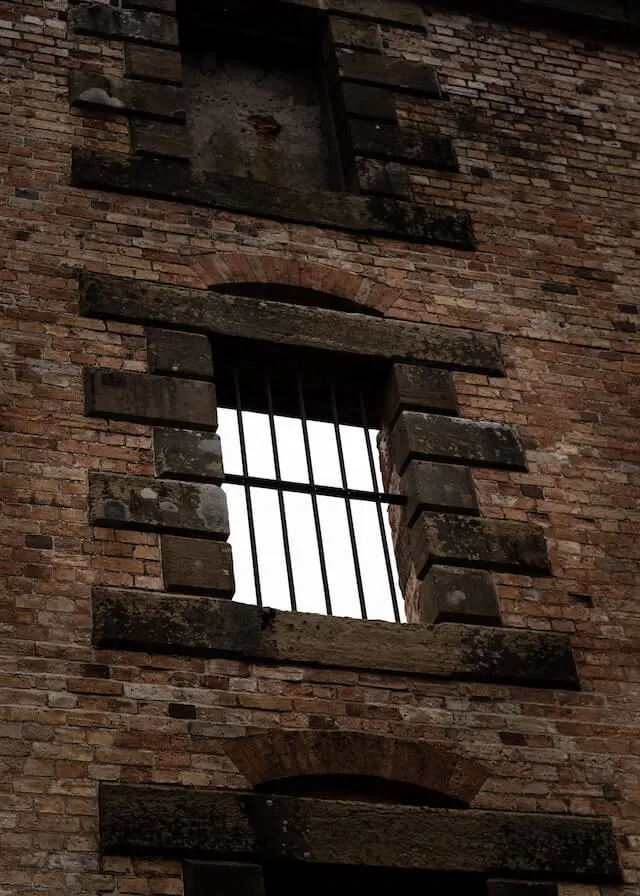 There are eleven Australian Convict Sites spread across Australia that were established by the British Empire in the 18th and 19th centuries. These sites range from Fremantle in Western Australia to Kingston and Arthur's Vale on Norfolk Island; and from areas around Sydney in New South Wales down to Tasmania in the south.

Around 166,000 individuals were sent to Australia over an 80-year timespan between 1787 and 1868 as punishment for their crimes by the British. Each convict colony had a specific purpose: imprisonment or rehabilitation through forced labour. None of the surviving examples of large-scale convict transportation and colonial expansion are as well preserved as those found in Australia.
Lord Howe Island Group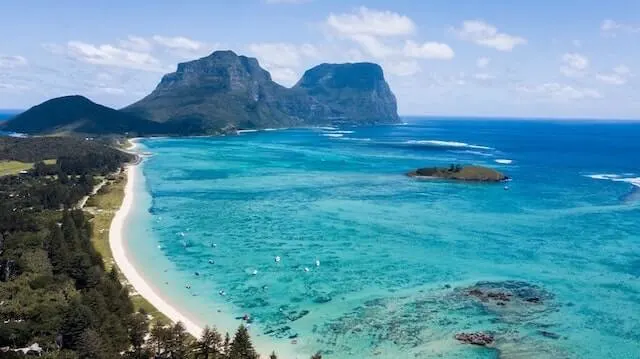 The Lord Howe Island Group is an excellent example of oceanic volcanic islands containing different plants and animals. It also boasts the world's most southerly actual coral reef. The area is characterized by stunning scenery and lies within a small land area. Additionally, it provides essential breeding grounds for colonies of seabirds and conservation of threatened species and natural habitats.

The Lord Howe Woodhen and the Lord Howe Island Phasmid are two iconic species that are only found on this island. The woodhen is a flightless bird once thought to be one of the rarest birds in the world. The phasmid is the largest stick insect in the world, and it was feared extinct until it was rediscovered on Balls Pyramid.

Approximately 75% of the land on Lord Howe Island has been designated as a Permanent Park Preserve. This area includes the northern and southern mountains of the island, as well as the Admiralty Islands, Mutton Bird Islands, Balls Pyramid, and surrounding islets.

The property is in the Tasman Sea, about 570 kilometres east of Port Macquarie in New South Wales. The whole area, including the marine section and associated coral reefs, spans 146,300 hectares, with just the land component covering 1,540 hectares.
Conclusion
There are so many reasons to visit world heritage sites in Australia. They provide excellent opportunities for outdoor recreation and nature appreciation. Additionally, by visiting these sites, you are supporting conservation efforts and helping to preserve some of the most important cultural and natural treasures in the world. So what are you waiting for? Start planning your trip today!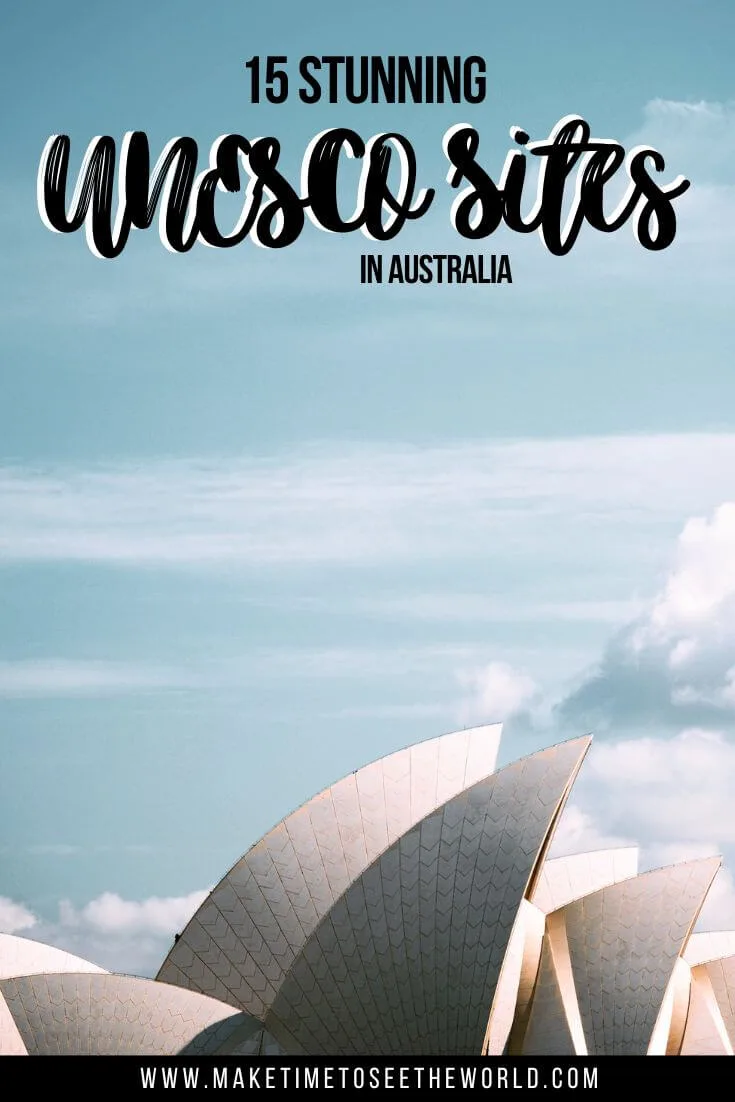 READY FOR MORE OCEANIA TRAVEL INSPIRATION? YOU MIGHT BE INTERESTED IN THESE TRAVEL TIPS, TRAVEL HACKS, TRAVEL ARTICLES, TRAVEL DESTINATIONS GUIDES, TRAVELER RESOURCES AND RELATED POSTS ABOUT OTHER BEAUTIFUL CITIES IN AUSTRALASIA TO HELP YOU EXPLORE AND TRAVEL THE WORLD:

Hi There! Thanks for reading our guide to 15 UNESCO World Heritage Sites Australia. I just wanted to let you know that this post contains affiliate links, which means if you purchase something after clicking a link, I may get a small commission – which is at absolutely no cost to you. If you enjoyed this article and are going to be searching for some of the things I mention anyway, I would love it if you could click through from the links above & thank you in advance! Read my full Disclosure here.
And a huge Thank You for reading the MakeTimeToSeeTheWorld travel blog.