Welcome to my "Travel Photo Tuesday" feature. Its a place to share the best travel photo's from Instagram each week  that have been tagged with @maketimetoseetheworld.
If you have ever checked out my Instagram feed you will have noticed that I absolutely love travel photos. I have hundreds to share from years of traveling but I also see so many beautiful photographs from my followers which inspire wanderlust and showcase destinations I could only dream of.
From the start of next year, I've decided to share my favorites with you as a feature here on the blog & across all social media platforms each Tuesday in the hope of inspiring you all to maketimetoseetheworld.
Want to get involved? Check out the instructions below.
Travel Photo Tuesday
This week I want to share with you one of my own travel photo's that I absolutely adore – so much so that I have had it made into canvas which hangs in my bedroom! Taken back in 2008 on my first (and only) visit to New York it captures perfectly how at felt at that very moment – Alive.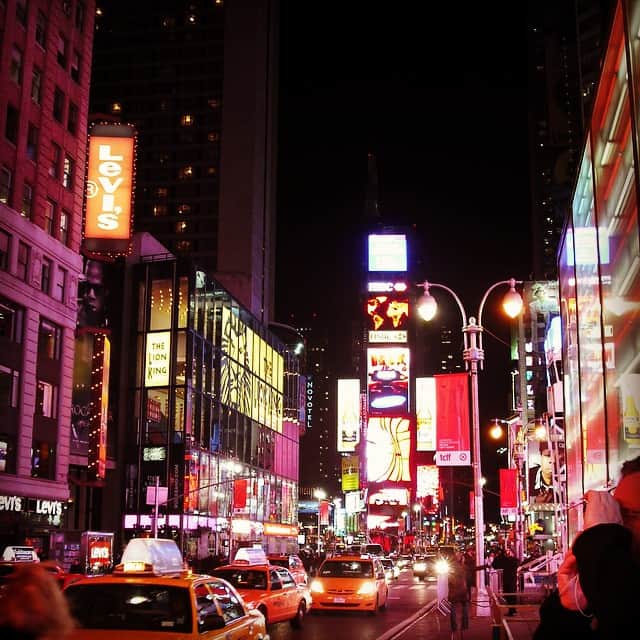 Times Square is magical – there is an undeniable energy emanating from everything around you – from the imperceptible pulsing of the neon to the honk of the yellow cabs and the looks on the faces of the tourists gazing in wonder at the iconic beauty of the worlds most famous concrete jungle. The city is alive and you feel alive in it with every breath you take.
want to get Involved?
Do you have an amazing travel photo that can transport you right back to the moment you took it – and take everyone else along for the ride? Follow the instructions below and you can be featured on maketimetoseetheworld:
Follow my Instagram Account and tag your *best* travel photos with @maketimetoseetheworld and hashtag #travelphototuesday
Each Tuesday I will pick my favorite to feature here on the blog and promote across social media complete with details of your blog/twitter/instagram accounts
Grow your followers by spreading the wanderlust through beautiful photographs and inspiring everyone to maketimetoseetheworld.
Happy Travels 🙂