cute modern hotel, loved it!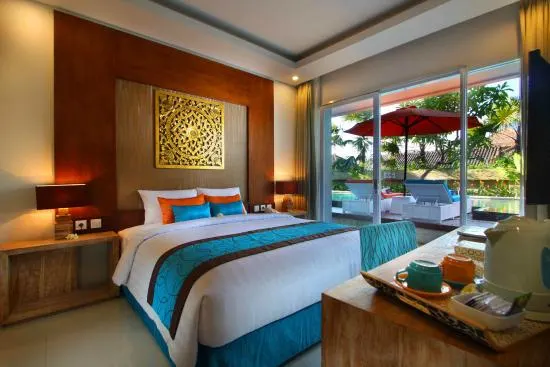 We booked through booking.com on a flat rate which showed three different room types – deluxe (standard), balcony or poolside. In our booking I requested a balcony or pool access room and was surprised to receive an email advising the flat rate was for their standard room which was internal, with any window looking into the corridor, and upgrades were 75k per night for a balcony room or 100k per night for a pool access room.
Now I don't mind paying the extra but felt that it was poor/misleading advertising where there are so many hotels of a similar standard in the area who offer clear pricing for each different room type and had I known about the additional charges I would probably have chosen somewhere else.
We ended up being allocated a pool access room (109) which is just as lovely as the pictures show, although doesn't quite open onto the pool itself, rather is opposite the pool bar and cleaning cupboard.
The hotel looks as good as new and is modern, clean and comfortable (the double bed was huge and one of the best hotel beds I have stayed in); and with a mini-fridge, aircon, free cable tv, great wifi connection (109 is right next to reception) and an electronic safe, we had all the creature comforts we needed.
Breakfast was included and was hit and miss, but that may just be my personal taste. There were 6 hot options, croissants, 2 cereals, toast station and fruit daily with coffee and two choices of juices. It was served at the rooftop bar on the weekends and on the ground floor next to reception on weekdays – I much preferred eating breakfast on the roof but could see it would be difficult if the hotel was full regarding seating, and could get quite hot if you didn't grab a spot on the balcony edge in the shade.
We found food and drink prices in the hotel expensive (125k for burger and chips plus 21% tax and service charge) and so did not eat in-house and cannot comment on the quality.
Housekeeping was a also a little hit and miss – some days all our towels were replaced (2 hand 2 bath + 1 bathmat) on others we only got 2 bath towels back, some days the staff forgot to replace the bottles of water included per person per night and the linen, although has been washed is stained and really should be replaced. However the towel and water situation was easily remedied upon alerting reception.
A couple of things we feel we should mention are that this hotel is not really a sit round the pool kind of place – with 8 sun loungers, there doesn't seem enough for the number of guests, and would be a turn off for those who like to sun bake as the pool is shaded all day by the overhanging frangipani trees. Very pretty, but not much use for the sun worshipers.
This photo is courtesy of TripAdvisor
If you just want to use Destiny Boutique as a base, it is great value and in a superb location – on the main streets of Jl Dupradi and near the main strips of Jl Campalung Tanduk and Jl Seminyak, it is 15 minutes walk to the main supermarket (cheaper than the mini-marts) and 20 minutes walk to Seminyak Square. Also, being on Jl Dupradi – you are really close to some of the best restaurants in the area. (Wacko, Kilo, Mamasan, Kendi Kuning, Kreole Kitchen etc) and around the corner from some great massage/spa places. And if you don't want to walk, taxis are every second car – just make sure they always use the meter!
Room 109 has a horrible lingering sewerage smell coming from the bathroom, which we combated by leaving the air conditioning on to circulate the air whilst we were out.
And finally, I think we were woken early morning every morning – mostly by a puppy barking/yelping outside, once by the staff cleaning outside our room and talking at 6am and once by guests arriving at 5am and allowing their children to run riot round the pool. Not something the staff could fix but still not ideal.
I would recommend Destiny Boutique because of their lovely staff and for those wanting a base and central location and if we returned would book a balcony over a pool room – I like somewhere to dry my beach towels outside overnight (I didn't feel it was possible on the ground floor) and I like to sit outside with a cool drink of an evening/while getting ready to go out and couldn't really do so on the ground level, right next to reception.
Also – taxis on the meter should be no more than 80k back to the airport, and on arrival can be booked at the taxi desk in the airport for 120k – just make sure you have the address of the hotel, they sometime jack up the price because they don't know where it is! Both are still cheaper than the 25USD pick up/drop off service offered by the hotel.