For such a small country (it's the 7th smallest in Europe) Luxembourg's Castle game is certainly strong! In the middle ages there were over 120 castles scattered across the country, around 76 of which have survived (in some way shape or form!) today. From stately chateau's to beautiful hilltop castles and impressive ruins, you can hop from one to the next on a fairy tale inspired road trip, or spend a few hours exploring each individually. Here at 10 of the Best Luxembourg Castles to add to your castle bucket-list.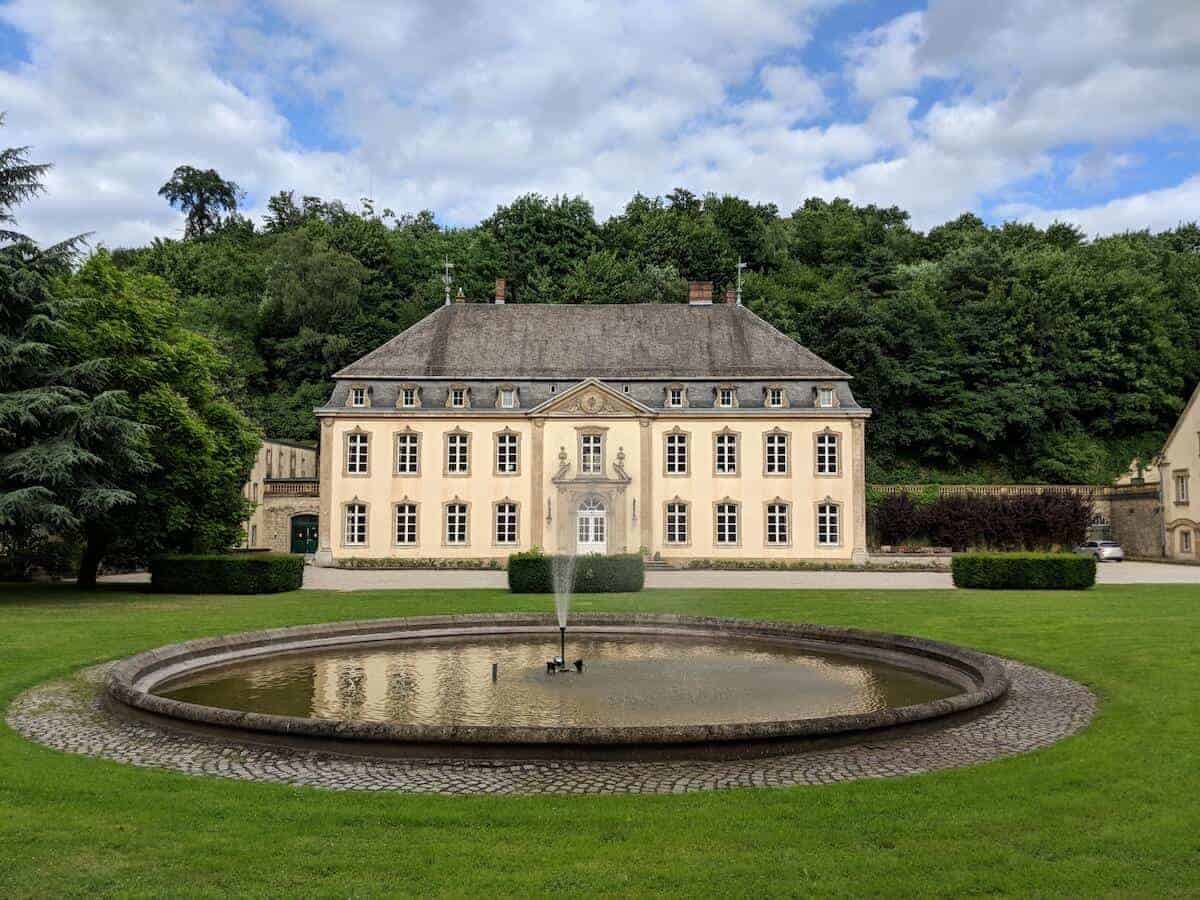 Fairy-tale Luxembourg Castles to visit on a road trip!
Disclaimer: I spent a wonderful weekend in Luxembourg as a guest of Visit Luxembourg, however, as always, all opinions remain my own.
QUICK LUXEMBOURG ROAD TRIP TIPS
–
Drive on the right hand side of the road (same as the USA and opposite to the UK and Australia)
– Be prepared to pull over regularly because of the incredible photo opportunities throughout the country.
– Make sure you have some
great road trip songs
lined up to keep you company, and read through our
Top Road Trip Quotes
for extra inspo for the journey!
– Car hire is cheaper at the airport than in the city center – Use
Holiday Autos
for the best deal – and you can take the airbus bus to and from the city for pick up and drop off.
Grand Ducal Palace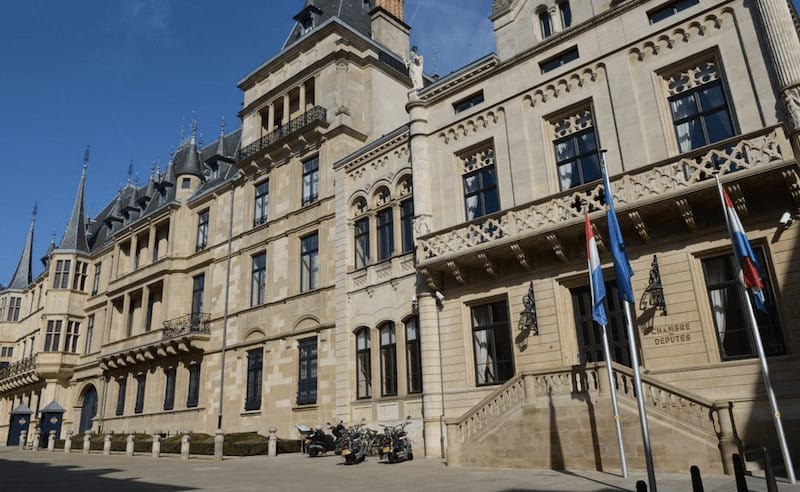 Right in the heart of Luxembourg's City Center, the Grand Ducal Palace is nestled among the quiet streets of the historic old town (and opposite the ever tasty Chocolate House). It's the primary residence of the Grand Duke of Luxembourg and is where he performs most of his duties as head of state of the Grand Duchy of Luxembourg. Whilst having one of the most picturesque facades in the country, it's interior is just as gorgeous and it can be seen on one of several guided tours that are arranged exclusively through July and August.
.
Chateux d'Ansembourg Nuveaux
The New Castle of Ansembourg, in located a short drive North of the city center and belongs to the Valley of the Seven Castles – a 24km area which is home to (you guessed it) 7 castles. If you'd like a stay in this area you'll be spoilt for choices with the two Ansemboug Castles, Mersch, Schoenfels, Hollenfels, Septfontaines and Koerich.
Castle D'Ansembourg was built in the first half of the seventeenth century and whilst the interior is not open to the public, it's beautiful gardens, which were laid out in 1750, make for a fantastic photo op! Adorned with statues, stairs, decorative fountains and a hedge maze, the gardens are a joy to wander around – and in all likelihood you'll be one of only a few people there. Take a floaty dress and pretend you're a princess. Go on, you know you want to!
.
Chateaux de Walferdange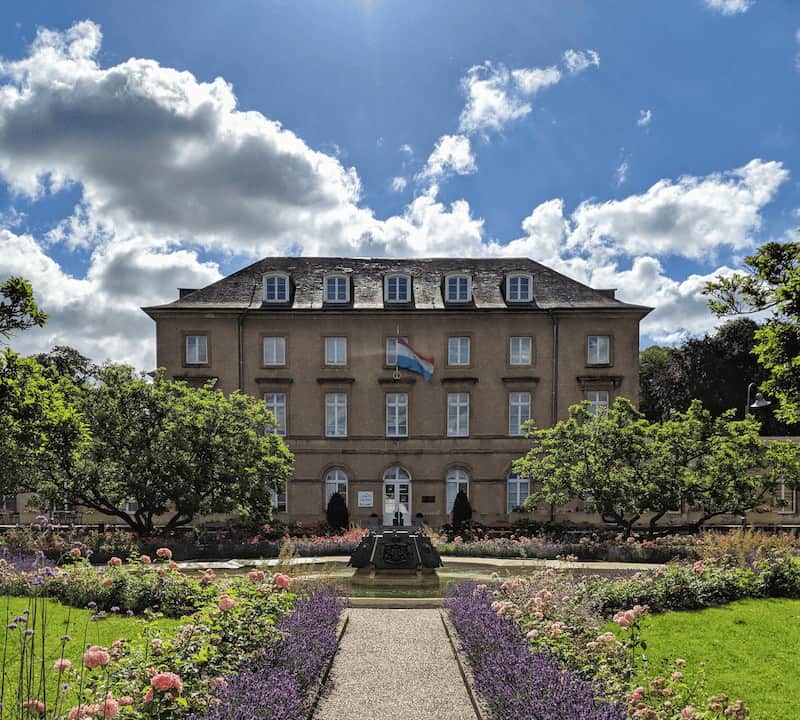 A stately Chateaux that has been used for multiple different reasons since its construction in 1817, Walferdange Castle has been a stud farm, royal residence, refuge during the first world war and temporarily occupied by America troops at the end of the second world war. Between 1945 and 1967 it was used as part of the Luxembourg Army barracks and from that time is has been a place of education.
.
Bourscheid Castle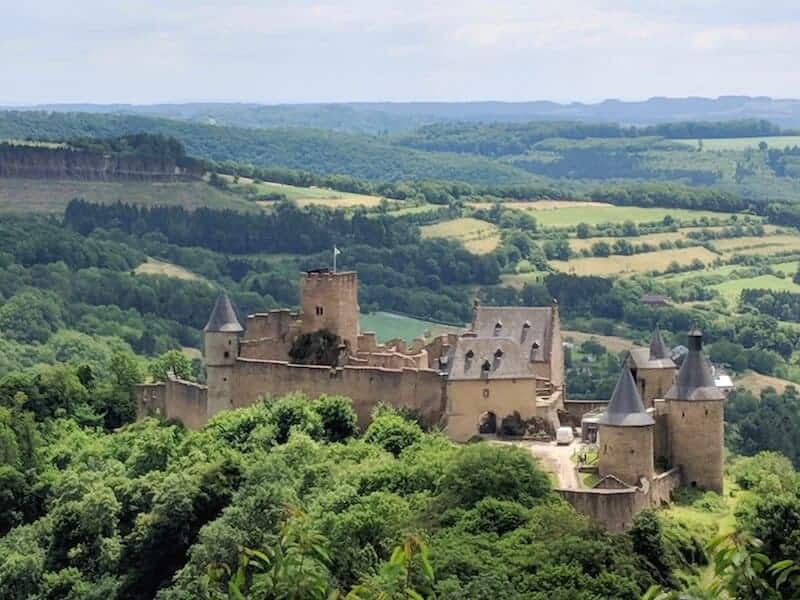 Bourscheid Castle is the largest castle in the country and is nestled on the top of a steep hill and 150 meters high above the Sûre river in the North West of the country. You can enter the castle grounds for free with the Luxembourg Card, however to take this shot you need to get to higher ground still. From the car park just outside the grounds, there is a woodland path that takes you up to the viewpoint this photo was taken from (it's about 10-15 minutes walk) – or if you don't mind being cheeky, you can drive around the hill and into the caravan park where the viewpoint is located.
.
Vianden Castle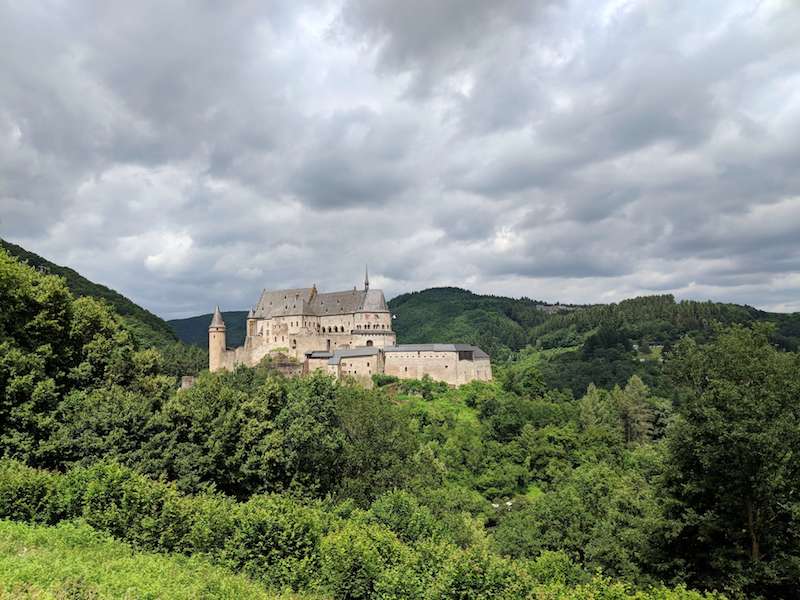 Vianden Castle – and the cute postcard perfect township below is the jewel in Luxembourg Castle's crown and welcomes nearly 200,000 visitors per year. Construction was started by the Romans in the third century AD, and the structure that stands there today was built between the 11th and 14th Century. Offering both audio tours and guided tours, visitors can really get to the heart of the castle of Vianden, it's history and the local culture. There are several viewpoints dotted around the castle – the best ones being on the CR322 road and the other being at the top of the chairlift (which is a great way to get up to the castle without having to walk up the steep hill from the village.)
.
Beaufort Castle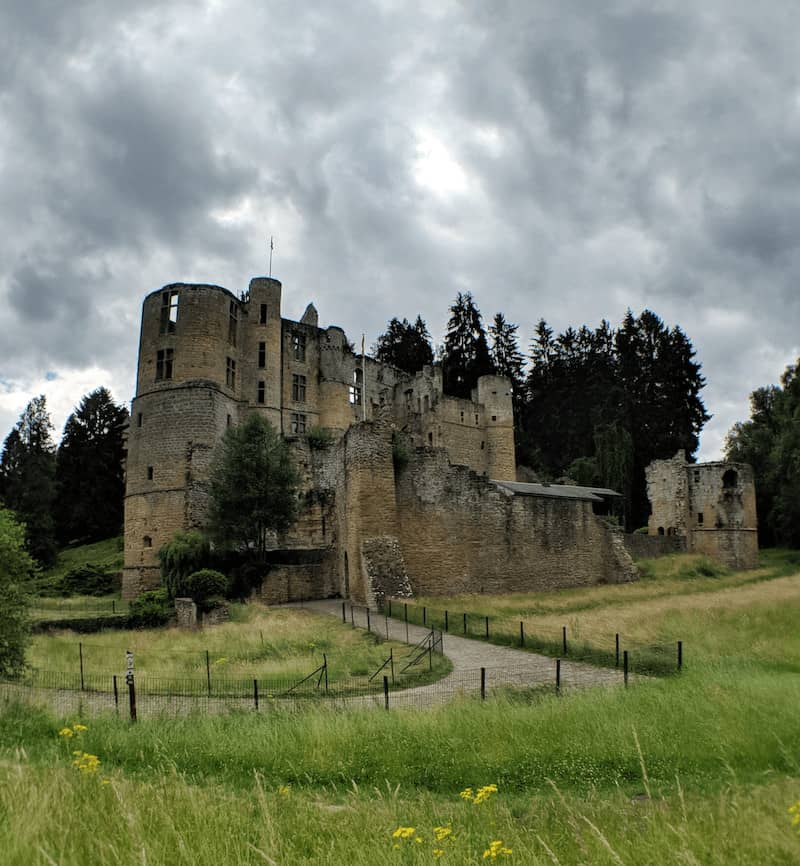 The first of Luxembourg's Castles that stands in ruin on our list – Beaufort's Medieval Castle was built between the 12th and 14th Centuries and fell into disrepair from 1639. It can be easily seen from the road, and costs €5 to enter (or is free with the Luxembourg Card). What most people don't realise however is that there is a second Castle on this site, directly behind this one, and slightly hidden behind the trees. Known as the the Beaufort Renaissance Castle, it was built in 1964 and remained lived in until 2012, after which it was opened to the public. Entry costs €10/Free with Luxembourg Card.
RELATED: If you are a fan of castle ruin's, be sure not to miss the 16th century Esch-sur-Sûre Castle.
.
The Bank Museum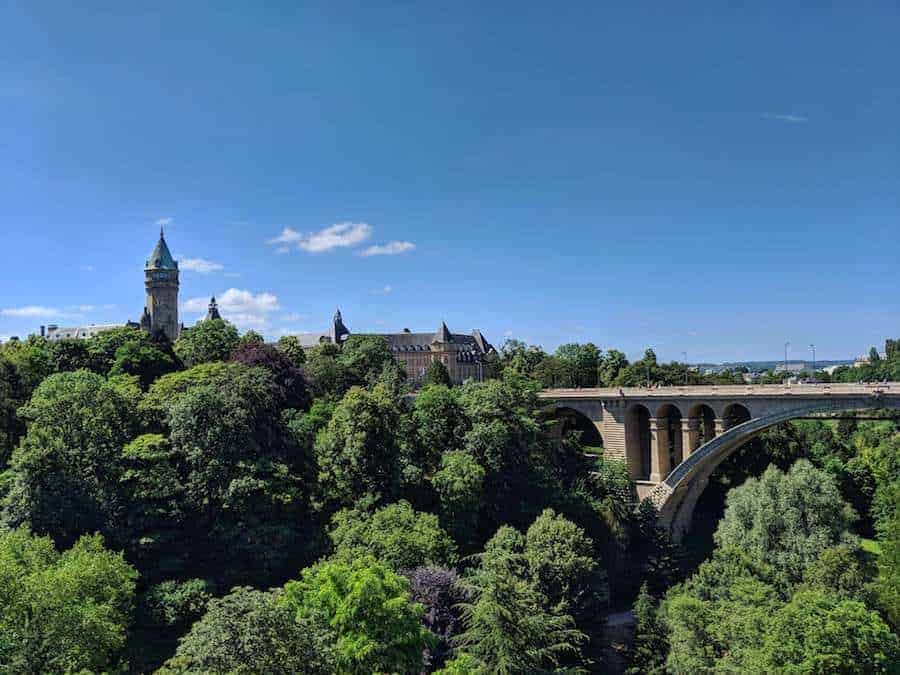 OK, so this one isn't really a castle as such, but its tower over-looking the gorge and surrounded by trees certainly gives it a castle-esque look. This building is located in the city center of Luxembourg and is actually the national bank!
.
Larochette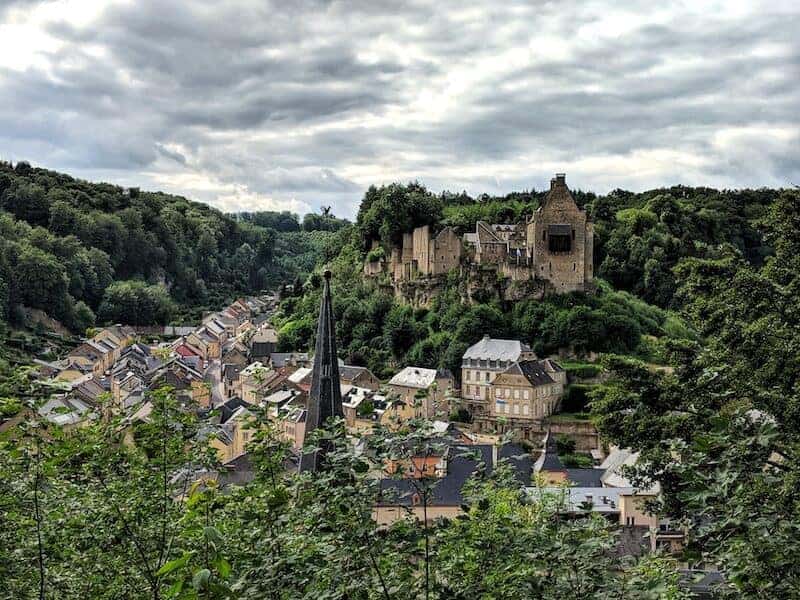 Larochette Castle is the second set of castle ruins on our epic Luxembourg Castles list and is perched atop a sandstone promontory 150 metres above the Valley of the White Ernz and the chocolate box village of Larochette. Unfortunately a large portion of the castle was detsroyed by fire in the 16th Century, however you can take yourself on a self-guided walking tour of the ruins to get a feel for what it used to be like.
p.s. If you want to capture this shot, make your way to the church in the center of the village and take the small path on the right behind the building. You'll traverse up a dirt path and start to rise above the city. Keep walking to the end and you'll come to a seating area where this image was taken from, which would also be a perfect place to watch the sunset!
.
Chateau De Stepfontaines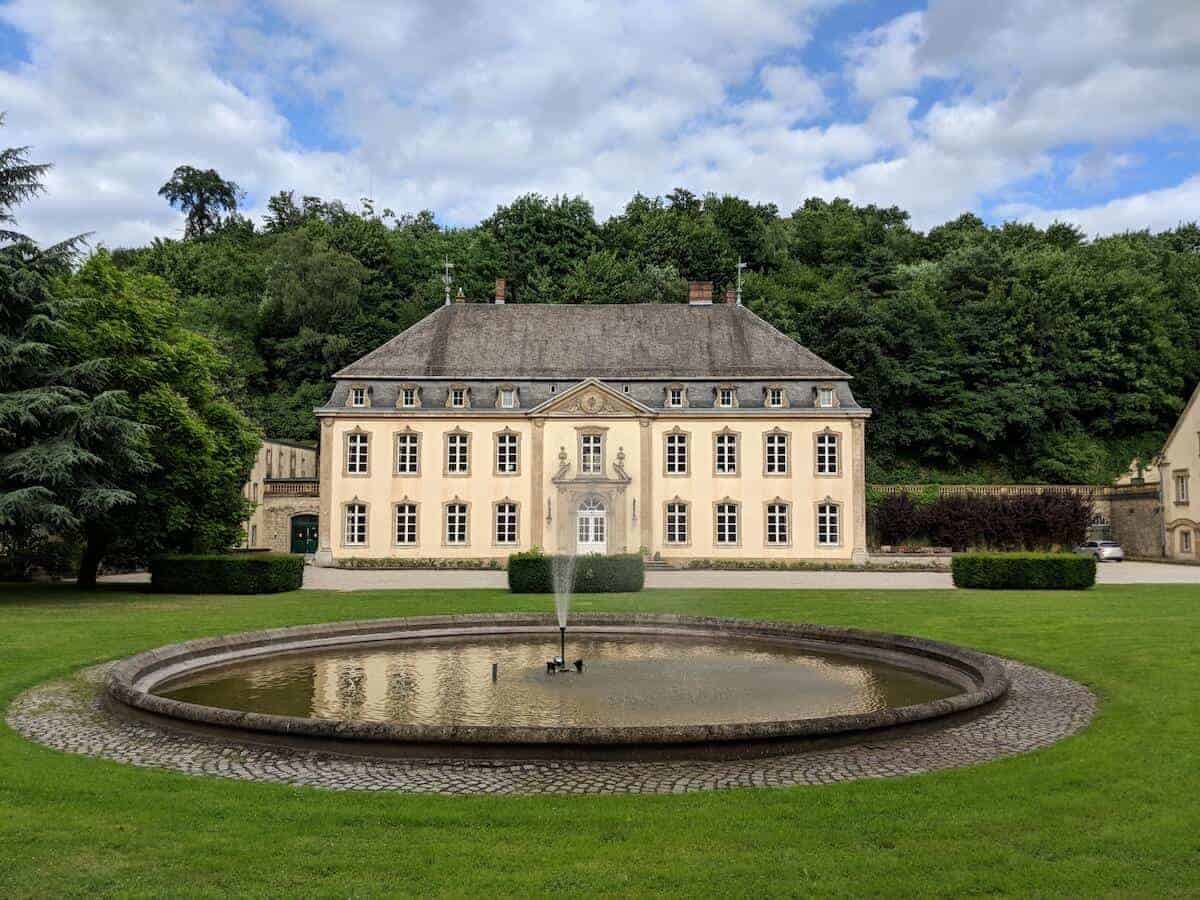 This stunning listed building is located only a short drive from Luxembourg's center. It was built in the 18th Century to serve as a stately home for the Boch Borthers after they had opened their porcelain factory nearby and has remained part of the Villeroy & Boch empire until this day. Inside the Château de Septfontaines the rooms testify to the success of the Boch brothers as porcelain of all shapes and sizes decorates the walls and the windows, and it is predominantly used as a function venue, or for hosting guests of Villeroy & Boch.
Septfontaines also used to have a medieval castle, built in the 14th century that was largely destroyed by fire and fell into disrepair. The ruins are now privately owned and are not open to the public.
.
Clervaux Castle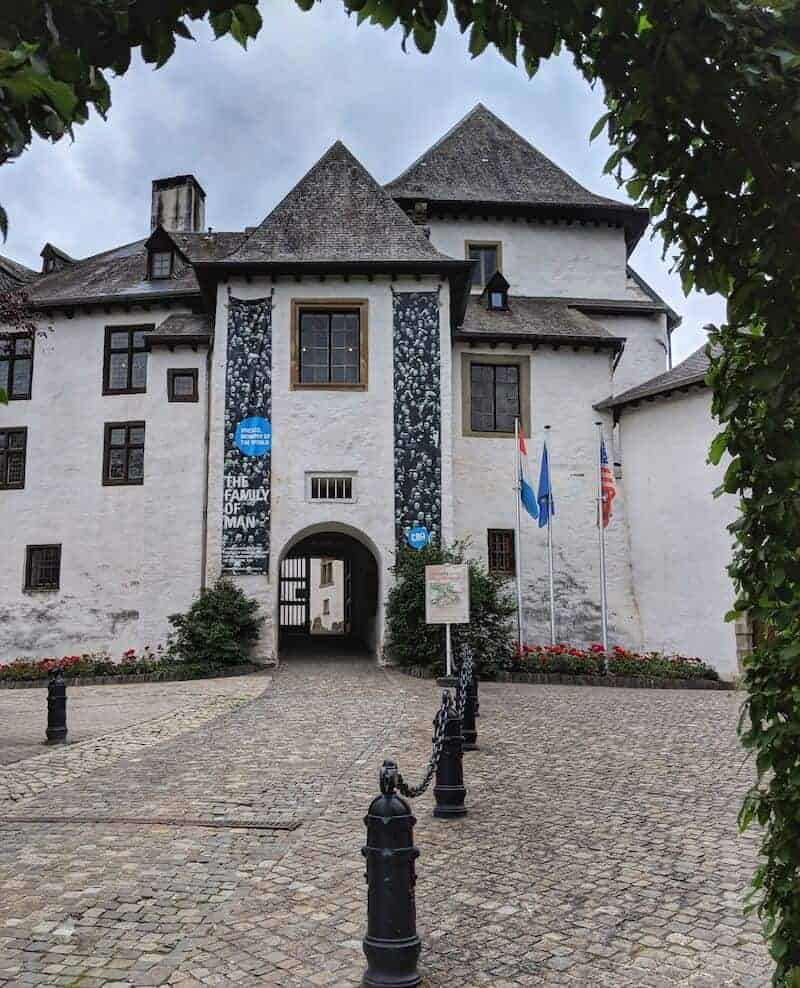 Clervaux Castle sits high above the village of the same name in the Northern part of Luxembourg. It traces its roots back to the middle ages, however much of the structure was destroyed in World War II, and what we see today is thanks to reconstruction efforts. The Castle is home to the beautiful photography collection, The Family of Man.
It is made up of 503 photographs by 273 artists, from 68 countries, brought together by Edward Steichen for the New York Museum of Modern Art and toured the world between 1955-1962 visiting 37 countries and 6 continents. It was viewed by over 9 million people and is now a permanent exhibit at Clervaux and was inscribed in the UNESCO Memory of the World register in 2003.
Clervaux Castle is also home to a castle museum which features to-scale models and dioramas of almost every castle in Luxembourg. Entry to both exhibits is free for those with a Luxembourg Card.
And that's a wrap folks! I hope this post has given you some castle-inspiration for your visit to Luxembourg, and if our top 10 Luxembourg Castles are not enough for you, why not consider visiting the 12th century Wiltz Castle, 11th century Hollenfels castle, 19th century Heisdorf castle or Bourglinster castle which is now home to a Michelin star restaurant – overall, there are plenty of castles to explore!
Oh, and if you liked this article please tweet, flip, pin or share with your castle loving friends on Facebook – I'd really appreciate it!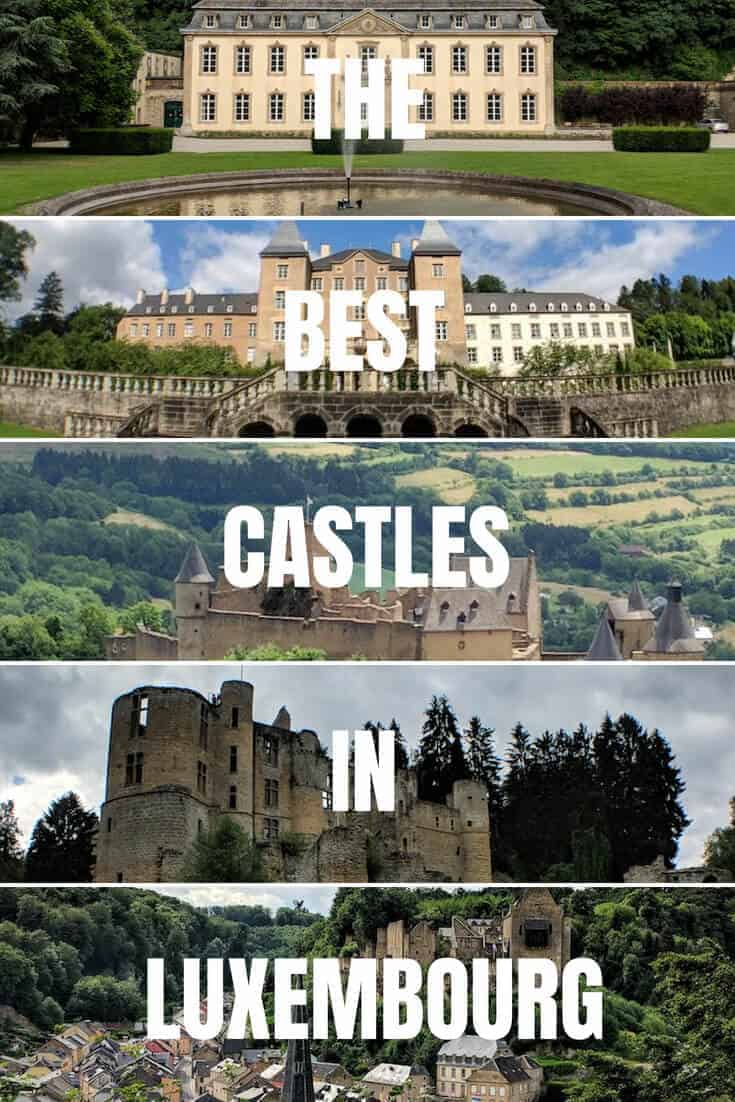 READY MORE TRAVEL INSPIRATION? YOU MIGHT BE INTERESTED IN THESE ARTICLES:
Hi There! Thanks for reading my ultimate guide to 10 INCREDIBLE Luxembourg Castles: Straight Out of a Fairytale – and Perfect for a Roadtrip! I just wanted to let you know that this travel guide may contain affiliate links, which means if you purchase something after clicking a link, I may get a small commission – which is at absolutely no cost to you. If you enjoyed this article and are going to be searching for some of the things I mention anyway, I would love it if you could click through from the links above & thank you in advance! Read my full Disclosure here. And thank you for reading the MakeTimeToSeeTheWorld Travel Blog.
10 INCREDIBLE Luxembourg Castles: Perfect for Visiting on a Road Trip!
was last modified:
February 16th, 2021
by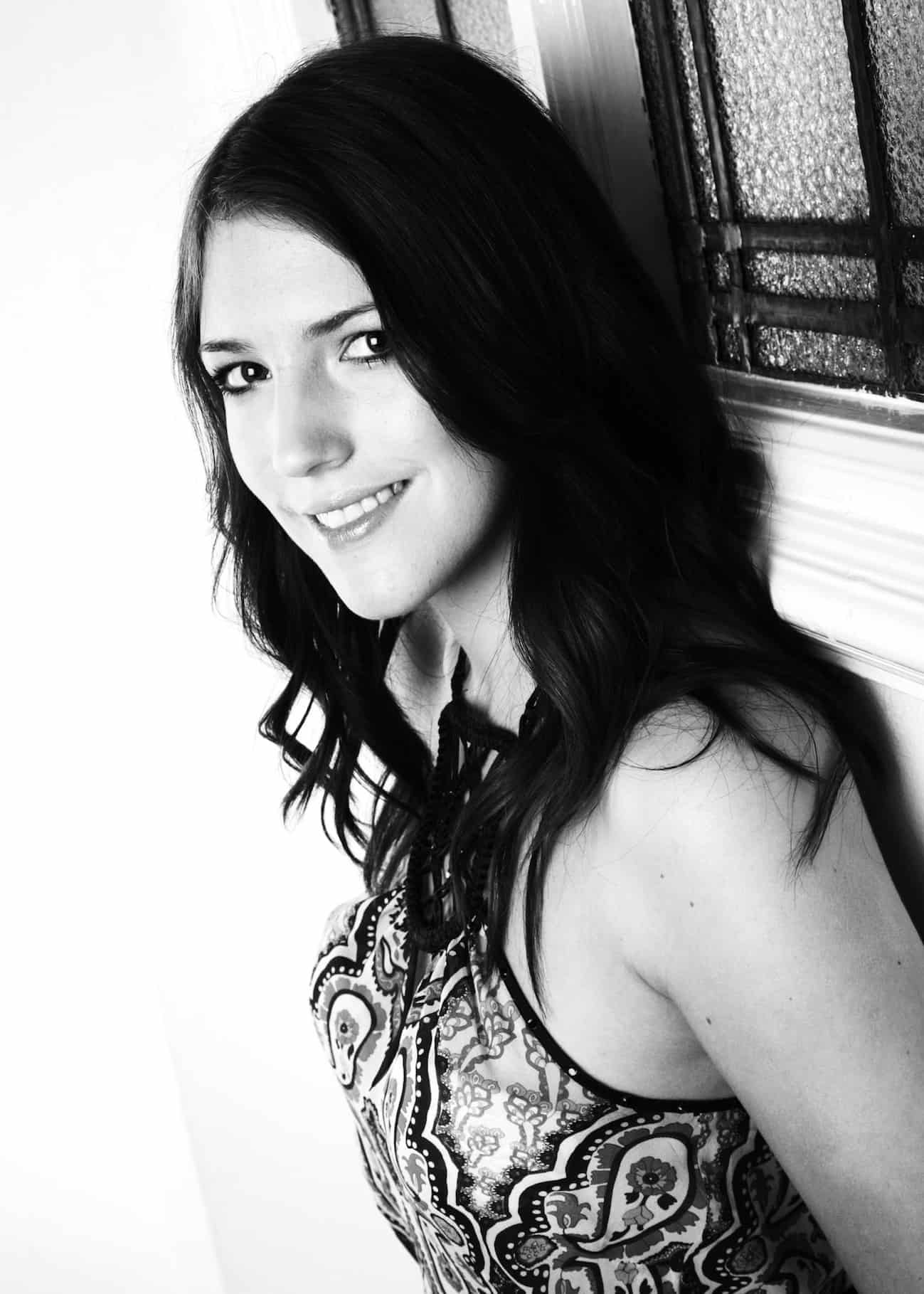 Vicki is the Lawyer turned Content Creator, Editor-in-Chief and all round Boss Lady at MakeTimeToSeeTheWorld.
She has lived and worked in 7 different countries and started the site to show everyone that it is possible to travel whilst holding down a full time job (because not everyone can – or wants to – quit and walk away from it all).
Her style of travel has always been to get the best out of a destination as a time poor traveler making the most of limited vacation days and all without breaking the bank; BUT she does know where to save and where to splurge to have the most incredible travel experiences – such as luxury hotels and over-water bungalows, safaris, spas and more(!) – where the situation calls for it.
To see where Vicki's work has been featured online, visit our Featured Elsewhere page.
– and if you are a travel brand who would like to find out how to work with Vicki, contact her here.