If you've been looking for things to do in Bucharest you've probably come across the usual lists including wandering the picturesque Old Town, exploring abandoned buildings, visiting the monstrous Palace of Parliament or lounging in one of the many urban parks. What you probably haven't seen on many to do lists is the incredible Therme Bucuresti – the largest wellness center in Europe. Boasting a range of amazing facilities including thermally heated indoor and outdoor pools, themed saunas, mineral pools, water slides, steam rooms and infra-red treatments (all of which are included in the bargain priced entry fee) – it's easily Bucharest's best kept secret and the perfect place to relax during your city break.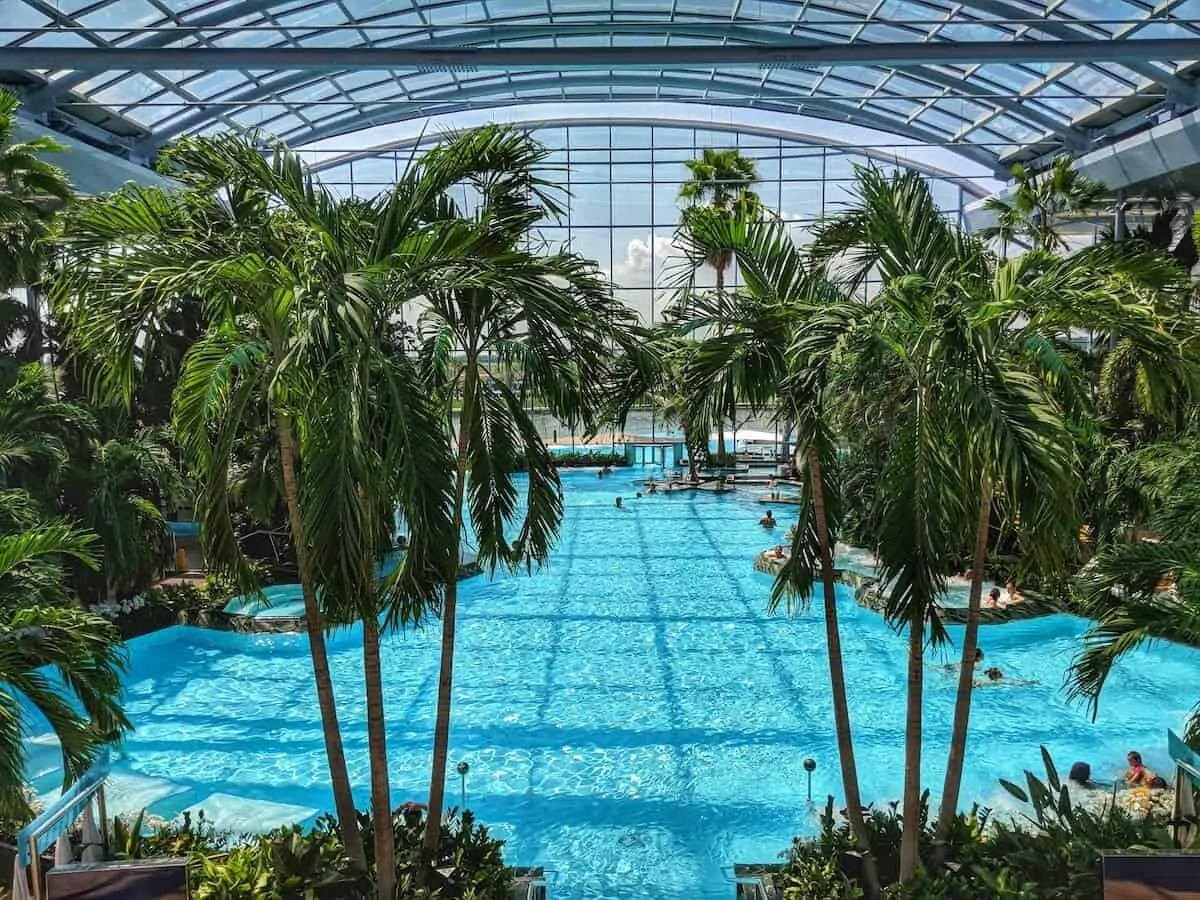 .
How it Works @ Therme Bucuresti
Prices
There is different pricing across the three different areas, with Galaxy (the family area) being the cheapest at with prices from 49 Lei for 3 hours to 75 Lei for a full day for adults.
The Palm – which also allows access to Galaxy – prices range between 59 Lei for 3 hours to 85 Lei for a full day.
And for Elysium – which allows access to all areas – prices range between 79 Lei for 3 hours and 109 Lei for a full day pass. (see below for full details of each section)
These prices are correct as of June 2018 and there are different discounts depending on the time of day you visit and if there are specific events on.
A quick exchange rate is 10 LEI = $2.50USD, €2.15EUR & £1.90GBP. That makes the most expensive ticket (109 for 1 day pass to Elysium on the weekend) a grand total of $27.50USD/€23.50EUR/£20GBP – it's an absolute bargain!
Check today's exchange rate here and the Therme Bucharest website for current prices.

Lockers & Changing Facilities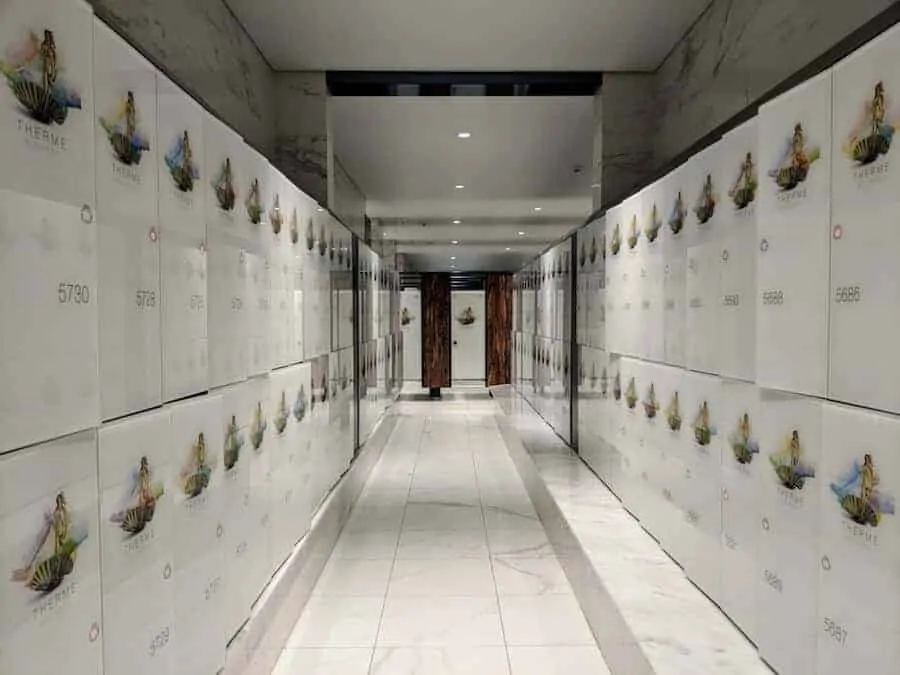 Each area in the Therme Bucuresti Spa has their own changing facilities, bathrooms, showers and lockers. The electronic bracelet contains a number and this corresponds to your assigned locker -which in The Palm and Elysium areas – are big enough to fit a hand luggage 4 wheel spinner case (like this one with the dimensions 56x45x25 cm) along with my handbag, shoes and jacket.
There are also changing cabins for those who like a little more privacy – they a little confusingly have doors on both sides – which can be locked simultaneously by pulling down the wooden shelf.
.
Cashless System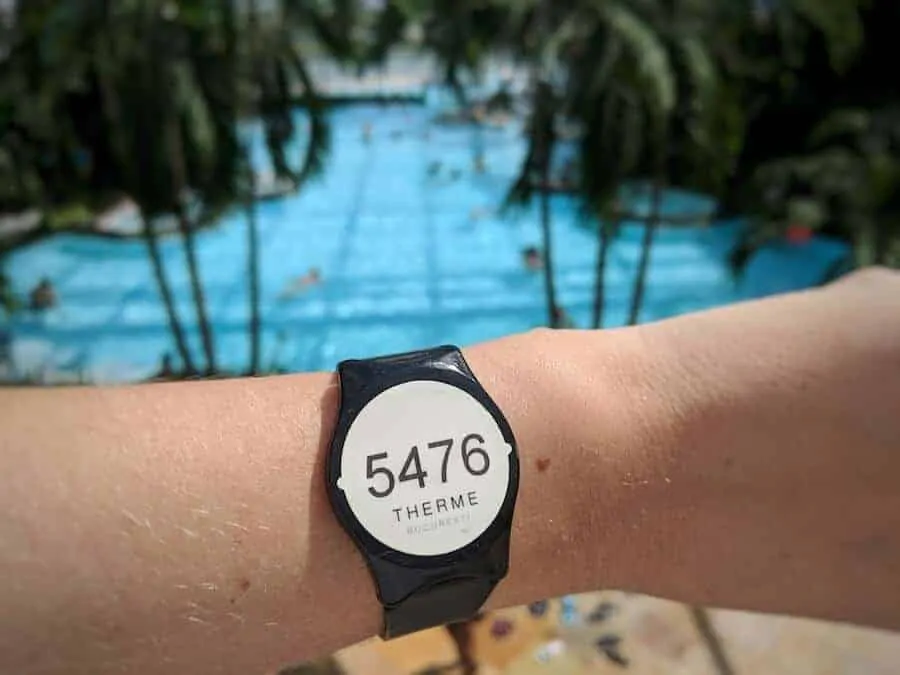 The Electronic Bracelet that you are provided with on entry is not only your locker key but also your virtual wallet whilst inside Therme Bucharest. From purchasing drinks at the swim up bars, to grabbing a bite to eat in one of the cafes/juice bars – or even upping your relaxation with one of the many massage options available from the Therapy center in Elysium, all it takes is a swipe of the wristband.
.
Dining Options in Therme Bucuresti
Each area has their own dedicated restaurant and your entry ticket dictates which ones you can use. For example, a Galaxy ticket means you can only dine in the Galaxy area, however an Elysium Ticket gives you access to all the bars and dining options throughout each area. Prices are a little more expensive that in the city, but they are not unreasonable. With salads and sandwiches around 20-25 Lei, beer and wine at 10 Lei, cocktails are 15-25 Lei and items from the Grill between 25-35 Lei.
.
What you Need to Pack
This one may seem straight forward, but I'm going to give it you anyway:
Bathers (you can buy them there, but everyone already has their own, right?!)
Flip Flops are MANDATORY throughout the facility. You can also purchase them there but they are not cheap.
Towel – again you can hire them on site (and might be a good idea if you are heading to their airport straight after and don't want a heavy wet, towel in your bag!) You also need a towel to sit on/place your feet on inside all of the Saunas.
Sunglasses – Therme Bucuresti is essentially a giant greenhouse and comes complete with outdoor facilities. It is definitely a good idea protect your eyes from the sun – especially in summer.
.
Therme Bucharest Facilities
The giant complex of Therme Bucuresti is spread across 30,000 sq m, has a capacity for 800 people and is 20km from Piata Romana in Bucharest's centre and a short 7 minute drive North of Henri Coandă International Airport in Otopeni. It's also the largest Botanical Garden in Romania and has over 800,000 plans (inc 1,500 palm trees) within the complex making for a tropical leafy paradise.
There are three different areas within the complex – Galaxy, The Palm and Elysium, each have their own dining options and offer different facilities, attractions and treatments. No reservation is necessary for the treatments, you simply turn up 5 minutes before the allocated time, and the different activities are helpfully posted on screens throughout the facility.
.
Galaxy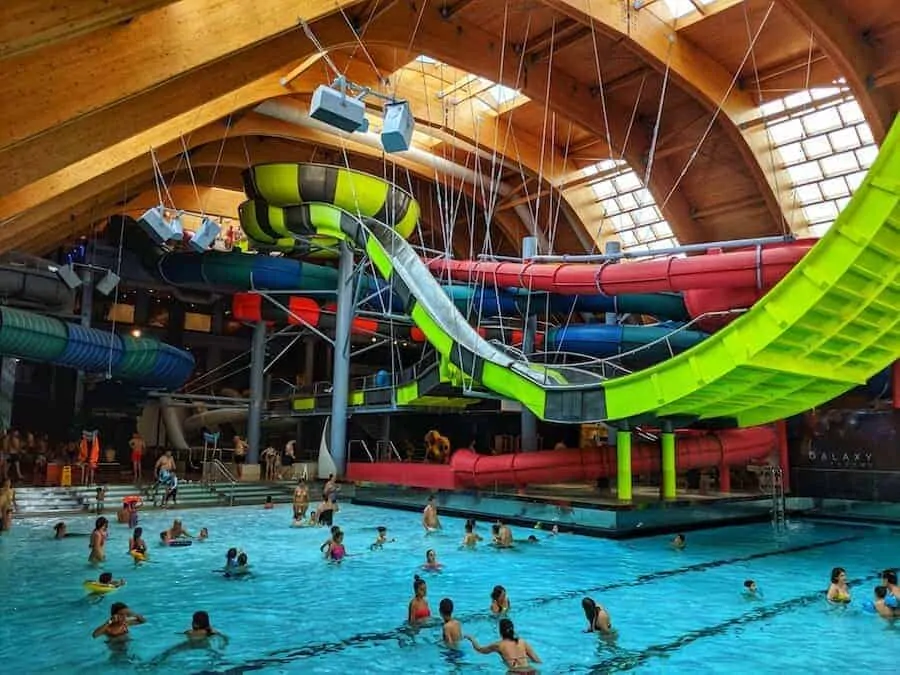 Perfect for families, the Galaxy area has water slides for kids of all ages (even the big ones), a wave pool and outside, a sandy beach area. There is also a wet sauna, himalayan salt treatment and reading area, infra-red beds and interactive play areas throughout and daily treatments include clay face-masks and in-sauna body peels.
.
The Palm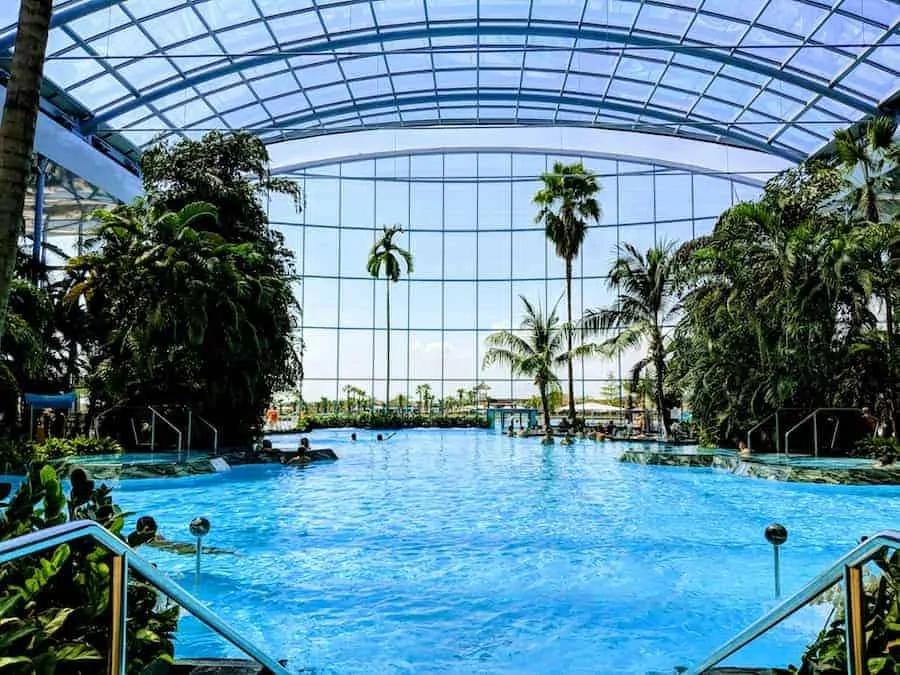 The Palm is the first of the adults-only* complexes and is set in a luscious tropical gardens with indoor and outdoor swimming pools (all with swim up bars), mineral pools, in-pool Jacuzzi sections, day beds, sun loungers, terraces and is the only area with a juice bar. Free treatments/activities include aqua gym, hydro balance, peeling in the wet sauna, clay face masks and in the evening live DJ sets.
(*babies and very small children are allowed)
.
Elysium
Take your relaxation to the next level with access to 6 differently themed saunas, infra-red beds, mineral pool with swim up bar, calla shower (in the shape of a flower, the freezing water cascades from it's petals and is designed to be refreshing after a sauna sesh), carpeted cabana and day bed area and several different Aufguss Ritual Procedures. Elysium is located on the level above The Palm and your ticket covers entrance to all sections of the facility.
What's Aufguss?
Aufguss is a Nordic Inspired wellness, purification and entertainment ritual performed in a sauna and designed to heighten the effects of the steam and heat combination experienced therein. And put simply, where has it been all my life and why have I never heard of it before?! Whilst sitting in the sauna, an Aufguss Master uses a range of different infused ice on the coals/heat source and then uses towels or fans to waft the aromas towards you.
The different themed sauna's, temperatures and humidity levels lend themselves to different scents and senses, with the Liquid Gold – a honey and salt exfoliating and softening mask self-applied whist experiencing Aufguss – and Silk Road Aufguss featuring HoLeaf, Patchoeli, Geranium, Nutmeg and Coriander were two of my favorites, along with the guided sauna session in the Himalyan Salt room which encourages better breathing techniques which help oxygenate your blood. (It's called the Prana treatment if you're looking at the list).
Evenings in Therme Bucuresti
Mood lighting, live music and laid back summer vibes, an evening at Europe's largest relaxation and wellness center surrounded by palm trees orchids and several pool bars is the ideal destination for a girls night or even as part of a hen party. Bucharest isn't just for boys you know! The perfect place to experiment with Aufguss Treatments and mineral pools dedicated to your wellbeing and embrace a culture of wellness that gets lost in the rush of everyday life.
RELATED –
Ready to get out of Bucharest? Take a look at these other
cities in Romania
that are totally worth visiting.
.
How to Get to Therme Bucuresti
From Bucharest City Centre
From the city centre, Therme Bucuresti Balotesti offers a free shuttle bus 7 days a week, departing from Piata Romana, stopping at a few points north of the city and and arriving right outside the doors of the giant spa complex. At Piata Romana the bus stop is located at the top of the roundabout and is clearly marked in Therme Branding. Click for the Therme Bucuresti Shuttle Timetable.
To or From Henri Coandă International Airport
Being in such close proximity to the airport, Therme Bucharest is a great place to spend the day if you have an afternoon or evening flight out of the country. Taxi drivers in Bucharest have a terrible reputation for trying to rip customers off, and even though the taxi ordering system at Therme itself has a list of operating procedures to try and stop this, Uber is a much better option (use x code for $ off your ride). A taxi will cost you approximately 30 Lei, an Uber is between 10-15 Lei depending on traffic.
.
And that's a wrap folks! I hope this post has given you a run down of everything to expect at Therme Bucharest – and convinced you too add a visit to one of the best wellness spas in Europe to your Bucharest city break.

Oh, and if you liked this article – or have already been on to Therme Bucuresti, please tweet, flip, pin or share with your spa loving friends on Facebook – I'd really appreciate it!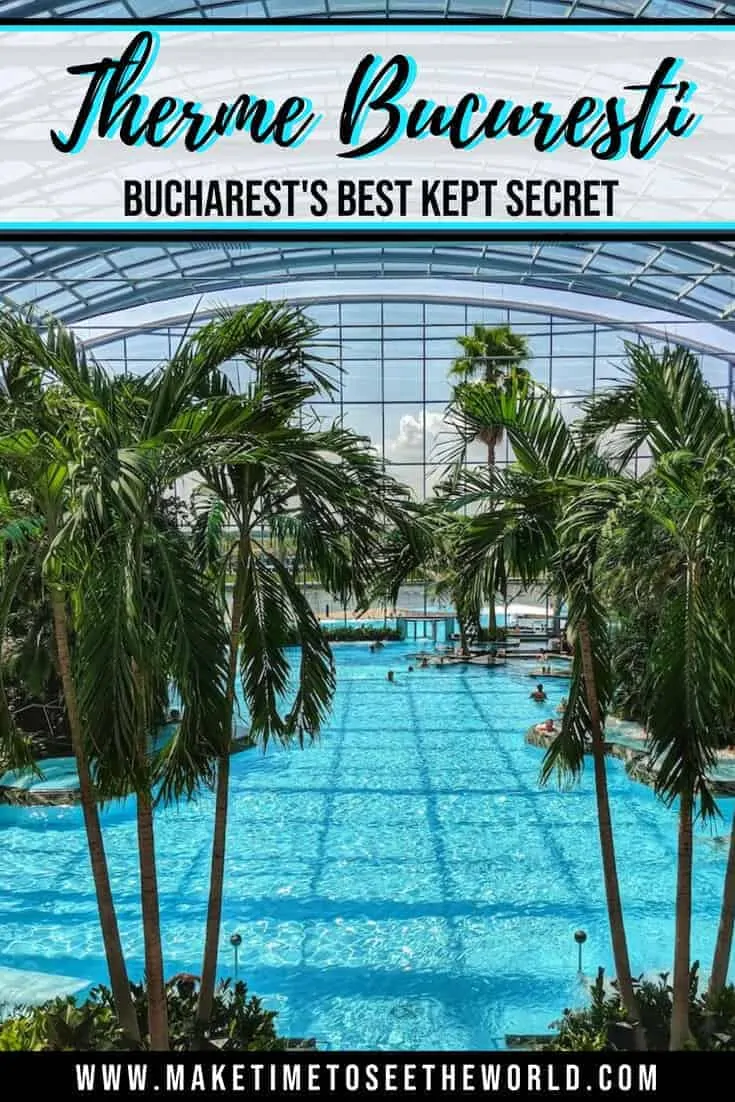 READY MORE TRAVEL INSPIRATION? YOU MIGHT BE INTERESTED IN THESE ARTICLES:
Hi There! Thanks for reading my ultimate guide to Therme Bucuresti – Bucharest's Best Kept Secret. I just wanted to let you know that this travel guide contains affiliate links, which means if you purchase something after clicking a link, I may get a small commission – which is at absolutely no cost to you. If you enjoyed this article and are going to be searching for some of the things I mention anyway, I would love it if you could click through from the links above & thank you in advance! Read my full Disclosure here. And thank you for reading the MakeTimeToSeeTheWorld Travel Blog.