Riga, the coastal capital of Latvia set on the Baltic Sea is a stunning town that is – thanks to multiple budget airlines now flying there – really starting to find it's feet as a tourist destination in Europe. Old world charm meets hipster neighborhoods, and parks and beaches vie for the attention of culture vultures who love the old town and variety of museums that are set in this compact capital. If you have grabbed yourself a cheap flight, let us give you a complete guide to Latvia's capital with 30+ Amazing Things to do in Riga along with a few recommendations for day trips from Riga to really help you make the most of your time. And we have also included a load of helpful info about how to get around Riga, the best time to visit, where to eat and where to stay in Riga – all recommenced by a local – to help you plan the perfect trip.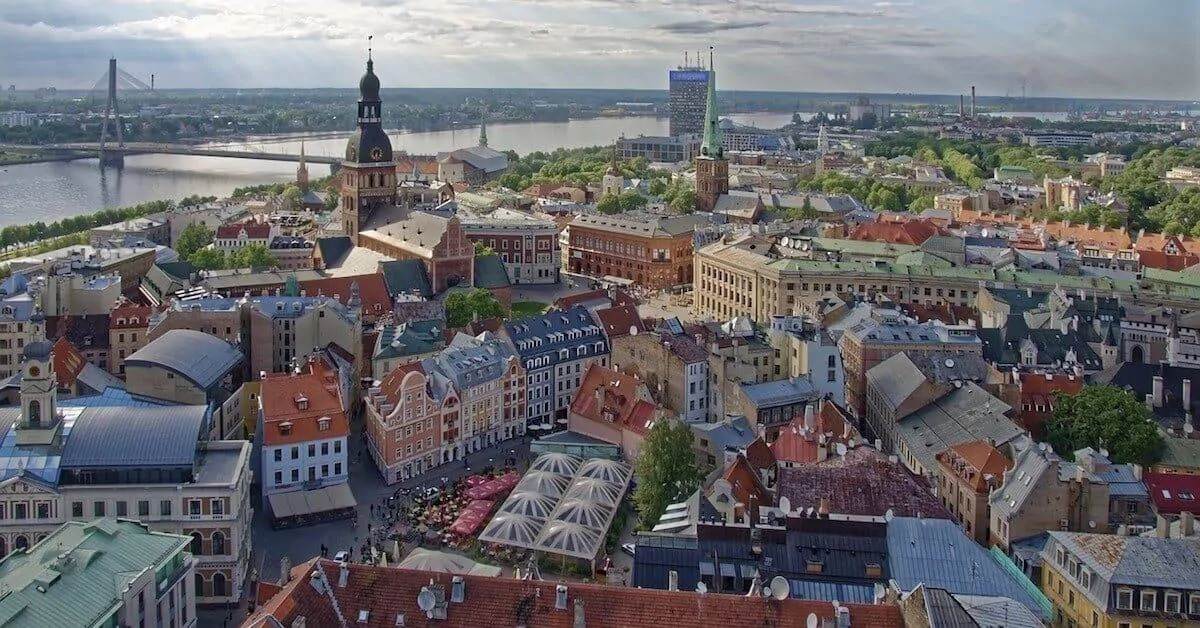 This is a guest post contributed by Una and Kaspars from WeAreFromLatvia.com
Riga is the capital of Latvia, a country in Northern Europe. And also – my hometown. It's a beautiful city on the coast of the Baltic sea, rich with sights and landmarks.
Many tourists coming to Riga only spend time in on around Riga Old Town but there's much more to it that the city's captivating historical center. To help you plan your trip to Riga I have created this locals guide. Here you will find my tips on how to get around, where to stay, and what to eat. Plus I'm including a list of 30 of my favorite places to visit in Riga.
Riga: What To Know Before You Go
How to Get to Riga
Flying is the best option (unless you are coming from Estonia or Lithuania). Riga is just a short flight away from many European capitals, and flights in Europe are typically dirt cheap (check Skyscanner for deals!)
Also you can get to Riga by bus from Lithuania, Estonia, Russia, Germany, Belarus, and Poland. There are several long distance coach companies (Lux Express, Ecolines, Eurolines) that operate from / to Riga. The buses are new, well-maintained and comfy.
The best way to travel between the Baltic countries is by bus. There are direct buses connecting the largest cities in the Baltics. A bus ride takes only a few hours, as the distances aren't long. However, unlike other European capitals and large cities, Riga is not well connected (yet) with other countries via rail. You can get to / from Moscow, Saint Petersburg, and Minsk in Belarus by train from Riga, and that's pretty much it.
Best Time to Visit Riga
The best time to visit Latvia is during the summer – mid-June to late August or early September. This is when it is warm (finally!), and temperatures can reach 33°C. (91.4°F).
Latvia has more than 500 km of coastline, and mostly it's yellow sand beaches. The swimming season in Latvia is short – just some 6 to 8 weeks, and if you are visiting Latvia during July and / or August you might even go for a swim in the sea!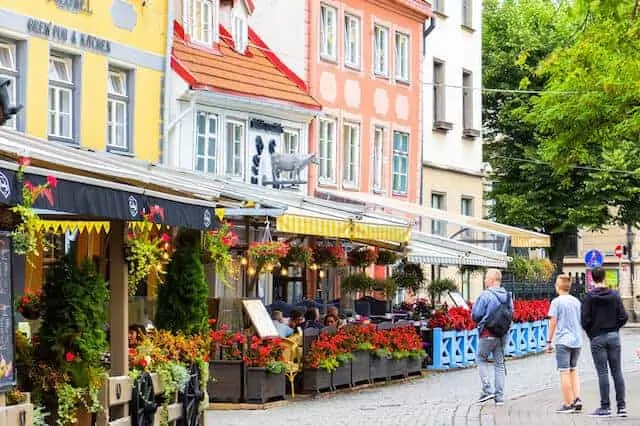 Getting Around Riga
Unfortunately, getting around Riga is not as easy as in other European cities, unless you take a taxi or drive a rental car. There is no underground which is usually the easiest way to get around but there are several types of transport available to visitors. These include – buses, trams, trolleybuses and minibuses, as well as express buses. There are also night buses.
Timetables and transport routes can be found on Rigas Satiksme webpage, as well as in the app "Transport LV" (available on IOS & Android). They can also be downloaded in pdf to use offline, and stops are also marked in google maps.
To use public transport in Riga you have to buy tickets (a yellow card called "E-talons") prior to boarding. You can get them in several places including Narvesen, Maxima, Circle K and Rimi stores, as well as from special vending machines. There are single-use tickets (1.15 EUR) as well as 24 hour, 3 day and 5 day tickets (5, 10, 15 EUR, respectively). You can buy a card with several single-use tickets in it if you plan to make multiple journeys whilst you are in the city. And if you forget to buy a ticket, you don't need to worry about hefty fines like in other countries, as you can buy a single ticket from the driver. It will just cost you practically double the price at 2 EUR. You can find more info on public transport in Riga here.
It is possible to travel also by train. It's especially convenient when you want to go to the seaside or on a day trip to nearby cities. Train tickets can be bought at a counter in the station, and timetables are available in English online.
Just like anywhere else in the world, taxis are widely available in Riga. And, good news – they're not expensive. However, the best way to call a cab is to use one of ride hailing apps – Taxify or Yandex Taxi – which are both even cheaper than the regular taxis!
.
Where to Stay in Riga
Riga is a good place to travel to both for luxury travelers and budget travelers. Riga is heaps cheaper than Western European capitals but there still are plenty of luxury hotels and excellent fine dining restaurants.
.
Where to Eat in Riga
Here are a few options where to eat and have a drink in Riga (including where to try some traditional Latvian food). You'll also find more info on more dining options in some of the things to do in Riga listed below!
Where to eat in Riga on a Budget:
– LIDO – an inexpensive restaurant chain that specialises in Latvian cuisine.
– Silkites and Dillites – a restaurant that serves traditional Latvian sea food dishes.
Mid-range Eats:
– d'Arte Terrace – a nice restaurant in Galleria Riga mall. During the summer the restaurant terrace is open and has absolutely beautiful views of Riga!
Fine dining:
– Vincents – the most popular fine dining restaurant in Riga.
– Biblioteka No 1 – one of the best fine dining restaurants in Riga.
Where to grab a beer in Riga:
– Labietis – a popular brewpub that brews more than 40 beer varieties.
.
A Perfect Riga Itinerary: Things to Do in Riga over 3 Days
Visit Vecriga (The Old Town)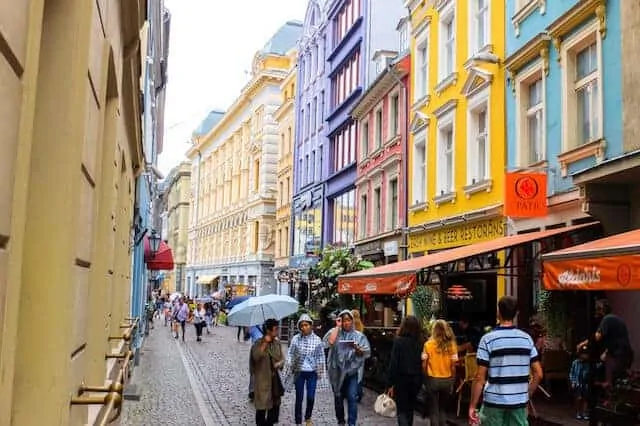 Vecriga, the historical center of Riga, is the most picturesque neighborhood in Riga. It is one of the best places to see in Riga, and one you definitely should not miss on your visit to the city. Go on an old town walking tour to get a feel for the area and then explore narrow cobbled streets and historical buildings on your own to find some of my favorite places to go in Vecriga:
Three Brothers – a building complex of tree houses which are among the most famous buildings in Old Riga. This complex is the oldest residential buildings complex in Riga.
St. Peter's Church – the highest church in Riga (123 m / 404 ft). Head there to see a panoramic view of Riga from a viewing platform at height of 72 metres (236 ft)!
House of Blackheads – another famous landmark in the Old Town. House of the Blackheads was used by a guild of merchants and shipowners. The building was destroyed during the WWII, and it was rebuilt in 1999.
Black Magic Cafe – a medieval-themed cafe where you can taste Riga Black Balsam, a famous alcoholic drink made with different natural ingredients, and have a slice of cake made with Black Balsam cream!
Learn More About History of Latvia
Head to any of the below museums to learn about the history and culture of Latvia. Of course, all of these museums are worth a visit but a weekend is not enough to visit all of them. But If you have more than 3 days, I really recommend you to visit all of them.
The KGB Building a.k.a The "Corner House"– a former Soviet political secret police (KGB's) headquarters in Latvia, and a prison for the "Soviet enemies", usually – innocent people. The prisoners were tortured and executed there. Now it's a museum, and you can go on a guided tour and find out what atrocities used to happen in the chambers, rooms and corridors of this place.
National History Museum of Latvia – a great place where you can learn more about history of Latvia. There you'll find various artifacts (money, weapons, clothes, sculptures, money, cooking utensils, furniture etc.) from the ancient times to present days.
The Ethnographic Open Air Museum of Latvia – one of the oldest outdoor museums in Europe. A place where you'll feel like you have gone back to the past! Here you'll see old wooden historical buildings, vehicles, old household objects and structures.
Museum of the Occupation of Latvia. In the Museum of Occupation you'll find out what was happening in Latvia and to its citizens during its occupation during the Second World War (1940 – 1991).
Latvian War Museum – one of the oldest and largest military history museums in Latvia with an impressive collection of historical objects. There you can learn more about Latvia's military and political history.
Latvian National Museum of Art – featuring the richest collection of national art in Latvia. It is home to more than 52,000 works of art reflecting the development of professional art in the Baltic area and in Latvia from the middle of the 18th century until the present time
Riga Motor Museum – OK, so this one is not totally related to the history of Latvia, but it is the biggest antique vehicle museum in the Baltic countries and gives a unique insight to how vehicles came to be and developed in the region.
.
Check out Art Nouveau Architecture and Visit The Riga Art Nouveau Museum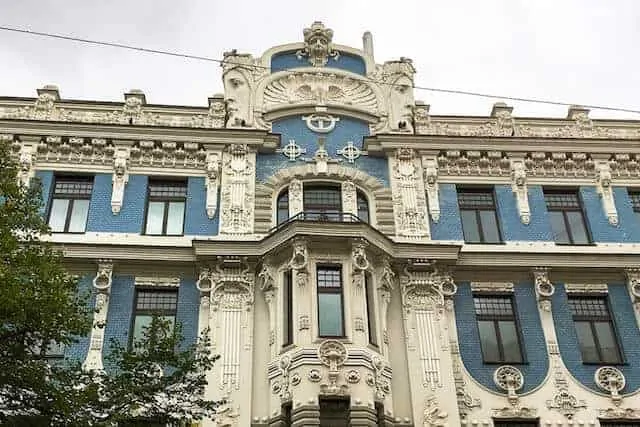 Head to Alberta Street to see beautiful Art Nouveau architecture. It's not the only place in Riga where to see it but clearly is the best place – because of the many Art Nouveau buildings that are located in one quarter. It's unsurprising that the art nouveau district is essentially thought of as an open air art museums)
Riga Art Nouveau Museum is also located at 12, Alberta street. It is set in an apartment of Konstantins Peksens, the most prominent Latvian architect (1859 – 1928). It's an apartment in an early 20th- century Art Nouveau building. Beautiful furniture, ornaments, spiral staircase, and ceiling paintings will take you back in time. We recommend joining a guided walking tour to get the most from this part of town.
And if you are interested in architecture, be sure to check out the Latvian National Opera (which is also home to the Latvian National Ballet, LNO Chorus, and LNO Orchestra) and is housed in a beautiful Neoclassical/Classical Style Building.
.
Visit Riga Central Market
It's not only a good place for grocery shopping but also a great place to sight-see. Built in 1930, Riga Central Market is one of the largest outdoor markets in Europe. Five old zeppelin hangars were used to build the pavilions of the Central Market. There are only a few zeppelin hangars left in the world, and the 5 of them are located in Riga – in the Central Market!
The market consists of the five pavilions and on open area where vegetables, fruits and clothes are sold. There are separate pavilions for dairy products; meat; fish; vegetables and fruits; and confectionery, spices, cakes. You can also buy various unique Latvian products, such as marinated herring, lampreys, Latvian cumin cheese, dried and salted mushrooms, bog cranberries, hemp butter, rye bread, sea buckthorn syrup and many more.
Riga Central Market is also a good place to look for traditional souvenirs such as amber jewellery, woodwork, and knitwear.
And after all that shopping you will be ready for a bite to eat so don't forget to pop into "Silkites and Dillites" – a local sea food market which is located in the Central Market, as well as the pub "Labietis" in case you want a beer to round out the day.
.
Visit Miera Street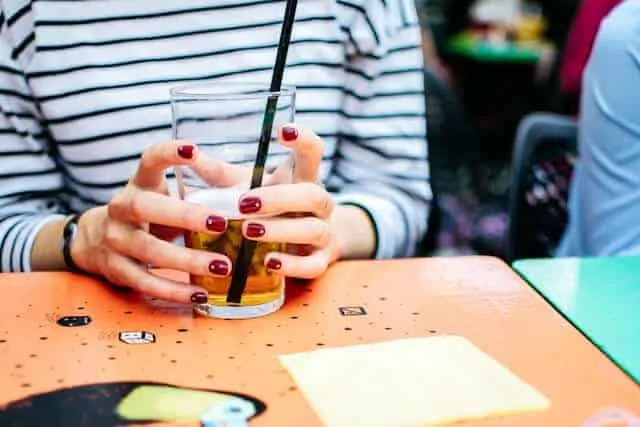 Head to Miera Street (Miera iela) to have a drink in Riga's hipster neighbourhood. Miera street area is considered to the the most creative and alternative neighbourhood in Riga and there are a few cool places for you to check out:
Taka, an alternative pub for creative people, which is very popular among locals is located at 10 Miera Street. Head there if you love craft beer. Snacks, tea and coffee are also available.
Cafe Miera (9 Miera Street) is a nice, cozy place where to have a coffee and a slice of cake. Its vintage interior design makes you feel like you've traveled in time, and it's 20th not 21th century right now.
At 19 Miera Street you'll find one of the best tea shops in Riga, ILLUSEUM. It's a great place for tea lovers. Have a cup or buy some tea to take with you back home!
.
Visit Agenskalns and Kalnciems Street Quarter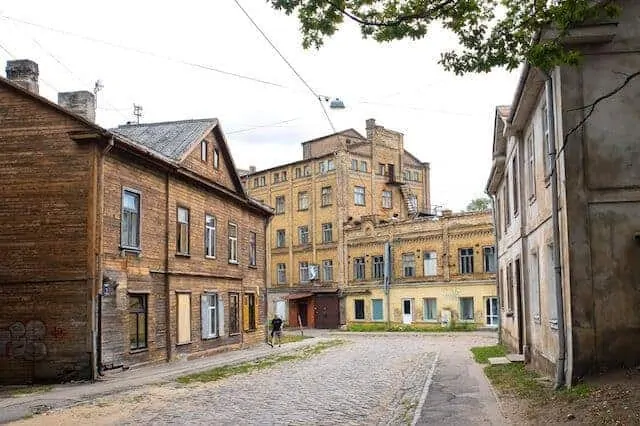 Agenskalns is an old neighbourhood located on the left bank of Daugava. Head there for a relaxing stroll, and explore beautiful historical buildings. Most of them are built in the late 19th – early 20th century. An outdoor market (Āgenskalna tirgus) is one of the main attractions in Agenskalns, as well as the Kalnciema Quarter where many cultural events are held.
On Saturdays (between 10:00 – 16:00) throughout the year you can also find farmer and artisan street markets in the Kalnciems Quarter and the Street Food Festival takes place on Wednesdays, from May to September. Click to learn more about Kalnciema Quarter.
.
Spend Some Time in Parks of Riga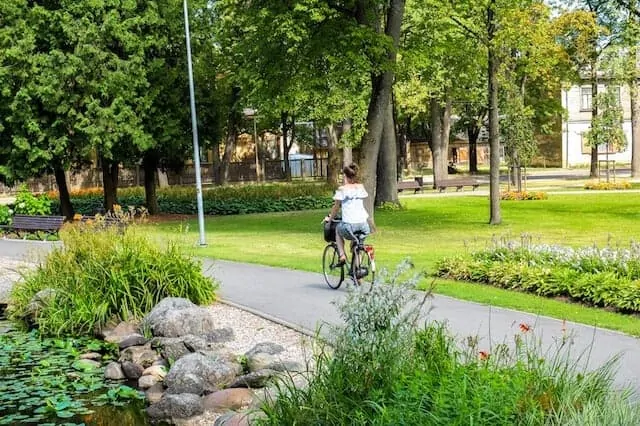 Riga is a green city and there are plenty of parks within easy reach for visitors. There are a few in the city center, close to the Old Town (Bastion Hill park, Vermandarzs, Esplanade park, Kronvalda park) but they are more crowded than the ones on the other side of the river Daugava. My favorite parks in Riga are Arcadia park and Maras Darzs park. These are the perfect places for a relaxing stroll or rejuvenating run.
.
Go Paddleboarding or Wakeboarding in Riga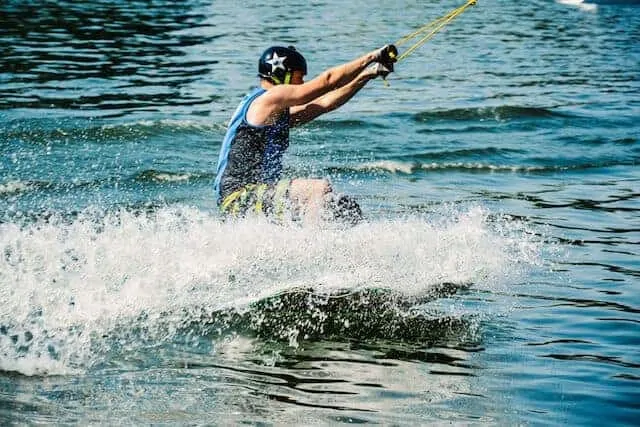 Yes, it is possible! And more importantly, it is not far from the city center! Head to Riga Wake Park in Lucavsala if you are interested in paddleboarding, SUP or wakeboarding. It is located mere 5 km from the Old Town.
And if you have always dreamed about a ride on a wakeboard, this might be your perfect chance! The equipment rental is not expensive and the instructor's fee is already included in the price! Bargain!
.
Go to the Beach in Vecaki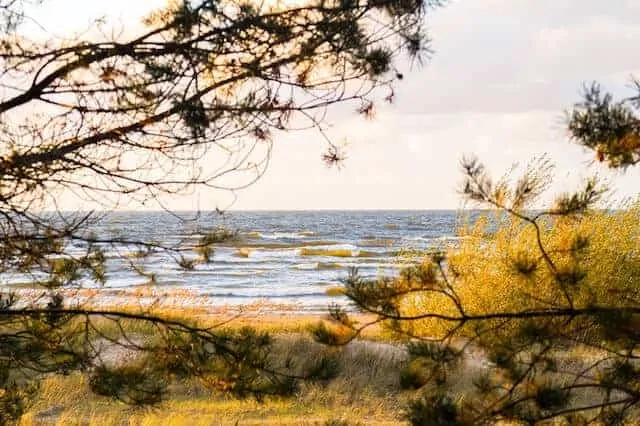 Swimming season is very short in Latvia and is only 6 to 8 weeks. However, if you are visiting Riga during July or August you may even think about going for a swim in the Baltic Sea! There are several beaches close to the city, but the best place for a swim is the Vecaki beach. It is very close to the city, and it's easy to get there. Take a train to Vecaki from the central train station (next to the Origo mall) and you will be there in around 30 minutes. Although, do take note that the water temperature, even in July and August will be, in low 20s °C (~68 °F).
.
Visit Mezaparks and Have Fun at the Mezakakis Adventure Park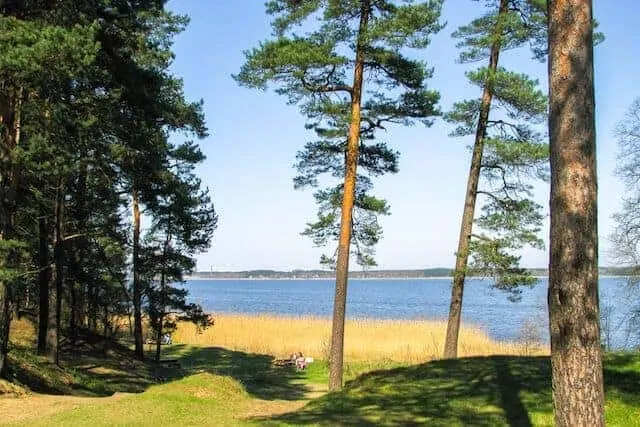 Mezaparks is a large neighborhood in the northern part of Riga. Literally translated it means "a forest park," which is entirely accurate as that is what it is! Mezaparks is a perfect place for a relaxing stroll, or a run.
Various attractions are available there, including the Mezakakis Adventure Park. It's an adventure park with several different routes, including zip lines and different obstacles that are set up on trees at different heights. And if you are visiting Riga during the summer, head to lake Kisezers for a refreshing swim.
.
The Best Day Trips from Riga
If you have a few days free to explore the country, take a peek at these 33 Things to do in Latvia (that aren't the capital!) or take your pick from the best day trips from Riga:
.
So there you have it – hopefully we've given you enough travel inspiration & travel tips to help you plan your visit to Latvia's capital. We also hope we have given you a great list of things to do in Riga and suggestions for the best day trips from Riga to make sure you get the most from your visit and have an action packed weekend in Riga. Don't forget to let me know your own highlights once you're back!

Oh, and if you enjoyed reading this Riga Latvia travel guide please share on Facebook, tweet. flip or pin – I'd really appreciate it!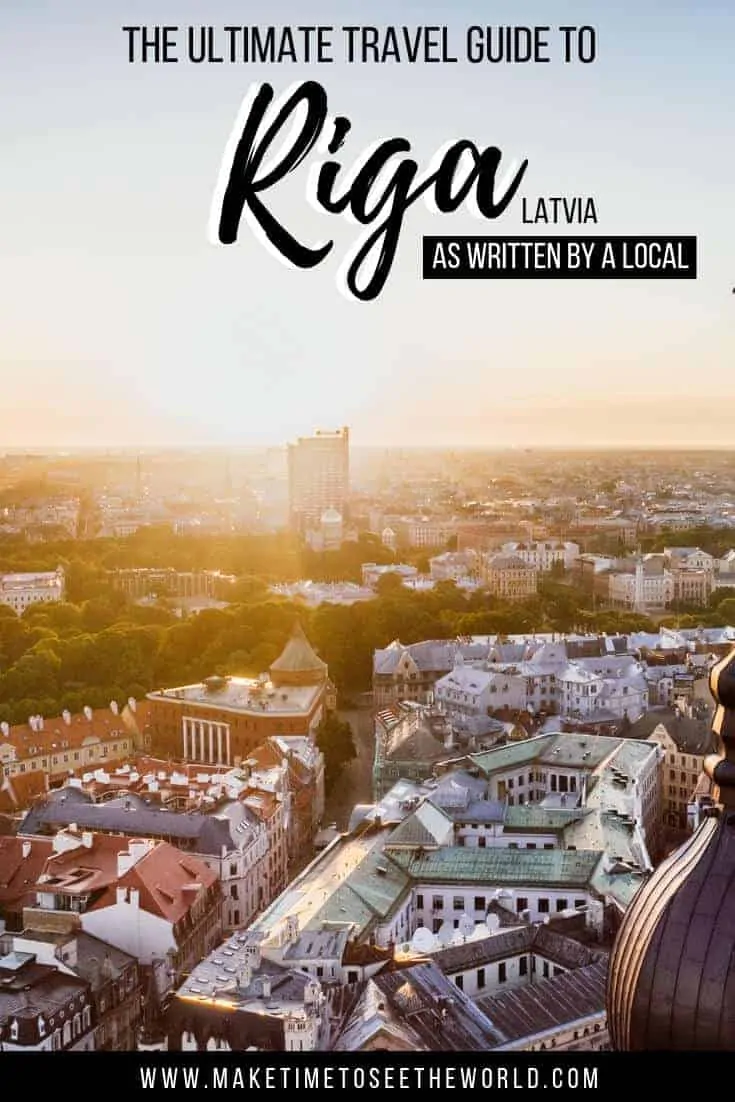 READY TO EXPLORE MORE OF EUROPE? YOU MIGHT BE INTERESTED IN THESE ARTICLES AND RELATED POSTS

Hi There! Thanks for reading our travel guide to 30+ AMAZING Things to do in Riga (+ Day Trip Ideas). I just wanted to let you know that this post contains affiliate links, which means if you purchase something after clicking a link, I may get a small commission – which is at absolutely no cost to you. If you enjoyed this article and are going to be searching for some of the things I mention anyway, I would love it if you could click through from the links above & thank you in advance! Read my full Disclosure here. Thank you for reading the MakeTimeToSeeTheWorld Travel Blog posts.