Luang Prabang is the jewel in Laos' crown. Located in the north of the country on the peninsula created by the Mekong and Nam Khan rivers, the town is surrounded by lush green mountains and is a beautiful example of the fusion between Lao and European culture. Designated a UNESCO World Heritage city in 1995, it's architecture and culture are revered throughout Asia. Read on for the best things to do in Luang Prabang.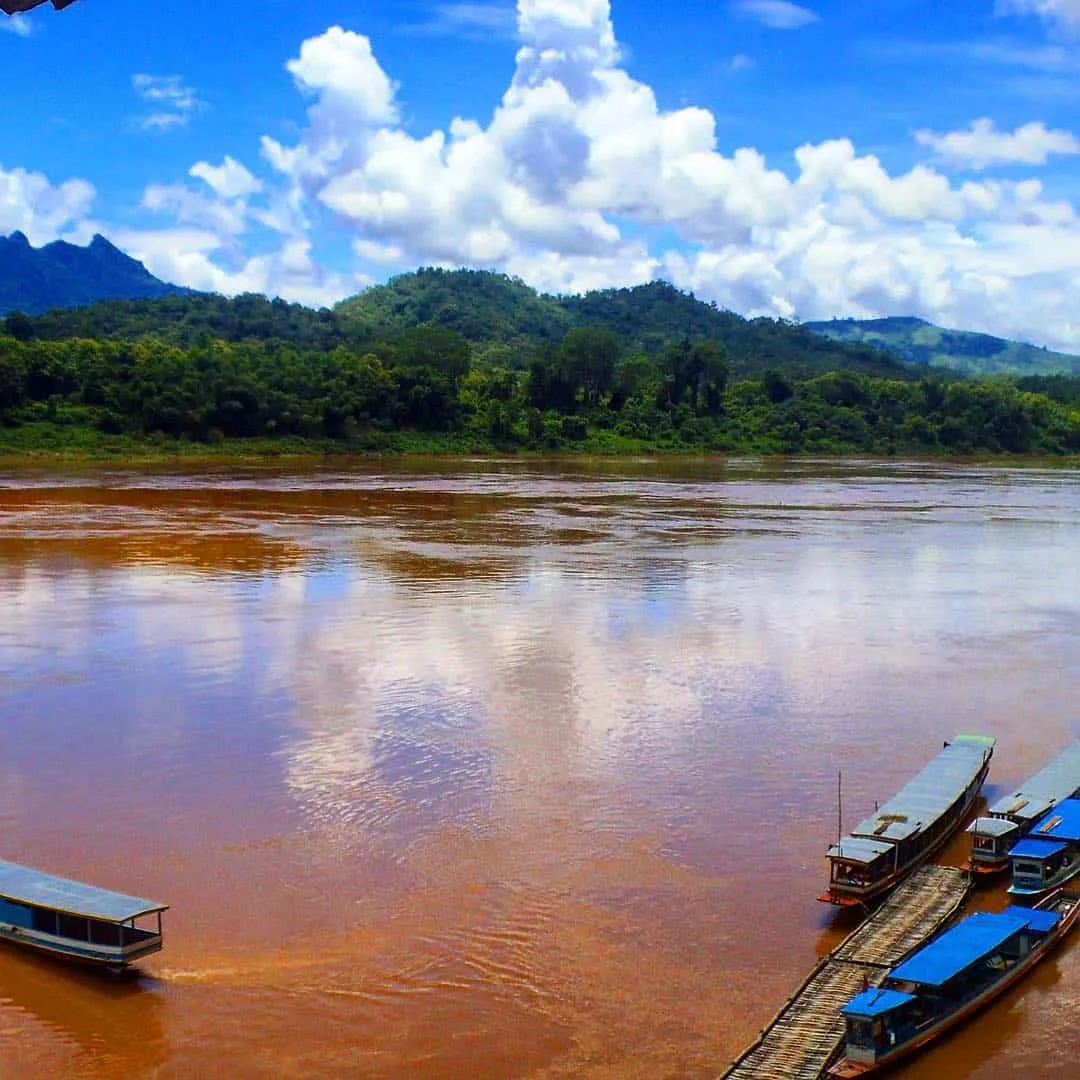 Fantastic things to do in Luang Prabang

Note: The township of Luang Prabang itself is quite compact, and with the exception of Mount Phousi, is flat – and so perfect for exploring on foot (although tuk tuks are available). But we recommend you exploring start early in the day as the climate can be tropical (read rainy!) in the afternoons, dependent on the time of year of your visit!
Grab Breakfast at JoMa Bakery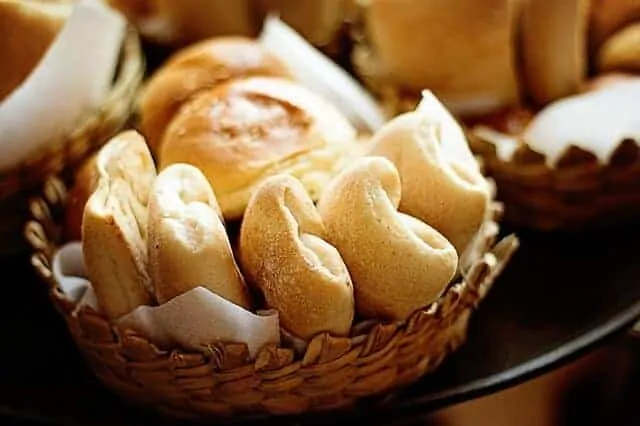 Start your day at one of Luang Prabang's favorite bakery cafes. Located only a short stroll from the main intersection of the town, and not far from the tourist information center it is a remnant of the French influence on this tiny township.
.
Wander through the Morning Market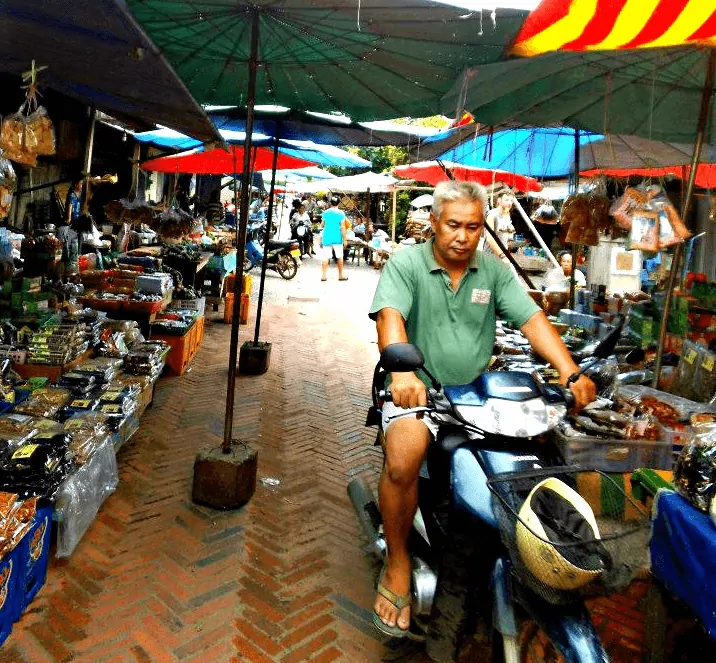 From the tourist office in the center of town, turn left at the main intersection and then the first right down a nameless street which serves as the morning market. This is effectively the town's 'supermarket' and here you'll find anything from local fruits and veggies, dried chili and spices to meat and fish (*some of which is still alive!*) to pink eggs and made on the spot stir-frys. Beware of the motorbikes though.. just because its a pedestrian street doesn't mean the locals won't sneak down where they can!
.
Visit The Royal Palace museum & Haw Pra Bang (Wat MAI)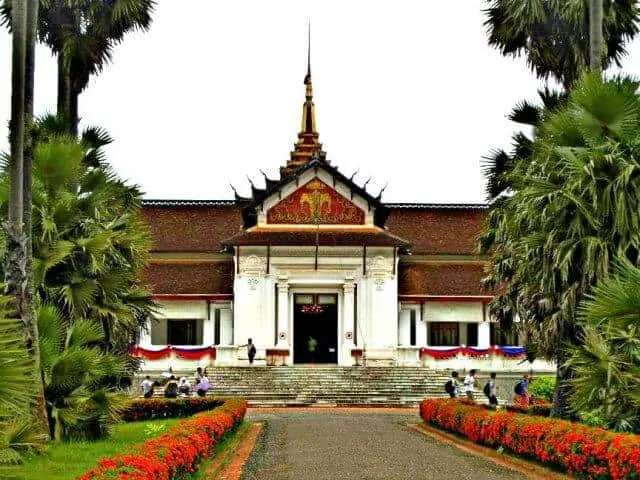 On the left hand side of the main street the impressive Haw Pra Bang sits just behind the palace walls. It is free to wander the grounds of the now defunct Lao Royal Family home with a small entrance fee if you want to go inside the main building. (Be sure not to go when they are closed for lunch between 11.30-1.30!) We opted to skip this, but made our way around the right to the back of the building where there was a small exhibits of local artwork in the second story building hidden at the back of the property. Its worth a look to see if there is anything there on your visit!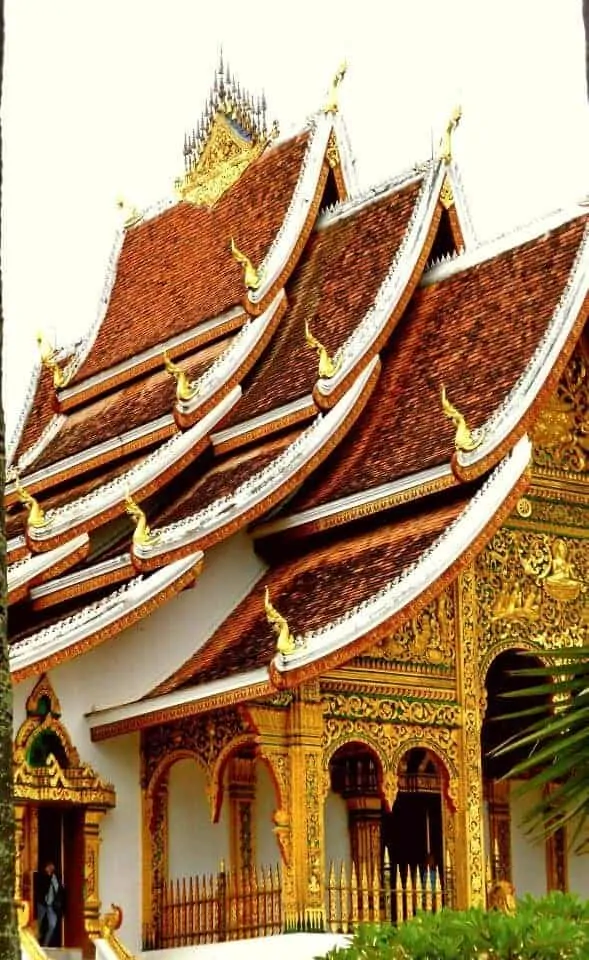 After you have finished looking around the Palace, circle back and take a look at the most photographed temple in Luang Prabang – Haw Pra Bang. The temple has a five tiered roof and is one of the most visually stunning in Asia. It was built to house Loas' most revered Buddha image, the Phra Bang Buddha – for which the town was named after. It is spectacular both inside and out which ensures its status as a national treasure and one of the top things to do in Luang Prabang.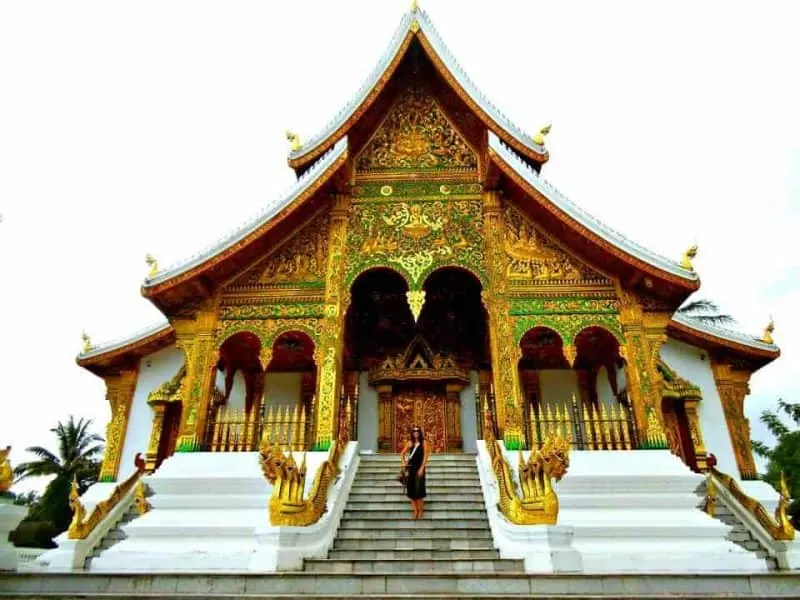 .
Admire the Lesser-Known Wat Xieng Muan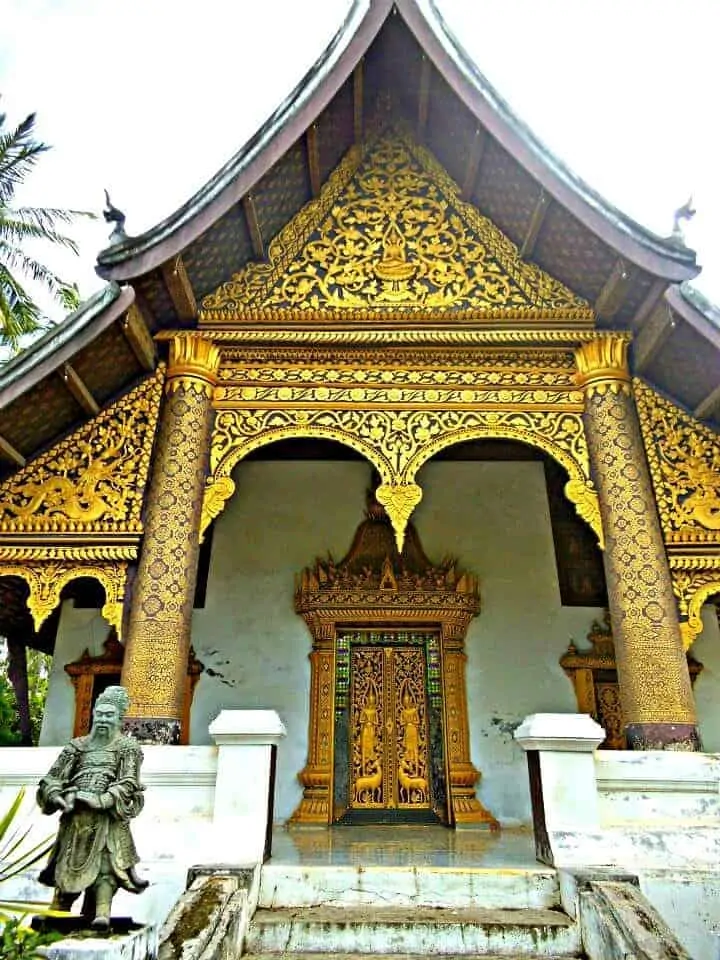 A quiet temple, set back from the main road – it is hard to find if you don't know what to look for. Nestled between a cafe and a travel agency on the main road, turn left onto a non-descript road leading towards the riverfront. Here you will find a cute little temple, numerous buddha status and outside the walls in the neighboring compound where the residential facilities are, a number of stupas.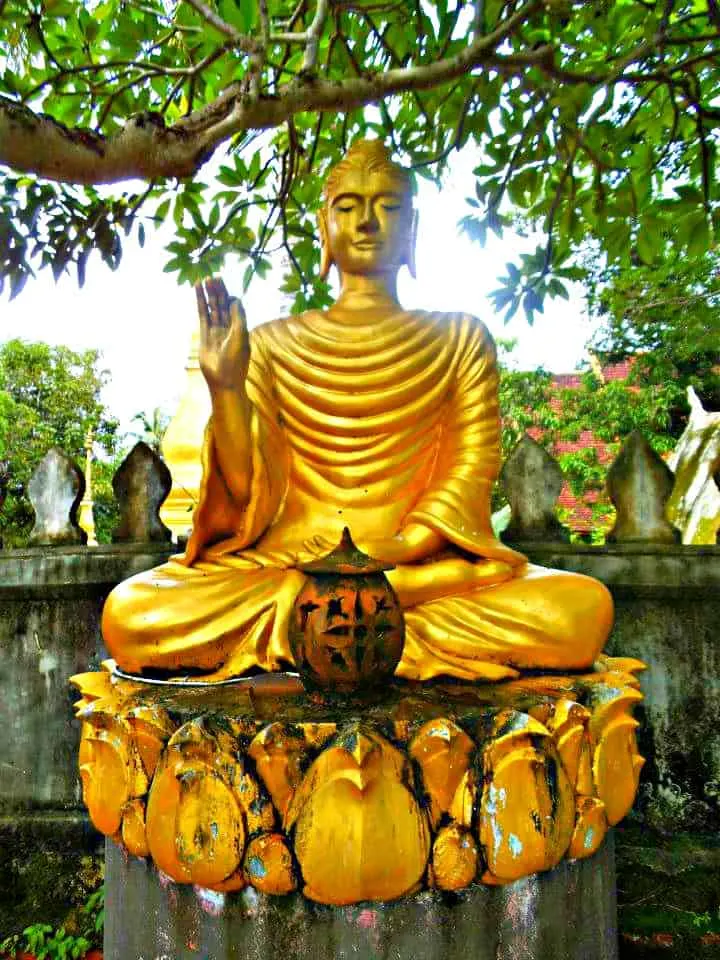 .
Eat Some Local Food

Whilst there are a variety of different dining options available on the main street, we highly recommend choosing places that have a 'less polished' look about them. These are are places where you're *almost* guaranteed to get some of the best home cooked, traditional food in the village. If you haven't tried Larb (Laap/Laab) this is the perfect opportunity – and don't forget to wash it down with some Beer Lao! Larb is a national dish which can be made with chicken, fish, pork, mushrooms or beef – the protein is flavored with lime, fish sauce and chili and is normally served with fresh veggies and sticky rice. It is my absolute favorite Lao dish – and it would be a crime to visit Luang Prabang without trying it!
.
Visit the Majestic Wat Xieng Thong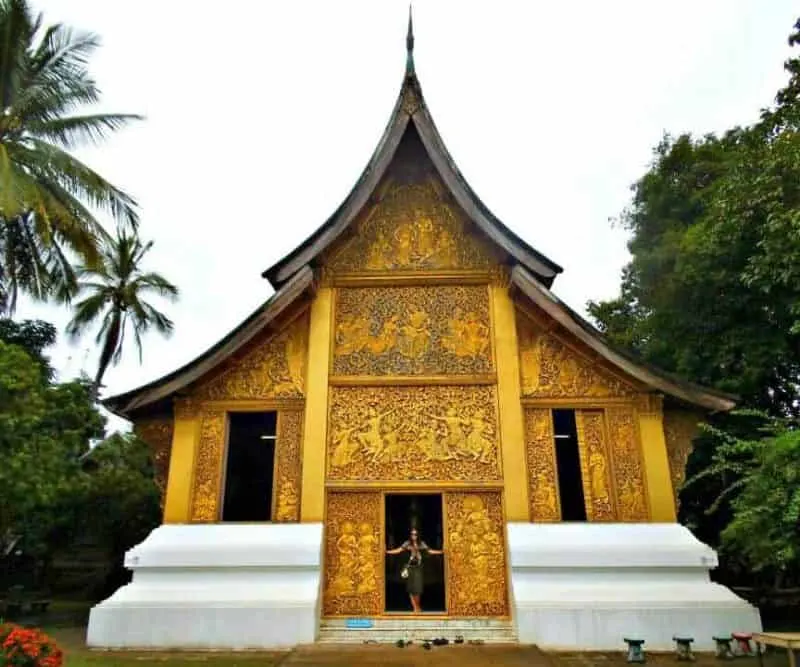 At the far end of the main road through town – and just past some impressive colonial era buildings on the right – you'll find Luang Prabang's most magnificent temple. Also known as the Golden City Temple Wat Xieng Thongs' grounds contain a central huge sim with gilded and embossed walls telling the history of the Laos people, along with an outer wat, stupas, drum tower, monk's quarters, library and a chapel! It is easy to spend over an hour here and is well worth the nominal entrance fee. It is also one of the most important religious sites in the town.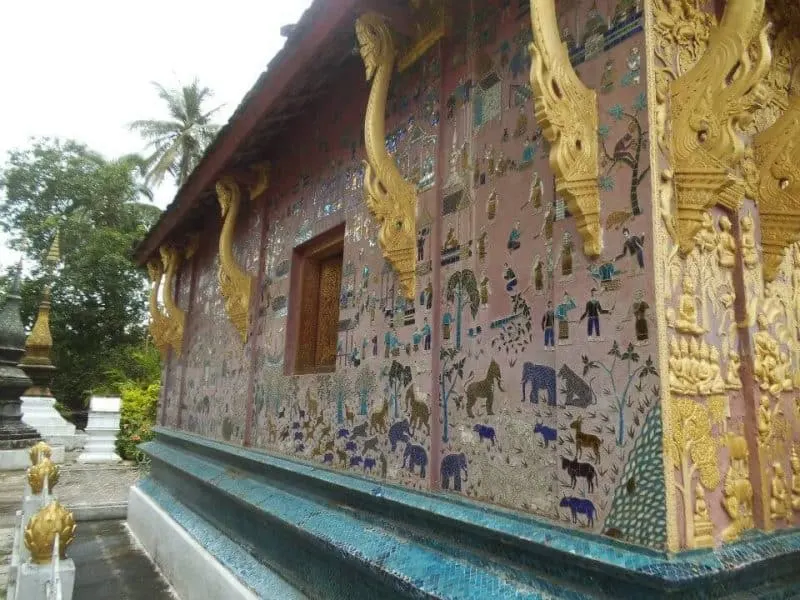 .
Walk Through The Grounds of Wat Sene
Luang Prabang really is a town of temples, and another wonderful one to explore – and possibly have a chat with a resident monk – is Wat Xieng Thong. As you wander through the grounds you can admire the drum towers, gilded temples and many stupas that are on show. One of my favorite shots from the day was taken whilst wandering around the residential area of Wat Sene where I noticed saffron robes hanging out to dry – the vibrant orange against the white washed walls and contrasting with the wooden beams of the roof really caught my eye.
And if you are no temple-d out by this point, make sure you visit Wat Wisunarat, famous for it's large square stupa, offering a different style to the temples on the main street in Luang Prabang.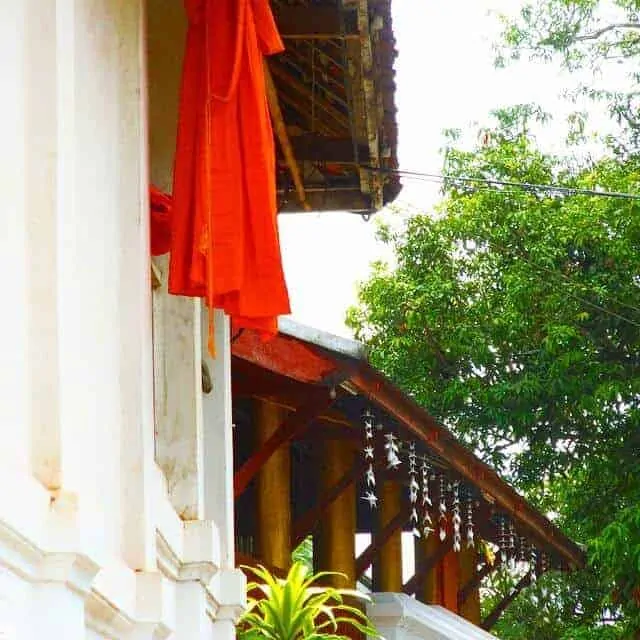 .
Climb Mount Phousi
Enter via the stairway opposite the Grand Palace just off the main road and be prepared for a lot of stairs to reach the 100m high summit. But man is it worth it. The sprawling views over both the Nam Khan and Mekong Rivers are breathtaking – you really do feel like you're at the top of the world – or the top of Luang Prabang at least!
…and to reward you for your climb – be sure to turn around either half way up or half way down and get that picture perfect shot of the most photographed temple in Laos – Haw Pra Bang.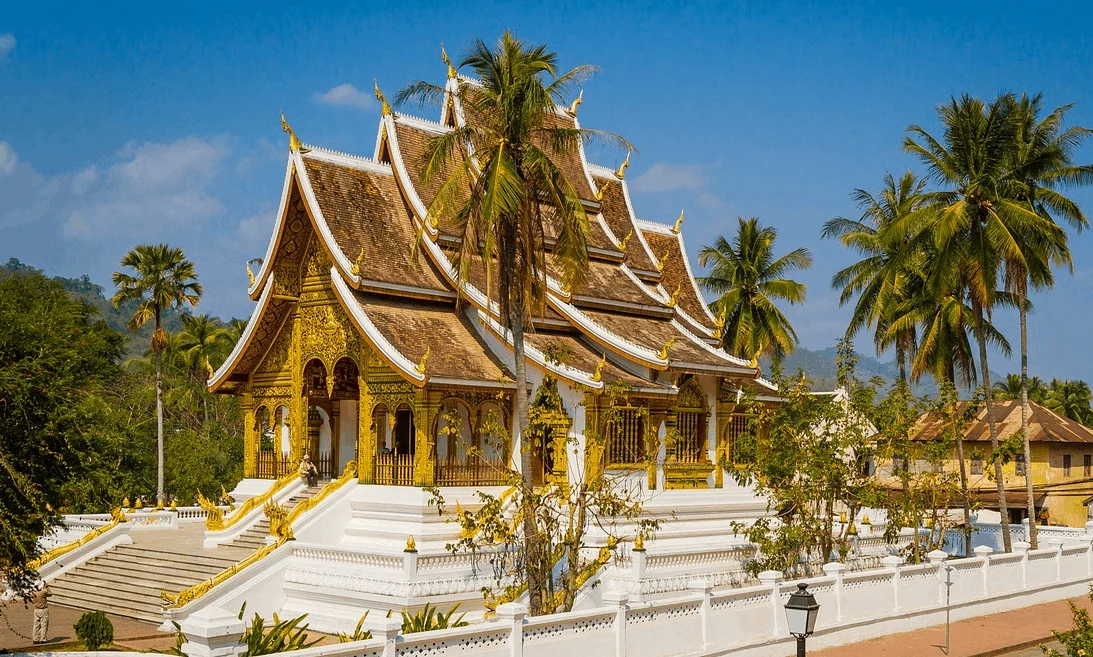 .
Learn to Cook Laos Style at a Cooking School
Taking a cooking class is the great way to really get to the heart of a destination and the Tamarind Laos Cooking Class is one of the best I have done in Asia (if not the world to be honest!).
Tamarind Laos is a well-known restaurant in the heart of Luang Prabang which showcases traditional Lao cuisine and who also operate an off-site cooking school run by local chefs who teach you how to prepare and cook 4 traditional Lao dishes and you get to eat all your (very) tasty creations at the end! They also include a visit to the Phousy Market – the largest market in Northern Laos where you pick up some of the ingredients you go on to cook with, and even visit the 'meat' market, where the proteins are not always fully dead prior to purchase! It is easily one of the best things to do in luang prabang and something I highly recommend.
.

Watch the Monks Accept Alms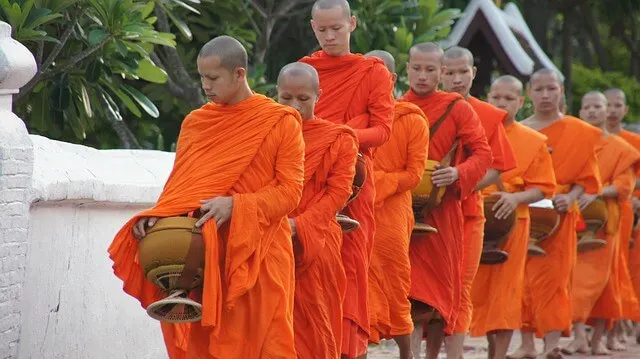 One of the most incredible things to do in Luang Prabang is to get up early and watch the Buddhist Alms Giving Ceremony. This is where the locals offer rice and fresh fruit to the monks at sunrise in order for them to make merit and collect enough food for their one meal of the day. It is a major Luang Prabang attraction and a highlight for most visitors. If you would like to participate in the ceremony, ensure you have pre-purchased your offerings and follow the guidance of locals as to how to engage with the monks. Do not attempt to join in if you arrive late (after sunrise) as it is considered extremely rude to interrupt the ceremony once it has begun.
.
Take a day trip from Luang Prabang and visit Kuang Si Falls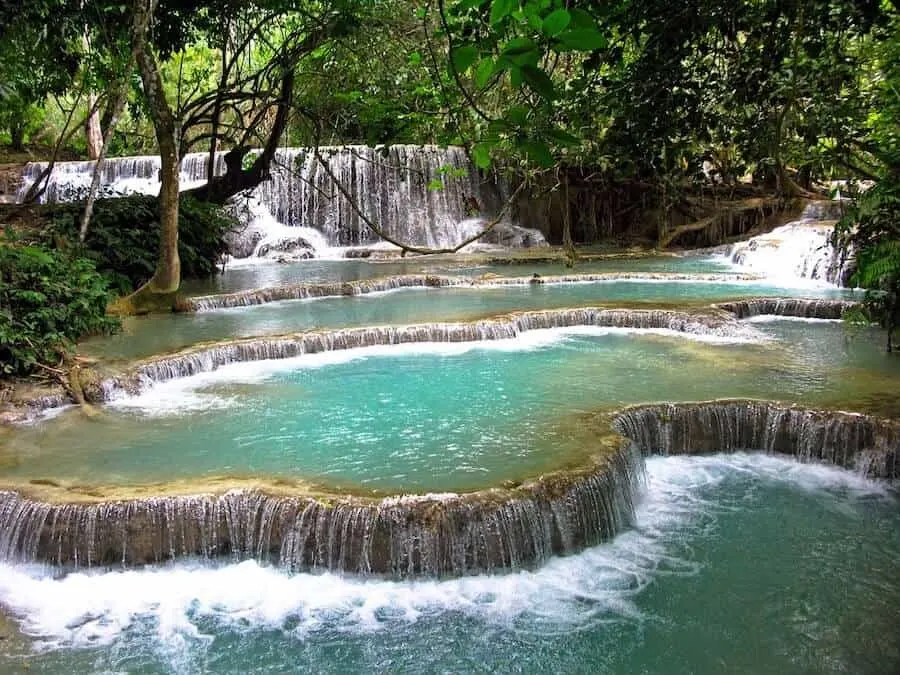 The Kuang Si Waterfalls are a great day out and can be reached by tuk tuk or mini bus in around 30 minutes from Luang Prabang town center (depending on how many stops you make to pick people up along the way!) Heralded as one of the most beautiful waterfalls in the world, the main 50m drop fall is a sight to behold, and the lower pool are perfect for a day of picnicking, swimming and relaxing. At the start of the track to the falls there is also a Sun Bear Rescue Center, and about 300m before the entrance there is also the Kuang Si Butterfly Park which is a great way to fill in time when visiting Kuang Si if you're not the swimming, hiking or relaxing type!
If after a day at Kuang Si Falls you still need some more waterfall action you can also head over to Tad Se Waterfall on the Nam Khan River.
*TOP TIP*– Laos is a very cheap country to travel in and it's best to wait until you are in towns and cities to book tours. You'll get a much better price by booking with local operators!
.
Take a River Cruise to the pak ou caves (Buddha Caves)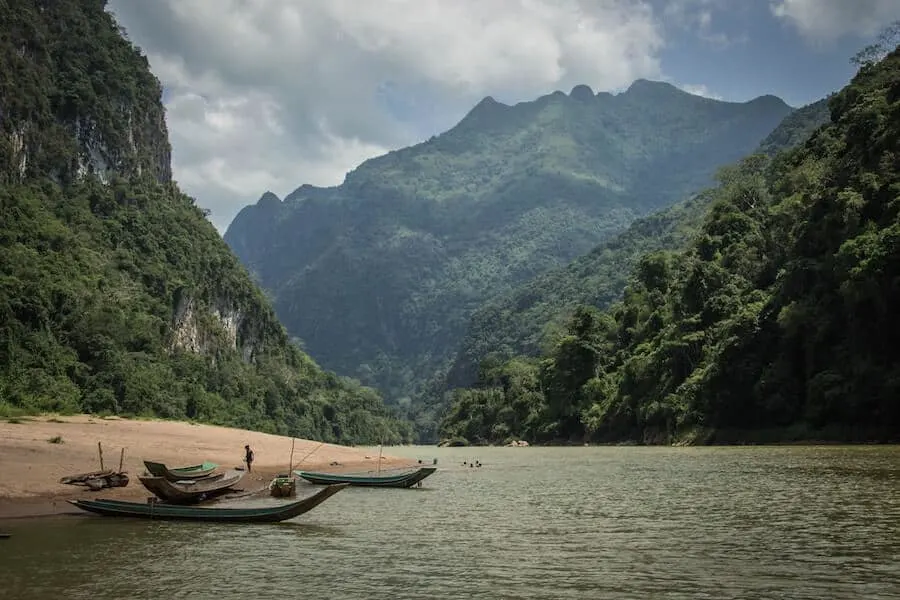 The slow boat river cruise up the Meekong to the Pak Ou Caves takes about 2.5 hours and should cost no more than 70,000 kip (if you buy your ticket from a travel agency in town it will be approximately 20-30,000 kip more). The cruise will take up up to the caves – which are packed with thousands of Buddhas statues (also known as the Buddha Cave) via a traditional village where you will see villagers weaving and be given the chance to try a shot of locally produced rice wine (Lao Lao) – but beware, it's practically all alcohol!
Entrance to the caves will cost approximately 20-30,000 kip paid as you arrive at the site. If you plan on heading deeper into the cave, taking a head torch would be a good idea.
Cruising the river gives you a chance to observe life on the Mekong and is a great boat trips to take (if you haven't arrived on the slow boat from the Thai border in the north that is! (as a lot of solo backpackers in Luang Prabang do!).
.
Cross the Nam KhaN River via Bamboo Bridge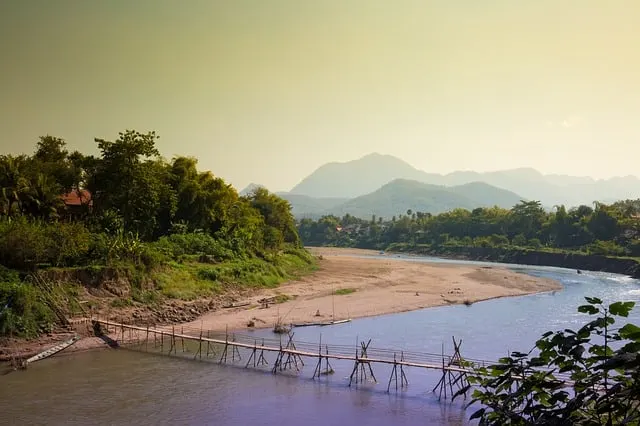 Pay a small entrance fee to walk across this neatly presented bridge built entirely of bamboo. Though the only activity to do here is cross the bridge, take some photos and come back, it is still recommended as the entrance fee goes directly to the well-being of the locals.
.
Be One With The Land at The Living Land Company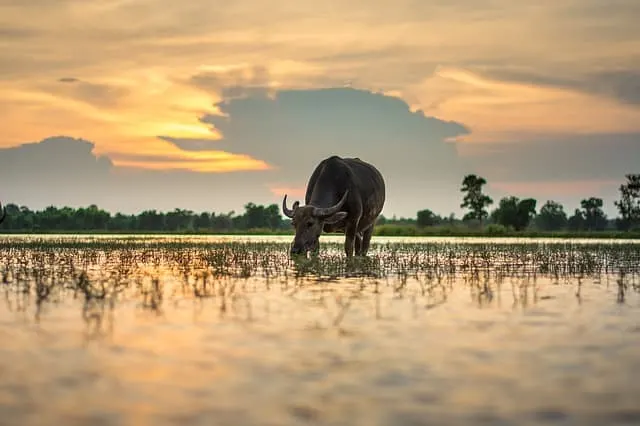 If you are still wondering what to do in Luang Prabang, be sure to check out the Living Land Organic Farm. The Farm is a community enterprise just outside of Luang Prabang, which maintains educational programs and professional organic farming right next to village rice paddies. The rice and herbs they grow are often used to supply many of the top restaurants within the town. Only small groups are able to join the interactive rice farming experience which actively benefits locals from the community be encouraging them to maintain their crafts in their traditional form. At the Living Lands Farm you will see and learn about bamboo weaving, tool and trap making gardening and even blacksmithing.
.
Go Shopping at the Night Market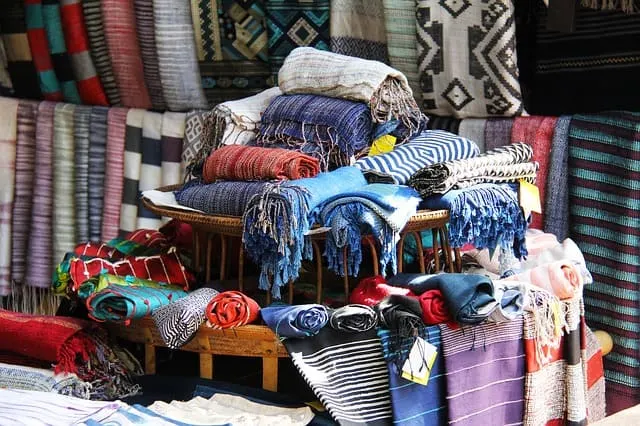 The Luang Prabang night market is a fantastic market that takes over the main street between 5pm-11pm. The street is closed to traffic and the hill-tribe traders emerge with their various apparels, ceramics, artwork, lamps, blankets, fabrics, handicrafts and silk scarves. The products available are often of very high quality – and much better than the markets in Bangkok or the rest of Thailand. Whilst we were there we were advised that the stuff you find in the markets in Thailand actually comes from Luang Prabang and surrounding areas – but with a much higher mark-up. Grab your bargains whilst you can!
RELATED –
If you're looking for accommodation in Luang Prabang we really enjoyed our stay at
Villa Philaylack
. Its clean, basic and in a good location – perfect for those traveling on a budget. But if you have a bit more cash to flash check out the
top rated hotels in Luang Prabang
– and remember – always double check reviews on
Trip Advisor
before making a booking!
So there you have it – hopefully you are no longer wondering what to do in Luang Prabang and our travel tips have given you a great list of Things To Do in Luang Prabang to make sure you get the most from your visit. Don't forget to let me know your own highlights once you're back!
Oh, and if you enjoyed this article, please, tweet pin or share on Facebook – I'd really appreciate it!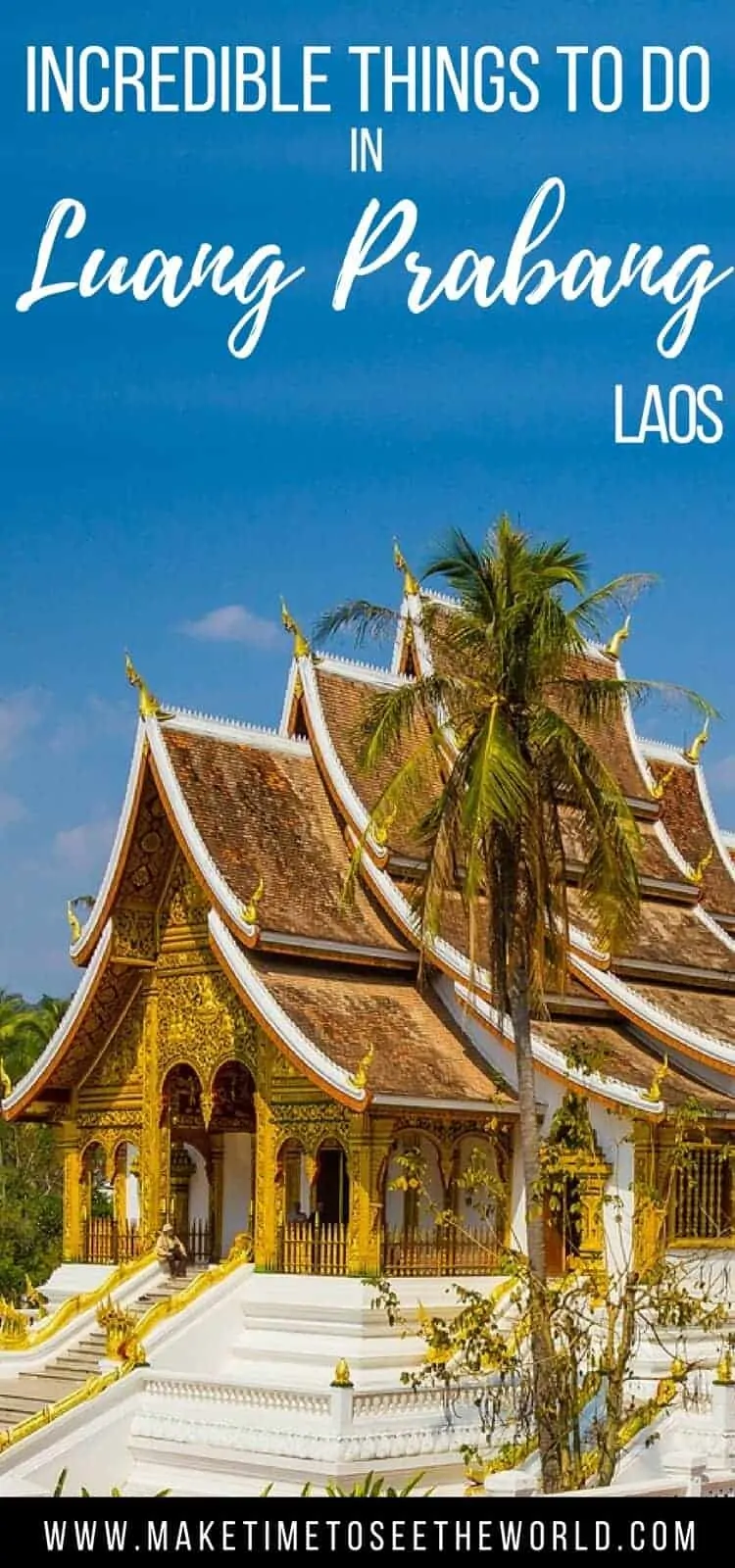 READY TO EXPLORE MORE OF SOUTH EAST ASIA? YOU MIGHT BE INTERESTED IN THESE BLOG ARTICLES:
Hi There! Thanks for reading my travel guide to The Best Things To Do in Luang Prabang. I just wanted to let you know that this post contains affiliate links, which means if you purchase something after clicking a link, I may get a small commission – which is at absolutely no cost to you. If you enjoyed this article and are going to be searching for some of the things I mention anyway, I would love it if you could click through from the links above & thank you in advance! Read my full Disclosure here.