Practically every country in the world has an Annual National Celebration – with some known for their huge outdoor celebrations more than others. Ireland has St Patrick's Day, Amsterdam has King's Day, the USA has Independence Day (to name some of the biggest ones) but the little country of Luxembourg has been hosting wonderful outdoor, family friendly National Day Celebrations featuring free concerts, fireworks, parades (and more!) for decades and hardly anyone knows anything about it!
Here's our guide to attending the Luxembourg National Day Party – and how to celebrate like a local by knowing what it's all about and when everything is happening!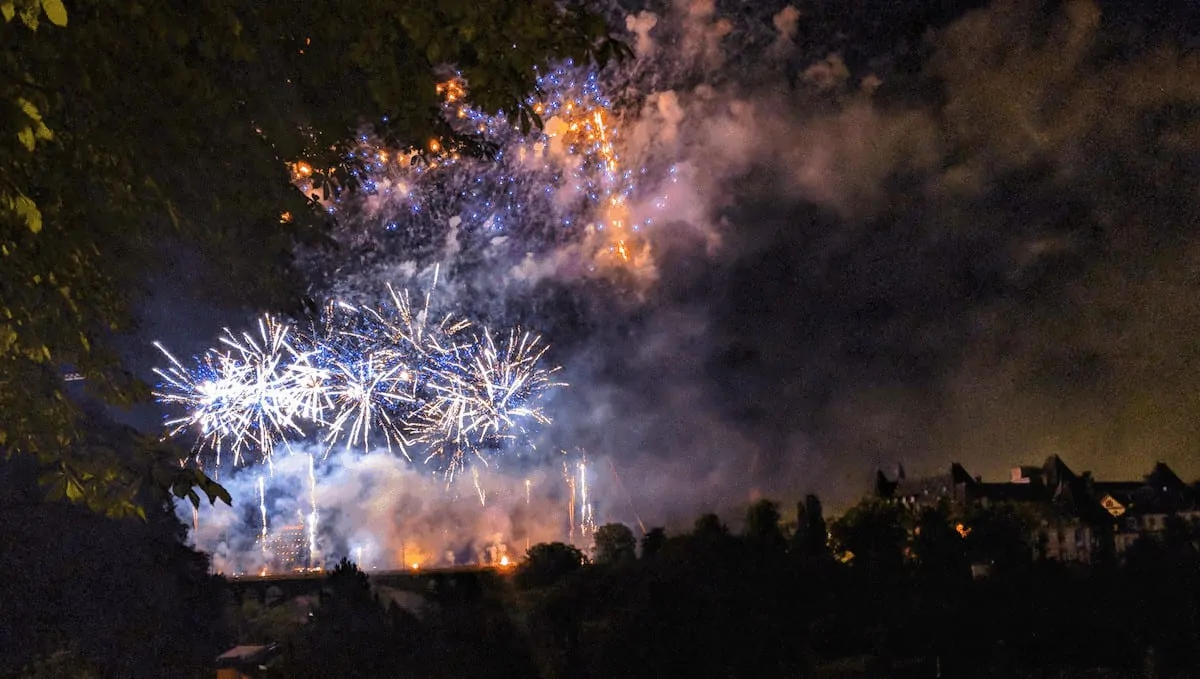 Disclaimer: I spent a wonderful weekend in Luxembourg as a guest of Visit Luxembourg as part of the Luxembourg National Day Celebrations, however as always, all opinions remain my own.
Complete Guide to Celebrating National Day in Luxembourg
When is Luxembourg National Day? And What is it?
Luxembourg National Day is the 23rd June each year and celebrations include parades, free concerts, fireworks and a whole heap of fun, with celebrations officially starting at 4pm the day before (22nd June)and is the annual celebration of the Grand Duke's Birthday.
But first, a little history: The small country of Luxembourg has been controlled by many different European Countries over the years (you can read more about that here) but in short – it is known as the Grand Duchy of Luxembourg because it was established as such by the Congress of Vienna in 1815 – and the name deriving from the fact it was ruled by a Grand Duke/Dutchess. When the Grand Duchy was established it was meant to be part of the German Confederation but control of it was given to Netherlands. The personal union between Luxembourg's throne and the Dutch throne continued until the death of William III in 1890, at which time the Dutch throne passed to his daughter Wilhelmina and the Luxembourg throne passed to Adolph of Nassau-Weilburg.
During the 19th Century, Luxembourg people celebrated their national day on Kinnéksdag (the birthday of the King of the Netherlands); however first real national holiday in a patriotic sense was the Groussherzoginsgebuertsdag (the birthday of Grand Duchess Charlotte, who reigned from 1919 to 1964). Given that this day fell on 23 January, it was transferred in 1962 to a more summery date — 23 June (because, I mean, why not?! Summer celebrations are much more fun!), and has remained on that date to this day – despite the fact it isn't and hasn't ever been the actual Birthdays of the reigning Duke or Duchess!
QUICK GUIDE TO NATIONAL DAY IN LUXEMBOURG
– When:
22 – 23 June
– Where:
Luxembourg Old City, Adolphe Bridge, Place du Constitution and Avenue de la Liberté
– Where to Stay:
Hotel le Royal
(Luxury) or
Hotel Parc Belle Vue
(Budget – and with great riverside location for the fireworks!)
– Where to Eat:
Brasserie Seigfried
(try the Kniddelen Aux Lardons!);
Ca(fe)sino
for a delightfully upmarket buffet + mixologist for epic cocktail creations or
Brasserie Mansfield
for something a little special (and don't forget to drink
Crémant de Luxembourg
to start every meal. It's traditional, from the Moselle Valley – and would be rude not to!)
.
Timetable of Events on Luxembourg National Day Eve (22 June)
Changing of the Guard – 4pm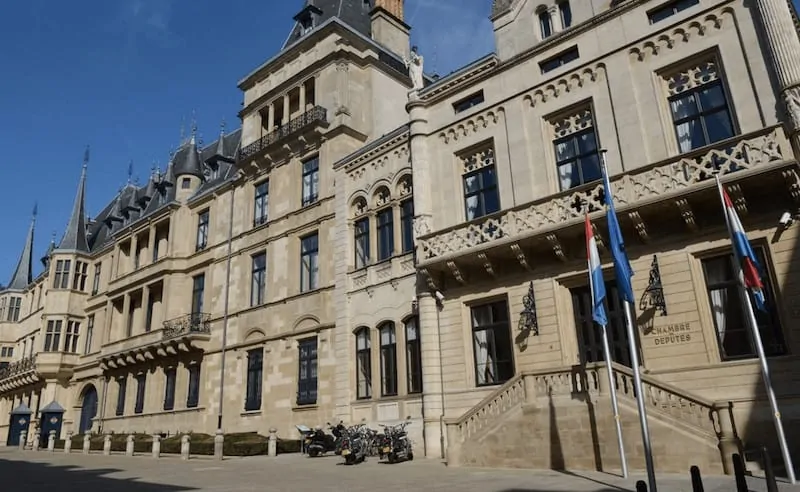 Find yourself a spot outside the Grand Ducal Palace – a beautiful Renaissance castle complex in the heart of Luxembourg city, and watch the solemn Changing of the Guards Ceremony outside the Grand Duke Henris official residence in the capital city.
RELATED –
Love Castles? Luxembourg has 100s of them – and they are perfect to visit on a road trip. Check out our
Top 10 Luxembourg Castles
to add to your castle bucket list
.
Grand Ducal Couple Visit Towns in the County – between 5-6pm
Each year the Grad Duke and Duchess visit Luxembourg's second largest town – Esch-sur-Alzette and another smaller town in the country, which changes each year. This offers an opportunity for residents and revelers to see the couple up close. All 105 different municipalities in the country celebrate – they have a lot of choice when it comes to selecting a second city to celebrate in!
.
Outdoor Concerts and Entertainment in the Old City – from 7pm to the early hours (and after the Fireworks!)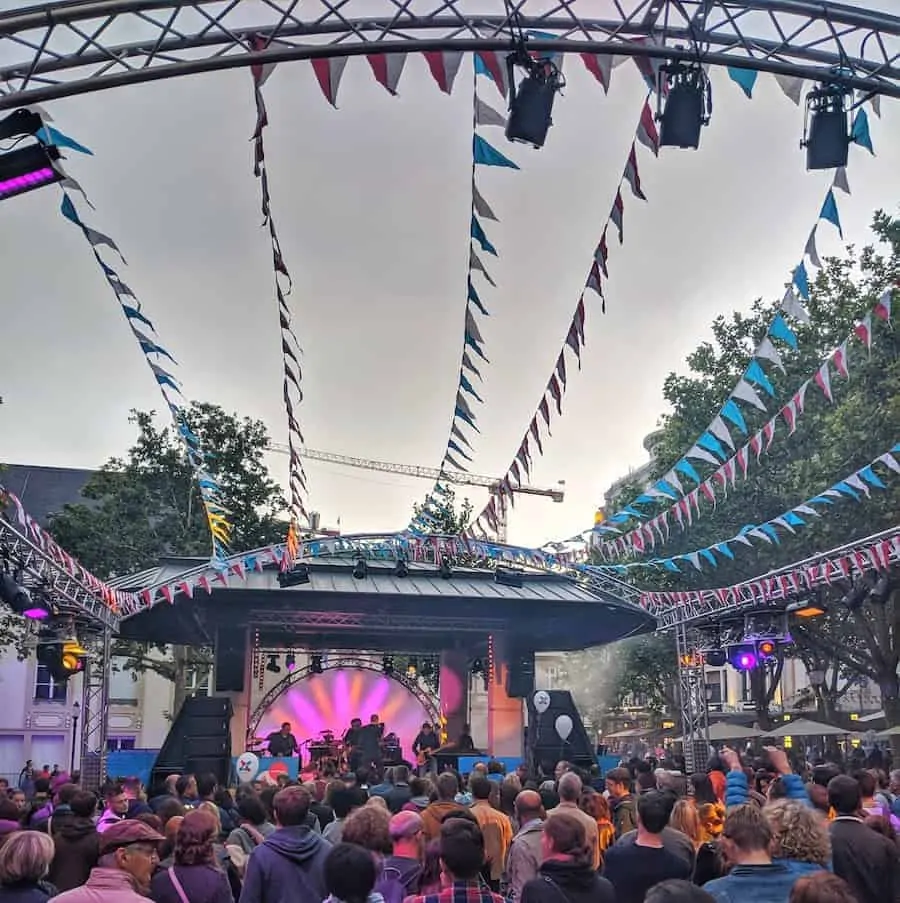 Watch the quaint cobblestone streets of Luxembourg's old city come alive with families, groups and revelers celebrating and dancing in the street. There are street vendors serving food, pop up bars for grabbing a drink and different DJ booth and stages set on every corner with acts performing a range of different styles of music. The party atmosphere is infectious, the vibe so positive and everyone is clearly having a good time. Wander through, stop for a dance and get involved!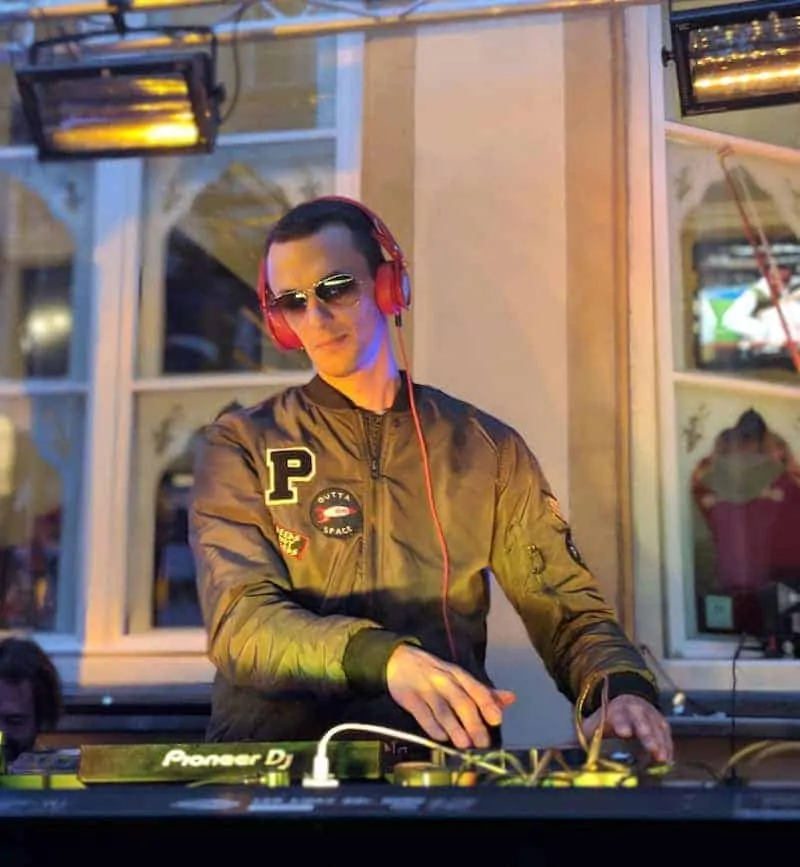 .
Torchlight Procession (Fakelzuc) – approx 9.15pm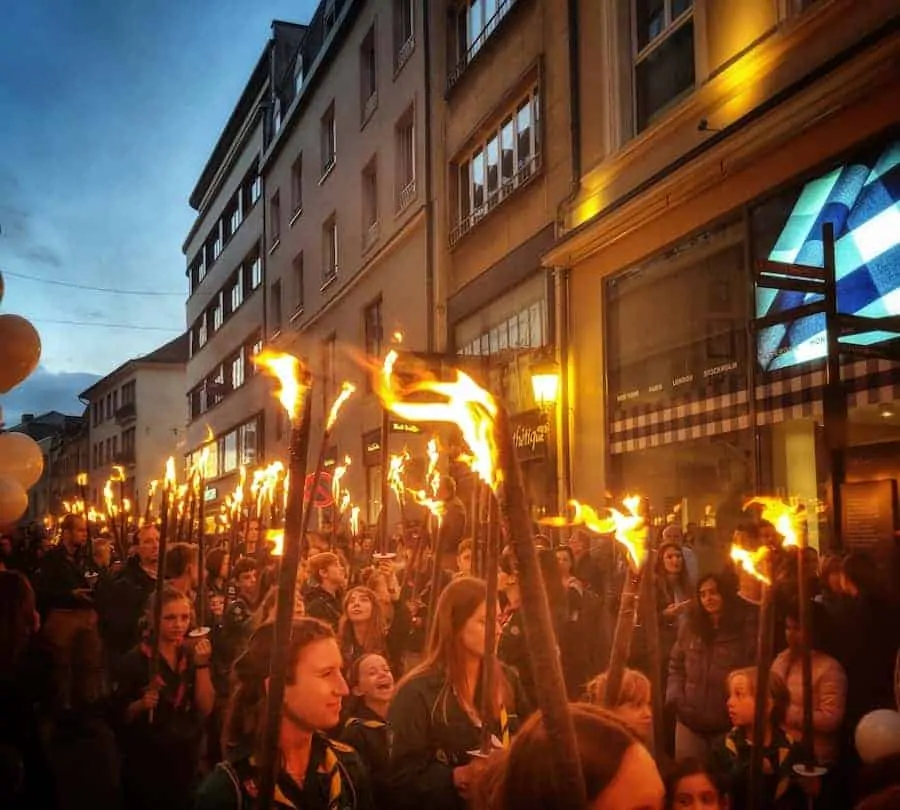 Whilst you're in the old city, keep you eye out for the torchlight procession which weaves its way through the streets and attracts thousands of onlookers. The Parade itself is made up of many clubs and societies from the City of Luxembourg dressed in traditional costumes and carrying huge medieval looking torches. Some participants are also from international organizations with ties to Luxembourg (for example we saw a full double-decker red London bus!), and is followed by the Military Music's marching band. The torchlight procession and fireworks are both highlights of the celebrations in Luxembourg and things that should definitely NOT be missed.
.
Fireworks from the Adolphe bridge – 11pm
Luxembourg sure know how to put on a firework display! For almost 20 minutes the Grand-Duc Adolphe Bridge, just outside the old city, is the focal point for an amazing set-to-music fireworks display. I'd recommend staking out your vantage point on the banks of the river or on Place du Constitution (which can get busy) around 10.30pm – as getting out of the city can be a bit of challenge as all the revelers make their way down to the bridge. (I know because I had to make a mad dash to get to my pre-selected spot in time for the start!)
Timetable of Events on Luxembourg National Day (June 23rd)
Official Ceremony at Philharmonie Luxembourg – 10am
The Official Ceremony is a formal event comprising a concert performance, official speeches and the presentation of honours/awards celebrating citizens of the country who have achieved extraordinary things (similar to the Queens Birthday Honors in the UK).
21 Gun Salute from Fetschenhaff – 11am
To close the ceremony and mark the Grand Duke's Birthday, a 21 Gun Salute is fired from Fetschenhaff, outside the old city.
Military Parade & Inspection – 12.00am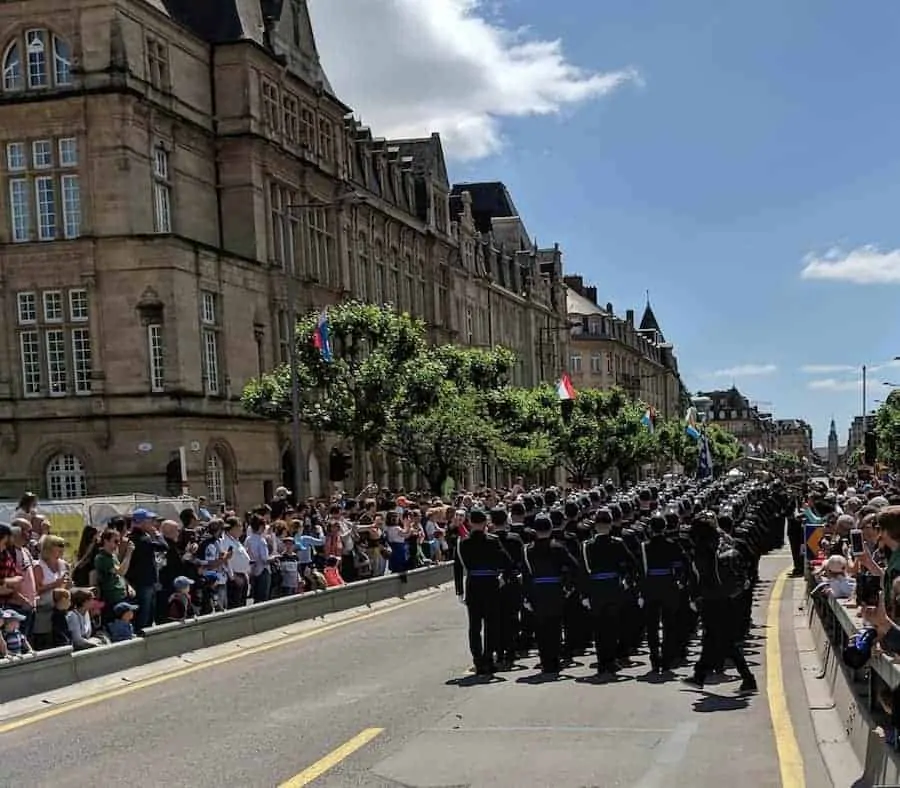 Running the length of Avenue de la Liberté, an impressive Military Parade featuring all branches of the countries protectorate hold a parade and display, and are inspected by the Grand Duke and Hereditary Grand Duke.
.
Te Deum Service at Notre Dame Cathedral – 4.30pm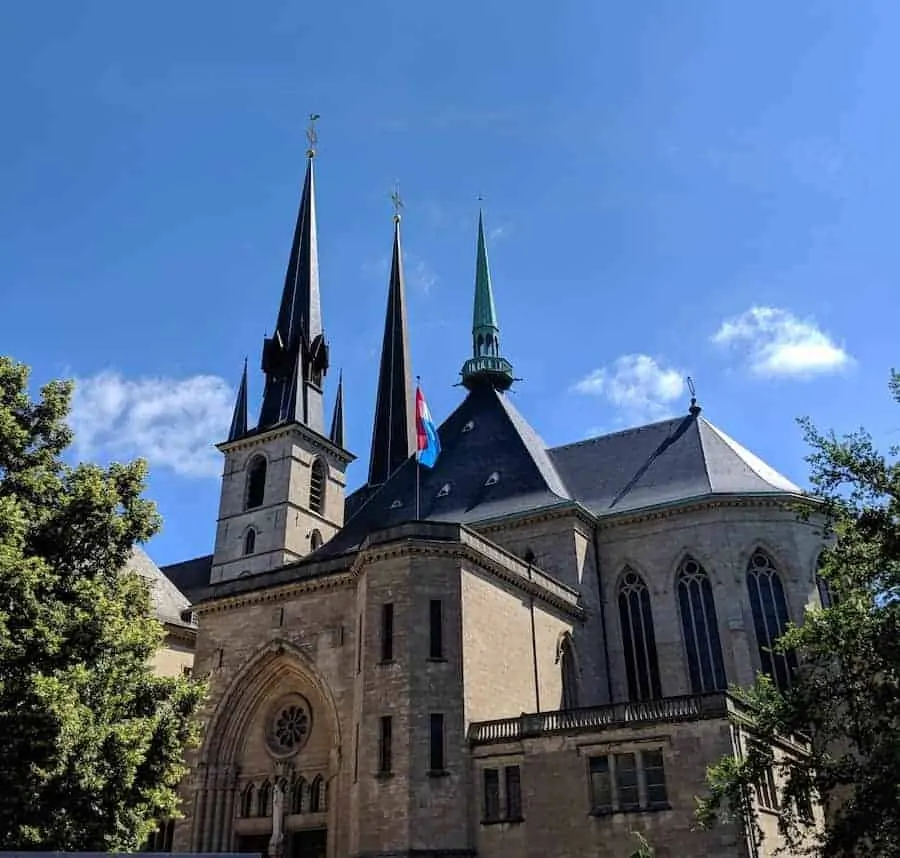 The Te Deum Service – a solemn service whose name derives from the Latin Prayer which commences with those words is held at the Cathedral of Our Lady of Luxembourg (commonly known as NotreDame cathedral due to its resemblance to it's French counterpart) from 4.30pm in the afternoon. The service is open to the public however it is requested that worshipers arrive no later than 3.30pm and take their seats by 4pm. The service is also attended by the Gradducal Family.
A traditional Te Deum Service is part of the Roman Catholic Faith, however in ensuring a level of inclusivity, in recent years the service has been inter-faith including prayers and blessings from several other religions within the service.
.
And that's a wrap folks! I hope you enjoyed our guide to National Day in Luxembourg and have added it to your festivals bucket list. It really is a wonderful time to visit the country with the celebrations just the icing on the cake!

Please note all times were correct at the time of publishing, but we encourage you to check the Visit Luxembourg Website on the year of your visit for details/times of that years celebrations.
Oh, and if you liked this article please tweet, flip, pin or share with your friends on Facebook – I'd really appreciate it!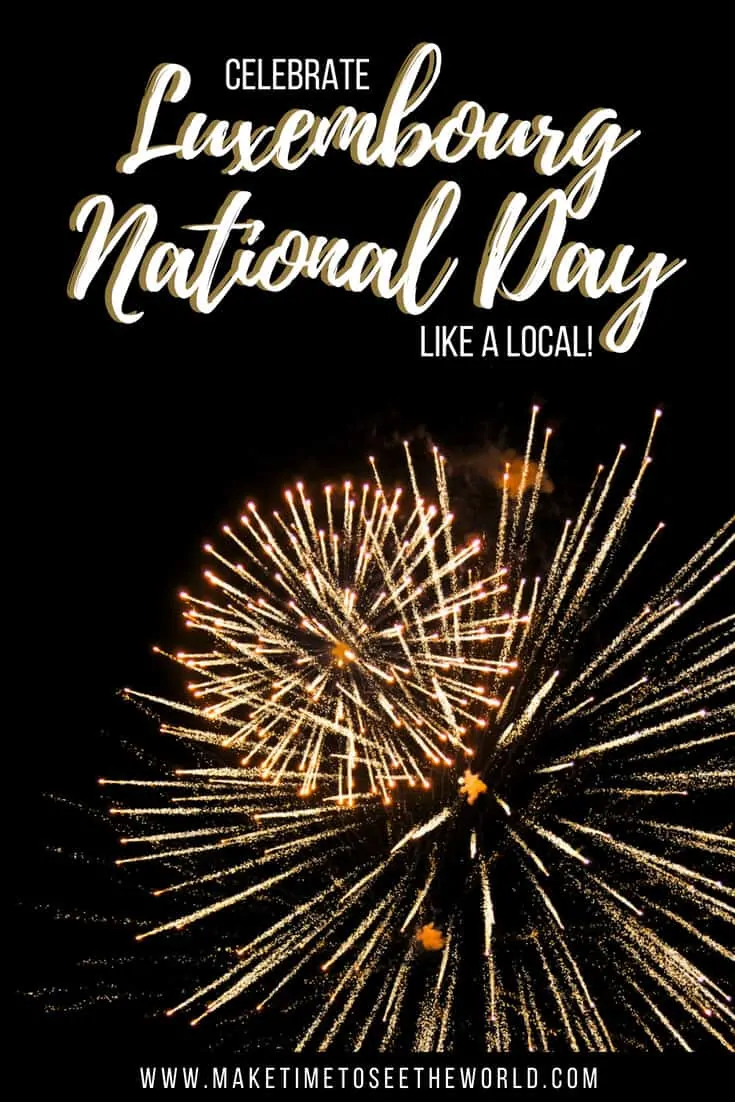 READY MORE TRAVEL INSPIRATION? YOU MIGHT BE INTERESTED IN THESE ARTICLES:
Hi There! Thanks for reading my guide to Celebrate Like a Local of National Day in Luxembourg! I just wanted to let you know that this travel guide may contain affiliate links, which means if you purchase something after clicking a link, I may get a small commission – which is at absolutely no cost to you. If you enjoyed this article and are going to be searching for some of the things I mention anyway, I would love it if you could click through from the links above & thank you in advance! Read my full Disclosure here. And thank you for reading the MakeTimeToSeeTheWorld Travel Blog.