GROUP TRAVEL OVERVIEW
Group Travel is everywhere – from Contiki to Intrepid you only have to type into Google group travel and there are (almost!) a million and one tours available in every corner of the globe run by thousands of tour operators.
Almost every traveller has experienced this format at least once – ranging from a party-style tour of Europe in your early 20's to a laid back itinerary driven tour of Vietnam in your retirement. Each tour comes with a different level of comfort and style of itinerary and should definitely be something all travellers do once in their life.
RELATED: The Best Tour Companies and Group Tours on Every Continent
My group travel experience was my first real bite of the travelling apple and came after 6 months working in Walt Disney World Florida. I had 31 days from the completion of my program to get out of the USA and being of the mindset that I would like to see as much as possible during that time, I hunted for a group tour that would tick many many boxes.
Deciding on Trek America's Southern Sun Tour (LA to New York) was a no-brainer: established company, many great reviews throughout the net, the expectation of fellow travellers of the same age group and interests and most importantly – it hit many of the places I had always wanted to go to in the states.
MODE OF TRAVEL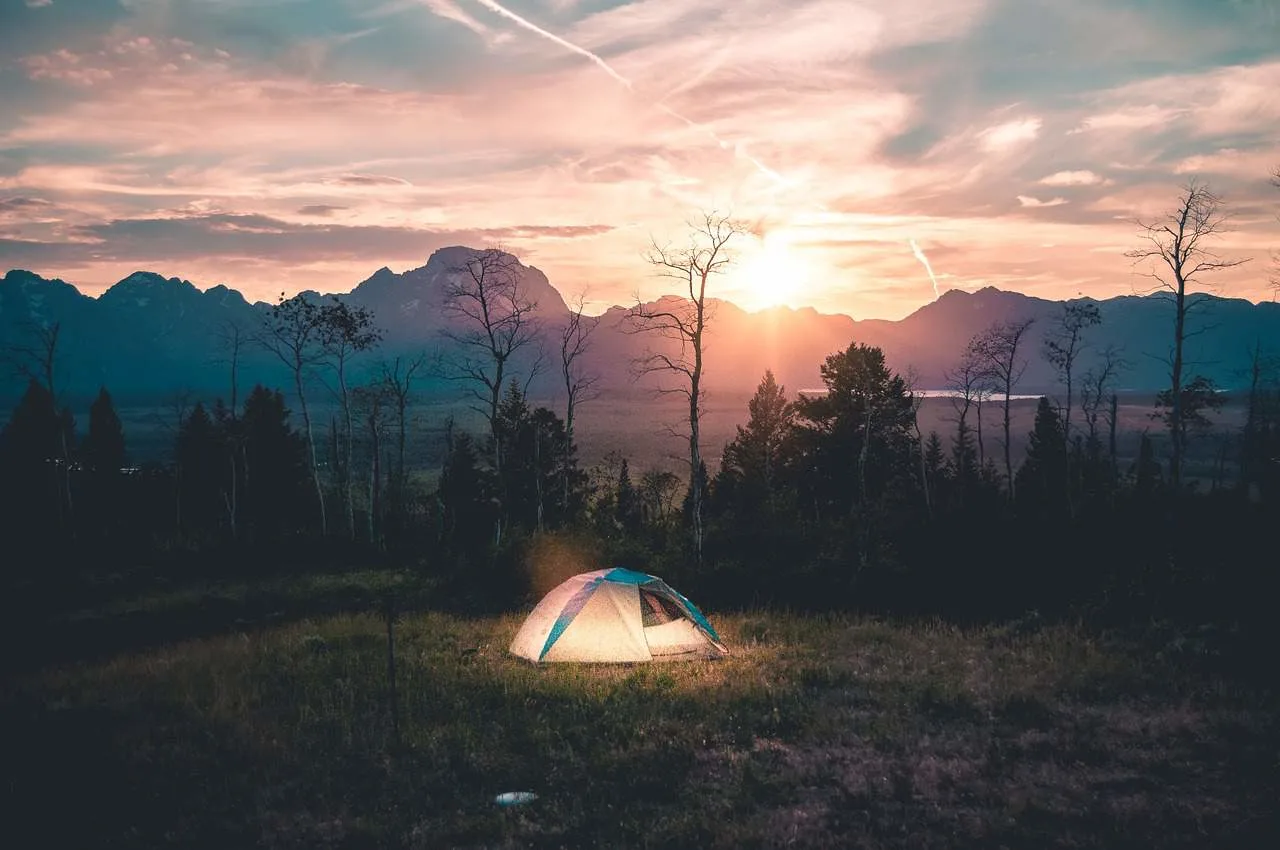 Being at the budget end of the spectrum, all accommodation on the tour was in shared 2 berth tents (your partner allocated at the start of the tour) – but there was the option to upgrade to a cabin at various locations – and I did – I'm not a camper. Hailing from the UK, outdoor pursuits such as camping were never really encouraged in my family – the cold and inevitable rain putting the proverbial dampener on any such adventure. And so, to camp for 28 days was going to be an eye opener in itself!
We travelled in a mini van towing a trailer with all our bags and camping equipment. We all contributed to a central kitty and bought and cooked food on the campfire each night along the way.
Early on in the tour we split into teams each taking it in turns to either cook, wash up or tidy the van. There is a sense of camaraderie between people on a tour – and that probably for the best when you spend almost 24 hours a day with 14 people you have never met.
Our route: Los Angeles – Las Vegas – Zion National Park – Page – Grand Canyon – Monument Valley – Santa Fe – Carlsbad Caverns – Luckenback – Austin – San Antonio – San Housten Jones National Park – New Orleans – Graceland – Washington – Philideliphia – New Jersey – New York
It was a huge amount of fun – even if we nearly froze camping at -3 degrees on the Northern Rim of the Grand Canyon – but contrast that with taking a limousine down the strip and Vegas or taking an illumination tour of Washington DC – and the not so great things really did pale into the background of an otherwise amazing trip.
It was on the whole a great experience and would I recommend to anyone in the right circumstances – first time travel, travel in a location devoid of safe/reliable public transport (think Africa), or for those looking for a simple, stress free tour where you are confident you'll hit all the highlights without having to arrange anything yourself.
Not convinced? See below for the ultimate round up of the highs and lows of group travel:
Group Travel – is it for you?
To Plan or Not to Plan
The ultimate benefit or the one reason not to partake in group travel – you have no control over the itinerary. For my first trip, I was more than happy to be led around the hotspots of the USA, and I think even now, If I had the same amount of time (in the USA) I would do the same in order to cover the distance. Choosing my tour carefully also allowed me to build in extra time at the start and end of the tour to cover more in those areas. But this isn't for everyone. If you really like to get into the guts of a city, a quick 1-2 day stop is just not going to cut it.
Taking a group tour also removes any element of spontaneity. The itinerary is fixed and there is nothing you can do about it. You get short amounts of 'free time' throughout the trip and maybe the occasional free evening – but no real time to tack on a side trip to somewhere nearby and very limited options for what you can do in each stop on your tour.
TRANSPORT
Taking a tour usually means that you don't have to concern yourself with anything transport related – this can be a blessing on a multi-stop tour – particularly if combining planes, trains and automobiles. The additional expense of transfers between airport – hotel and train station etc should always be part of your budgeting if travelling independently. There is nothing worse than taking an unaccounted-for dent out of your travel fund for that taxi trip you had forgotten was inevitable. But navigating the local public transport in a destination can be half the fun – and account for half your stories on your return!
The Company
Both the tour company and your fellow travellers will be a huge part of any organised tour. When deciding on a brand, look for the type of people they aim to entice. Are they catering to the 18-30's crowd? Are their customers mostly singles or couples? I would highly recommend checking forums and reviews to get an idea of clientele – but don't be afraid to contact the tour company and ask what the typical dynamic is – or even the ages and status' of people already booked on your chosen tour. Getting a good group can make the tour – but a bad group could ruin your trip and this is always a risk you have to take with group travel.
Consider further whether you want to be part of a coach tour of 30-50 people? Or if you would you prefer a small group between 8-15? Remembering that there is a limited amount of 'free time' on a tour, the size of group you chose will play a huge part in your day to day life on tour and you get out of it what you give. That doesn't mean you have to be the life and soul everyday/night but you have to be open to spending 18 hours a day with people you have never met.
Travelling independently gives you a bit more freedom to come and go as you please within a group – which is an often ever changing group as people move along whichever tourist trail you are on.
RELATED: My Tour through Israel & Jordan was a great mix of independent and group travel – a bit more of a hop on hop off arrangement for day trips and excursions, giving the perfect mix.
be part of the crowd
Taking any form of organised tour will mean you end up as part of a group – and with any group travel – you will come across other groups. This is because the tourist trail tends to include the same highlights no matter who you travel with and due to the whirlwind style of moving quickly across a country/countries, these tour operators tend to arrive at the main landmarks at the same time.
Travelling independently will give you more options for timing your visits to places and the freedom to walk away if its too busy – without it being a 'now or never' situation. But this doesn't mean you still won't be part of a crowd at some stage – tourism is big and crowds are unavoidable.
The cost
You pay for the privilege of being guided: from having your accommodation booked, your transport covered and entrance fees to various attractions included, these things come at a premium for the convenience.
The upfront cost also often does not include your mandatory contribution to the kitty for food/included meals – not to mention the meals that are not included. The same goes for optional activities. These are the things you can chose to do at various stops – and are often the really cool 'not to be missed' kind of activities. How much you want to participate in extras will determine your overall involvement in tour life – and all at an additional cost (which can sometimes be more expensive then booking activities yourself as the tour group takes a booking fee.)
When travelling independently these costs will be (mostly) transparent before you go, allowing you to work into your budget funds for things you do not want to miss.
A built in guide
Any organised tour will inevitably come with a tour guide – often a great source of information who can regurgitate the best guide books have to offer at a more personal level that just picking up the book. Armed with hints, tricks and tips, they can be the most valuable member of the tour group and really help you maximise the time you have in each location.
However, all is not lost should you travel independently, as the availability of wifi is consistently removing the need for the human touch – be it for better or worse. The web is the ultimate information highway and with more and more travellers sharing their tips through blogs and forums in addition to apps dedicated to cities throughout the world – the need for a personal guide can be easily removed.
the verdict
Group tours are not for everybody – but can be great fun for all if you go in with an open mind and an ability to relinquish control.
For those that have done their time on a group tour and have decided to go their own way from now on – don't disregard tour companies completely. They can be a great starting point when planning a trip as they highlight the key attractions in a county and can offer a basic itinerary for you to customise to your own needs. Everybody has to start somewhere – why not take a little inspiration from those who have tried and tested almost every corner of the globe.