Everyone has heard of Koh Phangan. It is just one of the many tropical islands off the coast of Thailand that has made a name for itself as the home of the famous Full Moon Party – a 'Bucket List' experience for so many people. Our own visit was no exception, but at the same time I had no desire to stay in Haad Rin (where the party is held) and where you could guarantee boozed up backpackers falling about in the street at all hours of each day/night – whether it was the party night or not! (You might remember my aversion to drunk backpackers from my post about Vang Vieng).
RELATED –
Don't head to the beach without packing some (or all!) of these
beach essentials
!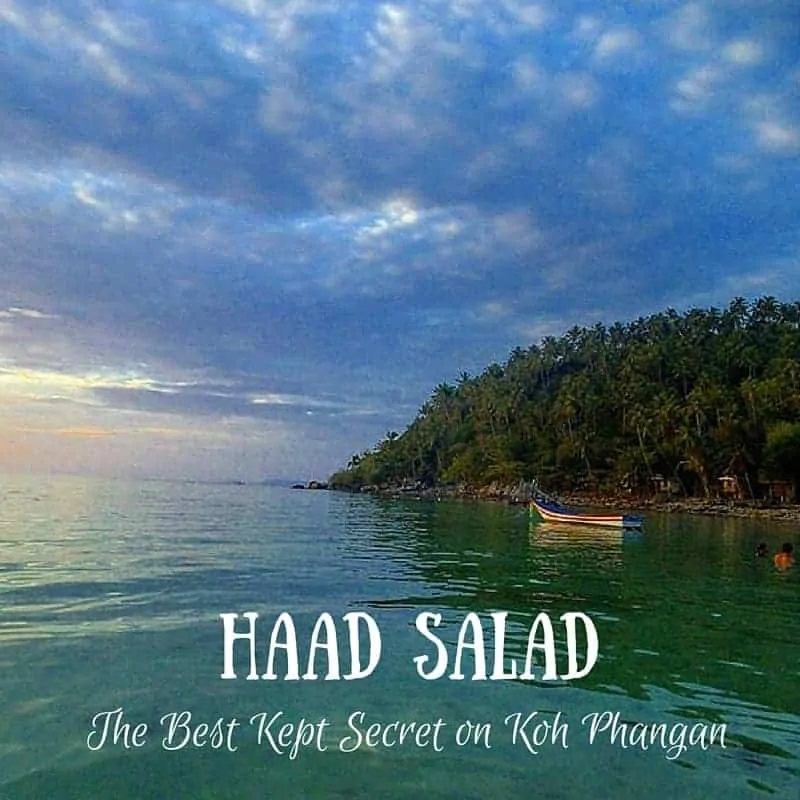 Now, don't get me wrong – I'm not lumping every backpacker into this category, and a big blow out every once in a while can be healthy (and fun!) but I just don't like to be/stay in that kind of environment. So where else should you stay? Read on to find why Haad Salad is the best place to stay on Koh Phangan!
Haad Salad is THE best place to stay on Koh Phangan!

Located in the North West of Koh Phangan – and the complete opposite to Haad Rin (in both location and style!) I would go back to Haad Salad in a heartbeat.
The beach is to die for: a white sandy bay flanked either side by green cliffs where the sun sets over the horizon. Bliss! Boasting a shallow bay with beautiful coral, you have to walk quite far out for a swim but it makes for perfect snorkeling and most people (including us!) were happy to sit in the water closer to shore, which in some places was deep enough to cover your shoulders.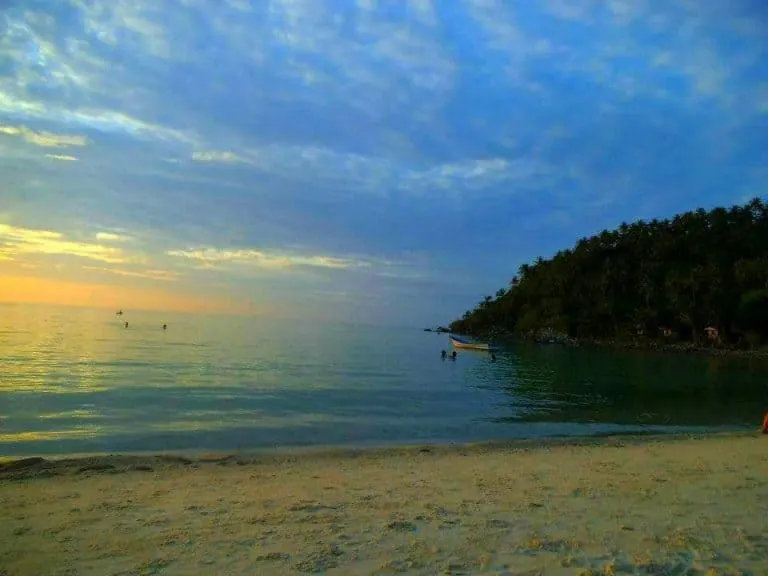 As with many other Thai destinations, you are never far away from a great value massage – and although you pay an island premium compared to prices on the mainland – who can complain with hour long massage for around $10?!
If massages and lounging on the beach is a little too low key for you, there are sea kayaks and snorkeling equipment available to rent from the shore side hotels – but you're not going to find any noisy jet skis or high Adrenalin water sports here. It's a place of pure, unadulterated relaxation.
If you are looking for something a little more exciting, I highly recommend you seek out Sail Rock Divers Resort (there is usually someone based at a tour desk on the beach outside the hotel) and let them take you scuba diving at one of the best sites in the Gulf of Thailand. If you're lucky you'll get to swim with bull sharks!
But, back to Haad Salad – did I mention there is a beach tree swing?! Ah-maz-ing!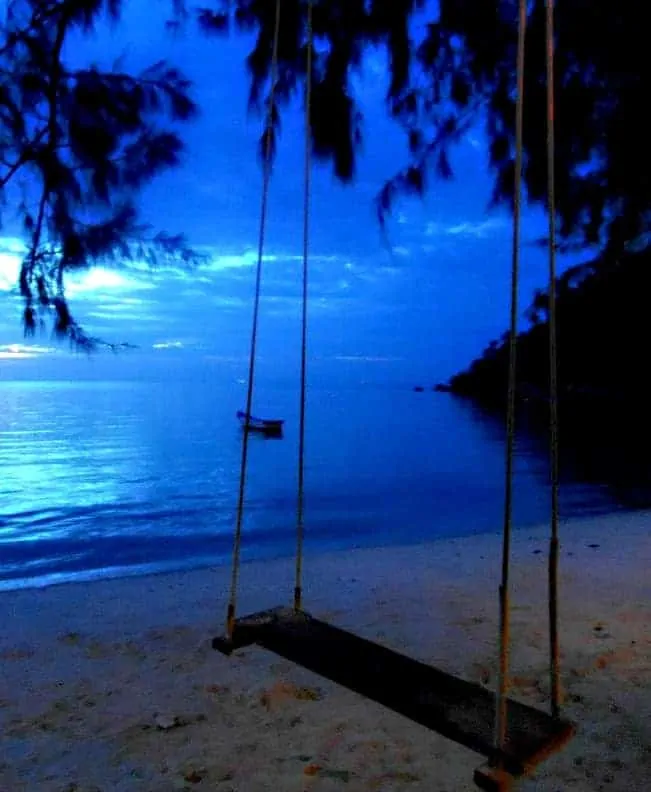 There are only a handful of hotels and backpackers along the shore – ranging from dirt-cheap to high end resorts, and a tiny township (one street!) with a mini-mart, ATM, a couple of shops and a few restaurants. Haad Salad really is the perfect place to escape without having to go to the end of the world. Oh, and, did I mention the sunsets… spectacular!
Further around the bay is haad yao, which also has a range of hotels near it to pick from.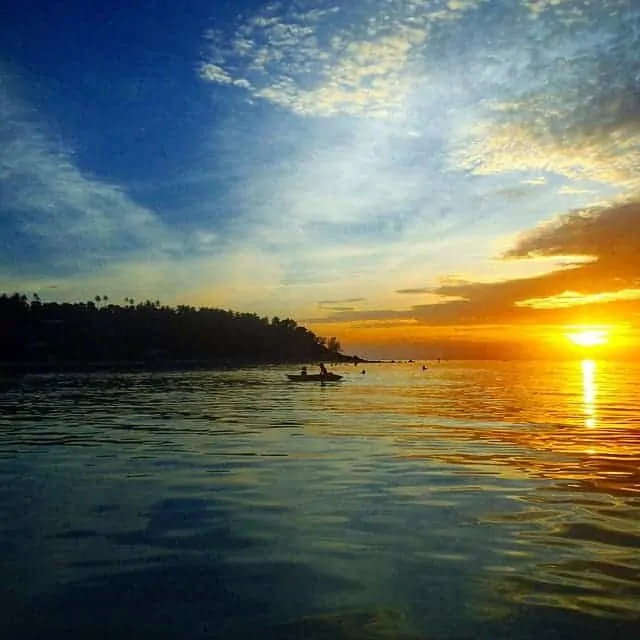 .
My Pick of the Hotels
We stayed at Salad Beach Resort, a beautiful hotel that we splurged on after 2 months of traveling through South East Asia. And oh my it was worth it – if just for the air conditioning!

This is the view from our balcony in our Superior Seaview (Hotel) Room. If you really want to push to boat out you can also stay in a garden view bungalow or a beachside bungalow – but our budget didn't stretch to that!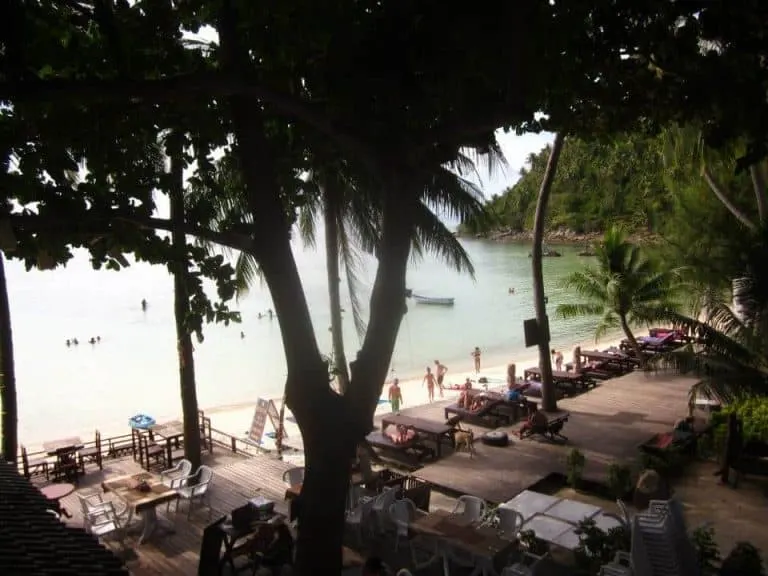 Breakfast was included in our nightly rate and consisted of juices, tea, coffee, omelette station, pancake station, large toaster, sausages, bacon, stir fry veg, cereals, fruit with plenty of seating to accommodate everyone. The restaurant also served really good value meals and was cheaper than the other couple of restaurants in the village. Wifi was also easily accessible in and around the dining area so you could still 'check in' – if you wanted to let anyone know where you are that is!
One of the highlights of our stay was the various drinking and dining options provided by Salad Beach Resort. From the restaurant deck overlooking the ocean, to the tables lit by fire torches at the waters edge to the sun-loungers providing the perfect place to enjoy a cocktail as you watch the sun sink into the ocean. And if you're a seafood fan (like me!) you'll love their weekly Seafood Buffet where they offer up some of the best local catch and cook it to your liking in front of you.
I've never really been one for luxury travel (budgetary problem rather than a lack of desire!) but this resort was certainly one of the highlights of my trip through South East Asia. I mean, come on – who wouldn't want to swim on a secluded beach at sunset?! Not me.. said no one ever!
.
Getting to the Full Moon Party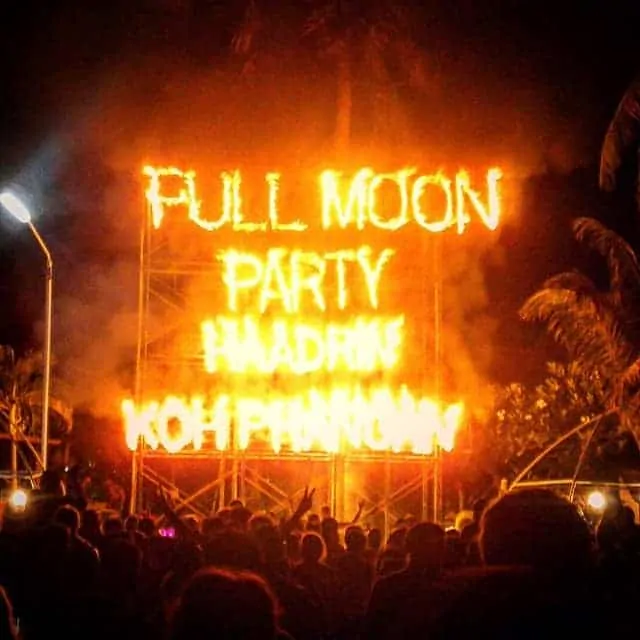 The hotel offered a return taxi service to the Full Moon Party at 400 baht per person and had drop offs at 7pm, 9.30pm and 11pm. Return taxis were available any time after 2am. The taxis took us down to Haad Rin and dropped us at the place where we would be picked up. We were given a laminated card to show we had paid and where we wanted to go back to. The whole process was relatively painless (apart from hurtling through the jungle at high speeds in the back of a pick up truck) and when we wanted to go back we only had to wait 5 minutes for the taxi to fill up before we set off.
if you are heading to Koh Phangan just for the FMP – check out these awesome full moon party survival tips!
The Verdict
We had a lovely, relaxing stay at Salad Beach. It has the added benefit of not having a minimum night stay – unusual for hotels on Koh Phangan around FMP time. And I can guarantee if you only stay a couple of days you will wish you had stayed for longer! Knowing we were going to have to pay a premium to stay on the island at their busiest time of the month, Salad Beach Resort did not disappoint and offers an unbelievably cheap luxury resort in your own slice of paradise.
And the best part… it's the best kept secret on Koh Phanagan.
Or it was… until now ;-)
If you liked this article, please pin, tweet and share – I'd really appreciate it!
Save
Save