Living in today's society, we are lucky to be able to put our stuff into a bag, throw a dart at the map and head off (practically anywhere!) in search of adventures. We expect everywhere we go to be wonderful – and a million and one blog/travel posts tell us that the world is amazing. (And it is!) But what about the worst places we visit? Do we sweep them under the rug thinking, maybe it wasn't so bad – or do we not want to share them as negativity doesn't really fit with social media's thirst for beautiful, wanderlust inspiring destinations?
These Travel Bloggers share their worst places with me, and decided if they would ever go back to give it another go – you may be surprised by a few!
Would you go back to somewhere that didn't thrill you the first time?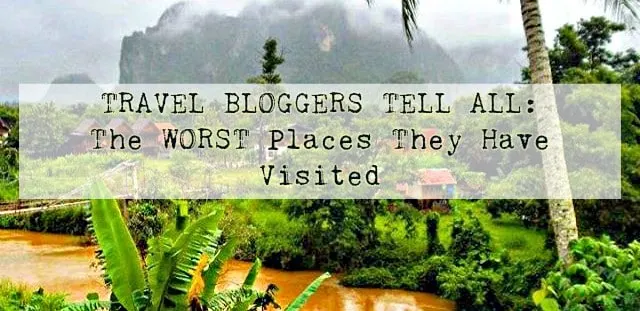 Travel Bloggers Tell All – The Worst Place They Have Ever Visited
Hands up, who has picked a destination based on what they had heard? It's those destinations that people rave about as a "must-see," – they shout from the rooftops that "its amazing!" and declare "how could you go to ______ without visiting ______?! So you booked it, excited to experience everything you had heard about – and it turned out to be the worst place you have ever visited?
I'm thankful that, on the whole, I have loved (almost!) everything about everywhere I have been. But there is one place that I absolutely hated. It was, and still is a 'must stop' on any south east Asian itinerary and firmly on the backpacker route through Laos. Can you guess where it is yet? That's right, I'm talking about Vang Vieng.
Vang Vieng, Laos: The town that sold it soul to the backpackers
Vang Vieng in Laos is categorically the worst place I have ever been to. After entering Laos from the North of Thailand, we stayed in Luang Prabang, which was just beautiful. The whole town is a UNESCO heritage site and its easy to see why – amazing temples, uncrowded un-touristy streets, stunning scenery and beautiful people living a simple life. Just incredible…
…Then you get to Vang Vieng. It's a small town in the middle of the country, made famous because people could float down the Mekong river in a rubber tube, peacefully taken by the current as you gaze at the lush green mountain landscape. Unfortunately it became the most unlikely party town in Asia when ramshackle bars popped up along the banks of the river offering cheap drinks, rope swings and thumping music form lunchtime to the early hours of the evening. Backpackers (mostly western) flocked to this tiny town and taking the tubes would spend all day going from bar to bar on the lure of cheep – or even free- drinks at every riverside bar they passed by. Queue a stream of drunken backpackers falling about in the streets every afternoon, and cafes throughout the town practically refusing to serve Asian cuisine in favor of burgers, chips, pizza and pasta – all the while replaying episodes of Friends, all day and night. These cafes were decked out with 'relaxation areas' – think loads of cushions laid out like day beds – the problem was that not only were they grotty and stained but they absorbed the smell of the sweat of the hundreds of people before you who have laid sprawled out detoxing after the night or nights before. Eeww.
And then there is the drugs. Not immediately obvious, the town is riddled with them. From being offered the 'special' pizza menu to a full blown drug list – often at ridiculously cheap prices that it is no wonder young backpackers are drawn in.
Following multiple deaths (from dodgy rope swings across the river, with a little help from drink & drugs) the Laos government stepped in and dismantled a lot of the bars on the river – but, for me, the damage has been done.
Would I go back to Vang Vieng? No – It's quite difficult to get to, for very little return – and I know there are so many other beautiful places in Asia, so sorry Laos – I loved you, but not your party town.
CANCUN, Mexico: WHere PARADISE ISN'T ALL THE BROCHURES SAY IT IS
Shared by Joy @ A JAUNT WITH JOY
"It's hard for most people to believe, but I actually hated Cancun. My boyfriend and I went in September 2011 and the water was nothing like what you see in the brochures. The party atmosphere was too much. The streets were trashed and everybody was grossly drunk. We couldn't escape the constant noise of construction on sky rise hotels. We actually had plans to stay there for a week, but after only two days we decided to move on to Playa del Carmen for a much better party vibe and that gorgeous teal water we had been promised."
Would Joy go back to Cancun? Yes. After talking to a few Mexican friends about our Cancun experience, they all agreed that the September season was not a good one if wanting beautiful beaches. Because it's Cancun and everybody else seems to love it, I would definitely give it a second chance in a better season.
Naples, Italy: Where trash lines the streets
Jennifer @ WORLD ON A WHIM shares her experience:
"The worst place I have ever been to was Naples, Italy. While I was in Rome, I had an extra couple of days and thought it would be an excellent idea to check out the South of Italy by visiting Naples. Please know this was a completely spur of the moment decision and not one that I had researched. Consequently, I had not arrived in a beautiful locale like Positano, but in an extremely dirty train station. I walked around for a few hours and sat down to have the famed tomato sauce on my pizza, but I could not even enjoy because the waiter was aggressive and insistent on taking me home for the evening. I decided to leave early the next morning; on the bus ride to the train station to get back to Rome, I had a man steal my wallet from my purse. Luckily he lost his footing and dropped my wallet."
Would Jennifer go back to Naples? I would go to Naples as a gateway to Pompei and Capri, but I would not recommend the city as a place to visit solo or for a relaxing vacation.
PATONG BEACH, Phuket: THE SEEDIEST PLACE IN THAILAND
Shared by Dominic @ FLASHPACKING DUO
"Thailand, a beautiful picture postcard setting with turquoise waters and rich culture, and then you suddenly see those florescent lights above welcoming you to Patong beach.
The only description we could come up with after three very long days of walking Bangla road was this; Amsterdam Red Light district meets Benidorm. Now the beach wasn't much to go on as it was mainly a construction site and we couldn't see past the jet ski's and other cliche overpriced activities on this once serene beach.
Then the night rolls around bringing with it the night crawlers. The streets filled with men leering at the young Thai girls dancing on the bars, following their guide to the ever allusive ping pong shows. The near dead walking the streets and frequenting the bars to full-fill their dirty deeds exploiting the young girls of Thailand. Expect to see no shame from this seedy town."
Would Dominic go back to Patong Beach? No – after one night we were dying to get back to the Thailand we all know and love. Bangla Road is a special place that you have to see with your own eyes to know there are far better places to go in the future.
COSTA RICA: WHEN A COUNTRY JUST DOESN'T STACK UP TO ITS NEIGHBOR
"Costa Rica has an exotic reputation, a country filled with promise, wildlife, and excitement. But it failed to impress me. Don't get me wrong, there was plenty to do and I enjoyed activities I did there, like going white water rafting for the first time. There wasn't just one thing either… I was tired from spending 4 months traveling in Central America already, I was traveling alone after my travel partner left, It was the start of the rainy season. Mostly though, It just didn't compare favorably to Guatemala and Nicaragua, both countries I loved traveling in. Compared to them, Costa Rica felt geared up for holidaymakers from the USA, rather than budget backpackers. As well as making things more expensive and touristy, it also felt more difficult to get to places, such as nature reserves, without spending a small fortune on a tour. I felt I could do the same (or better) things for less money, and easier in Guatemala and Nicaragua, so sorry Costa Rica, but I didn't love you."
Would Gemma go back to Costa Rica? Maybe one day – when I can be a rich(er) holiday maker too!
The Verdict
So, there you have it – a short selection of the Worst Places in the world to visit.
Have you been to any of these places? Do you agree with the experiences described above? Is there anything you would add? Or did you think the complete opposite? I'd love to hear about your travel experiences – good or bad – let me know your thoughts below!
Happy Travels :-)
Note: All views expressed are those of the listed authors and are not stated as facts.