So you've decided to start a travel blog – and you would like it to make money. Well, you've come to the right place. Sort of. I mean, I can totally help you with the starting your travel blog part, just scroll down for my How To Start A Travel Blog in 10 Easy Steps, and then we'll talk about the money – because that's why you're here right?!
Note: This post contains affiliate links. This means that if you decide to purchase any of the products or courses I recommend I get a small commission at absolutely no cost to you. And I only recommend products and services that I use myself and am happy with their performance.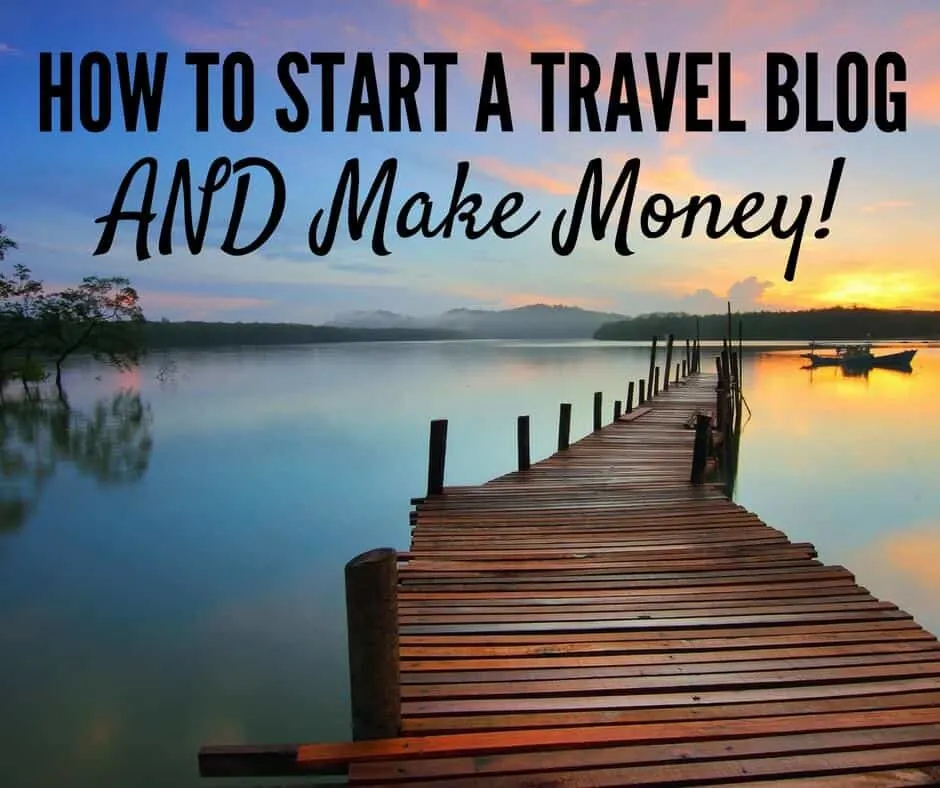 How To Start A Travel Blog in 10 Easy Steps…
PICK YOUR NAME
It's going to be the basis of your brand and tell people about who you are. And unless you plan on revisiting these 10 steps in a couple of years when you've changed your mind or focus – make it a good one that you love first off.
Draft names that encompass what you do or what you want to achieve and be aware that a lot of the names that include backpack, nomad, adventurous or various connotation of luxury travel, adventure travel and family travel have already been claimed! Once you have decided on a name, Google it and variations of it. This will show you what competition is like and lets you check that it doesn't look like you've copied anyone!
Another thing to keep in mind is how long it is (as some social media platforms have character restrictions on names) and how easy it is for people to remember. Simple, straightforward and memorable will make it easier for people to recall.
SET UP HOSTING FOR YOUR WEBSITE
Hosting is essentially you renting a little slice of the web to display your blog on. Think of it a buying the land on which you want to build you own little empire – at a fraction of the cost!
There are lots of hosting comapanys out there, but to save you the effort of reviewing them all yourself – I recommend Bluehost who are perfect for beginners and new sites.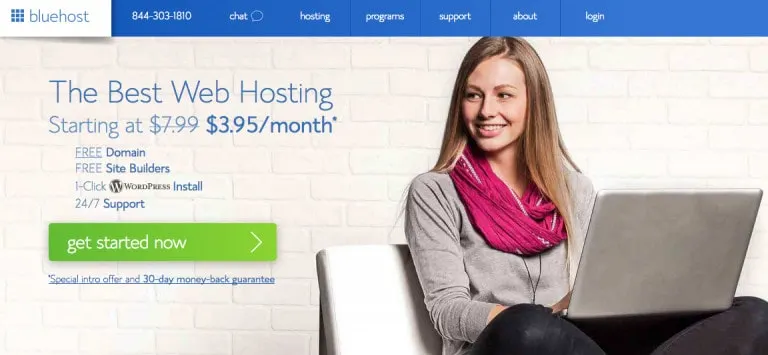 As a web host they offer great value hosting, include a free domain – for when you've picked your awesome new blog name, they can install WordPress at the click of a button & offer 24/7 support. The 24/7 support is available for anyone in any country and totally online – so no hefty phone bills when you need to get in touch with them. But they also have 24/7 phone service which can be called via skype to keep the charges down (Yay!)
They also back up your site periodically – I was not aware of this in the early days and I pressed something that screwed my site. Like I seriously broke it. I contacted online support in a blind panic and within half an hour, I was all fixed up and back online. This is great to have as a back-up but don't put all your eggs in one basket. I've included a back up plug in below and highly recommend you install it once online.
Ready to go? Click the green Get Started Now button.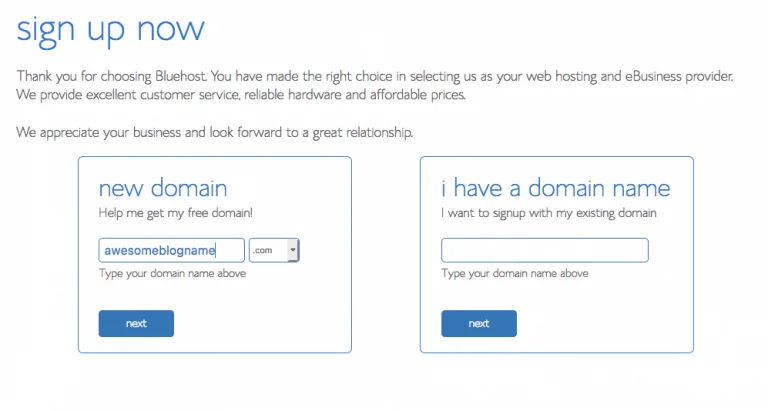 In the box on the left – type in your awesome new blog name (they'll let you know if your desired domain names are available) and I'd recommend sticking with .com as it's all encompassing and well recognized. Click next and you'll be taken to the following screen: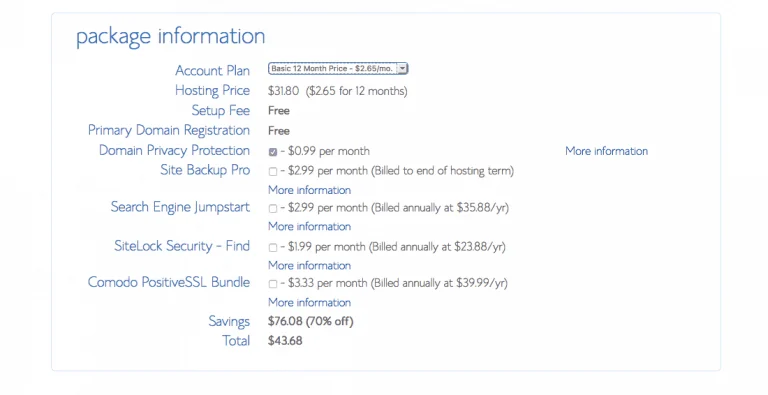 Here you'll be offered a range of options. I'd recommend sticking with the 12 month hosting plan (instead of the 24 or 36 month plans) as you don't get a discount for the extra time – and a lot can happen in a year! Definitely keep that Domain Privacy Registration box ticked. That $0.99 per month means your physical address is secure and NOT searchable. I'm sure everyone is aware of the need to keep your personal data secure online. Keep that box ticked & click through to purchase.
As of July 2018 – you also need the SSL certificate. Most hosting providers will not include this free of charge. Just be sure you tick the box to have it activated.

And once you are established, you'll want to switch to Performance Foundry. They're expensive, but they take care of everything from making (and keeping) your site lightning fast, to quick fixes and trouble-shooting. See how they can help you here.
INSTALL WORDPRESS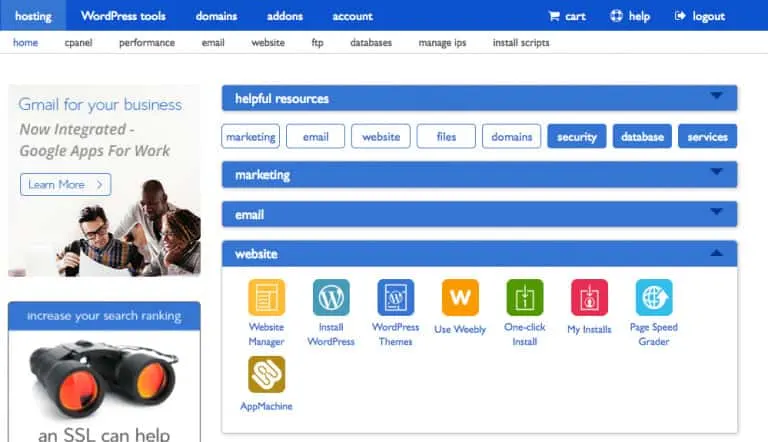 Click the button that says install wordpress. It will ask you where you want to install – here's where you put your brand new domain address. You'll then be taken to a login page – which will be http://www.amazingtravelblog.com/wp-admin and you can pick your username and password then login to your WordPress dashboard and run your site from here from now on.
PICK A BEAUTIFUL & MOBILE RESPONSIVE THEME
Its not enough that your site looks beautiful on your desktop, but it has to be pimped for mobile users too. Smartphones now account for 50% of the webs traffic and If you want to grab your slice of the pie, your website needs to be mobile responsive. If its not, you're missing out on mobile referrals (who are generally more engaged than desktop users) as Google can penalize your site by not showing it in mobile search results if it isn't user friendly. There are lots of free themes available, but if you're after something really specific there are lots of premium themes available to purchase. (But for newbies, I'd recommend going with a free wordpress theme first and see if you like blogging before purchasing a premium theme)
Once your blog is set up, create an account through Google's Search Console and you will be able to check if your site is mobile friendly. It was also provides hints to improve if you're not quite tip top.
INSTALL THESE ESSENTIAL WORDPRESS PLUGINS
(all are FREE & offer a 1 click instal plugin function through the plugins section inside your site –

no need to download

!)
Akismet WP-Spam Shield – blocks pesky spam comments (I used to use Akismet but found my site keep needing to be re-validated. I switched to WP Spam Shield and it work's just as well!)
BackWPup – Free Back Up Plugin that you can run manually or set to back up at regular intervals – and as your site grows you may want to invest in Updraft. (it's what I use!)

Insert Headers and Footers – if you no nothing about code and have no intention of learning how the back-end of a website works, this nifty little plugin will make it super easy to add the Google Analytics tracking codes (Step 8)
Sassy Social Share – Lightweight, customisable and has over 100+ social networks available. Whats not to like.
Securi Security – Free security plugin that checks for Malware, Offers Security Hardening and a general all round good guy to help in the fight against hackers.
Thank Me Later – a great little plug in that lets you autorespond to people who have left a comment and can be used as a prompt for whatever Call To Action you are focusing on at the time (Facebook Likes, email subscribers etc)
WordPress Popular Posts – Displays your most popular posts – based on your own parameters (comments/shares etc) and encourages people to click through to other posts on your site (if this isn't already built into your theme)
WP Smush – Image optimization will be key in keeping your website running quickly, and although you should be optimizing image before uploading them, this will compress them further on upload.
Yoast SEO – Helps make your posts SEO friendly by identifying keywords and analysing how reader – and Google friendly – your post is But don't take it as gospel and don't try for all green lights. (More on this in my SEO for Travel Bloggers post)
MAKING SURE YOUR WEBSITE IS SUPER SPEEDY WILL DEFINITELY WIN YOU BROWNIE POINTS WITH GOOGLE. IF YOU'RE NOT TECHY (LIKE, ME!) I HIGHLY RECOMMEND ENLISTING THE SERVICES OF AN EXPERT: ALEXEI @ WPSPEEDGURUS HAS BEEN A LIFESAVER AND FOR A SUPER LOW PRICE WILL HAVE YOUR SITE RUNNING AS FAST AS IT CAN IN NO TIME!
For those that are a little more techy, or don't mind losing a few days to working out the best configurations for caching plugins to help with speed, I recommend AutoOptimze, W3 Total Cache or WP Fastest Cache (or a combination of all three!)
CLAIM YOUR SOCIAL MEDIA HANDLES
On Facebook, Pinterest, Twitter, Google+ & Instagram (and Snapchat & YouTube if you're a fan of those too!)
SET UP YOUR EMAIL LIST
Ask any social media marketer and they'll tell you that your email list will be your most valuable asset. Essentially it is a list of people that want to be notified about your latest and greatest content and who are happy to hand over their precious email address to you. Newsletters are a great way to utilize your list, keep you in touch with your audience, and most importantly, get them to keep coming back to your site. Put simply, it's Marketing Gold.
ADD GOOGLE ANALYTICS TO YOUR SITE
This is the industry standard for tracking traffic. It will help you monitor your sites progress and will be important once you are pitching to companies. Set up your account and then copy and paste the tracking code into the 'Header' plugin we just installed.
START WRITING!
Find your groove, find your style. Write about what you love, about what interests you and most importantly, have fun! I'd also highly recommend writing useful content and informative posts using your own travel experiences to date. (Sharing your experiences will also help your audience find out more about you – which is important if you want them to keep coming back!) There's not much of a market for 'Top 10' Lists, but if you can find your own spin on destinations that have been written about thousands of times and write really interesting city guides and genuine travel tips, you'll be onto a winner. But the time to start writing is now (if you haven't already!)
– the ultimate guide to running your site like an absolute boss & get you to the point of moneytization quickly. There's also a few groups listed in there to help you get more involved with the blogging community (which is super helpful when you're starting out and as you progress to being a professional travel blogger.) Also, search engines traffic is the best traffic you can get, so get onto learning about SEO (search engine optimization) as quickly as you can.
RELATED: These tips are pretty specific to the Travel Blog world, but if you're looking to Start a Music Blog – this is the post you need!
Click the share bar on the left to quickly Pin for later!
..and Make Money
I can see why you're drawn to the idea of travel blogging – you like travel, have been to a fair few places (and even if you haven't!), you take some wicked photos and reckon you'd be pretty good at the writing part. And that's great – somebody (or many somebodies – travel blogger have a stream of different incomes) may be willing to pay you for your talents. Once you have built an audience and established yourself in the industry.
I don't mean to put a downer on anybody's plans, or turn you off the idea. But let's be realistic. If you were to type 'travel blog' in Google, a short 0.53 seconds later you'll be faced with around 191 million results. That's a lot of travel blogs. If the aim of your blog is to keep your family and friends up to date on your travels, this shouldn't bother you at all as those folks will have the address and be popping back all the time to see what you're up to. (Either grab yourself a free wordpress.com account or you can skip ahead to the how-to part if you want to be self-hosted and have more creative freedom). But, if you want to make money, this should be a cause for concern. Because, you see, a fair percentage of those 191 million blogs are your competition – not all of them (a fair few will be the 'blogging for friends and family' type I mentioned above) but at least the first 30 pages of Google are bloggers who are hoping to build a loyal audience who will use their site for all their travel needs. I know, because I am one of them.
…And with an estimated 3.2 billion web users – there is plenty of opportunity for everyone!

Getting Stuff For Free
First off, lets get one thing straight. Setting up a travel blog does also not automatically entitle you to "free stuff". Companies are not going to start inundating you with press trip offers or sending you tickets for you to travel the world just because you own a 'travel blog.' Why not? Because (at first!) you don't have anything to offer them. Brands want to work with bloggers who can offer a return on their investment; who have an engaged target audience who are likely to want to buy what they are selling. Yes, you will get companies offering to send you products in exchange for a review on your site, and you are more than welcome to pitch to companies for free passes/tours whilst you build up your audience (what's the worse they can say, no?!) But please, please, please, do not be that person that asks "how to pitch an airline for flights for 3 people for a bereavement". (True story). The fact you are even thinking that you should be entitled to free flights (or equivalent) because you own a blog read by a few hundred people makes every blogger look bad. (and makes my blood boil).
Building your audience takes a little (or could be a lot of) time and a lot of hard work, but it is totally doable. And when you get to that point, companies and brands will be more receptive to collaborating with your blog. You may be invited on fam/press trips (which sometimes include flights) and you may be able to negotiate free travel passes in return for blog posts. You may even become an ambassador for your favorite travel brands or be chosen for destination campaigns by tourism boards, at which point you may start getting paid to travel. But this isn't guaranteed and it certainly won't happen overnight.
Another incredible thing about building an audience is that they will listen to you and reach out for your advice. When you receive your first email featuring the words 'reading your blog' or 'I read your posts' and I found x 'helpful' 'informative' (or other such pleasantry) you'll be so happy to hear from them and it will make the hours spent in front of your screen totally worth it.
Ways That A Blogger CAN Make Money
Your blog can open up so many doors for you, and successful blogging isn't just measured in pageviews(!) – let me share with you just a few of the ways bloggers earn money. And just a heads up – not all of them are through the blog directly, but the use of their blog as a showcase of their talents which can lead to other 'real-worldy' things :-)
On your Blog

This is where bloggers promote products or services and get a commission in return (at no extra cost to the reader). These can be things like the Amazon Affiliates Programs or Booking.com/Agoda Affiliates. And oh so many others. Well placed Affiliates can bring in a decent passive income where you have the traffic to support them, but be mindful of promoting too many sites at once to soon as it may look spammy and that your in it for the money.
Affiliate Marketing can be an absolute goldmine when done right. And by right, I don't mean by stuffing a link in here and there and hoping the sales come rolling in. It's a rich and diverse area – with so many different strategies to utilize and implement. This is the only course I highly recommend spending some money on to make sure you get it right.
Michelle @ MakingSenseofCents (and who earns serious $$$ through her blog) has an amazing Making Sense Affiliate Marketing Course – which although is pricey, is worth it's weight in gold. Or cash. Or whatever currency you accept!
.

A lot of bloggers make some of their income from Sponsored Posts. They can come from 'influencer 'platforms such as Cooperatize and FameBit. Or they can come direct from companies or websites that will contact you and ask you to write content (or occasionally they will provide the content) that includes a link to their site. What you can charge will depend on what your Domain Authority is and the amount of readers you have. But don't sell yourself (and in turn, every other blogger) short. Also, try and use your judgement about whether the link/product/destination would be of interest to your readers – and don't be afraid to say no if it isn't!

Once you have a reasonable amount of traffic, it may be worth adding display ads to your site. This can be done by manually selling display and banner ad spaces on your site, but is much easier if you can hand it all off to an ad network. There are a few out there, but the best for me are Mediavine (which require a minimum 25,000 sessions a month) or AdThrive which require 100,000 Page Views a month. Both look after their publishers really well and pay fairly (unlike AdSense which pays a pittance). Personally, if you don't have the traffic to qualify for an ad network, I wouldn't bother putting AdSense ads up – they're ugly for very little return. Work on building your traffic and capitalize on it once it's there!
.

As simple as it sounds, you essentially become a reseller for platforms like Amazon, Ebay and Etsy. You choose what you want to sell and the best way to present it. This one will take some time to get off the ground, but can be quite lucrative once you have a steady stream of visitors that are invested in your brand and your recommendations.
Off your Blog

A lot of bloggers supplement their blogs with freelance work, often online. This can be in a variety of areas including freelance writing, editing, coding, marketing, graphic design or being a virtual assistant – for just a few examples. Upwork is a great website for finding this kind of work, and if you're looking for more websites like it, check out Storyv's post about 37 Websites to Find Online Work
.

If you become a whizz at social media, there is a lot of scope out there for charging for your talents. Be it for a travel brand – or social media management outside the travel industry, these skills are truly transferable. And even better – this is the type of job you could do from anywhere in the world.
You could also sell your services as a social media consultant (hint, hint – hit me up via email if you'd like a social media review and overhaul!) and get paid to give advice rather than for a set hourly rate. To start building an audience can be tough – but it doesn't have to be. Get help from the experts who have done it before you and have useful informations and useful tips to share.

If you have a background in a particular skill that you could market to the masses, creating and selling e-courses or e-books could be a great source for additional income.
These are just a few ways that bloggers can make money – but if you are looking for an all-in-one guide, complete with step-by-step guides and resources, Sharon Gourlay's book is the best resource on the market:
And there you have it – my step by step guide to start a travel blog AND (a few tips!) about How to Make Money! :-)
And if you like this post don't forget to pin and share the <3