As travellers, we all want to get off the beaten path and visit places untouched by mass tourism. We want to find that just waiting to be discovered new destination right out of National Geographic. Nicaragua is often compared to Costa Rica years ago before the developers moved in and brought Western infrastructure and facilities. Affectionately called "Nica", the country was thought of as unstable in the 1980s and not visited often. Luckily, this has well and truly changed and Nicaragua is becoming quite the Central American hotspot. Tourism in Nicaragua is evolving, but it feels sustainable and authentic. Read on for a comprehensive guide to Granada Nicaragua Things To Do, Where To Stay and What To Eat!
Things To Do in Granada Nicaragua Plus Where To Stay & What To Eat
A Guest Post by Dawn Nicholson of 5LostTogether
Just a short flight from north America, Nicaragua should definitely be on your list to visit. You will likely arrive in the capital of Managua and should make your way straight to the beautiful and charming colonial city of Granada, less than an hour away. Granada is one of the oldest cities in the Americas and its cobblestone streets, colourful buildings and charming streets are a photographer's dream. It is a great way to ease your way into the region because it offers good amenities, in addition to its charming character.

top Things to do in Granada, Nicaragua
Stroll the Colonial Streets
Granada just oozes charm and the best activity is taking a self guided city tour by simply wandering through the colonial part of the city. Visit the central markets, Parque Centrale, the many Churches and small laneways to truly appreciate this city that dates from 1524. It's also a great spot to people watch!
.
Take a Horse Drawn Carriage Tour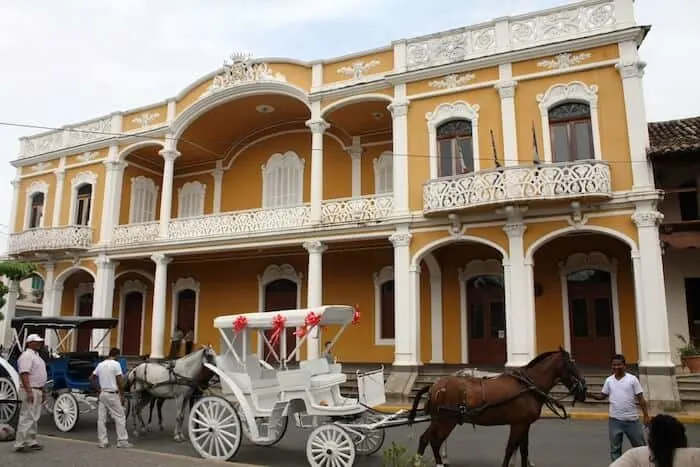 You won't have to look too far to find the eager horse and carriage drivers that line Parque Centrale. Carriage rides and City tours are generally only an hour, which is a great introduction to the city and culture. Try to select a driver that speaks English so that you can learn the important history of the city. We paid 600 Córdoba's and our driver, Salvador (#78) was fantastic. It was easily one of the best things to do in Granada Nicaragua.
Visit its Lovely Churches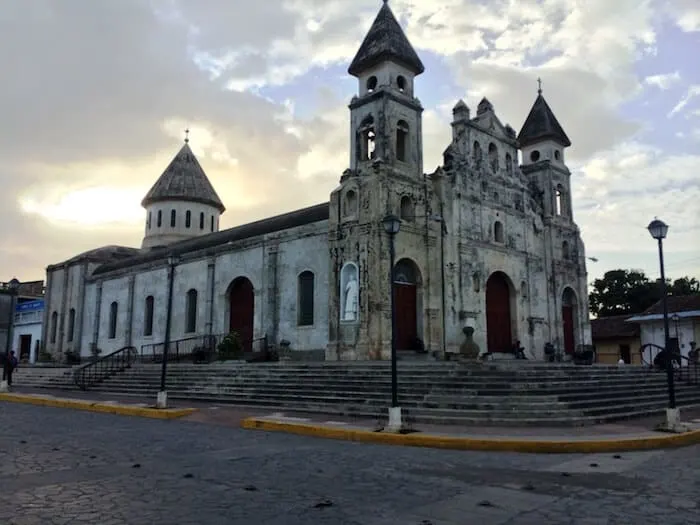 Some of the best places to visit in Granada are it's beautiful churches – on which the Spanish left their mark when they built elaborate churches and cathedrals throughout the city. Most of these are Catholic churches with colourful facades and stunning architecture. A highlight and one of the most popular tourist stops is the Bell Tower at Iglesia La Merced (aka. Iglesia de la merced or the Granada Cathedral). For $1 you can climb the steps for spectacular views of the city.

.
Spent time on Calle La Calzada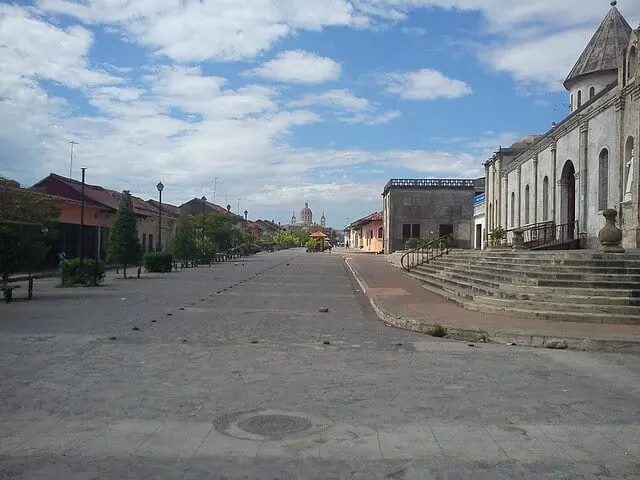 Calle La Calzada extends out from Parque Centrael and is the shopping, restaurant and nightlife part of the city. In the evening street performers set up to entertain, restaurant tables flow out onto the street and vendors sell their wares. It is one of the top things to do Granada and should definitely not be missed.
.
Fly Through the Treetops on a Zip Line (nearby)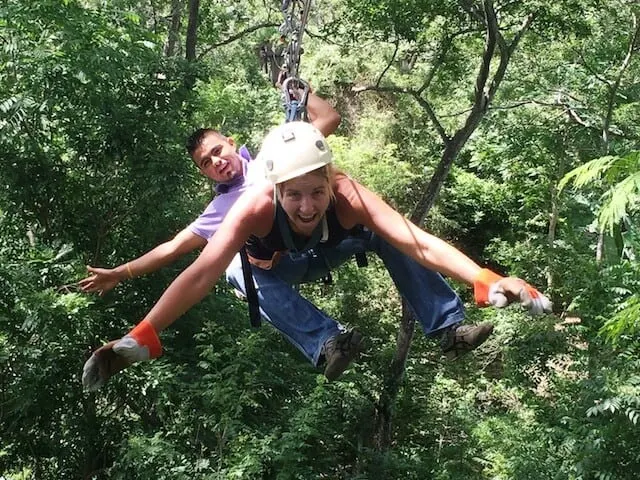 The Miravalle canopy tour near Mombacho volcano is a place for you to test your extreme sports fears as you zip line through the lush canopy. With a 2km range and 17 platforms, this will keep you busy for a few hours. The guides are fantastic and they will encourage you to try various funny styles like Superman or Tarzan.
.
Swim in Laguna de Apoyo (nearby)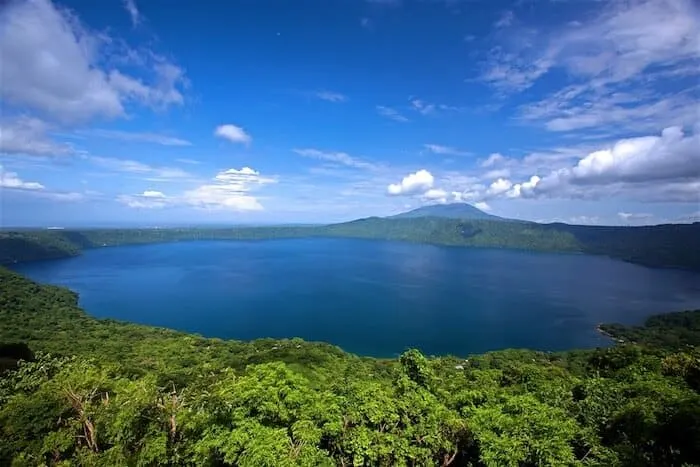 Laguna de Apoyo is a crater lake located 30 minutes from Granada and a world away from the bustle of the city. You can spend a few days by the lake or you can pay for a day pass at one of the resorts or backpacker hostels, where you can make use of their watersports and swim in the warm waters.
.
Visit Masaya Volcano (nearby)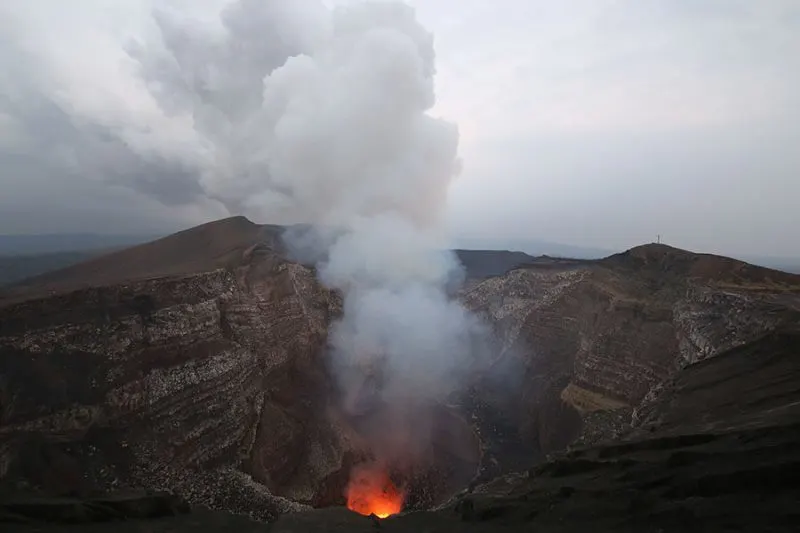 It wouldn't be right to visit Nicaragua without visiting one of its many volcanoes. Masaya Volcano is Nicaragua's first and largest National Park and only 30 km from Granada. You could combine a visit here with Laguna de Apoyo in a one day tour. We loved being there in late afternoon for the sunset. You definitely feel like you are at a volcano as you smell the sulphur dioxide she emits. There is an informative visitor's centre and you can add on a visit to Tzinaconostoc Cave, home to many bats.
.
Where To Stay in Granada Nicaragua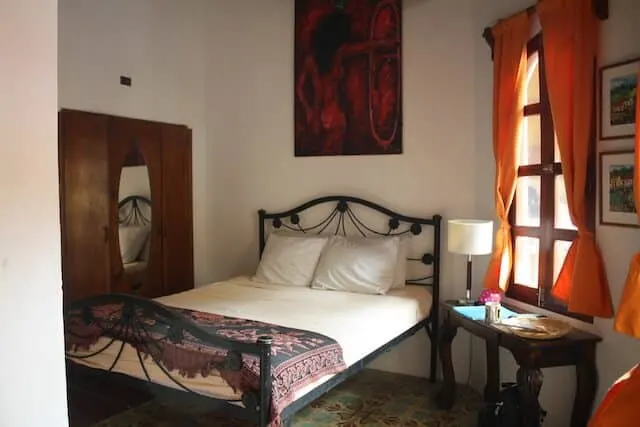 For great value accommodation located right in the heart of the city, make sure you book into Casa del Agua ($50/night). Owned by Gerry, an extraordinarily helpful Irishman, this charming guesthouse has it all. In fact, a local women's co-operative owns and manages the hotel, along with Gerry. The courtyard swimming pool and quaint rooms are a welcome respite from the bustle and heat of the city. Gerry has thought of everything and the shared kitchen and common area allows you to interact and meet fellow travelers. With good A/C, free coffee, tea and cereal and an eager host ready to help you plan your day, what more could you ask for? There are lots of different room arrangements, including a great room for families. This is a popular place, so make sure you email in advance to make a booking.
MAKETIMETOSEETHEWORLD ALSO RECOMMENDS these great hotel deals on hotels in Granada

Located amongst a variety of popular tourist attractions, shops and eateries, Hotel Plaza Colon is ideal for those wishing to discover Granada and its surroundings.
Like more info? Click to Read Trip Advisor Reviews

La Islita Boutique Hotel Granada provides spacious rooms equipped with a shower and cable/satellite channels, plus all the necessities to ensure an enjoyable stay. All offer wireless internet access and a private bathroom.
Like more info? Click to Read Trip Advisor Reviews

Hotel Casa del Consulado is a comfortable setting when visiting Granada and is close to everything the area has to offer.
Like more info? Click to Read Trip Advisor Reviews
.
What To Eat in Granada Nicaragua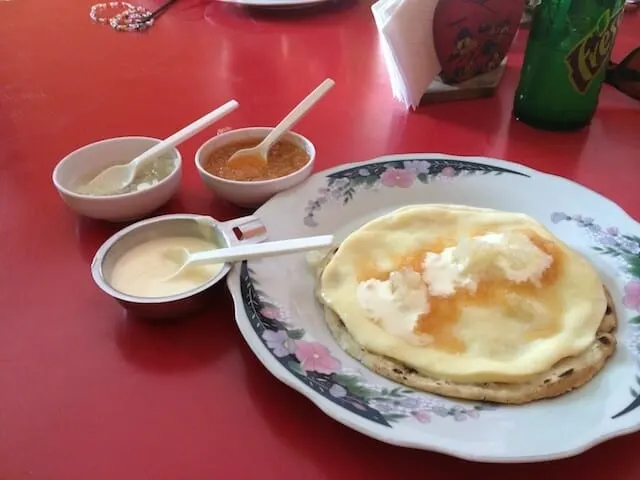 Granada has a variety of great food and drink available to tempt your taste buds, here are a few things we thing you should try whilst you are there!
Quesillos – a local specialty and often eaten as a snack, quesillos are soft tortillas filled with sour cream and cheese and served with pickled condiments. Cafetin el Volcan is known to be the best place in Granada to enjoy your quesillos.
Gallo Pinto – the staple of Nicaraguan diets and rice and beans to those non-Spanish speakers out there. This is served at every meal and includes a generous serving of plantains, something you will need to learn to eat when traveling in Central and South America. We like our gallo pinto with grilled meats and you can find lots of hole in the wall type restaurants in Granada serving up plates of this.
Vigoron – a Nicaraguan specialty that consists of charred pork, cabbage salad, and yucca, wrapped in a banana leaf. The best place to sample this is from one of the street stalls in Parque Centrale.
Flor de Cana – Nicaragua's world famous rum should be sampled, especially the 7-year-old variety. If you make it up to Leon, you can tour the factory. Flor de Cana makes great souvenirs for all your friends back home.
Western food – if you have been in the region awhile and you are tired of rice and beans, Kathy's Waffle House will be a welcome change. You can get great waffles and other Western foods here.
.
EXTRA Granada ADVENTURES to help you explore Granada

IF YOU CAN'T GET ENOUGH OF GRANADA, TAKE A LOOK AT THESE GREAT TOURS TO EXPLORE THE SURROUNDING AREA:
Combine a visit to a rum distillery with a tour of the historic town on Leon Nicaragua and you've got a perfect day trip from Granada
Explore the las isletas of Lake Nicaragua on a boat tours and get access to the private Zopango Island for some leisure time.
If you're feeling energetic, a morning kayaking around the Isletas de Granada could be exactly what you are looking for.
I hope I have convinced you to make Granada and Nicaragua one of your next travel destinations. Granada is an easy place to spend a few days exploring the beautiful colors and streets of this colonial towns. The surrounding areas are just waiting to be discovered with volcanoes, fresh water lakes, and wildlife beckoning. If you have a few more days, the magical twin volcanic islands of Ometepe should be your next stop on your Nicaraguan adventure and Ometepe Island tours run from San Jorge (less than 20km away from Granada). If you have more than a few days, head across to the beach side area of San Juan de Sur and combine your city break with some beach action.
So there you have it, our Granada travel guide – hopefully we've given you enough information to plan the perfect getaway to Granada – and given you a great list of things to do and places to visit to make sure you get the most from your visit. Don't forget to let me know you're own highlights once you're back and remember to grab these everyday travel essential before you go:
CLICK THE IMAGES TO ORDER NOW
Oh, and if you liked this post please pin and share – I'd really appreciate it! Click the P in the share bar for full size images!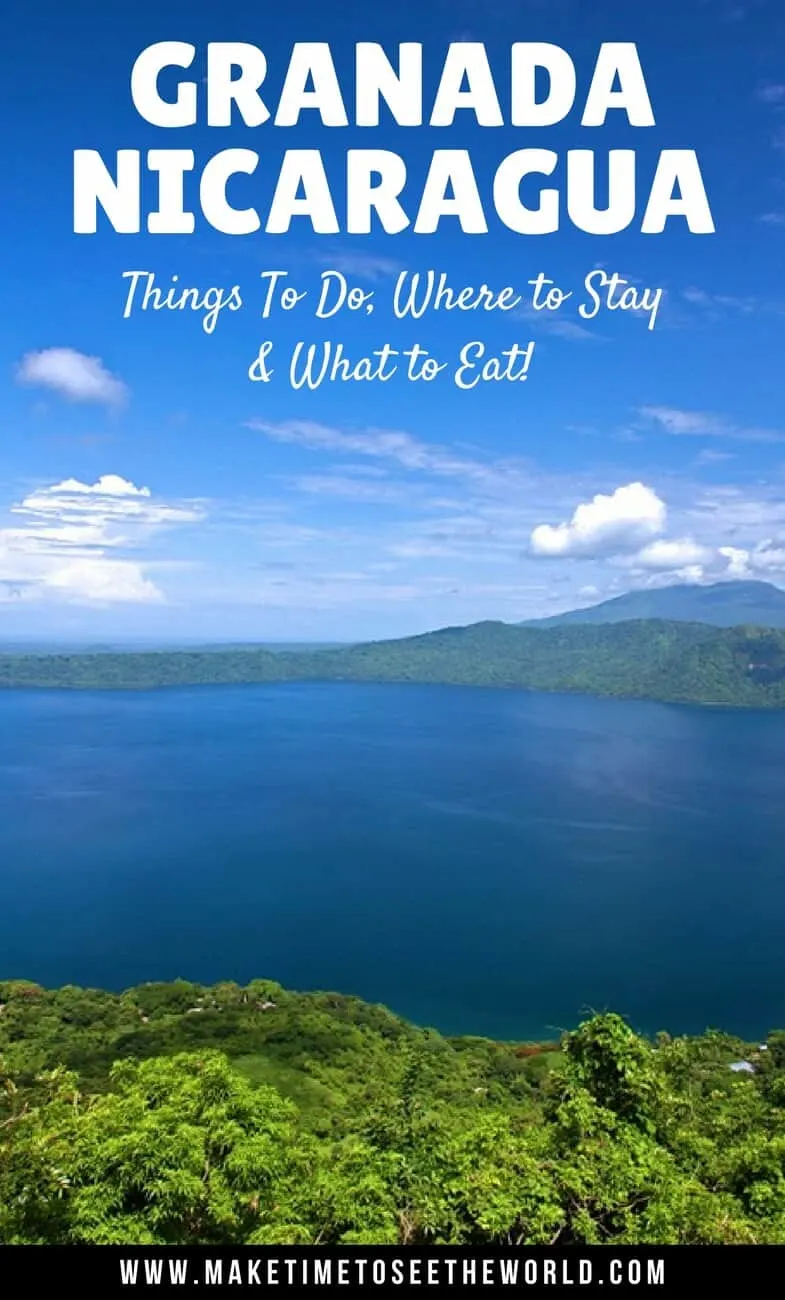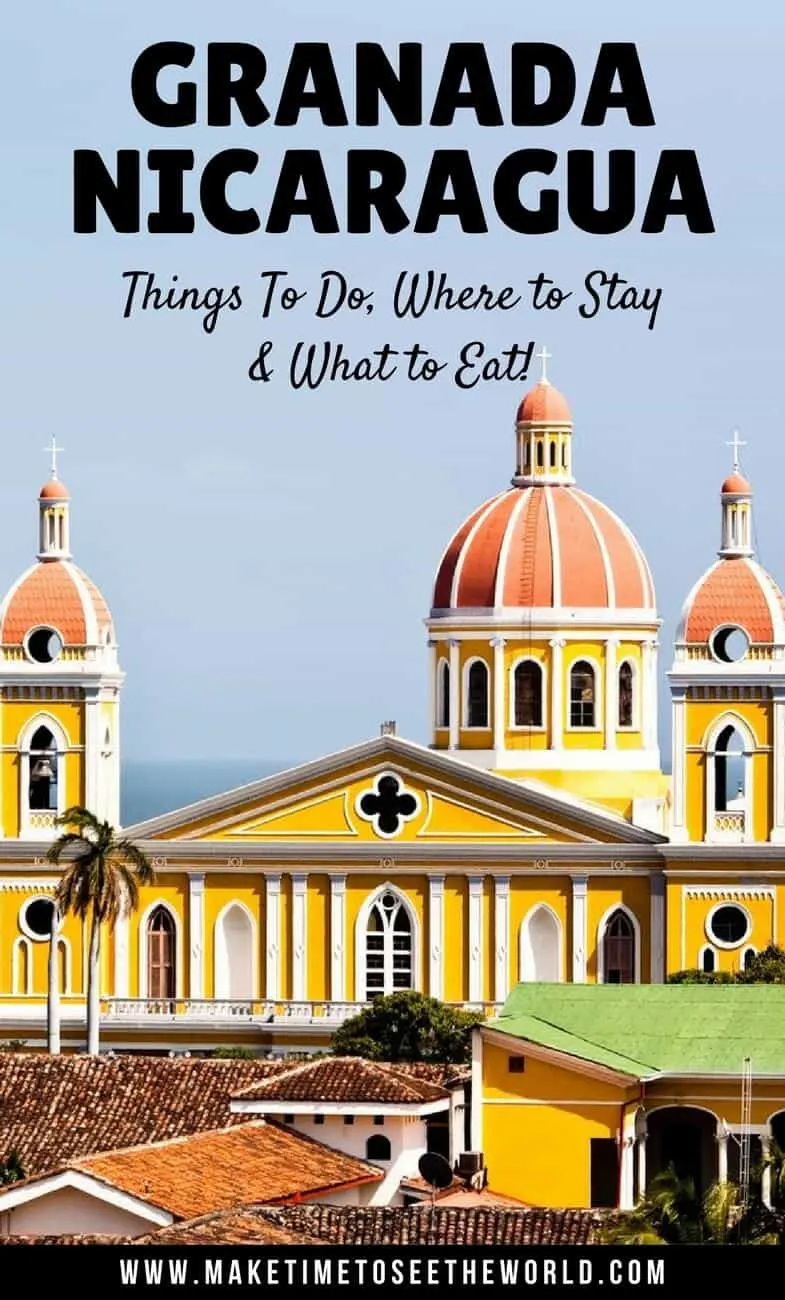 Hi There! Thanks for reading our Granada Nicaragua Things To Do, Where To Stay & What To Eat. I just wanted to let you know that this post contains affiliate links, which help support this site at absolutely no cost to you. If you enjoyed this article and are going to be searching for some of the things I mention anyway, I would love it if you could click through from the links above. These links help me keep this site online and updated – so thank you in advance! Read my full Disclosure here.