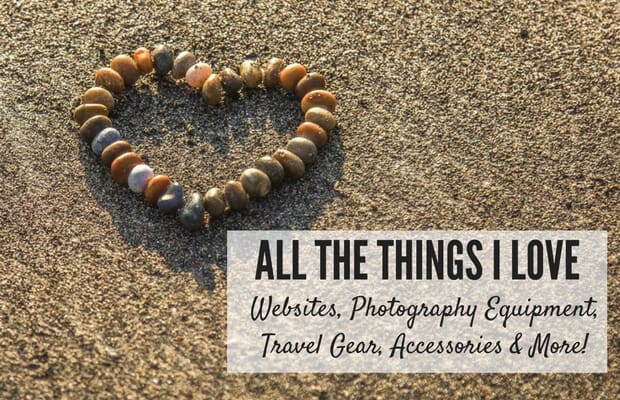 Welcome to my resource and recommendation page! I've gathered together all the things I love and that help me to travel. From the best booking websites and travel gear to awesome photography equipment and tech – these are the things I don't leave home without.
I Love Them – and I hope you will too!
Note: This post contains affiliate links. This means that if you decide to purchase any of the products or courses I recommend I get a small commission at absolutely no cost to you. This commission helps keep the site online – so thank you in advance for clicking through!
psst: if you're on a smartphone, you'll want to rotate your screen to landscape view for this bit :-)

These are my go-to sites for the best prices on the web

My No.1 go-to site for finding the best flight deals. One of the largest flight networks out there, you'll be sure to be able to get from A-to-B for the best price. I also love their weekend break map - this shows you the latest prices for short haul flights for the next 30 days. Great if you're looking for a quick, cheap getaway!




I've always been a SkyScanner girl, but Momondo is easily a close second. Their gorgeous interface and handy habit of finding awesome deals have me checking them alongside the other options every time! I love a good flight deal!

Perfect for a quick overview of who flys where. Just type where you are to where you want to go and google will show you which major airlines can take you.

My favorite comparison and review site. As a frequent contributor I understand the importance of reading several reviews before making a decision on where to stay and love using their 'Top 10 Guides' to start my trip planning for new destinations!

With accommodation options to suit all budgets and covering destinations all over the world, you'll find the perfect place to rest your head - wherever in the world you happen to be!

A relatively new kid on the online booking engine block, Hotels.com has fast become my go to site. As well as having great rates, they also give you a night free for ever 10 you book. That's the equivalent of 10% off every booking. If you can commit to one booking engine.

Hotels.com

is the one to stick with.

Because everyone has heard of this one, right?!

If you don't have time to research, plan and book the perfect action packed itinerary for your time away, and prefer to have everything organised in one go, TourRader offers a range of tours to suit your needs. From short 5 day trips to long overland adventures, there is something to suit everyone.

Better still - use this link and 5% off any tour you choose!

Don't fancy the full tour service, but still like to have activities and/or day trips organized - Viator could be exactly what you need. They have fun, interesting and quirky tours available all over the world.

If you don't have time to book all the components of a trip individually, Expedia offers great package deals - flights & hotels all in one place, with prices to suit any budget!

Not quite sure where your next break should be? Try the tripcentral.ca trip planning grid and find out!

Ready to create a wicked video about your trip but don't know where to start? Veedyou are my go to editors!

The stuff that gets you on the move. Backpacks, Daybags, Hand luggage, packing cubes & more. These are the basic essentials which physically get you on the road for whatever trip you have planned!


Keep the budding photographer in you happy with my recommendations for the best cameras to suit all your needs. From the Lumix FZ70 (the best bridge on the planet!) to the Sony RX100 to take your night photography to the next level and a Go-Pro for you Adventure Activity Junkies – we've got you covered. Don't forget your memory cards & batteries too and you'll never miss that perfect moment


" Technology plays a huge role in how we travel. Whether you need the perfect laptop that's light and powerful, external hard drive storage for those all important photo backups, adapter plugs to get you powered up all over the world, or just an awesome smart phone for keeping up with the folks at home whilst you build your Instagram empire. This section is just for you!


I would never encourage anyone to travel without insurance. If you think it's expensive or that you don't need it. Think again. You never know what is going to happen and it's better to have your ass/possessions covered in case you need help whilst your away. If you can afford to travel – you can afford insurance – and these two are my top picks.

I have used Insure&Go since my first solo trip back in 2008 and I can't recommend them highly enough. Comprehensive policies which cover almost any activity you can think of - they are my ultimate go to insurance!
*Only Available in the UK & Australia

For those outside of the UK & Aus - World Nomads come highly recommended by my travel blogger friends and have got your back for all your travel insurance needs
Click the P in the Share Bar and save this post for later:
Things I Love
was last modified:
July 31st, 2020
by