Welcome to my "Travel Photo Tuesday" series. Its a place for me to share my favorite travel photographs – and feature some of your best shots – from Instagram & Twitter each week that have been tagged with @maketimetoseetheworld & #travelphototuesday.
If you have ever checked out my Instagram feed you will have noticed that I absolutely love travel photos. I have hundreds to share from years of traveling but I also see so many beautiful photographs from my followers which inspire wanderlust and showcase destinations I could only dream of.
I've decided to share my favorites with you as a feature here on the blog & across all social media platforms each Tuesday in the hope of inspiring you all to maketimetoseetheworld.
Want to get involved? Check out the instructions below.
TRAVEL PHOTO TUESDAY (EP.6)
This week's photo needs no introduction and is one of the new 7 wonders of the world.
Christ the Redeemer or Christo Redentor is the 32m high statue built at the top of Corcovador Mountain in the middle of the Tijuca Forest National Park in Rio De Janeiro, Brazil.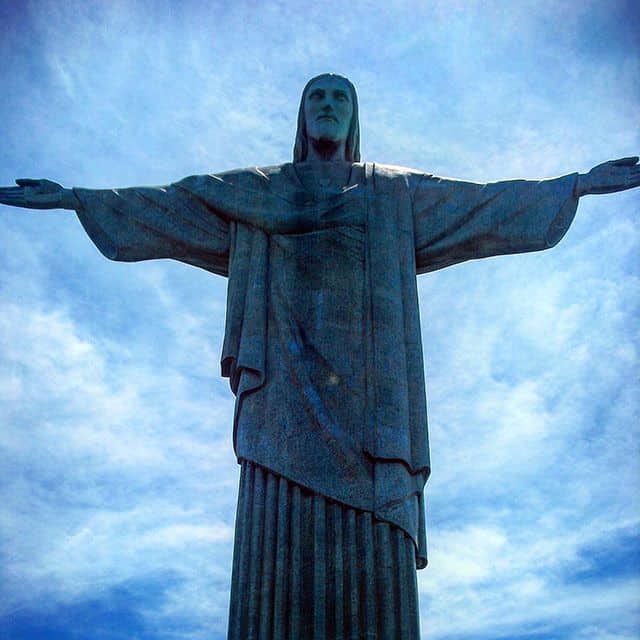 It's impressive. From whichever angle you look at it – and is worth the 220 step climb to get to the viewing platform! It is one of the worlds best known monuments and is said to be a symbol of the warmth of the Brazilian people in that they welcome everyone with open arms. When you're not staring in awe up at the statue, the view of Rio beneath you is stunning – and as I love it as much as I love the picture above – this week you get a double helping of travel photos! You'll have to agree – it's a pretty spectacular view!
WANT TO GET INVOLVED?
Do you have an amazing travel photo that can transport you right back to the moment you took it – and take everyone else along for the ride? Follow the instructions below and you can be featured on maketimetoseetheworld:
Follow my Instagram Account  or Twitter Account and tag your *best* travel photos with @maketimetoseetheworld and hashtag #travelphototuesday
Each Tuesday I will pick my favorite (from your pics and mine) to feature here on the blog and promote across social media complete with details of your blog/twitter/instagram accounts
Grow your followers by spreading the wanderlust through beautiful photographs and inspiring everyone to maketimetoseetheworld.
Happy Travels :-)

Travel Photo Tuesday (Ep.6)
was last modified:
January 8th, 2019
by