Hi There! And welcome to my "Travel Photo Tuesday" Series! Thank you for stopping by!
Travel Photo Tuesday is a place to share some awesome shots from Instagram that have been shared with the hashtag #maketimetoseetheworld. Each week I feature a great  photo + story combination and at the end of the month I share 10 of the best snaps under the hashtag from that month. Sounds like fun, right?
So let's get started!
Have you ever scrolled through Instagram and thought, "man, I need to take that photo"? Well my Travel Photo Tuesday series is here to help! Each week I share an awesome photograph from a fellow travel blogger – and ask them to share  a little about the shot: where it was taken, why it was special and any hidden gems in the area that MakeTimeToSeeTheWorld readers should know about!
If you'd like to be featured on Travel Photo Tuesday, the instructions are at the bottom of the post. And if you want to get an idea of the photo's I like – check out previous featured posts HERE
TRAVEL PHOTO TUESDAY (EP.54)
Please join me in welcoming MakeTimeToSeeTheWorld's featured bloggers:
Yasha + Juergen @ Dare2Go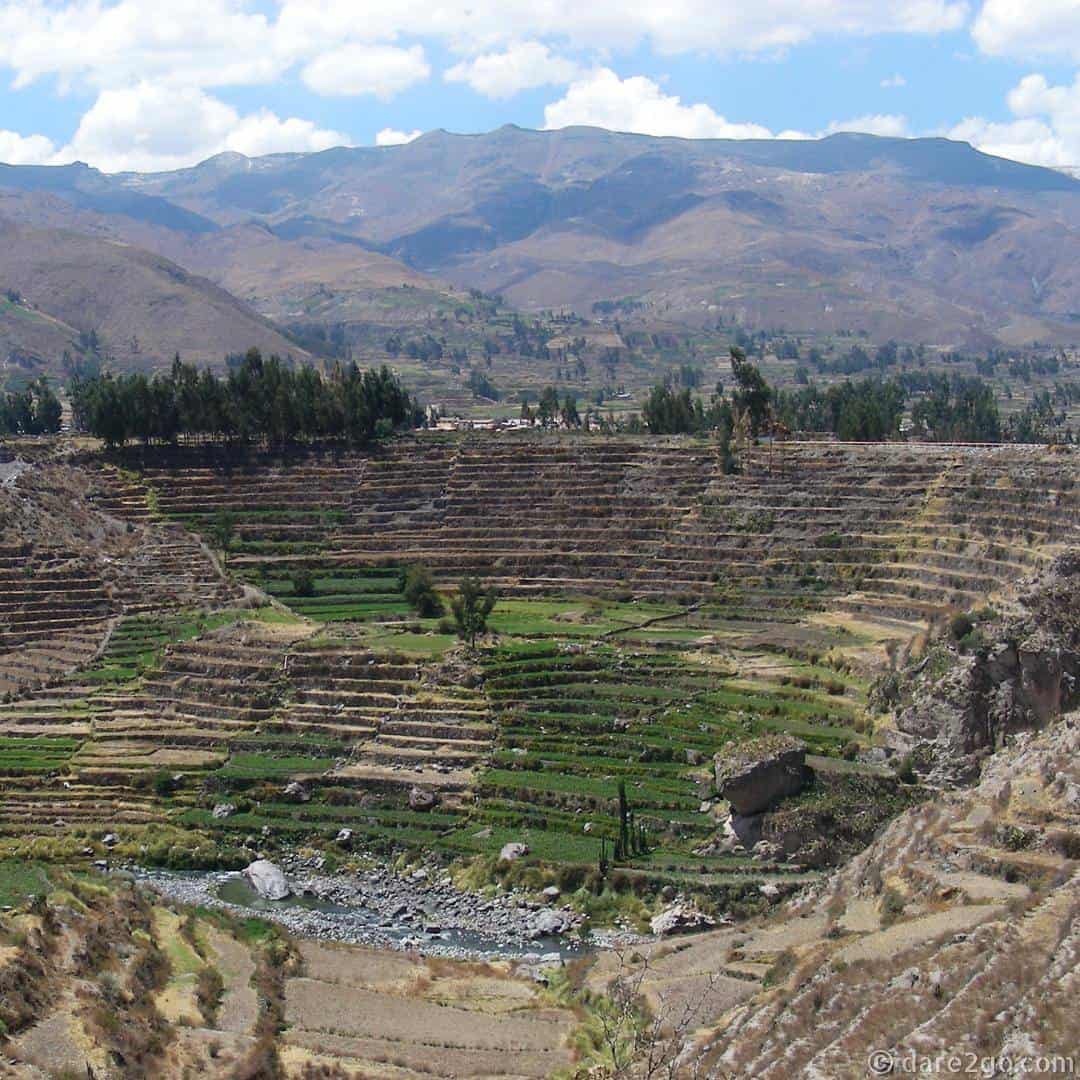 Location: Colca Canyon

What Made it Great:
The Colca Canyon in Peru is the second deepest canyon in the world. It's main attraction are the condors gliding along its edge. But it's also a lush valley where every piece of arable land is used. These terraced fields, outside Chivay, are centuries old. If you're fit enough you can hike along the canyon. There are plenty of villages which offer basic accommodation. A little known fact is that you can also explore several Inca ruins along the canyon.
Love this shot? Love this story? You can follow more of Yasha + Juergen's adventures on their blog Dare2Go or if you're feeling social you can follow along on Instagram, Twitter and Facebook.
.
LOVE THIS FEATURE? CHECK OUT THE MARCH INSTAGRAM ROUND UP FOR THE TOP 10 SHOTS THAT USED THE HASHTAG #MAKETIMETOSEETHEWORLD
 .
WANT TO GET INVOLVED?
Do you have an amazing travel photo that can transport you right back to the moment you took it – and take everyone else along for the ride? Follow the instructions below and you can be featured on MakeTimeToSeeTheWorld:
Follow my Instagram Account  or Twitter Account and tag your *best* travel photos with the hashtag #maketimetoseetheworld

Travel bloggers – If you think you have a stunning shot and a great story, email me the link to your instagram shot at maketimetoseetheworld(at)gmail(dot)com and I'll give you instructions to how to submit all your details to be featured in Travel Photo Tuesday
Keep your eye out for my monthly round up posts which will feature the top 10 photographs tagged with #maketimetoseetheworld each month. Psst. sign up to the newsletter below to make sure you don't miss it!

Happy Travels :-)

Travel Photo Tuesday (Ep.54) feat. @dare2gocom (Peru)
was last modified:
January 8th, 2019
by