Hi There! And welcome to my "Travel Photo Tuesday" Series! Thank you for stopping by!
Travel Photo Tuesday is a place to share some awesome shots from Instagram that have been shared with the hashtag #maketimetoseetheworld. Each week I feature a great  photo + story combination and at the end of the month I share 10 of the best snaps under the hashtag from that month. Sounds like fun, right?
So let's get started!
Have you ever scrolled through Instagram and thought, "man, I need to take that photo"? Well my Travel Photo Tuesday series is here to help! Each week I share an awesome photograph from a fellow travel blogger – and ask them to share  a little about the shot: where it was taken, why it was special and any hidden gems in the area that MakeTimeToSeeTheWorld readers should know about!
If you'd like to be featured on Travel Photo Tuesday, the instructions are at the bottom of the post. And if you want to get an idea of the photo's I like – check out previous featured posts HERE
TRAVEL PHOTO TUESDAY (EP.52)
Please join me in welcoming MakeTimeToSeeTheWorld's featured blogger: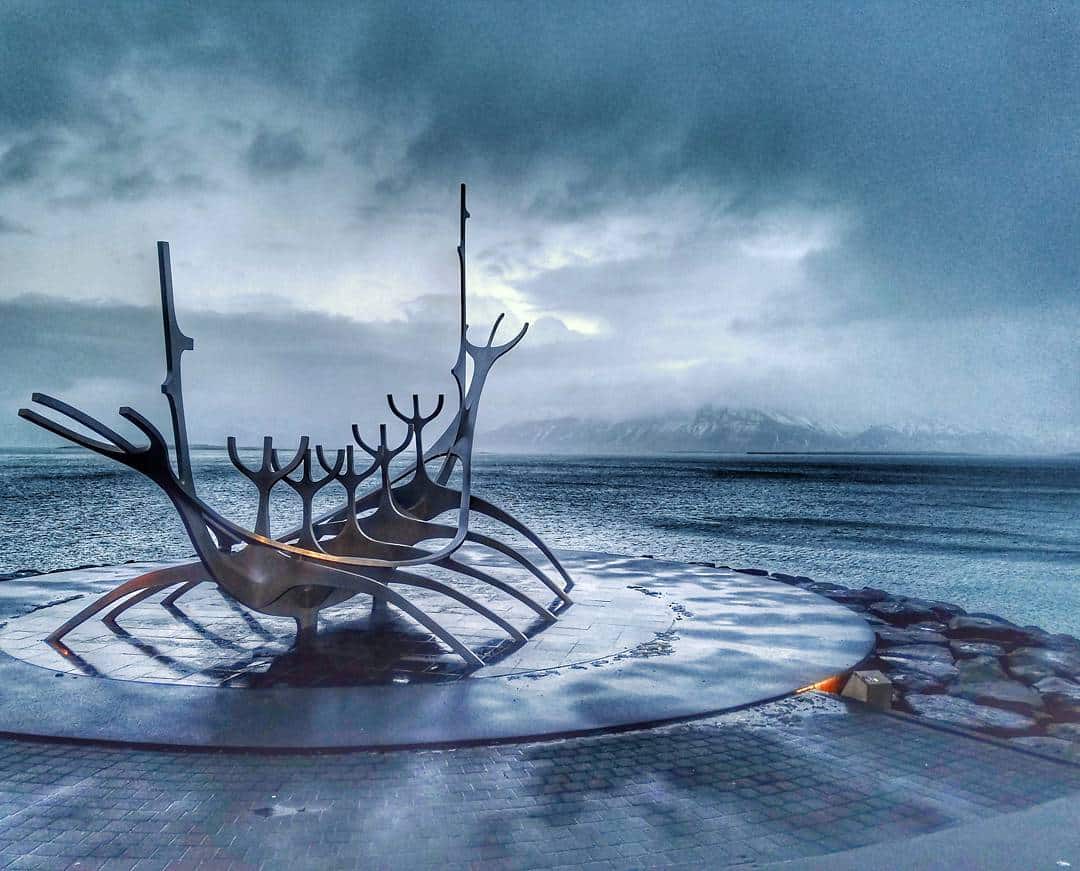 Location: Reykjavik, Iceland

RELATED: Take a peek at the Ultimate Iceland Bucket List for more inspo and the Best Tours in Iceland to help you see everything!
What Made it Great:
Reykjavik, Iceland was one of the most wild and exciting places I've ever been to. To be in a land with such tumultuous and changing weather was really incredible. Iceland has definitely been on the map recently and certainly doesn't need my help to suggest that people go, but you SHOULD! Everyone knows about the Waterfalls, but what about all of the friendly horses, the Viking ship, the VIking Museum, or even, dare I say, Phallic Museum? I knew Iceland was famous for its horses, inasmuch as even not allowing any horses to come into the country and very strict guidelines for what you can wear if you ride them. But these friendly guys are all over the country! You just pull your car over, and they'll come right up for a bit of a pat.
Maybe I've been watching Vikings on TV too much, but I really felt the "oldness" there. I could imagine the Vikings setting sail and not knowing where their adventures would take them. What bravery to launch from such a tiny island! The Sun Voyager is the Viking Ship that is displayed on the waterfront of Reykjavik. It'd be impressive at any time, but I managed this snapshot just before sleet and 50 mph wind rolled in. It was quite dramatic! Close your eyes, smell the salt, feel the wind in your hair, and imagine it's a real ship. There's also a VIking Museum which has unsettlingly realistic wax figurines depicting the history of Iceland. It's a nice self-paced audio tour, but the real treat is when it's over! That sounds bad like it's boring (it's not), it's just the next part is so cool! They give you lots of props and costumes to dress up in! There are even weapons and a polar bear to pose with!
Just next door to the Viking Museum is the Aurora Borealis Museum. Gosh, how boring do I sound with all these museums? To be honest, I went to them because the weather was extremely bad my first few days there, but I'm so glad I did. At the time, I was severely disheartened because of my chances to see the Northern LIghts. I figured, if I couldn't see them in person, I could at least see the professional shots. Not only do you get gorgeous pictures, but they also tell you the cool myths behind them for many countries! There's a dark room where you can lay down and watch timelapses of lights on a LARGE screen, an area to check the forecast of the Lights, and a small dark room to check your camera settings! You certainly want to get them right before you're out in the cold!
Since we're on the museum vibe, there's a pretty unique one to Reykjavik. That's the Phallological Museum, and it has exactly what you think it does in there. Lots and lots of… well… penis. Penises? Peni? It's the largest collection in the world. Hey, someone had to have it.
Love this shot? Love this story? You can follow more of Carly's adventures on her blog Flight of the Educator or if you're feeling social you can follow along on Instagram, Twitter and Facebook.
WANT TO GET INVOLVED?
Do you have an amazing travel photo that can transport you right back to the moment you took it – and take everyone else along for the ride? Follow the instructions below and you can be featured on MakeTimeToSeeTheWorld:
Follow my Instagram Account  or Twitter Account and tag your *best* travel photos with the hashtag #maketimetoseetheworld

Travel bloggers – If you think you have a stunning shot and a great story, email me the link to your instagram shot at maketimetoseetheworld(at)gmail(dot)com and I'll give you instructions to how to submit all your details to be featured in Travel Photo Tuesday
Keep your eye out for my monthly round up posts which will feature the top 10 photographs tagged with #maketimetoseetheworld each month. Psst. sign up to the newsletter below to make sure you don't miss it!

Happy Travels :-)

Travel Photo Tuesday (Ep.52) feat. @FlightEducator
was last modified:
January 8th, 2019
by