Hi There! And welcome to my "Travel Photo Tuesday" Series! Thank you for stopping by!
Travel Photo Tuesday is a place to share some awesome shots from Instagram that have been shared with the hashtag #maketimetoseetheworld. Each week I feature a great  photo + story combination and at the end of the month I share 10 of the best snaps under the hashtag from that month. Sounds like fun, right?
So let's get started!
Have you ever scrolled through Instagram and thought, "man, I need to take that photo"? Well my Travel Photo Tuesday series is here to help! Each week I share an awesome photograph from a fellow travel blogger – and ask them to share  a little about the shot: where it was taken, why it was special and any hidden gems in the area that MakeTimeToSeeTheWorld readers should know about!
If you'd like to be featured on Travel Photo Tuesday, the instructions are at the bottom of the post. And if you want to get an idea of the photo's I like – check out previous featured posts HERE
TRAVEL PHOTO TUESDAY (EP.51)
Please join me in welcoming MakeTimeToSeeTheWorld's featured blogger:
Location: Giant's Causeway, Ireland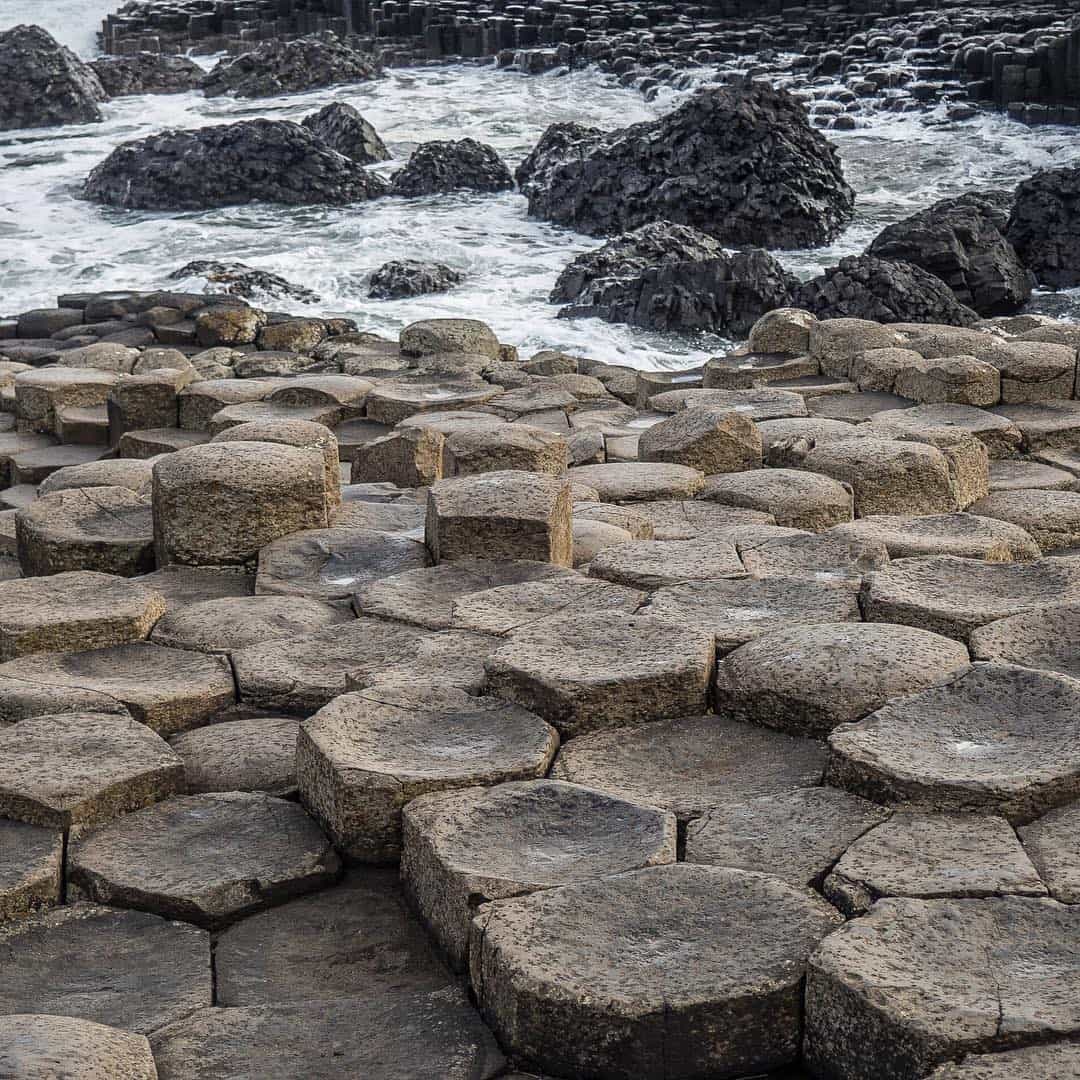 What Made it Great:
You can visit the Antrim coast as a day trip from Belfast or Dublin, but don't. The coast's historical sites, craggy coastline and Game of Thrones filming sites are plentiful enough to keep you busy for several days. So skip the bus tour, rent a car and take your time visiting the coast.
Start at the Giants Causeway – I was drawn to the Antrim coast after hearing about the funky geology at the Giant's Causeway. Funny thing about the Giant's Causeway, there are two competing theories about its origin and you have to choose which version you want to buy into.
You can choose to believe that the natural wonder comprised of 40,000 interlocking basalt stones was caused by a volcanic eruption 60 million years ago. Or, you can chose to believe that it was built by Irish giant Finn MacCool, as a way to bridge the North Sea for a fight with the Scots.
I'm choosing to believe the latter. And with that sense of wonder, I spent sunrise on the Causeway marveling at their perfect geometry.
Other Things to Do on the Antrim Coast – Other sites in the area that are usually on the 1-day bus tour include: Dunluce Castle, Bushmills Distillery and Carrick-a-Rede rope bridge. Do those, yes. But also take the time to explore the coastline. That's the nice thing about a slow-paced road trip. It affords you the opportunity to stop whenever you see something interesting.
We did just that and had a delightful walk in Whitepark Bay. We parked at the top of the rocky cliffs and made our way down to the half moon shaped beach. We strolled the empty beach and watched the sun fight its way through the rain clouds. You don't get that kind of view from a bus window.
Game of Thrones Filming Sites – With a car, you can also indulge your inner geek and take yourself on a tour of the many Games of Thrones filming sites on the Antrim Coast. The Northern Ireland tourist bureau has an awesome app that will guide you to iconic filming sites for the Kings Road, Dark Hedges, the Iron Islands and that cave where Melisendre birthed her scary murder baby. It was like a literary treasure hunt with each stop offering its own special treat.
My favorite was Balintoy Harbor. It's just north of Giant's Causeway. It's a tiny little harbor surrounded by beautiful rocky cliffs. The rocky harbor offers the perfect place to perch at the edge of the Atlantic and watch the sun set.
If all of this sounds good to you, then check out this Antrim Coast road trip itinerary and this alternative itinerary to the Rick Steves guide for more details about how to plan a great trip to Northern Ireland. Finn McCool awaits you.
Love this shot? Love this story? You can follow more of Carol's adventures on her blog Wayfaring Views or if you're feeling social you can follow along on Instagram, Twitter and Facebook.
WANT TO GET INVOLVED?
Do you have an amazing travel photo that can transport you right back to the moment you took it – and take everyone else along for the ride? Follow the instructions below and you can be featured on MakeTimeToSeeTheWorld:
Follow my Instagram Account  or Twitter Account and tag your *best* travel photos with the hashtag #maketimetoseetheworld

Travel bloggers – If you think you have a stunning shot and a great story, email me the link to your instagram shot at maketimetoseetheworld(at)gmail(dot)com and I'll give you instructions to how to submit all your details to be featured in Travel Photo Tuesday
Keep your eye out for my monthly round up posts which will feature the top 10 photographs tagged with #maketimetoseetheworld each month. Psst. sign up to the newsletter below to make sure you don't miss it!

Happy Travels :-)

Travel Photo Tuesday (Ep.51) feat. @wayfaringviews
was last modified:
January 8th, 2019
by