Hi There! And welcome to my "Travel Photo Tuesday" Series! Thank you for stopping by!
Travel Photo Tuesday is a place to share some awesome shots from Instagram that have been shared with the hashtag #maketimetoseetheworld. Each week I feature a great  photo + story combination and at the end of the month I share 10 of the best snaps under the hashtag from that month. Sounds like fun, right?
So let's get started!
Have you ever scrolled through Instagram and thought, "man, I need to take that photo"? Well my Travel Photo Tuesday series is here to help! Each week I share an awesome photograph from a fellow travel blogger – and ask them to share  a little about the shot: where it was taken, why it was special and any hidden gems in the area that MakeTimeToSeeTheWorld readers should know about!
If you'd like to be featured on Travel Photo Tuesday, the instructions are at the bottom of the post. And if you want to get an idea of the photo's I like – check out previous featured posts HERE
TRAVEL PHOTO TUESDAY (EP.48)
Please join me in welcoming MakeTimeToSeeTheWorld's featured blogger: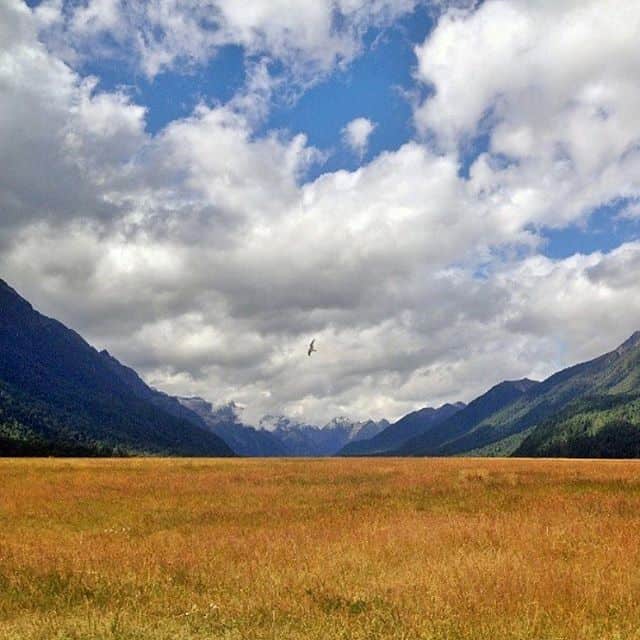 Location: Milford Sound, New Zealand

What Made it Great:
New Zealand is without a doubt the most beautiful country in the world! From the moment I stepped out of the plane, I completely and utterly fell in love with New Zealand. It's just amazing, New Zealand has it all: lakes, mountains, ocean teaming with wildlife, tropical forest, huge trees, waterfalls, white beaches, black beaches, hills, cliffs and … the most amazing roads!
I drove some pretty spectacular roads in New Zealand: the Devil's Stairway to Queenstown, the Crown Range Road to Wanaka, the Southern Scenic Route through the Catlins and the Great coast road on the wild west coast of the South Island.
However, the picture was taken on the phenomenal road to the Milford Sound. It's a 120 kilometer long road across unbelievable scenery. In New Zealand traveling is every bit as much about the journey as it is about the destination! The road eventually leads to the Milford Sound, one of New Zealand's natural marvels Fun fact: the Milford Sound is actually a fjord. I didn't know this until then, but a fjord is gauged out by a glacier whereas a sound is created by a river.
One of the activities you shouldn't skip when you are visiting the Milford Sound area is going on a cruise through the Milford Sound. During the cruise we passed a couple of rocks where young seals were relaxing, so cute… There were also so many waterfalls!
Another fun fact: did you know that the color of the water in the Milford Sound depends on the amount of rain that has fallen? The more rain, the darker the water. This is caused by the fact that the black rain water is lighter than the salty sea water and is therefore floating atop the green sea water. If there is less rain for a couple of day, the water in the Milford Sound slowly changes to the green color of the sea. Interesting right! Apparently it rains about 180 days a year in the Milford Sound so I was pretty lucky to get this shot with a vivid blue sky.
Other places you cannot skip in New Zealand are: –
The Te Papa museum in Wellington (North Island): Te Papa means 'container of treasures' and that's so true! I spent a day and a half in this museum and still hadn't seen everything. More importantly, I wasn't bored for one second, which is fairly unique for a museum!
Whakarewarewa thermal village in Rotorua (North Island): a Maori village build around the hot pools and geysers. You are guided by a Maori woman who lives in the village, very interesting!
The Pancake Rocks on New Zealand's Wild West Coast (South Island): these strange layered rocks were shaped and sculpted by wind and ocean. I had never seen something like it before in my life. A really cool place to visit!
Lake Tekapo: Lake Tekapo is just out of this world. The beautiful blue color is something that you cannot catch on a photo and the surroundings are breath-taking.
Love this shot? Love this story? You can follow more of Lotte's adventures on her blog Phenomenal Globe or if you're feeling social you can follow along on Instagram, Twitter and Facebook.
WANT TO GET INVOLVED?
Do you have an amazing travel photo that can transport you right back to the moment you took it – and take everyone else along for the ride? Follow the instructions below and you can be featured on MakeTimeToSeeTheWorld:
Follow my Instagram Account  or Twitter Account and tag your *best* travel photos with the hashtag #maketimetoseetheworld

If you think you have a stunning shot and a great story, email me the link to your instagram shot at maketimetoseetheworld(at)gmail(dot)com and I'll give you instructions to how to submit all your details to be featured in Travel Photo Tuesday
Keep your eye out for my monthly round up posts which will feature the top 10 photographs tagged with #maketimetoseetheworld each month. Psst. sign up to the newsletter below to make sure you don't miss it!

Happy Travels :-)

Travel Photo Tuesday (Ep.48)
was last modified:
January 8th, 2019
by