Hi There! And welcome to my "Travel Photo Tuesday" Series! Thank you for stopping by!
Travel Photo Tuesday is a place to share some awesome shots from Instagram that have been shared with the hashtag #maketimetoseetheworld. Each week I feature a great  photo + story combination and at the end of the month I share 10 of the best snaps under the hashtag from that month. Sounds like fun, right?
So let's get started!
Have you ever scrolled through Instagram and thought, "man, I need to take that photo"? Well my Travel Photo Tuesday series is here to help! Each week I share an awesome photograph from a fellow travel blogger – and ask them to share  a little about the shot: where it was taken, why it was special and any hidden gems in the area that MakeTimeToSeeTheWorld readers should know about!
If you'd like to be featured on Travel Photo Tuesday, the instructions are at the bottom of the post. And if you want to get an idea of the photo's I like – check out previous featured posts HERE
TRAVEL PHOTO TUESDAY (EP.46)
Please join me in welcoming MakeTimeToSeeTheWorld's featured blogger: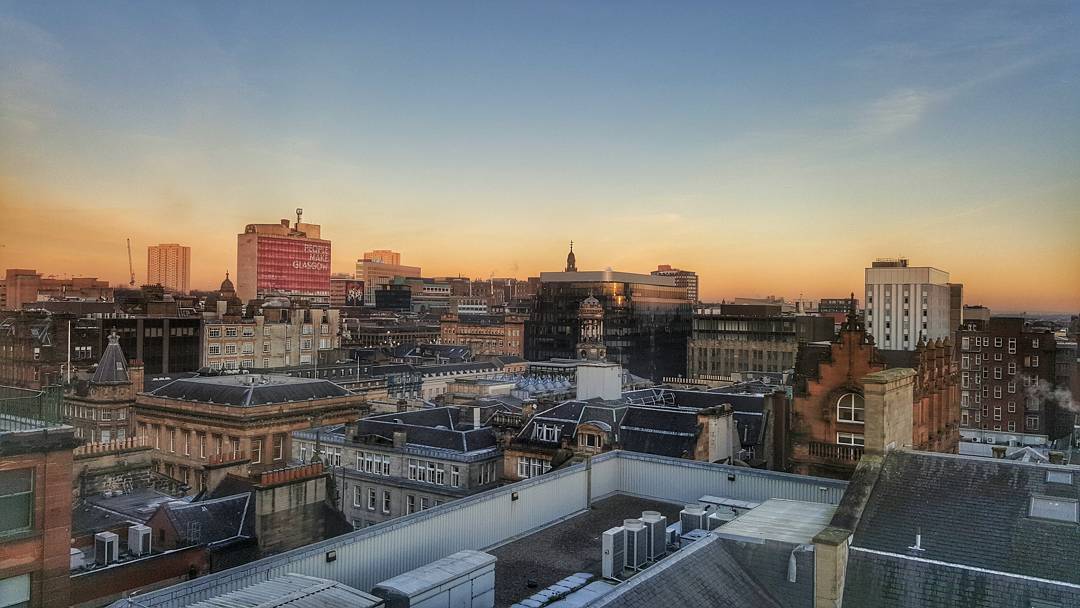 Location: Glasgow, Scotland

What Made it Great:
This is my hometown. Glasgow, Scotland. Taken from the viewing platform of The Lighthouse, Scotlands Centre for Design and Architechture. The building itself was designed by Charles Rennie MacIntosh. Offering 360 degree views of the city, The Lighthouse is a must for anyone visiting Glasgow.
From this picture the main focal point would be the big pink building showing our city's 'new' motto – People Make Glasgow. (The original motto which came from St Mungo is 'Lord, let Glasgow Flourish by the preaching of the word.' The more secular version of 'Let Glasgow Flourish' is still used today) This building is actually just a college and was decorated like this when Glasgow hosted the Commonwealth Games in 2014. These pink banners and poster can now be seen all over the city.
I particularly love this picture as it's a memory of a lovely day exploring Glasgow with friends and also because it show my absolute favourite time of day. We were lucky enough to venture up The Lighthouse just as the sun was setting. It really was a beautiful sight. Glasgow is home to many museums, art galleries and country parks that, in my opinion, cannot be missed when visiting the city. My favourites are the Gallery of Modern Art (GoMA) – which can actually be seen in this picture right in the center just in front of the modern, glass office building. The exhibitions change quite frequently so there is more or less always something new to see. Another favorite is Kelvingrove Art Gallery. There is a popular myth in Glasgow, that the building was accidentally built back-to-front, and the architect jumped from one of the towers in despair when he realised his mistake. This is only an urban myth. The grand entrance was always intended to face into Kelvingrove Park. The center-peice of the main hall is the pipe organ, if you go on a Sunday Morning you will be treated to a performance. The sounds of the organ echoing around the hall is unforgettable.
While the city center does have some parks (Glasgow Green, which also is home to the Peoples Palace, and Kelvingrove Park) I much prefer the parks that are situated further out. Pollok Park in the Southside which is absolutely beautiful in the summer with Pollok House on the banks of the river. In the North you have Mugdock Park which is home to Mugdock castle – a former stronghold of Clan Graham from the 13th century. Also in the south you have Rouken Glen park, with a beautiful Boating Lake, and Linn Park which was my childhood park. This park I recently discovered goes on for much longer than I thought, covering a grand total of 200 acres – right in the middle of residential Glasgow.
Of course on top of the art culture and nature of Glasgow, you also have an abundance of cool cafes and bars to choose from. I feel the most touristy place is the west end – which is very 'hisptery' but still with some of the best coffee in the city. Check out Avenue Coffee on Byres Road, an independent specialty coffee roasting company – their cappuccinos are to die for! I hope anyone who is visiting or passing through Glasgow enjoys their stay and gets to experience the wonderful Glasgow culture while they are here.
Love this shot? Love this story? You can follow more of Chiera's adventures on her blog Young & Undecided or if you're feeling social you can follow along on Instagram, Twitter and Facebook.
WANT TO GET INVOLVED?
Do you have an amazing travel photo that can transport you right back to the moment you took it – and take everyone else along for the ride? Follow the instructions below and you can be featured on MakeTimeToSeeTheWorld:
Follow my Instagram Account  or Twitter Account and tag your *best* travel photos with the hashtag #maketimetoseetheworld

If you think you have a stunning shot and a great story, email me the link to your instagram shot at maketimetoseetheworld(at)gmail(dot)com and I'll give you instructions to how to submit all your details to be featured in Travel Photo Tuesday
Keep your eye out for my monthly round up posts which will feature the top 10 photographs tagged with #maketimetoseetheworld each month. Psst. sign up to the newsletter below to make sure you don't miss it!

Happy Travels :-)

Travel Photo Tuesday (Ep.46)
was last modified:
January 8th, 2019
by