Hi There! And welcome to my "Travel Photo Tuesday" Series! Thank you for stopping by!
Travel Photo Tuesday is a place to share some awesome shots from Instagram that have been shared with the hashtag #maketimetoseetheworld. Each week I feature a great  photo + story combination and at the end of the month I share 10 of the best snaps under the hashtag from that month. Sounds like fun, right?
So let's get started!
Have you ever scrolled through Instagram and thought, "man, I need to take that photo"? Well my Travel Photo Tuesday series is here to help! Each week I share an awesome photograph from a fellow travel blogger – and ask them to share  a little about the shot: where it was taken, why it was special and any hidden gems in the area that MakeTimeToSeeTheWorld readers should know about!
If you'd like to be featured on Travel Photo Tuesday, the instructions are at the bottom of the post. And if you want to get an idea of the photo's I like – check out previous featured posts HERE
TRAVEL PHOTO TUESDAY (EP.43)
Please join me in welcoming MakeTimeToSeeTheWorld's featured blogger: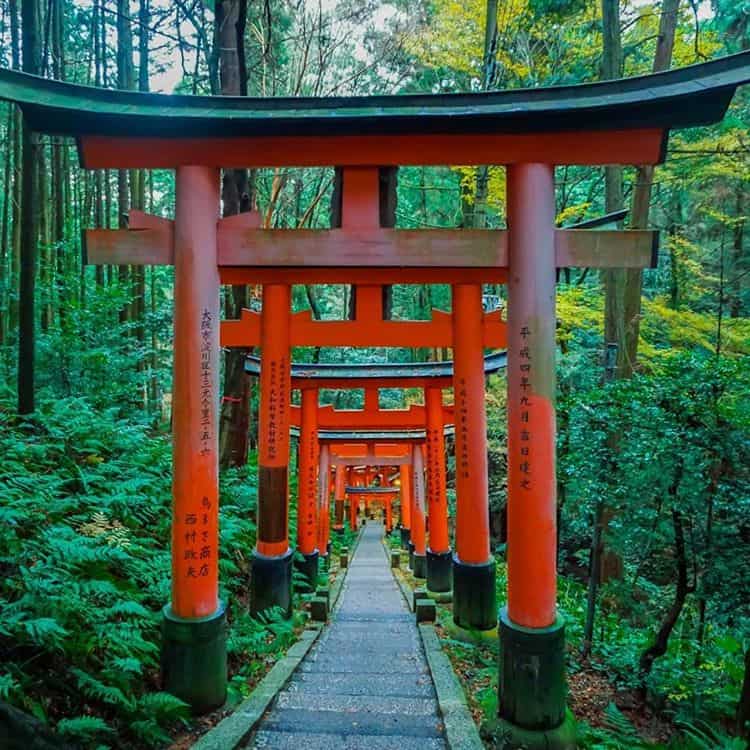 Location: Kyoto, Japan

What Made it Great:
I was so excited to finally hike the famed Inari Mountain in Kyoto, Japan. In front of me was a path lines with vermillion torii gates which were about to take me on a journey up and down the forested mountain. Fushimi Inari Shrine is perhaps the most visited spiritual site in the whole of Japan. Home to over 10,000 torii gates, Mount Inari is seen as a pilgrimage by locals, with several smaller shrines along the way. What is impressive about this hike is that you will encounter many fox statues, kitsune as they are called in Japanese. These are God Inari's messengers and the more intricate their are sculptured, the more important in ranking they are. There are many smaller statues along the path decorated with red bibs. These are meant to protect the spirit of early departed children from our world. They are also meant to save the souls of children lost through miscarriages as well as abortion.
Once you realise that Fushimi Inari is not your ordinary tourist attraction, but a spiritual site, a cemetery, a pilgrimage site, your perspective of taking selfies with this sacred place changes. As I continued my hike up and down the mountain, I realised that not many tourists go pass the Yotsutsuji intersection. This is a great place to admire a colourful and vibrant sunset over Kyoto, as well as sit down for a matcha ice cream and a cup of green tea. Further on, the gates become sparser from one another, yet in my opinion, more impressive. I couldn't help but take a seat at the side of the path and admire the contrasting colours of the vermillion gates and green leaves, still incredibly vivid during December. This part of Fushimi Inari Shrine was dominated by nothing but silence. It was here, that I managed to finally find my zen and get in touch with my inner spirituality. It was here that I realise, I belong in Japan.
Love this shot? Love this story? You can follow more of Cory's adventures on her blog @ You Could Travel or if you're feeling social you can follow along on Instagram, Twitter and Facebook.
WANT TO GET INVOLVED?
Do you have an amazing travel photo that can transport you right back to the moment you took it – and take everyone else along for the ride? Follow the instructions below and you can be featured on MakeTimeToSeeTheWorld:
Follow my Instagram Account  or Twitter Account and tag your *best* travel photos with the hashtag #maketimetoseetheworld

If you think you have a stunning shot and a great story, email me the link to your instagram shot at maketimetoseetheworld(at)gmail(dot)com and I'll give you instructions to how to submit all your details to be featured in Travel Photo Tuesday
Keep your eye out for my monthly round up posts which will feature the top 10 photographs tagged with #maketimetoseetheworld each month. Psst. sign up to the newsletter below to make sure you don't miss it!

Happy Travels :-)

Travel Photo Tuesday (Ep.43)
was last modified:
January 8th, 2019
by