Hi There! And welcome to my "Travel Photo Tuesday" Series! Thank you for stopping by!
Travel Photo Tuesday is a place to share some awesome shots from Instagram that have been shared with the hashtag #maketimetoseetheworld. Each week I feature a great  photo + story combination and at the end of the month I share 10 of the best snaps under the hashtag from that month. Sounds like fun, right?
So let's get started!
Have you ever scrolled through Instagram and thought, "man, I need to take that photo"? Well my Travel Photo Tuesday series is here to help! Each week I share an awesome photograph from a fellow travel blogger – and ask them to share  a little about the shot: where it was taken, why it was special and any hidden gems in the area that MakeTimeToSeeTheWorld readers should know about!
If you'd like to be featured on Travel Photo Tuesday, the instructions are at the bottom of the post. And if you want to get an idea of the photo's I like – check out previous featured posts HERE
TRAVEL PHOTO TUESDAY (EP.42)
Please join me in welcoming MakeTimeToSeeTheWorld's featured blogger: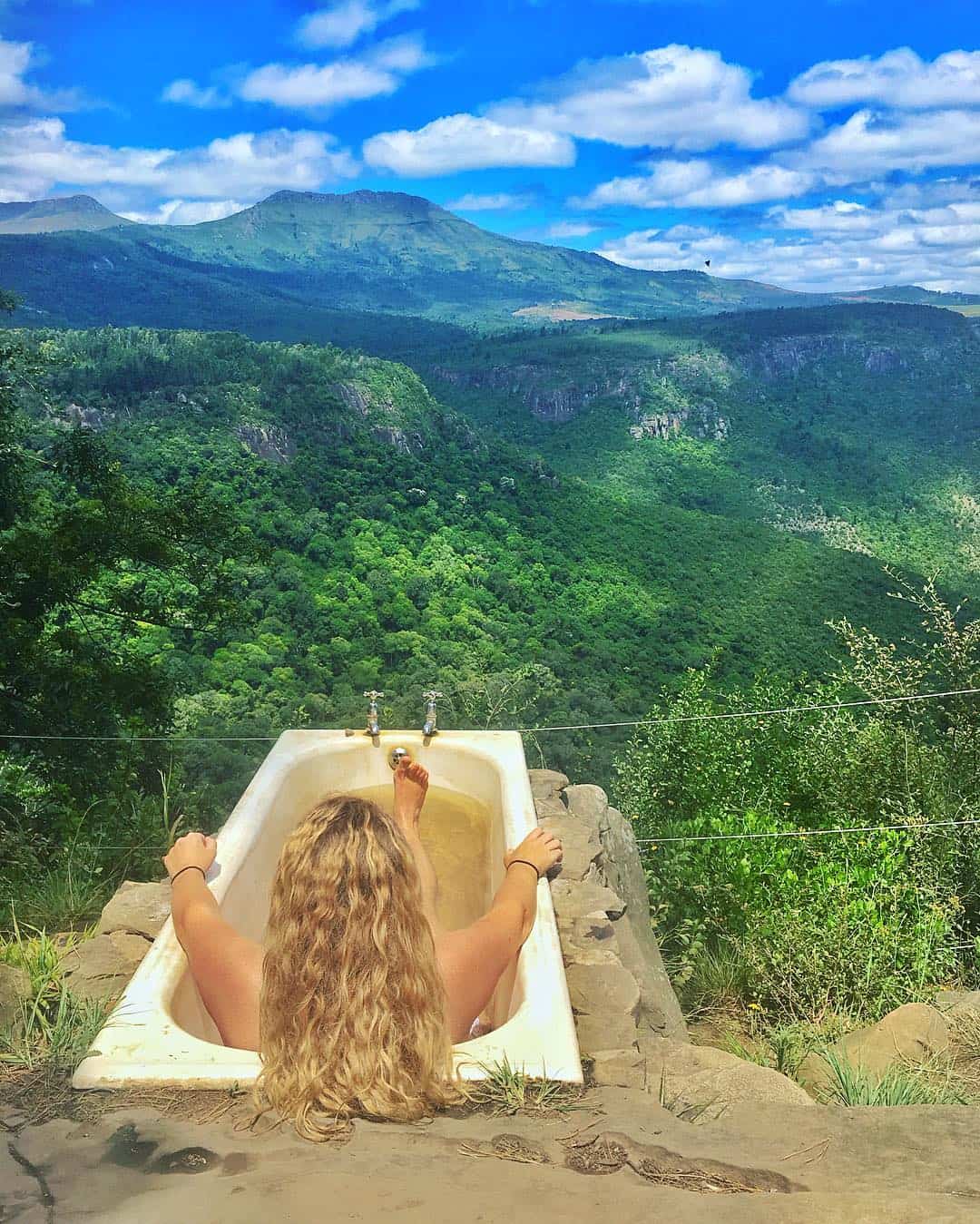 Location: Hogsback, Eastern Cape – South Africa

What Made it Great:
Have you ever seen a bath with a better view? This photo was taken in the magical town of Hogsback, which is located in the Amathole mountains in South Africa. The bath is perched on a cliff at the end of a garden inside the Away With The Fairies hostel, one of my favourite backpacker hostels in South Africa. This isn't just a photo shoot spot, the bath actually has running water which is heated up in a barrel using logs. You have to book your one hour time slot the day before, then you put up a tiny little sign saying it's occupied so no other hostel guess will walk in on you!! I've been here 3 times now and can never leave without taking a hot bath overlooking the valley. You can also go hiking, get lost in a fairy realm or just chill out in the hostel tree house with a good book and leave all your worries drift away. We spent one afternoon in a place called The Fairy Realm, which is this mythical walk around a large forest that has been filled with hand made faith sculptures, small water features and inspiring quotes to make you either laugh or smile. There's even a few wishing stones where you can make a (travel) wish!
Most people that backpack around South Africa just stick to the coast, be it Cape Town or The Garden Route, but I much prefer to get off the beaten track and discover some of the more unusual locations. The hostel lights a big camp fire each night and all the guests sit around chatting or even playing live music. While we were there this incredible traveling band performed for us and just as they were playing a song they had just written but not names, there was a shooting star right over them so they named their song after that. It's places like this that have made me fall in love with South Africa again and again.
Hogsback is also a great starting point for exploring nearby Lesotho, which very few tourists travel to. The road to get their is a bit bumpy, and it's near on impossible to buy fuel once you cross the border, but once you arrive it's like another world. The fields and mountains are almost like a painting, red, orange, brown and other various colours of the rainbow. There is amazing horse trekking available, and you can even do multi day pony treks and stay in local villages in traditional mud huts. It really is the experience of a lifetime.
Love this shot? Love this story? You can follow more of Janet's adventures on her blog @ Journalist On The Run or if you're feeling social you can follow along on Instagram, Twitter and Facebook.
WANT TO GET INVOLVED?
Do you have an amazing travel photo that can transport you right back to the moment you took it – and take everyone else along for the ride? Follow the instructions below and you can be featured on MakeTimeToSeeTheWorld:
Follow my Instagram Account  or Twitter Account and tag your *best* travel photos with the hashtag #maketimetoseetheworld

If you think you have a stunning shot and a great story, email me the link to your instagram shot at maketimetoseetheworld(at)gmail(dot)com and I'll give you instructions to how to submit all your details to be featured in Travel Photo Tuesday
Keep your eye out for my monthly round up posts which will feature the top 10 photographs tagged with #maketimetoseetheworld each month. Psst. sign up to the newsletter below to make sure you don't miss it!

Happy Travels :-)

Travel Photo Tuesday (Ep.42)
was last modified:
January 8th, 2019
by