Hi There! And welcome to my "Travel Photo Tuesday" Series! Thank you for stopping by!
Travel Photo Tuesday is a place to share some awesome shots from Instagram that have been shared with the hashtag #maketimetoseetheworld. Each week I feature a great  photo + story combination and at the end of the month I share 10 of the best snaps under the hashtag from that month. Sounds like fun, right?
So let's get started!
Have you ever scrolled through Instagram and thought, "man, I need to take that photo"? Well my Travel Photo Tuesday series is here to help! Each week I share an awesome photograph from a fellow travel blogger – and ask them to share  a little about the shot: where it was taken, why it was special and any hidden gems in the area that MakeTimeToSeeTheWorld readers should know about!
If you'd like to be featured on Travel Photo Tuesday, the instructions are at the bottom of the post. And if you want to get an idea of the photo's I like – check out previous featured posts HERE
TRAVEL PHOTO TUESDAY (EP.41)
Please join me in welcoming MakeTimeToSeeTheWorld's featured blogger: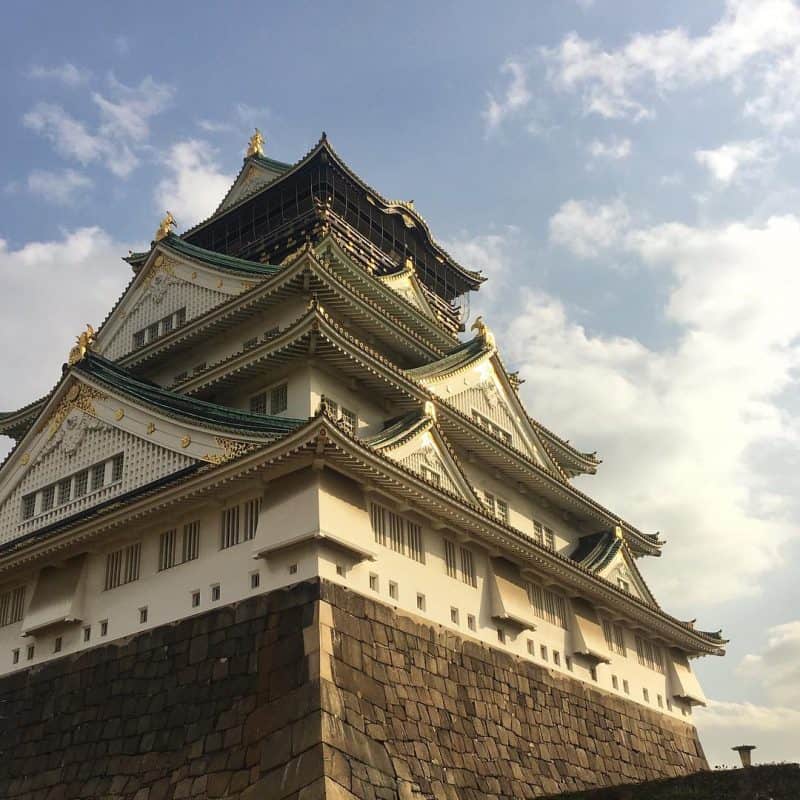 Location: Osaka, Japan

What Made it Great: Back in my twenties, I lived in Japan's second city, Osaka, for a couple of years, and loved every minute of it. When I returned to visit Osaka again recently I fell head over heels in love with it all over again – it was even better than I remembered! Osaka is a fun, buzzing city full of incredible food, friendly people and intriguing pieces of Japanese culture wherever you look.
For me, the centre of Osaka is Osaka Castle, and the park which surrounds it. Apart from visiting the museum within the castle and looking over Osaka from its observation deck, there's always something happening within the grounds of the park. I've been to sumo wrestling tournaments there, joined thousands of locals on blue tarpaulins under the trees to picnic during cherry blossom season, and taken the Aqualiner cruise from the edge of the park to see Osaka from the water.
From Osaka Castle Park it's a short train trip to downtown Osaka, and although it's spread across a large area, my favourite spot is Namba and the Dotonbori Bridge. If you're a foodie then this is the best area to find Japanese meals of every kind. There's a famous chain of restaurants named Kani Doraku which feature crab in every form possible, and it's easy to spot them because they have giant crabs above the entrances. My other top tip is to find anywhere which sells okonomiyaki, easily my favourite Japanese meal and rarely found outside Japan. It's an Osaka specialty but you can find it everywhere in Japan these days, and it's often badly translated as being a "cabbage pizza" – trust me, it's massively better than it sounds and I've never met a Westerner who didn't love okonomiyaki once they'd tried it. While you're in Namba, you also need to do some shopping, because this area has everything: the upmarket department stores like Takashimaya, the stall-like shops of Shinsaibashi, and the fabulous 100-yen shops like Daiso; for bargain unique stuff you also need to try Don Quixote. I'm not much of a shopper but will very happily spend hours exploring the Japanese shops around Namba.
Before you leave Osaka, you also need to see it from up high, and there are a bunch of different options for that these days. Back when I lived there the default tourist spot was to go to the Umeda Sky Building, which has amazing architecture and a sky-high garden – and is still a great spot to gaze down over the endless buildings of Osaka. You might also like to try the new tallest building in Japan, Abenos Haruka, which is 300m high and has particularly impressive views and a cafe way up there in the sky too.
Last but not least, one of my favourite spots to spend a day in Osaka is at Universal Studios Japan. Lots of people tell me they didn't even realise there was a Universal Studios in Japan, but I highly recommend it. It's recently celebrated its 15th anniversary and is going crazy on Minions at the moment, but its Harry Potter World is one of the nicest with a long forest walk to enter and so much atmosphere.

Love this shot? Love this story? You can follow more of Amanda's adventures on her blog @ Not A Ballerina or if you're feeling social you can follow along on Instagram, Twitter and Facebook.
WANT TO GET INVOLVED?
Do you have an amazing travel photo that can transport you right back to the moment you took it – and take everyone else along for the ride? Follow the instructions below and you can be featured on MakeTimeToSeeTheWorld:
Follow my Instagram Account  or Twitter Account and tag your *best* travel photos with the hashtag #maketimetoseetheworld

If you think you have a stunning shot and a great story, email me the link to your instagram shot at maketimetoseetheworld(at)gmail(dot)com and I'll give you instructions to how to submit all your details to be featured in Travel Photo Tuesday
Keep your eye out for my monthly round up posts which will feature the top 10 photographs tagged with #maketimetoseetheworld each month. Psst. sign up to the newsletter below to make sure you don't miss it!

Happy Travels :-)

Travel Photo Tuesday (Ep.41)
was last modified:
January 8th, 2019
by