Welcome to my "Travel Photo Tuesday" series. Its a place for me to share my favorite travel photographs – and feature some of your best shots – from Instagram each week that have been tagged with @maketimetoseetheworld.
If you have ever checked out my Instagram feed you will have noticed that I absolutely love travel photos. I have hundreds to share from years of traveling but I also see so many beautiful photographs from my followers which inspire wanderlust and showcase destinations I could only dream of.
I've decided to share my favorites with you as a feature here on the blog & across all social media platforms each Tuesday in the hope of inspiring you all to maketimetoseetheworld.
Want to get involved? Check out the instructions below.
Travel Photo Tuesday (Ep.4)
This week's photo was taken at Australia's Eastern most point, the Cape Byron Lighthouse. Located 3km from the hippie beach side town of Byron, the lighthouse is still active today and submits a flash of light every 15 seconds when operational.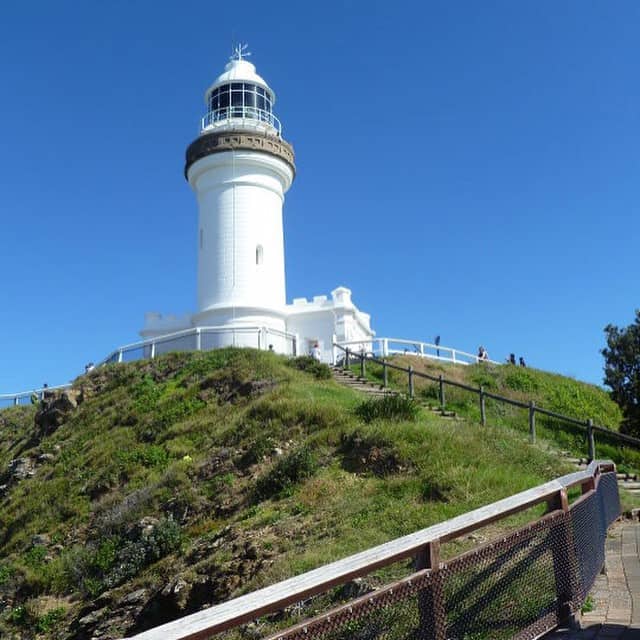 The lighthouse is a must visit site for anyone on their trip to Byron, with the rugged headland walk to the top being a highlight in itself. As you walk up through sheltered rain-forest canopies, the green of the trees is breathtaking. Once at the top – and as well as admiring the lighthouse – make sure to take a look over the side and into the water below – there are often dolphins and turtles swimming around – and if you time it right you might see the humpback wales on their annual migration!
Want to get Involved?
Do you have an amazing travel photo that can transport you right back to the moment you took it – and take everyone else along for the ride? Follow the instructions below and you can be featured on maketimetoseetheworld:
Follow my Instagram Account and tag your *best* travel photos with @maketimetoseetheworld and hashtag #travelphototuesday
Each Tuesday I will pick my favorite (from your pics and mine) to feature here on the blog and promote across social media complete with details of your blog/twitter/instagram accounts
Grow your followers by spreading the wanderlust through beautiful photographs and inspiring everyone to maketimetoseetheworld.
Happy Travels :-)
Travel Photo Tuesday (Ep.4)
was last modified:
January 8th, 2019
by