Welcome to my "Travel Photo Tuesday" series. Its a place for me to share my favorite travel photographs – and feature some of your best shots – from Instagram each week that have been tagged with @maketimetoseetheworld.
If you have ever checked out my Instagram feed you will have noticed that I absolutely love travel photos. I have hundreds to share from years of traveling but I also see so many beautiful photographs from my followers which inspire wanderlust and showcase destinations I could only dream of.
I've decided to share my favorites with you as a feature here on the blog & across all social media platforms each Tuesday in the hope of inspiring you all to maketimetoseetheworld.
Want to get involved? Check out the instructions below.
Travel Photo Tuesday (Ep.3)
This week's photo was taken on the way out of the Vatican Museum in Italy. If you have ever visited you will know that the museum is filled with beautiful artwork and sculptures – along with the Sistine Chapel – so much so that you may think there is nothing else to see on the way out. But you would be wrong.  Created by Guiseppe Momo in 1932 it is an amazing piece of architecture whereby two staircases overlap to produce a double helix effect so that traffic can proceed in both directions unimpeded.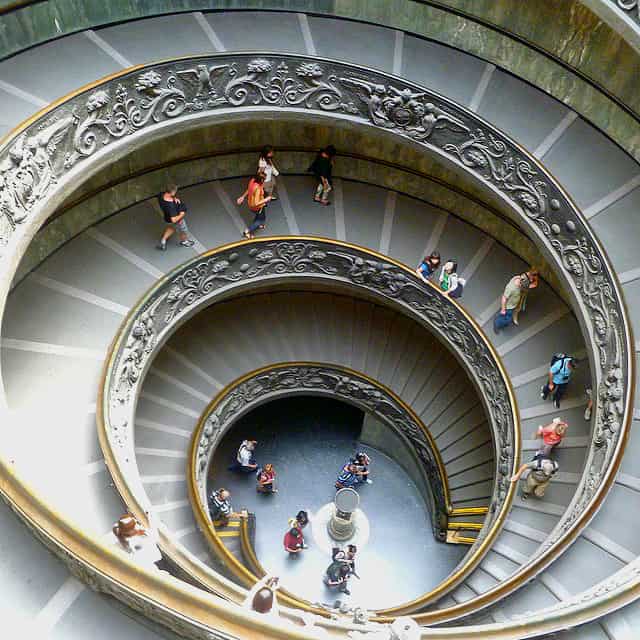 Momo took great influence from the first double helix stairway cast and designed by Donato Bramante in 1505 at the request of Pope Julius II – who requested a link between Villa Belvedere (his living quarters) and the Apostolic Palace (near St Peter's Bascillica) as well a link between his quarters and the city below. The original staircase still stands within the Vatican but is mostly off limits to visitors – unless you take a private tour – and so we must be content with only being able to view Momo's Staircase. But if you only make an effort to visit a staircase – this one must certainly be at the top of your list.
Want to get Involved?
Do you have an amazing travel photo that can transport you right back to the moment you took it – and take everyone else along for the ride? Follow the instructions below and you can be featured on maketimetoseetheworld:
Follow my Instagram Account and tag your *best* travel photos with @maketimetoseetheworld and hashtag #travelphototuesday
Each Tuesday I will pick my favorite (from your pics and mine) to feature here on the blog and promote across social media complete with details of your blog/twitter/instagram accounts
Grow your followers by spreading the wanderlust through beautiful photographs and inspiring everyone to maketimetoseetheworld.
Happy Travels :-)
Travel Photo Tuesday (Ep.3)
was last modified:
January 8th, 2019
by