Each Thursday I share a travel experience from the past. With 4 years of non-stop travel and 3 years of part time travel I have a lot to get through! From the highs of skidiving to the depths of scuba diving – and everything in between, let me inspire you to try something new!
The adventure series – Issue 4: mahout for the day
This week I would like to share with you one of the best days of my life. Bold statement, I know, but read on – I'm sure you'll understand why having the opportunity to feed, bathe and care for elephants for a whole day is one of my most favorite travel experiences.
mahout for the day – baanchang elephant park, chiang mai, thailand
There are quite a few elephant parks in northern Thailand – some are less reputable than others and some are downright horrible places where the elephants are exploited –  have you ever seen elephants performing like circus animals? Painting? Playing football? Not. Cool.
Baan Chang is one of the good ones. The park is actually a sanctuary for rescue elephants who were either street workers, jungle workers, or logger elephants and the park is renowned for their genuine care and compassion for their animals. Their program is called 'Mahout for a Day'. A Mahout, in case you don't know, is the traditional name in Asia for those who ride, care for and tend to elephant.

We were collected from our hostel on the morning of our experience and driven approximately an hour into the countryside. On arrival we were provided with a rather fetching double denim number (so you don't get your own clothes dirty) and told for our first activity was to feed the elephants!! Eeeek! Some may be alarmed by the fact the elephants are chained and not allowed to roam as freely as those at other camps, but Baanchang are only a small park by comparison and they do not have the space to allow them to walk freely and safely. But back to the feeding – baskets upon baskets and kilos upon kilos of bananas and sugar cane were no match for these majestic creatures – who also decide if your not feeding them quickly enough – they'll just help themselves! Cheeky monkey Elephants 🙂
.
Our guide was brilliant and so knowledgeable that not only did we get to spend a whole day with the elephants we learn't so much too. Did you know that the lighter spots on the elephants skin, more common in older elephants (check out the old lady above) are from where they have rubbed against trees to scratch themselves? And did you know that you can tell if an elephant is healthy by checking the texture and smell of their poop?!
We learnt basic commands and practiced riding the elephant in the main area area before they take you on a guided walk through jungle which borders the facility. It takes some getting used to – riding an elephant. Their skin is thick and leathery, the hairs that cover their body are coarse and quite prickly (I actually got a little 'elephant rash' from trying to grip around our elephants body!) – and its definitely a thigh workout to keep yourself balanced up there!
If you travel with a partner you will be given the option to ride your own elephant or share one, and if you share you stop at a rest area halfway through the jungle to switch. Let me tell you, being at the front is much easier!
Our guide was also more than happy to take pictures with our cameras and advised that all the ones taken with their camera would be available on the Internet for free download and gave us an address to access them. There are also professional photographers on site who will take pictures for you to purchase but there is no pressure – and should you decide to buy, all proceeds go towards the care of the elephants.
At the end of the day we were asked if we would like to help bathe the elephants. Hell Yes! And so dismounting from the elephant, the real mahouts led the elephants into the lake and once settled we were invited to join them.
You brush their backs with deck scrubbers and brushes which they seem to enjoy, and we discovered that the younger ones really enjoy having water poured over them. This also led to a water fight. Oh yes folks, I had a water fight with a 5 year old bull elephant.
In going to Baanchang you pay a little less than at other parks but it does not mean they are not as good, both for the elephants and your experience. In turn your money is spent on caring for their current elephants and providing funds to rescue more. (The owner had just paid 1,500,000 baht to rescue a 2 year old baby from a company using elephants for illegal logging and hoped to rescue 3 more that year.)
I can honestly say this is one of the most amazing things I have ever done and i would highly recommend it to anyone. You'll learn so much and you'll even feel like you're rocking the outfit by the end of the day. Or so we thought anyway…
Have you spent a day up close and personal with these amazing creatures? Or have you just added this to your bucket list right now?! Share your story in the comments and lets spread the word about these amazing initiatives.
Happy Travels 🙂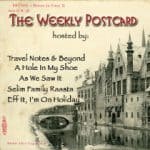 Mahout for a Day: The Adventure Series – Issue 4
was last modified:
February 28th, 2017
by