Etosha National Park, Namibia Photo Tour
Etosha National Park, located in Northern Namibia, is one of Africa's most unique National Parks. It's main characteristics – apart form boasting 4 out of the big 5 – is that at its center is a salt pan large enough to be seen from space! Believed to have been formed over 100 million years ago it is 130km long and 50km wide. That's pretty big and it looks bigger than that in real life! When the Europeans discovered the area in around 1851, they were accompanied by the Ovambo Traders. Etosha can be loosely translated as "Great White Place" in the Ovambo language – and it is their traditional name for the land that stands to this day.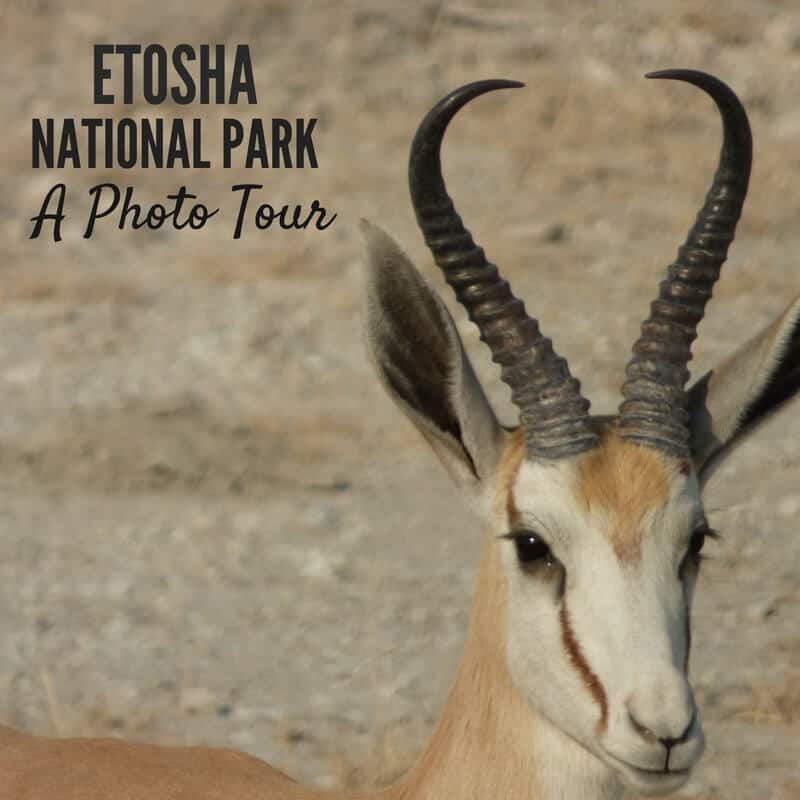 Etosha is home to thousands of animals across hundreds of species. With 4 of the Big 5 including Elephants, Leopards, Lions and both White and the endangered Black Rhino, you'll be spoilt for choice for wild game. With multiple waterholes located throughout the park, you're almost guaranteed sightings of at least a couple of the 5.. and if not there are plenty of giraffes, zebra, ostrich, hyena, and every type of antelope under the sun to go around!
So jump in the safari truck and buckle up folks! Keep your hands and arms inside the vehicle – and if when we spot the animals but super quiet… we don't want to disturb them or scare them away!
Etosha National Park, Namibia – A Photo Tour
The landscape is just incredible.. emptiness as far as the eye can see..
.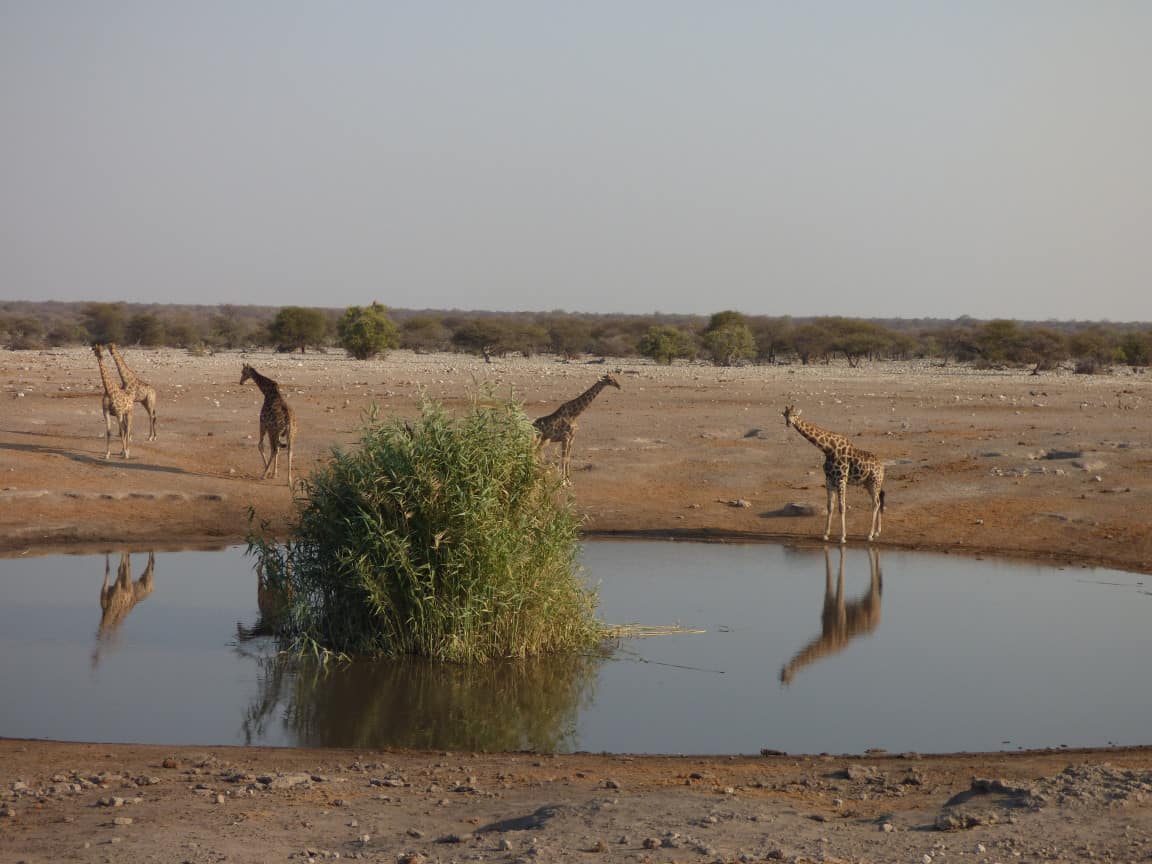 …Until you get to a waterhole that is! We were lucky enough to catch this tower of giraffes grabbing a drink…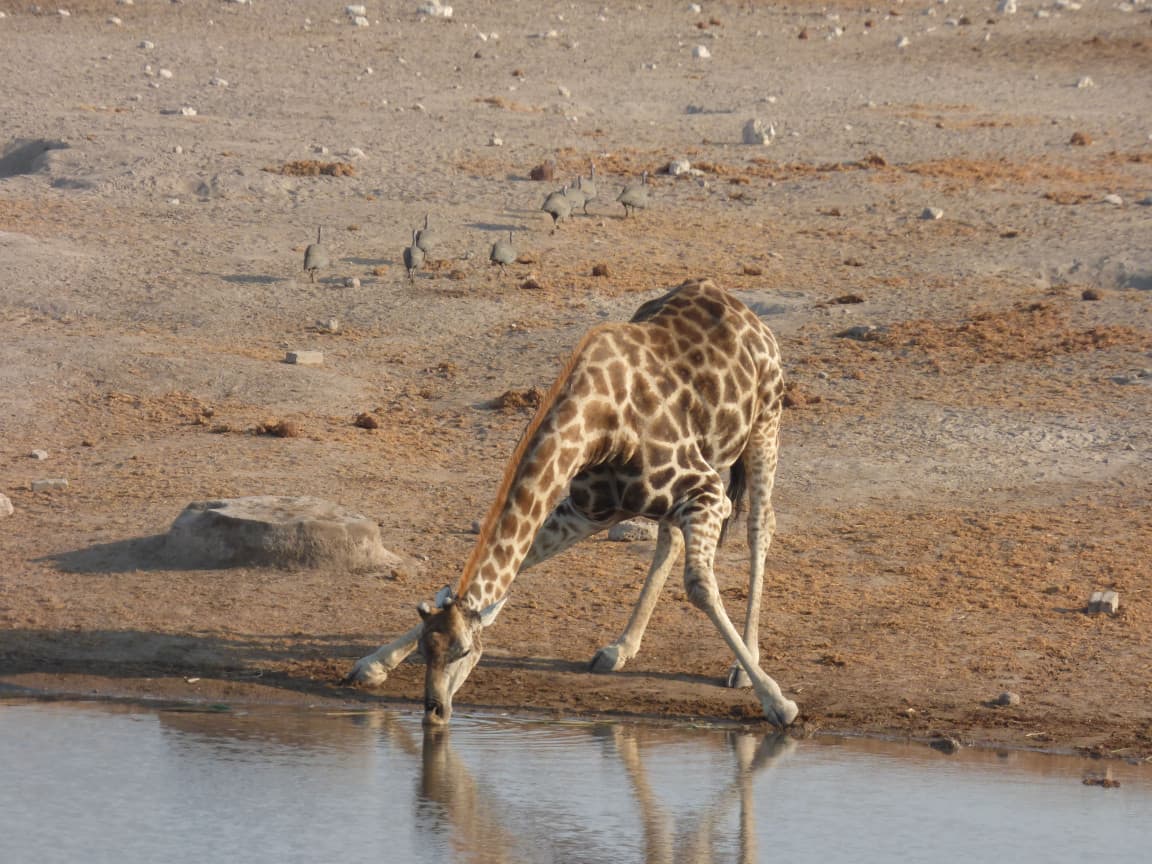 It's no mean feat to get water down that long neck. New research suggests that there is a 'plunger pump' at work. Want to know more about how this works? Click here!
.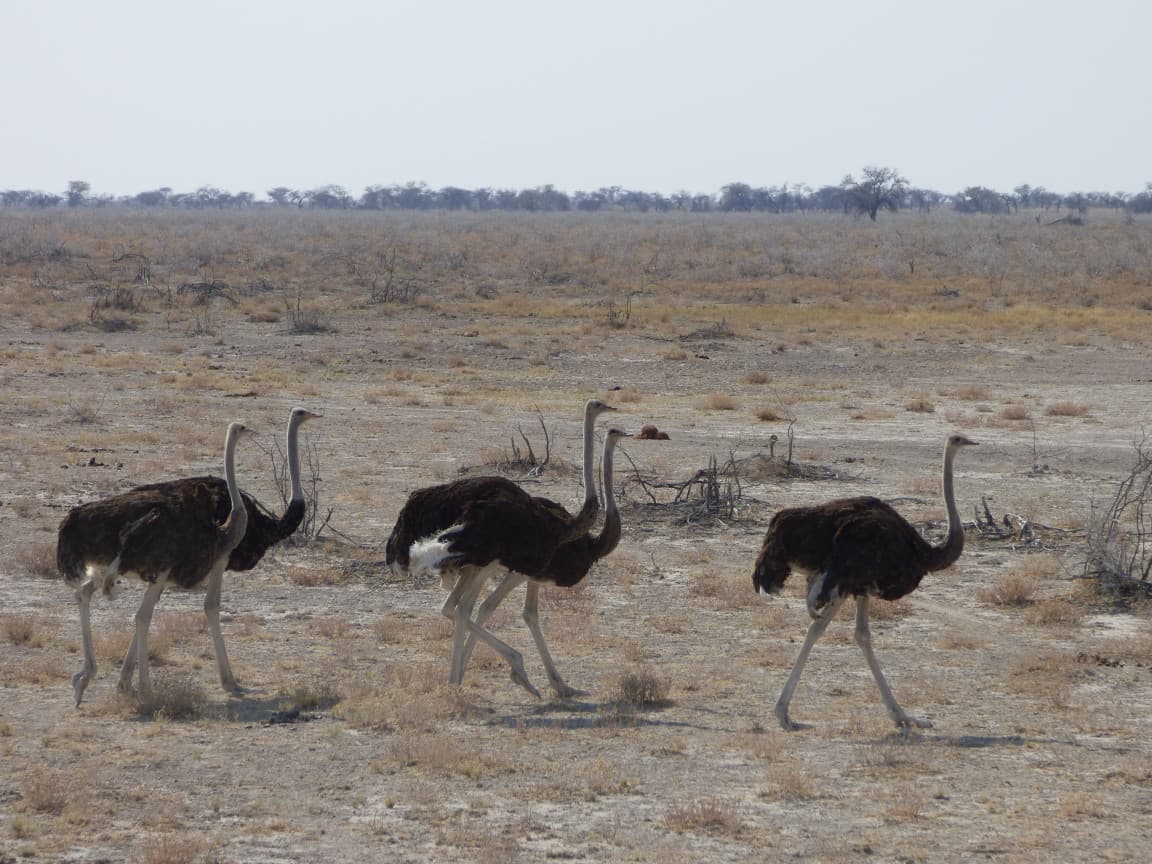 The ostrich is the largest flightless bird in Africa and they can run up to 43 miles per hour – that's 70km! In South Africa Ostrich's are bred for their feathers and skin – but here in Etosha, they can roam wild and free.
.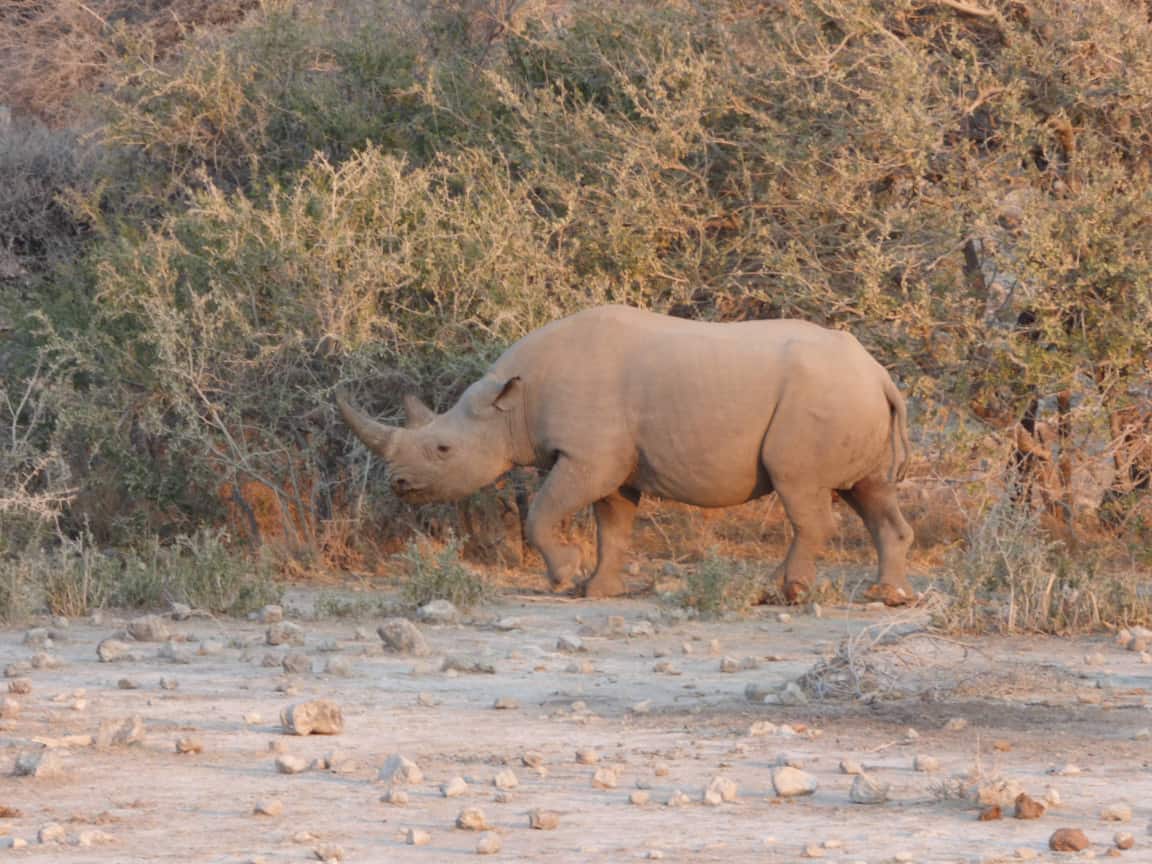 This is a black rhino. One of the most endangered animals on the planet. Despite both white and black rhino's being the same colour, you can tell them apart by the shape of their mouths. Black Rhinos have a small rounded mouth, whilst white rhinos have a quite prominent square jaw.
.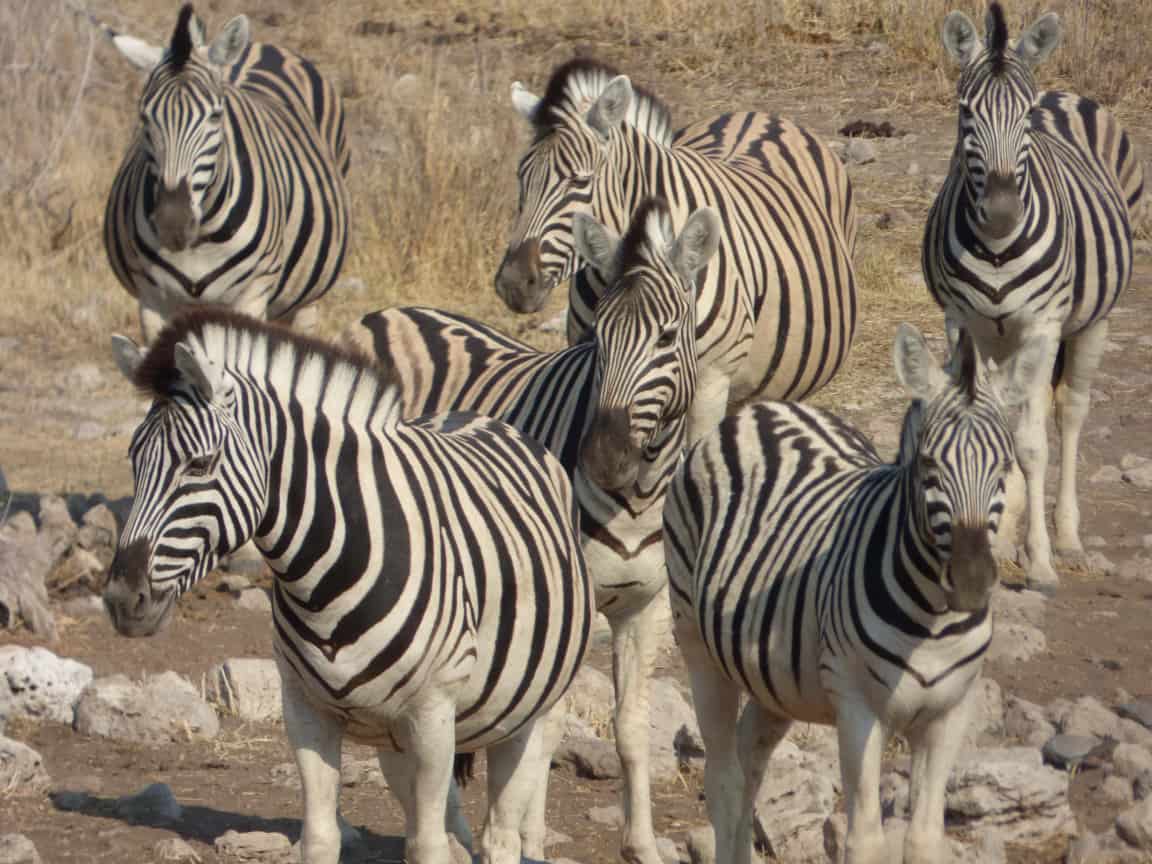 Zebras are one of my favorite animals, but did you know that no two Zebra are exactly the same? The striped pattern is different on every zebra and acts as camouflage from predators. This is because those big cats (lions/leopards) cannot tell where one zebra ends and another starts when they run as a herd. Pretty cool huh?!
.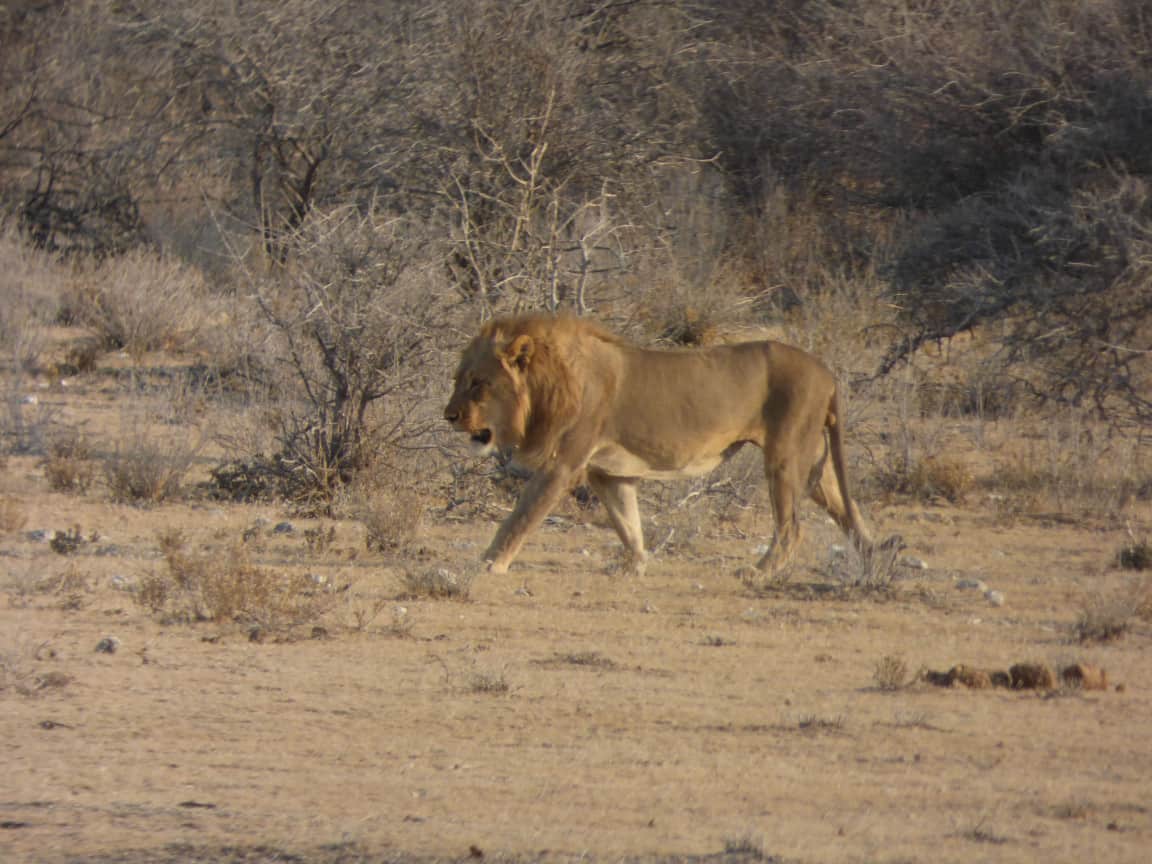 Oh, and speaking of lions… this lonely male was seen out on the prowl. Unlucky for him (and us!) he was no where near any potential food source when we spotted him!
.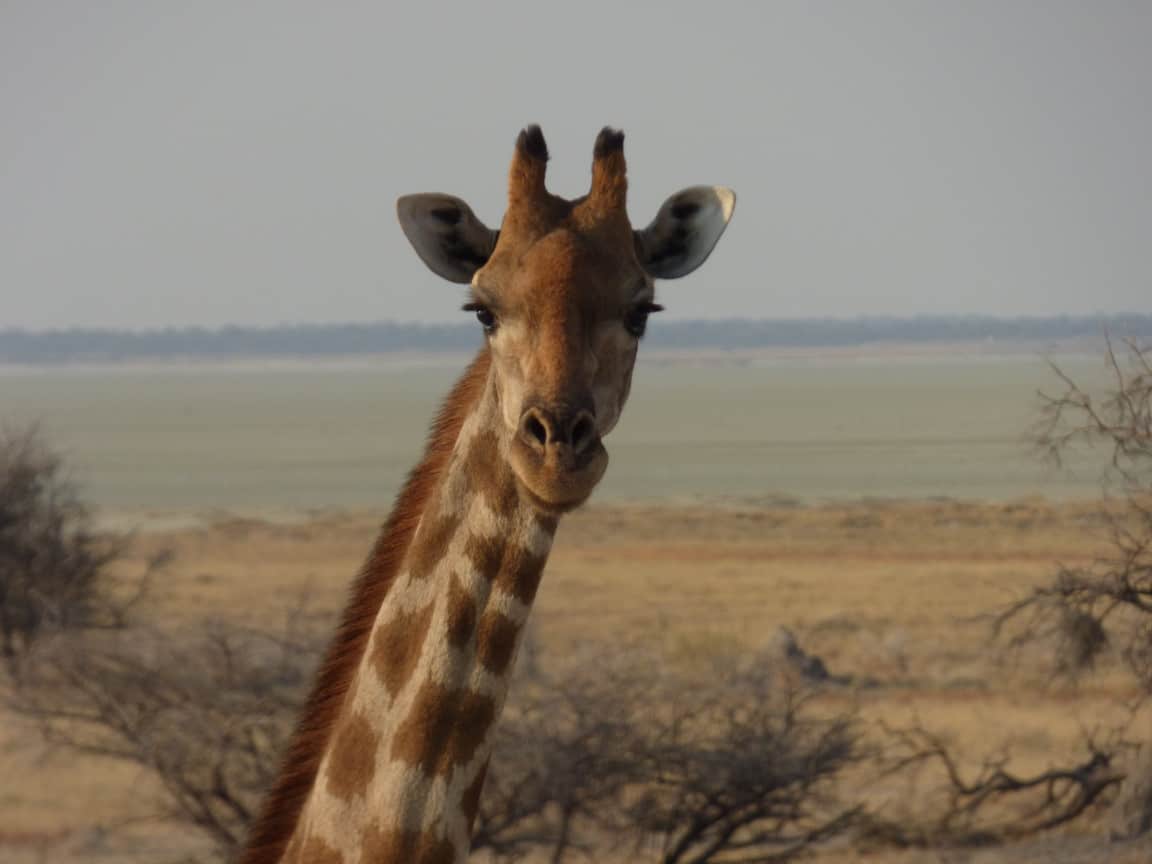 Oh my. Those eyelashes! Gorgeous!
Related: Want to know what camera I used to take these shots? Read My review of the Panasonic Lumix Fz70. Spoiler Alter – I Love it!
.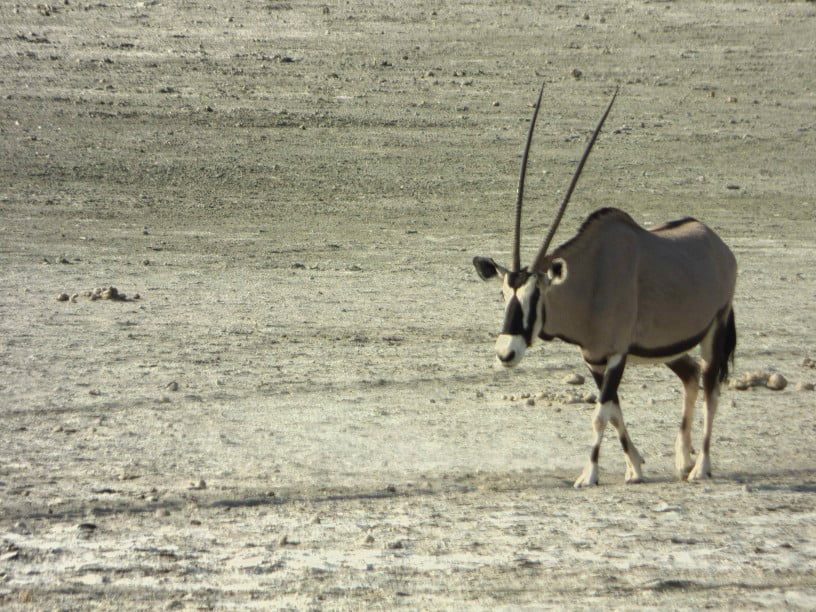 The Oryx are one of the biggest species of antelope and can weigh up to 170kg!
.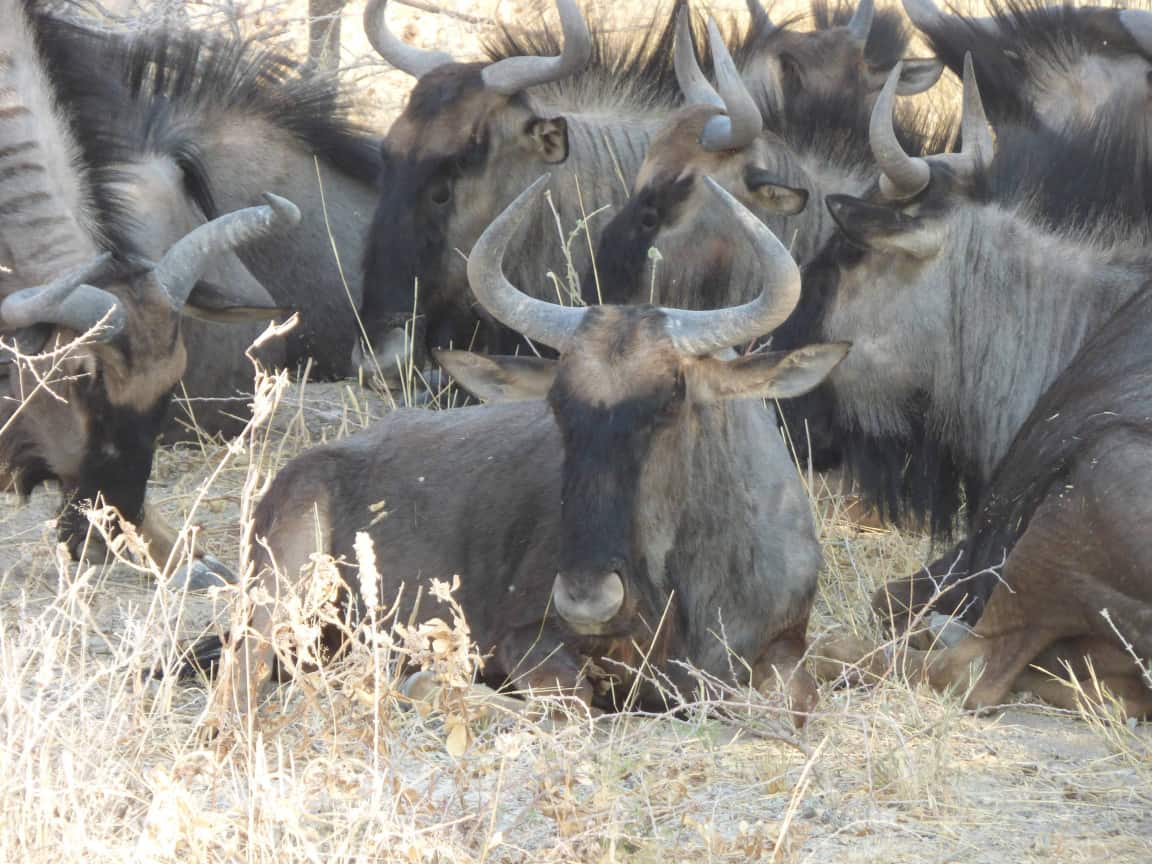 You may be thinking, hey – she said there were no buffalo in Etosha – and there are not, if you are counting them as the Big 5. These are in fact Water Buffalo, and they originated in Asia. I'm not entirely sue on how they ended up in Namibia.. but they did.
.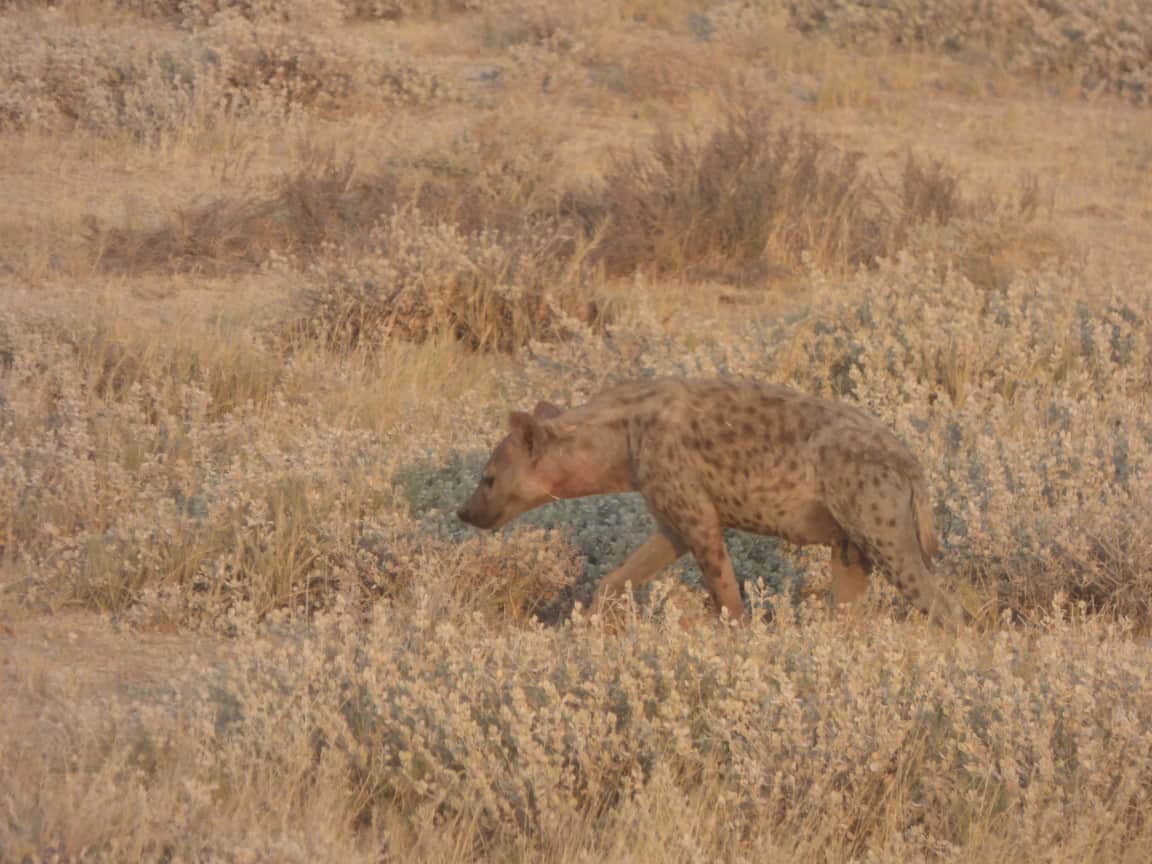 Blink and you'll miss this spotted hyena – how well camouflaged is he?!
.
How many zebra can you see? I think we stopped counting at 100!!
.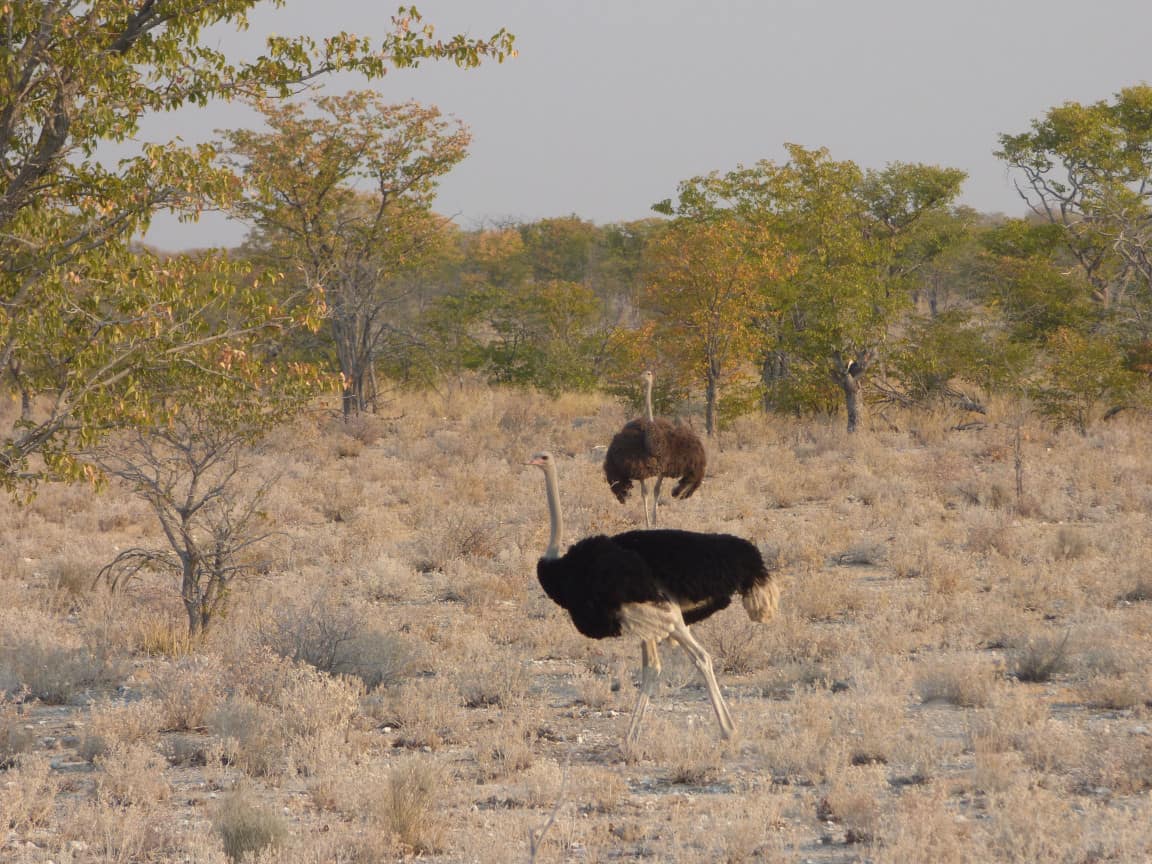 Did you know that Ostrich's mate for life?! Aww! The male has the striking black and white coloring which is said the attract the females, who are a light brown in color.
.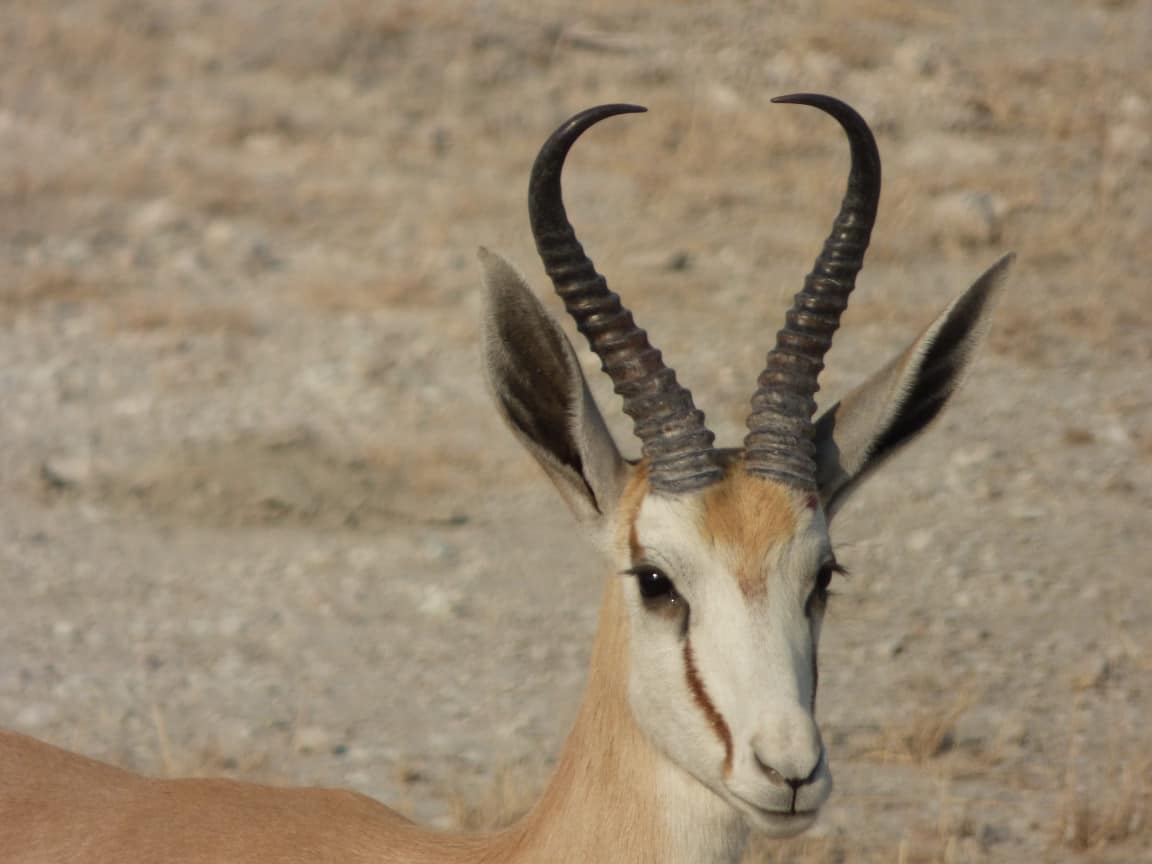 Don't Springbok's (part of the antelope family) have the prettiest faces?!
.
These gorgeous creatures are known as the lesser Kudu – also part of the antelope family – and are enjoying a little drink at the waterhole.
.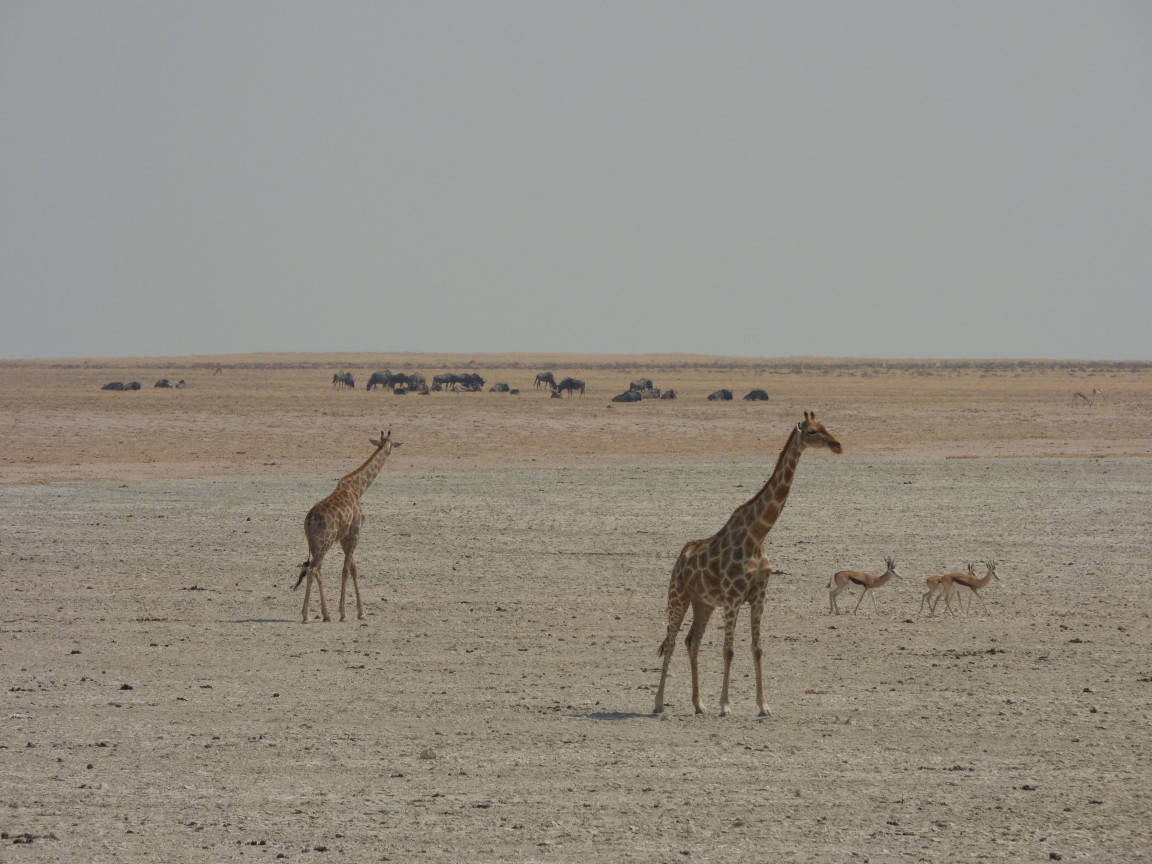 All the animals together on the pan – check out how tiny the springbok look beside the giraffe!
.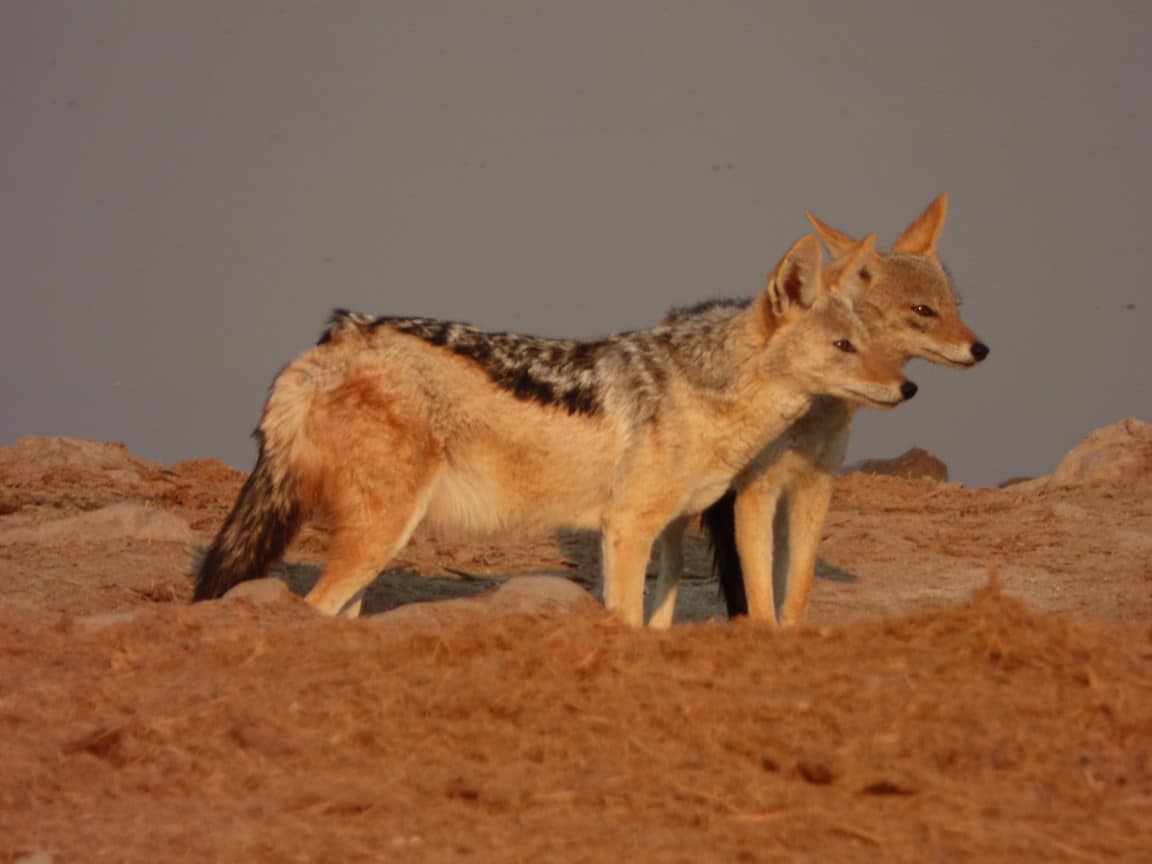 These two are Jackals. Closely related to the wolf family, they are carnivorous scavengers who are filled with disease.. Not as cute now, hey?! These are the critters can be found stripping the carcuses of dead animals that have been left by other predators. I have footage, but it's a bit graphic. They are  also small enough to get into the campsites at night and will steal your flip flops if you left them outside your tent..
.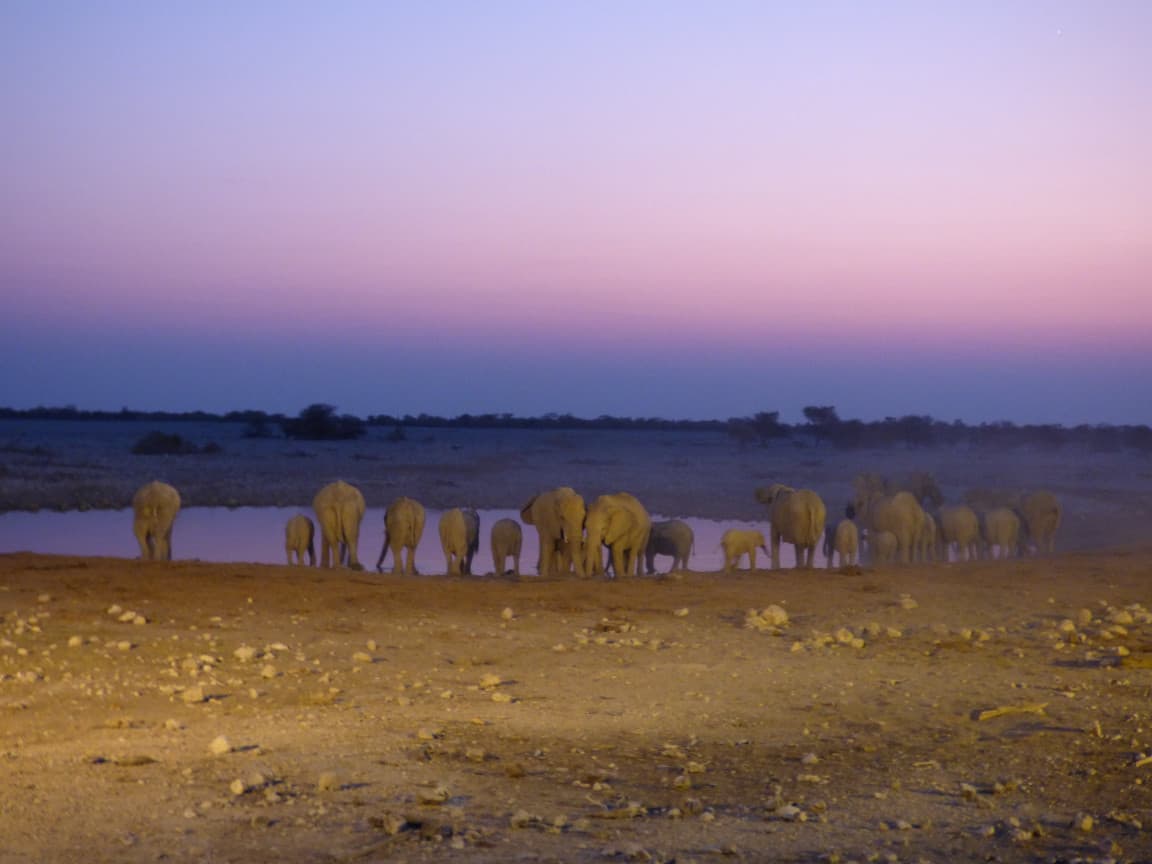 If you only have one day/night in Etosha – make sure you stay at the Okokaukuejo rest camp. It boasts a large waterhole that is illuminated throughout the night and surrounded by benches (behind a wall and wire) so that you can sit and watch the animals come an go all night.
One of my absolute highlights of my time in Africa was this night when 30+ elephants rocked up to the waterhole and stayed for over an hour. This night I was on the cooking team and nobody got dinner until very very late..
.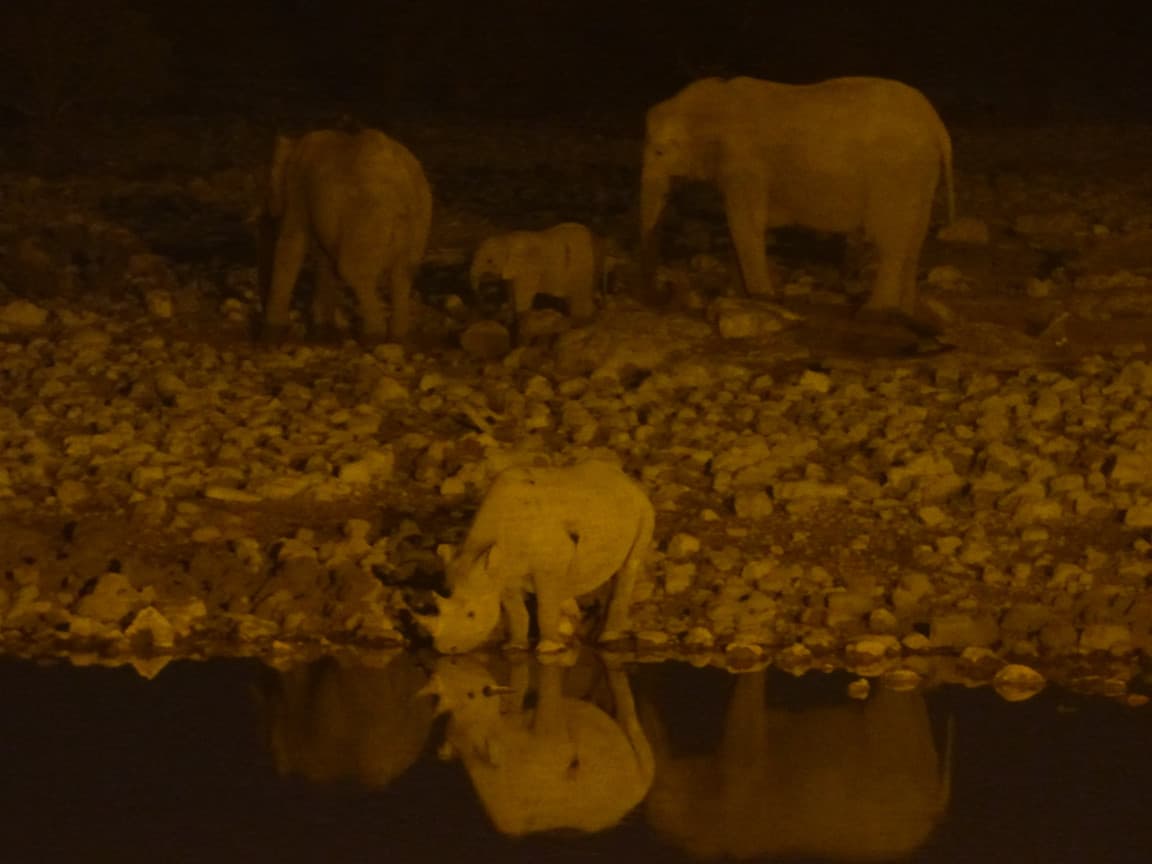 … and when I thought it couldn't get better – say hello Mr White Rhino!! Look how small he is compared to the baby elephant in the background! Just incredible!
.
And make sure you don't miss sunset. They red hue as the sun goes down is beyond beautiful!
So there you have it! I hope you enjoyed my photo tour of Etosha National Park in Namibia – and I hope you get to see all of this and more if you ever get to Africa!
And if this post has got you curious as to what the rest of Namibia looks like – take a look at these beautiful Photographs of Namibia and if you're curious about other attractions in Namibia – read this Namibia Travel Guide.

Liked this post – please click the P in the side bar & grab yourself a beautiful full size pin. Sharing is caring!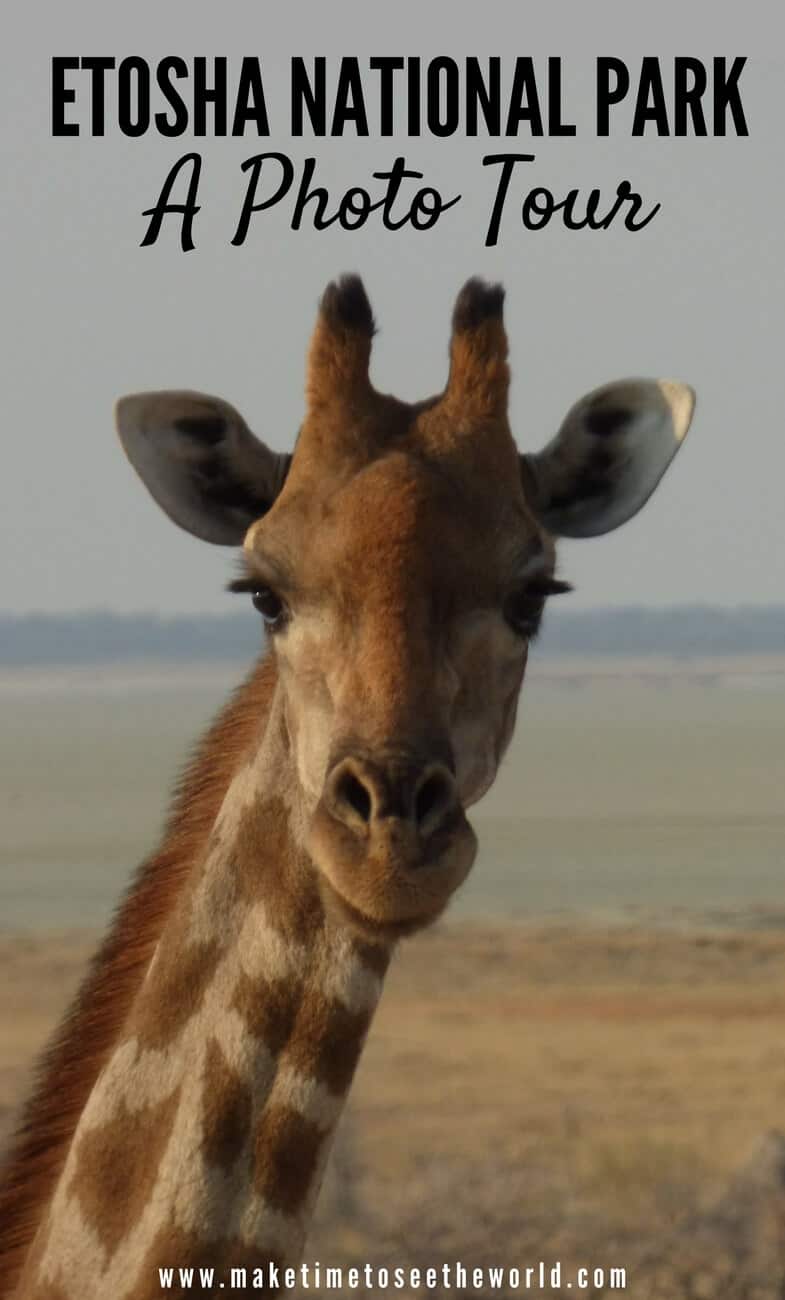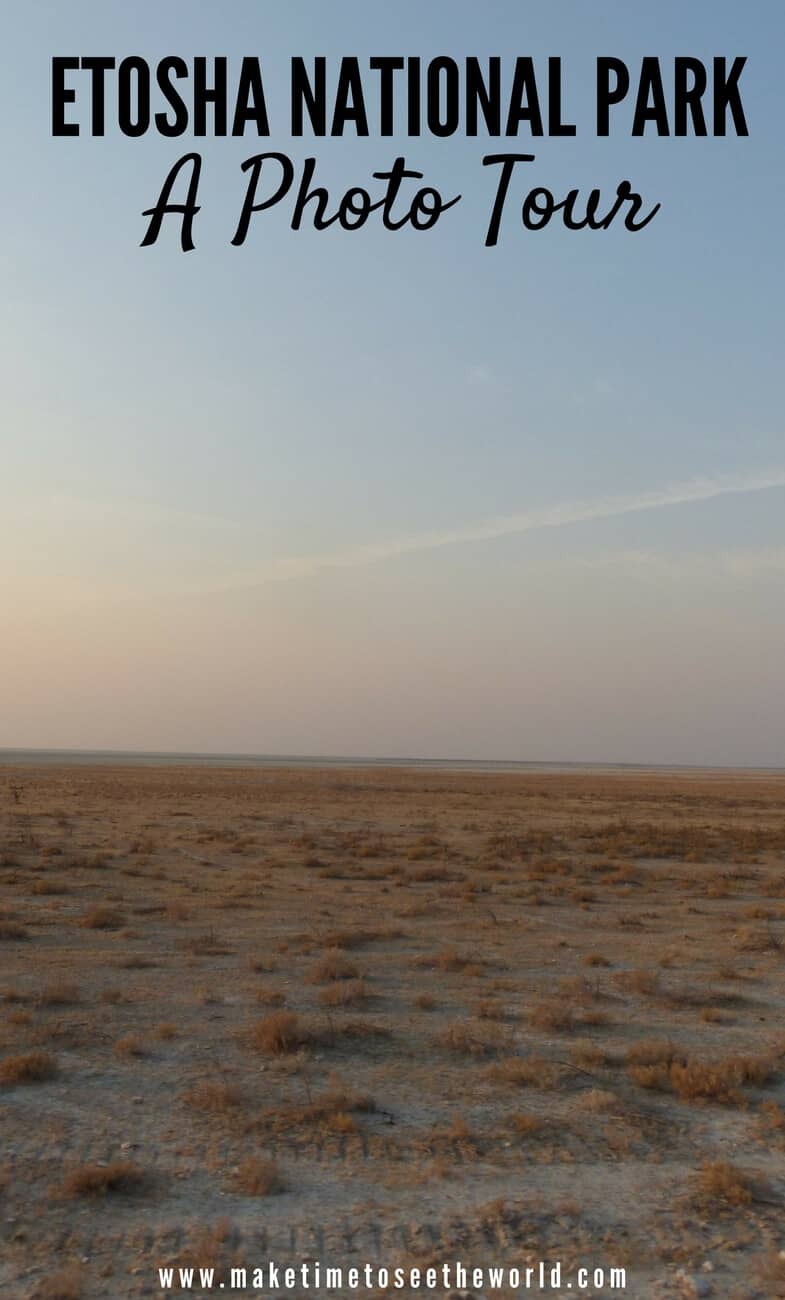 ---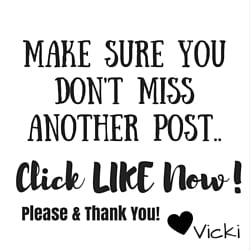 ---
Etosha National Park, Namibia – A Photo Tour
was last modified:
February 28th, 2017
by