So we went to Bali. I've never wanted to go to Bali. I always thought of it as the Aussie equivalent of Magaluf – think rowdy drunk Brits who's only intention is to get trashed every night, and a city that has dedicated its existence to facilitating this. (You may recall my dislike for such places from my post about Vang Vieng, Laos!)  Ultimately Bali was not somewhere that had ever interested me and yet that is where I booked for my latest adventure. My partner kept telling me that Bali was an Aussie institution and that I had to go once before I made my mind up. That coupled with the fact it was so cheap compared to anywhere in Australia (which is disappointing as there is so much of Australia I have yet to see – but I'll save my gripes about how expensive Australia is for a different post!) saw me book 7 nights in Seminyak, the 'trendy/more upmarket' region of Bali (as opposed to Kuta) as a little reward for finishing uni (again). Ultimately I was surprised by what I found, but not in the way you might imagine.
As departure day approached I really wasn't excited. To be honest, I still didn't really want to go to Bali – but I was looking forward to being on holiday again. We landed around 11pm into a modern, clean Denpasar airport. Passport control was painless and free – for me at least. My British passport guaranteed no visa fee (you probably wouldn't be surprised in how many countries that is the case) whereas my partner and his Aussie passport took at $35USD cash hit for his 'visa on arrival.' We used the registered taxi desk to book a cab to our hotel – who overcharged us because they had never heard of the place – TIP: make sure you have the address printed out for them or you may see the advertised price skyrocket! – and arrived at our hotel to the smiling faces of the security guard and reception staff.
THE HOTEL
We stayed at Destiny Boutique Hotel – a one year old, modern art-deco styled hotel, where the rooms were as beautiful as the pictures on the website and the staff friendly, helpful and accommodating. It was located within 20 minutes walk of Seminyak Sqaure in one direction and the main Supermarket in the other, 5 minutes to the beach and walking distance to many great restaurants. Whilst not prefect, it was a great base and you can read my full review here.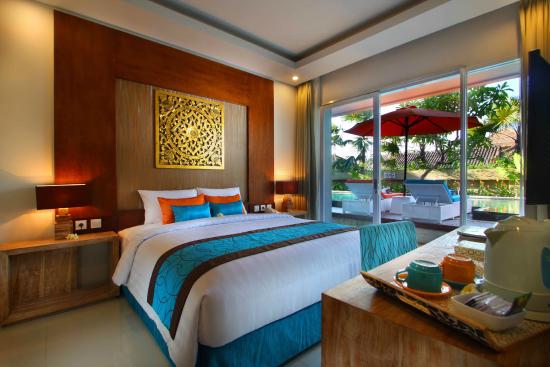 THE FOOD
We had been told that Seminyak had some great restaurants, and with my partner being a chef, he had come armed with a list of places to go. We reviewed the list, googled the restaurants (yay for the internet) to check menus and pricing, and found that a lot of what had been recommended was Western or European inspired food. I was disappointed. After travelling through SE Asia, it had always been the case that western food was the minority, something that we treated ourselves to after a couple of months eating rice and noodles, or if we wanted a taste of home. Seminyak, it seemed, touted international cuisine as a prize, a badge of honour even, rather than celebrating traditional, local dishes.
I felt sad. It cemented my view that Seminyak, and Bali in general was subservient to the Aussie's and their needs/wants. But this makes sense. As Australia provides the majority of Bali's tourism dollars, it absolutely understandable for the Balinese to tailor their environment to please their Australian visitors. But it still made me sad. I love SE Asia because of their culture, their lifestyle and their steadfast celebration of their way of life and traditions in the face of foreign visitors. I just didn't get that vibe in Bali and honestly, it caused an argument between myself and my partner – who was horrified when he asked why I didn't seem to be enjoying myself and I voiced my opinion. His response was that the people are just so lovely – which is not something I denied, but I countered with the fact we had had to google what religion the locals were after three days. It just wasn't clear. Any sign of religion, tradition or culture was either non-existant or hidden between shiny new hotels, spas and top rated eateries.
But on the subject of top rated eateries, my word did we have some amazing food that week! We hunted down the best Indonesian restaurants in the area including Bambu, Mamasan, Lilin and Kilo. We actually ate at more fine dining restaurants in a week than we would in a year in Melbourne – and for half the price! We often shared multiple dishes over two courses with cocktails and beer for around $100AUD.  My personal favorite being a candy floss cocktail at Mamasan and  Wasabi Tuna Tartare at Kilo. If you love your food, check out my Foodie Tour of Seminyak post.
SPA'S & MASSAGES
Despite my not loving Bali, one thing you can guarantee as with anywhere in SE Asia are the massage and spa joints behind every other storefront. I was a little hesitant of those on the street with the people calling 'you want massage' each and every time you walked past after reading some very dodgy reviews online and I spent a while researching which one to go to. Don't get me wrong – I wasn't looking for a 5 star spa experience, just something reasonably priced that was in a nice setting with good masseurs. There were a raft of 4-5* day spa's, often only slightly cheaper than their Australian counterparts, but I wasn't willing to pay those prices where an hour massage was advertised at around $7-10AUD elsewhere. I was hoping for some happy middle ground!
We tried two massage joints when we were there – one kerbside on one of the main streets near our hotel – Home Base Spa and one located on the 5th floor of a neighboring hotel – De Nyuh Spa.
Home Base Spa provided a good, no frills hour long Balinese Massage for around $8.50 AUD. Functional, basic salon, good pressure from the masseurs and a relaxing experience.
De Nyuh Spa however was in a class of its own. I cannot rate this place highly enough. We initially walked on a mid-week day afternoon looking to try their 75 minute hot stone massage and it was the best decision we made all holiday.
The hot stone massage was the best massage I have ever had – in Bali and the rest of the world – and was so so relaxing. The combination of pressure from the therapists and the use of the stones is perfect. The brochure/menu advised the massage has a 'soothing effect on your emotions' and they are not wrong – It's hard to describe the feeling a hot stone massage leaves you with – happy, lovely, peaceful, relaxed, rejuvenated – take your pick!
When finished with the massage we were presented with slices of watermelon and ginger tea and were so impressed with the whole experience we grabbed the menu and decided to book in for a pamper day on our last day.
I had the Maximum Sensation package (1 hour Balinese massage, body scrub, facial, hair treatment, manicure and pedicure – 3-4 hours costing $50AUD and my partner had the four hands Balinese massage ($17AUD) Body scrub ($12AUD) and foot massage ($10AUD) each treatment lasting an hour each.
Each treatment was fantastic and I would highly recommend this spa to anyone – much cheaper than the 5* advertised places and outstanding quality and service. Just amazing.

This photo of De Nyuh Spa is courtesy of TripAdvisor
NOT TO BE MISSED
We had two absolutely amazing days out whilst in Seminyak – the first was a day spent at Sundara by Four Seasons in Jimbaran Bay & the second at Waterbom in Kuta.
sundara
Not widely known to the public, you can hire a day bed at Sundara for $100AUD with $60AUD food credit included (a night a the Four Season's itself would set you back around $900-1000AUD!) Throughout the day you can enjoy their 57m crystal clear infinity pool which itself overlooks Jimbaran Bay, unlimited bottled water, fruit platter, sunglasses cleaning service (my sunglasses have never been so clean!!) unlimited fluffy white beach towels – which are changed mid-way through the day whilst you are in the pool! and every hour a member of staff walks round with some form of treat – be it a frozen fruity icy-pole, popcorn or sampler from the restaurant. At the end of the day there are also beautiful showers complete with shampoo/conditioners/shower gel and towels available to use to freshen up if you are planning on heading straight out rather than return to your accommodation. The food, albeit pricey, was great – the Jimbaran Prawns a must try – and the Red Fruits Mojito – again expensive – but oh so very very nice.
It was a wonderful day all round – and an experience a little different to the usual 'sitting around the pool'. Nothing was too much trouble for the staff, they were friendly, always there (yet discrete) and so accommodating. I would highly recommend making a day of it the chance to feel like royalty!
Related: click here to find out where the best beaches in bali are!
WATERBOM
We thoroughly enjoyed our day at Waterbom, it was such great fun and we were pleased with both the cashless system and cheap secure lockers. You get a wristband on arrival ($5AUD deposit) and can add money to it to use throughout the park – there are no cash transactions anywhere in Waterbom so you can lock your wallet away without worrying. The lockers are $25AUD (plus $35AUD deposit) and are secured electronically with a chip in a second waterproof wristband and any money left at the end is refunded when you leave the park.
The slides are fun, varied and extremely safe and we didn't have to queue for long for anything. The park is also very clean – we walked around barefoot all day (although the floor can be hot so be careful) and there is a variety of food and drinks available which are not extortionately priced.
We also took advantage of the pool bar for a time out between slides and enjoyed an ice cold beer and coke whilst sat in waist deep water under the warm Bali sun. Bliss!
Certainly a day out not to be missed!
RELATED: Looking for more things to do in Indonesia? Here's 110 Things To Do in Bali
HINTS AND TIPS
TAXIS
Always use the meter!! The main taxi company is the Bluebird Group and their drivers are required to always use the meter. If someone tells you theirs is broken – just wait for another cab. They are every second car and beep as the approach you and then again as they go past – just in case you have changed your mind! The drivers are friendly and happy to chat and we didn't come across any who 'took the long way round' to increase the fare.
exchanging money
We always travel with a pre-loaded travel card and withdraw local currency throughout each trip. This has always meant we get a good exchange rate for each and every cash withdrawl (we don't use it as a card for purchases as that incurs extra fees) rather than risking dodgy exchange booths, but this is the first time we have not come out ahead. I would highly recommend taking cash and shopping around the various exchanges for the best rate. In this instance, it was always better than what the card gave us. But as ever, be vigilant, count the cash twice, three times if necessary and don't hand over the cash/walk away if you do not feel comfortable. A good habit to get into is to allow the cashier to count the cash out for you, and then you recount it in front of them. Do not allow them to take it back after your count as this is where the slight of hand theft often occurs, – it may be they want to put it in an envelope or some other excuse, but do not give it back – and where possible ask for a receipt or for them to write down the transaction/calculations as to how they got to the final figure.
Government Tax and Service Charge
Wherever you go in Bali, all restaurant/drinks prices will be subject to a 10% Government Tax and a service charge that ranges from 7%-11%. Always check if these prices are included before sitting down, as it may come as a bit of a shock when you get the bill and you had not accounted for the extra 20%. Because of the mandatory service charge, I did not tip anything extra, but this was my personal preference and does not mean that you cannot tip. The general consensus (from lots of internet research) is that tipping is not expected on top of the service charge – but any tip is certainly very much appreciated.
The Verdict
Although I didn't really want to go to Bali, and was disappointed with the 'Aussie' focus, I did actually enjoy our trip and would certainly go back. Especially now I know exactly what to expect. I suspect had I not travelled throughout other SE Asian destinations, I would have fallen in love with Bali and the things that bothered me on this trip wouldn't have been a consideration. After all, the people are genuinely lovely, it is way cheaper than any Australian holiday destination, and you can find everything you could ever want – from 5* cuisine by exciting, innovative chefs to designer (real, not fake!) shops (at the same price as Australia); the ability to have a massage a day for less than $10AUD and the usual cheap holiday trinkets as keepsakes.
Seminyak is a great place for a holiday. Just don't go thinking its your typical SE Asian destination, accept that the Aussies are their target market and enjoy every beautiful sunset you can.
Heading to Bali but don't fancy staying in Seminyak – Ubud may be the town for you! And if you want to get away from Bali altogether, but still want to go to Indonesia, Raja Ampat is a practically untouched island paradise that is just waiting to be explored!
Happy Travels 🙂
Save
Bali – Just a 'Little Australia?'
was last modified:
June 22nd, 2017
by